Progress report for LS19-308
Project Type:
Research and Education
Funds awarded in 2019:
$44,468.00
Projected End Date:
03/31/2023
Grant Recipient:
University of Florida
Project Information
Abstract:
Multiple aspects of farming practices and operations need to be optimized simultaneously and coherently to make food production sustainable. Productivity needs to be maintained while soil nutrients, water quality and farm waste need to be managed properly to mitigate negative impacts of farming on the surrounding ecosystems, so people in the next generations continue to receive ecosystem services. Though often ignored due to their intangible nature, microorganisms play important roles in agriculture by facilitating growth of plants via symbiotic interactions, maintaining the water quality of receiving water bodies, and converting farm waste into renewable energy and nutrient-rich biofertilizer. The microbial processes are natural rather than synthetic, mediating long-lasting interactions between nutrients, plants, and soils.
In this proposal, the PI and co-PI will conduct an education program on the vital roles of microbes in sustainable agriculture. Topics covered will include microbes involved in the nitrogen cycle, the phosphorus cycle, mycorrhizal fungi, and microbes that are involved in anaerobic digestion and composting of farm waste. The targeted audience will be local and regional small-scale farmers, who are likely to adopt sustainable farming practices. This education program will allow farmers to learn methods to sustainably fertilize and improve soils using naturally occurring materials and processes, the concept that over fertilization or irrigation may pollute groundwater or reservoirs, and skills about waste conversion into renewable energy and biofertilizer, which make farming operations more sustainable.
A total of 12 sessions of the education program will be hosted over the two year period by the PI and co-PI at the Energy Research and Education Park in Gainesville, FL, and that three Research and Education Centers in the state of Florida. The education program will be conducted on a hands-on basis. Farmers will learn the microbial process through visualization including observing red-colored leghemoglobin in nodules of legume plants, and observing hyphae of mycorrhizae on the root areas through a microscope. They will also observe differences in plant growth with mycorrhizae vs. w/o mycorrhizae, or the biofertilizer application vs. w/o biofertilizer. The treated and controls plots will be created prior to the sessions. Biogas from anaerobic digestion of farm wastes will be visualized by flaming using a Bunsen burner. We will also create an educational website regarding microbes that are utilized in sustainable agriculture. We will create infographics that summarize the role of microbes in sustainable farming and post them on the website. Videos that capture highlights of our educational sessions and testimony of participants will be created and posted on the website. The link to the website will be disseminated and will be used to recruit farmers. We believe that education through hands-on experiences and visualization is the most effective way to transfer knowledge and skills, and also to motivate people who receive the information.
Project Objectives:
To make intangible microbial processes tangible (mycorrhizal fungi, nitrogen-fixing bacteria, and microbes in an anaerobic digester), so farmers can comprehend the essential roles of microbes in sustainable farming processes.
To show farmers that natural processes with the help of symbiotic microbes will increase productivity relative to control (without microbial symbiont).
To teach the benefits of natural sustainable processes compared to agricultural practices that could potentially harm our surrounding ecosystem, through this microbial-based exercise.
Research
Educational & Outreach Activities
7
Curricula, factsheets or educational tools
1
Published press articles, newsletters
6
Webinars / talks / presentations
Participation Summary:
2
Ag professionals participated
Education/outreach description:
SARE Annual Report
Project Title: Harnessing Microbes for Sustainable Food Production
Project Number: LS19-308
PI: Masanori Fujimoto
Co-PI: Ann C. Wilkie
The main goal of the project is to educate farmers about the roles of microbes in sustainable agriculture and to make important yet intangible microbial processes more tangible through educational sessions. For the past 14 months (since May 2020), we transitioned to online-based education through a webinar series due to the COVID pandemic. 6 webinars regarding microbes that are utilized in sustainable agriculture were given including three webinars in fall 2020 and 3 webinars in spring 2021. The webinar contents included visual images and information on beneficial soil microbes and their functions associated with crop production. The webinar also included how various sustainable agriculture practices (i.e. cover crop, crop rotation, no-till, organic soil amendment) help enrich such beneficial soil microbes. As participants in the first several workshops requested some additional content on sustainable pest management, we added content regarding biological soil disinfection (bio-fumigation) and anaerobic soil disinfection, specifically focusing on how microbial populations respond to such practices (see attached powerpoint slides in pdf format). In addition, the webinars included stories of farmers in Florida and a few other states who successfully transitioned from conventional agriculture practices to more sustainable and innovative farming techniques that improved nutrient management and mitigated negative environmental impacts (see attached powerpoint slides in pdf format).
To recruit farmers for the webinar series, we obtained contacts of over 1,200 local and regional farmers (since we have access to remote farmers through webinars) mostly through communicating with local extension agents or searching independently via web-based searches. We also communicated with PIs who previously held SARE grants in UF and Florida A&M regarding the recruitment. The contacts were gathered from 60 counties out of 67 counties that are present in the state of Florida. Out of 1,200 contacts, we reached out to nearly 760 farmers via emails and asked if they are interested in participating in the educational webinar series. 42 farmers out of 760 farmers responded to the emails and showed interest in participating in the webinar series.
For the 6-webinar series, 26 people participated altogether averaging 4.3 participants per webinar. We assessed the effectiveness of the educational seminars through poll functions in zoom. The feedback we received was mostly positive. Out of 26 participants, 14 attendees participated in the post webinar evaluation and 93% (13 out of 14) attendees felt that the webinar was effective (50% very effective, 43% effective to some extent).
Though we received positive reviews from our participants, we also believe that in-person educational sessions that were originally planned prior to the pandemic will be more effective, specifically those involving hands-on experiences, as opposed to webinars that rely on electronic materials. We also believe that farmers would be more excited to participate in on-site educational sessions rather than workshops given via zoom webinars. We are expecting that we can resume in-person gatherings in the field site by Fall 2021 and we can safely provide in-person educational sessions in the field as originally planned, as the number of covid-19 cases in the state of Florida has been declining over the past 3 months. Moreover, more people in the state are vaccinated on an everyday basis. We plan to offer 6 on-site educational sessions at the SARE designated field site in Gainesville (see Figure 1 and Figure 2) from Fall 2021 through Spring 2022. We will also continue to develop and enrich electronical education materials on our website (URL: https://programs.ifas.ufl.edu/sare/). We are also open to continue to offer webinars to farmers in distant counties who showed interest in participating in our educational program.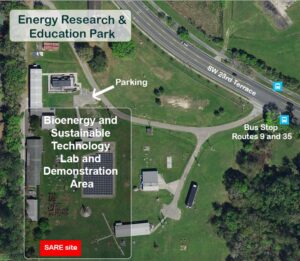 Figure 1. Location of SARE site within the Bioenergy and Sustainable Technology Laboratory Field Research and Demonstration Area, Gainesville, FL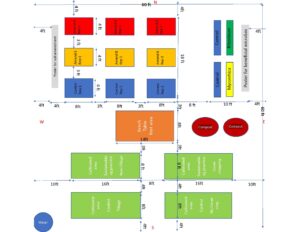 Figure 2. Outline of SARE Field Site
Webinar Materials
SARE_Microbe_Webinar_Materials_Feb18
Success Stories
Farmer Success Stories Feb 2021
Farmer Success Stories Nov 2020
Resources
Book recommendation
Online Materials
https://programs.ifas.ufl.edu/sare/
News Article Published
https://citrusindustry.net/2020/11/13/harnessing-the-power-of-soil-microbes/
Creating SARE Field Site

Participants
No participants