Progress report for LS19-308
Project Type:
Research and Education
Funds awarded in 2019:
$44,468.00
Projected End Date:
03/31/2022
Grant Recipient:
University of Florida
Project Information
Abstract:
Multiple aspects of farming practices and operations need to be optimized simultaneously and coherently to make food production sustainable. Productivity needs to be maintained while soil nutrients, water quality and farm waste need to be managed properly to mitigate negative impacts of farming on the surrounding ecosystems, so people in the next generations continue to receive ecosystem services. Though often ignored due to their intangible nature, microorganisms play important roles in agriculture by facilitating growth of plants via symbiotic interactions, maintaining the water quality of receiving water bodies, and converting farm waste into renewable energy and nutrient-rich biofertilizer. The microbial processes are natural rather than synthetic, mediating long-lasting interactions between nutrients, plants, and soils.
In this proposal, the PI and co-PI will conduct an education program on the vital roles of microbes in sustainable agriculture. Topics covered will include microbes involved in the nitrogen cycle, the phosphorus cycle, mycorrhizal fungi, and microbes that are involved in anaerobic digestion and composting of farm waste. The targeted audience will be local and regional small-scale farmers, who are likely to adopt sustainable farming practices. This education program will allow farmers to learn methods to sustainably fertilize and improve soils using naturally occurring materials and processes, the concept that over fertilization or irrigation may pollute groundwater or reservoirs, and skills about waste conversion into renewable energy and biofertilizer, which make farming operations more sustainable.
A total of 12 sessions of the education program will be hosted over the two year period by the PI and co-PI at the Energy Research and Education Park in Gainesville, FL, and that three Research and Education Centers in the state of Florida. The education program will be conducted on a hands-on basis. Farmers will learn the microbial process through visualization including observing red-colored leghemoglobin in nodules of legume plants, and observing hyphae of mycorrhizae on the root areas through a microscope. They will also observe differences in plant growth with mycorrhizae vs. w/o mycorrhizae, or the biofertilizer application vs. w/o biofertilizer. The treated and controls plots will be created prior to the sessions. Biogas from anaerobic digestion of farm wastes will be visualized by flaming using a Bunsen burner. We will also create an educational website regarding microbes that are utilized in sustainable agriculture. We will create infographics that summarize the role of microbes in sustainable farming and post them on the website. Videos that capture highlights of our educational sessions and testimony of participants will be created and posted on the website. The link to the website will be disseminated and will be used to recruit farmers. We believe that education through hands-on experiences and visualization is the most effective way to transfer knowledge and skills, and also to motivate people who receive the information.
Project Objectives:
To make intangible microbial processes tangible (mycorrhizal fungi, nitrogen-fixing bacteria, and microbes in an anaerobic digester), so farmers can comprehend the essential roles of microbes in sustainable farming processes.
To show farmers that natural processes with the help of symbiotic microbes will increase productivity relative to control (without microbial symbiont).
To teach the benefits of natural sustainable processes compared to agricultural practices that could potentially harm our surrounding ecosystem, through this microbial-based exercise.
Research
Educational & Outreach Activities
2
Curricula, factsheets or educational tools
Participation Summary
Education/outreach description:
SARE Annual Report
Project Title: Harnessing Microbes for Sustainable Food Production
Project Number: LS19-308
PI: Masanori Fujimoto
Co-PI: Ann C. Wilkie
We have been making steady progress on this project over the course of the last 6 months. The main goal of the project is to educate farmers about the roles of microbes in sustainable agriculture and to make important yet intangible microbial processes more tangible through educational sessions. The project involves two main aspects which include provision of educational sessions through hands-on activities at the field site in Gainesville, FL, and the enrichment of educational materials through online resources. In this report, we are reporting on progress made in both field and online components over the last 6 months.
In the first phase of this project, logistics and training of student employees was completed. Funds were transferred to the PI's account in the University of Florida at the end of August of 2019. Student employees were hired in November of 2019 after conducting in-person interviews in October of 2019. Student employees were trained for the study through assigned reading materials and multiple meetings during the month of December 2019. Students also took online courses about Responsible Conduct of Research (RCR) and completed these courses during this time.
For the on-site field workshop, the SARE field site was created at the Bioenergy and Sustainable Technology Laboratory (BEST-Lab) in Gainesville, Florida in January of 2020. The detailed process of field site development can be found in a separate file titled "Creating SARE Field Site". In short, one section of the land within the BEST-Lab Field Research and Demonstration Area was designated for the SARE project in January of 2020 with 3,600 ft2 space allocated for the project (Figure 1). A water line was extended to the SARE field site in February 2020 from an existing water main in order to irrigate the field. The SARE field site houses spaces for raised garden beds which will be used to demonstrate the effect of soil amendment with compost and digestate on plant growth, as well as space for farm waste-based compost piles which will be used to amend soils (Figure 2). The SARE field site also contains designated cultivated areas for cover-cropping and no-till demonstration along with control plots (Figure 2). Within the SARE field site, garden pots were also established, which will be used to demonstrate the effect of beneficial microbes on plant growth (Figure 2). The exact locations for these spaces were delineated with wooden stakes in February 2020 and weeds were removed from those spaces. Seeds were purchased from local nurseries and tested for germination using local soil and purchased soil-mix.
Educational posters that will be displayed in the SARE field site were created and uploaded as image (jpeg) files (Figure 3). Two educational posters were created; one about the impact of farming on watersheds and water quality, and the other about beneficial soil microbes, specifically mycorrhiza fungi and legume associated rhizobium (nitrogen-fixing bacterial microbes). These posters will be exhibited during educational sessions at the SARE field site.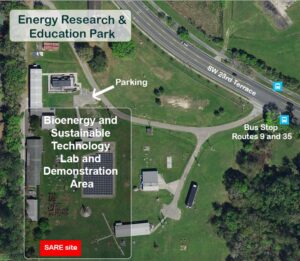 Figure 1. Location of SARE site within the Bioenergy and Sustainable Technology Laboratory Field Research and Demonstration Area, Gainesville, FL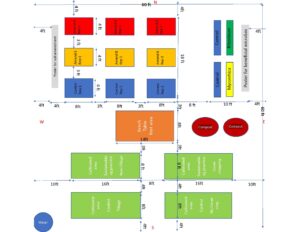 Figure 2. Outline of SARE Field Site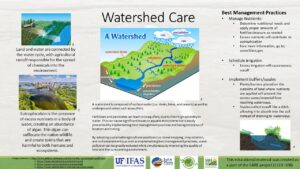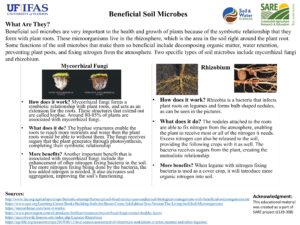 Figure 3. Example Educational Posters
Contacts to over 130 farmers in the north central Florida region have been collected by contacting county extension agents. These contacts have been organized in a single excel spreadsheet. We have contacted nearly 70 farmers via email and informed them about our project. More contacts will be collected throughout the course of this project.
The original plan was to host one on-site educational session in the middle of March after the University of Florida's spring break (March 2nd – March 9th of 2020). However, this workshop was postponed, as UF transitioned to online courses, students were sent home, and social distancing has been recommended after the spring break due to COVID-19. We will continue to prepare and maintain the SARE field site until the situation is resolved, and will host on-site workshops as soon as social gathering is allowed. In the meantime, we will focus more on enrichment of online education materials and prepare for potential online real-time educational sessions using "zoom" conferencing.
As for the second component on development of online educational materials, these materials have been in the process of development since January 2020. The online materials that have been developed for our project up to this point were uploaded in a separate file titled "SARE website contents". For now, the online educational materials include a description of this SARE project, biography of individuals who work on this SARE project, and key information regarding sustainable agriculture, watershed protection, soil amendment, disease suppression, farm waste management, and agroecosystem concepts. More educational materials that are relevant to this SARE project will be uploaded on our website in the near future, which will include information on beneficial soil microbes and composting. The website is currently constructed using a domain within the Institute of Food and Agricultural Sciences (IFAS) of the University of Florida (https://programs.ifas.ufl.edu/sare), and will be made public in the middle of April 2020.
As soon as the current situation regarding social distancing is resolved, educational sessions will be hosted at the SARE field site. The activities conducted during the educational sessions will be recorded and photos and videos from the sessions will be posted on this SARE website. The website contents will include both educational materials and recorded materials from workshops at the SARE field site and will be continually updated throughout the course of the project. The website will also be used as a communication tool between our project and farmers. We are obtaining social media accounts and will utilize social media tools to announce upcoming events and to direct them to our website.
If our project needs to increase the remote educational component (minimizing the on-site field program) due to the current covid-19 outbreak, two possible approaches could be taken. One is to provide online video-based educational materials which include videos of microscopy views with narration about specific beneficial microbes. Online videos involving field tours could also be created, and made available to farmers through our website and social media. The second approach could be online-based, real-time zoom conferences with farmers. These zoom conferences could allow us to conduct interactive two-way educational sessions with farmers rather than one-way communication.
Creating SARE Field Site

SARE Website Contents