Progress report for ENC19-182
Project Type:
Professional Development Program
Funds awarded in 2019:
$68,058.00
Projected End Date:
09/30/2021
Grant Recipient:
Michigan State University
Project Information
Abstract:
This project will provide professional development opportunities for agricultural professionals to learn about and use three online conservation tools that facilitate the stewardship of Michigan's land and water resources. The Sensitive Areas Identification System, Michigan EnviroImpact, and the Computer-Assisted Nutrient Management Planning Program are available across Michigan and support conservation planning and implementation. Our project is designed for professionals that work with Michigan producers to support a thriving and sustainable agriculture sector, including conservation district technicians, NRCS technicians, Michigan State University Extension educators, and watershed technicians. Project activities include: hosting conference sessions at events like the Michigan Association of Conservation Districts Fall Conference or the Michigan Water Environment Association Watershed Summit; hosting four interactive training workshops across Michigan; offering a three-part webinar training series; and developing updated outreach materials including short tutorial videos. In addition, we will promote these free online tools at popular events such as AgroExpo. By providing training to 100 agricultural professionals and introducing the tools to an additional 250 professionals and 340 farmers in Michigan, we will not only increase awareness of the tools, but aim in the longer-term for these to become commonplace resources that are routinely used in conservation offices to help farmers plan and implement sustainable farming practices. In turn, this project will make certain conservation activities easier and more efficient, while improving soil health and water quality. We will also advance understanding of how professionals and farmers perceive agricultural support tools and what barriers exist to adoption through a program evaluation.
Project Objectives:
Through this project, we anticipate introducing the online tools to 250 professionals and 340 farmers based in Michigan and reach at least 80 professionals in the greater North Central Region. We will also provide in-depth training to 100 professionals.

Products
Our professional development program will result in the development of several training and outreach materials. These include creating a common webpage that describes and links to each online conservation tool, a common factsheet that provides information on all three tools, tabletop displays for SAIS and CANMaPP that can be utilized at exhibits and events, and two short-tutorial videos for SAIS and CANMaPP that help new users get started with these tools. In addition, we will develop a common slidedeck that will be tailored as appropriate for presentations and trainings. The common webpage is critical to making the various outreach and promotional products easily accessible to professionals, even after the project ends. We will track and report page visits, file downloads and video views on the project webpage.
We will also write one MSUE article on the project overall and three articles for each tool highlighted in this project. We anticipate reaching 300 members of the MSUE listserv through these articles (this is approximately 10% of the membership list). Finally, we will write a final report on the results on the project, including evaluation data. The report and links to the MSUE articles will be posted the project's webpage.

Events
We will hold five special conference sessions throughout the project. Our intended venues with agricultural and conservation professionals include the MACD Summer and Fall Conference, the MSUE Fall Conference and the MWEA Watershed Summit. We estimate that we will introduce the three conservation tools to approximately 160 professionals at these events, with roughly 40 attendees at each session. More specifically, we intend to reach 80 professionals with NRCS, MAEAP, or conservation district affiliations at the MACD events, 40 Extension educators at the MSUE Fall Conference and 40 professionals affiliated with watershed groups, land conservancies and environmental nonprofits at the MWEA Summit. We will also hold a session at the Michigan Farm Bureau Annual Meeting, and we anticipate reaching 40 farmers at this event.
We will also hold four interactive, half-day training workshops around the state with conservation professionals, focusing on NRCS, MAEAP and conservation district employees. We anticipate 25 participants per training, resulting in 100 professionals trained on the three conservation tools.
We will offer a three-part webinar series that highlights each tool. The three recorded webinars will be posted on the common webpage for the tools. We anticipate introducing the tools to 90 total agricultural and conservation professionals, with 30 participants per webinar. We will offer an additional webinar to the NCRWN, reaching at least 80 professionals that work in other North Central Region states.
We will exhibit and present at the 2020 and 2021 AgroExpo event. Over this two-day event, we expect to introduce the tools to 150 farmers, totaling 300 farmers for the project overall. 
Cooperators
Education
Educational approach: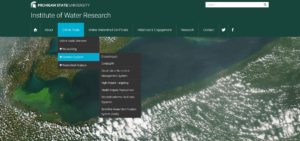 Before the COVID-19 pandemic became an issue in the U.S., we were able to host six presentations at six different events that highlighted the use to some extent of the Online Tools we are promoting for conservation planning and implementation. These events included Ag Action Day (1/31/2020), the Michigan State University Extension (MSUE) Dairy Team Winter meetings (2/25/2020, 2/26/2020, 2/27/2020, and 3/4/2020), and the 2020 Conservation Tillage Conference (3/3/2020). Additionally, we have been able to compose a MSUE News Article (11/6/2019).
Up and coming we have a presentation for one of our online tools 7/23/2020 as well as the potential for being able to present at our MSUE Fall Conference 2020 and have submitted an abstract that we are currently waiting for approval. We are also in conversations with the Michigan Association of Conservation Districts (MACD) about presenting our online tools presentation at the MACD Winter Conference that will be held in December 2020.
Several of our proposed events (AgroExpo, MWEA, and others) have been cancelled due to the COVID-19 pandemic, so we are looking for other ways to communicate about these online tools in lieu of these cancellations.
Some educational materials did exist that we were not entirely aware of, therefore, as part of our deliverables (instead of developing something entirely new) we will do a better job of promoting said resources (for instance, the SAIS factsheet).
As far as learning outcomes and other outcomes, current presentations were in concert with other programming events, and therefore, we did not have an attached survey. However, for the webinar we will be creating as well as the specific training through educational presentations we will do, we will have an attached survey that will allow us to examine those outcome results.
Additionally, for participants at the bottom of this page, we will garner 6-12 individuals to input once we do specific programming and trainings as these will be focused on the online tools only as opposed to in conjunction with other presentations.
Education & Outreach Initiatives
Creation of of Educational Materials
Objective:
To create educational materials that help individuals better understand the importance of nutrient management by utilizing online tools that are readily available.
Description:
sais-flyer-10-21-16 – This flyer, we found, was already created within the Michigan State University Institute of Water Research. We had slight modifications made and utilize this flyer as our factsheet.
Currently, factsheets, tutorial videos, table top displays, and a webinar exist for the Michigan EnviroImpact tool. The goal is to create these same materials for CANMaPP and SAIS. A storyboard has been created for SAIS to create two short (less than five minutes) YouTube tutorial videos. Additionally, a flyer/factsheet already existed for SAIS and was slightly modified for this project. We are in the process of creating the same materials for the CANMaPP tool as well as a factsheet that will highlight all three tools simultaneously.
Outcomes and impacts:
Our goal is that those individuals that utilize the educational materials will have a better understanding of these online tools to help with nutrient management decision making.
Implementation and Training
Objective:
To implement trainings that help individuals better understand the importance of nutrient management by utilizing online tools that are readily available.
Description: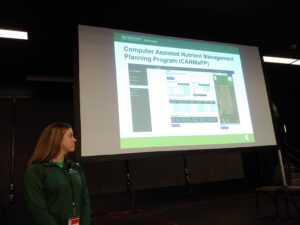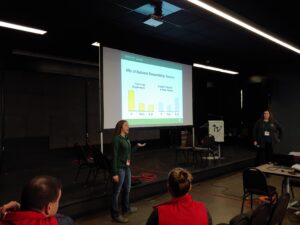 The above link is to the YouTube video that was created regarding the presentation at the 2020 Conservation Tillage Conference in Ada, Ohio.
We are in the process of creating a webinar training as well as a slide deck presentation that we will be using for our in-person or live zoom training for specific organizations about the three tools. How some of the information is implemented will depend on the COVID-19 pandemic.
Outcomes and impacts:
Our goal is that those individuals that attend these trainings will be able to successfully utilize these online tools and make good, sound nutrient management practices with these tools as support.
Educational & Outreach Activities
1
Curricula, factsheets or educational tools
6
Webinars / talks / presentations
Participation Summary
80
Ag service providers (other or unspecified)
Project Outcomes
1
New working collaboration
Project outcomes:
We are currently working on this portion of the grant and hope to get this information when we present the webinars and specific trainings to organizations.
102
Farmers reached through participant's programs