Progress report for ES19-150
Project Type:
Professional Development Program
Funds awarded in 2019:
$79,847.00
Projected End Date:
09/30/2022
Grant Recipient:
Clemson University
Project Information
Abstract:
The goal of this project will be to establish and support a core group of Extension "Soil Health Service Providers" as part of a grower support network. This project has the full support of Clemson and South Carolina State Extension administrators who have made training in soil health a top priority for existing agriculture agents, and for future agents who begin careers in agricultural Extension. Currently in South Carolina there are a few "innovative" farmers who have tried and been successful testing new more sustainable approaches for soil health and fertility management including cultural methods such as cover cropping. However, most farmers are more risk averse and want ideas to be thoroughly tested before trying them out. Thus, there is a critical need for assistance to help these "middle adopters" implementing alternative soil health practices. Without a solid understanding of how cover crop benefits are directly related to soil biology, however, making sound cover crop management decisions for the long term is challenging, and cover cropping is just one element of a conservation cropping system that provides for sound soil health management. The proposed project will build upon previous research and outreach programs to provide in-depth, advanced soil health training and experiential learning with an emphasis on soil biology for selected South Carolina agricultural professionals. Graduates of the training will, in turn, provide outreach and assistance on soil health in their respective communities.
Project Objectives:
Provide in-depth training and experiential learning in soil health with an emphasis on soil biology for a core group of committed agriculture professionals in South Carolina.
Establish a cadre of Extension "Soil Health Service Providers" as part of a statewide grower support network around soil health.
Create increases in awareness about the importance of soil health, soil health management, and practices to improve soil health among farmers and farm advisors.
Promote self sufficiency among farmers in how to manage production fields for improved soil health, soil nutrient efficiency and to foster improved soil resilience and overall farm profitability.
Cooperators
(Educator and Researcher)
Education
Educational approach:
At the start of the first year the project collaborators will organize a state conference devoted to soil health. The objective of the conference will be to generate excitement around the topic, discuss new developments in the science of soil health, and to promote the 2-year training project. Speakers will include soil health researchers, agriculture service providers who focus on soil health, and key farmers who have successfully implemented soil health practices. A session will be included where conferees will provide input on the future training curriculum and training methods. Following the conference a series of one-day workshops and soil health field days will be held across SC for up to 20 hand-picked SC Extension agents and other agriculture professionals with introductory soils training. In year two, trainees will provide outreach on soil health in their respective communities. The project is expected to reach at least 400 farmers, landowners, and their advisors.
Education & Outreach Initiatives
Clemson 2019 Soil Health Confernece - Building Soil Health: Principles, Practices, and Profitability
Objective:
1) Discuss new scientific discoveries that inform the latest recommendations to build health soil;
2) Hear from farmers who have implemented innovative approaches for building a resilient system;
3) Engage with farmers, Extension personnel and other ag professionals to address soil health challenges and opportunities;
4) Provide tools for teaching soil health for agriculture professionals who work with farmers.
Description:
Agenda_day1_day2_Clemson_Soil_Health_Conference (PDF)
This conference was held on October 28th & 29th, 2019 at the Madren Conference Center & Inn and the Clemson University Student Organic Farm in Clemson, SC.  Day one of the conference was designed for farmers, researchers, and ag professionals. Up to date information will be delivered by experts in the field, with breakout sessions on specific management practices in livestock, row crop and horticulture systems.  General session topics include principles of soil health, soil biology, soil health indicators, economics, and more.   Day two of the conference offered special extended programming, Tools for Teaching Soil Health, for agriculture professionals who work with farmers. CEUs were offered for Certified Crop Advisorys in attendance. 
Soil Health Conference: Day 1 Agenda (please see attachment for complete agenda with session information and speakers names)
9:05 – 10:05   Back to The Future: A Historical Perspective on Soil Health
10:10 – 11:10   Principles of Soil Health: Is No-till Enough?
11:15 – 12:15   Biology of Regenerative Soils
12:15 – 1:15   LUNCH
1:15 – 2:15   Indicators: How to Evaluate Soil Health
2:20 – 3:45   Commodity Breakout Sessions: Specific Production Strategies for Managing Soil Health in Livestock, Horticulture, & Row Crops
     Livestock - Soil Health Practices in Livestock Operations
     Horticulture - Soil Health Practices in Horticulture Operation
     Row Crops - Soil Health Practices in Row Crop Operations
3:45 – 4:30   Adaptation vs. Adoption: Dealing With the New Normal
4:35 – 5:30   Panel Discussion: Economics of Transitioning to Improved Soil Health Practices
Soil Health Conference: Day 2 Agenda (please see attachment for complete agenda with session information and speakers names)
8:15 – 9:45   Communicating with Growers: Panel Discussion
9:50 – 11:20   How to Measure and Test for Soil Health: There are options!
11:20 – 11:40   What tools are available?
11:45 – 12:45  LUNCH
Move to Hands on Activities: Techniques for In-field Assessment of Soil Health
12:45 – 2:30  Using Web Soil Survey and SoilWeb App (Lacy Adams)
2:30 – 3:00   Travel to Nearby Clemson Student Organic Farm
3:20 – 3:45   Rainfall Simulator; whole group demonstration (Kirsten Robertson)
3:45 – 4:30   Stations on Farm - Water Infiltration Test, Hands-On Soil Evaluation, "Walk the Field" Assessment
The conference was covered in publications after it's completion:
https://news.clemson.edu/farmers-learn-the-science-of-soil-health-at-clemson-conference/
https://www.no-tillfarmer.com/events/245-clemson-soil-health-conference-2019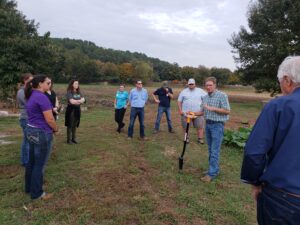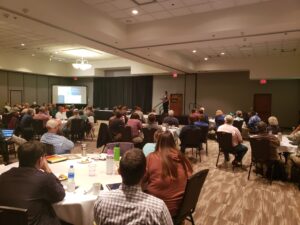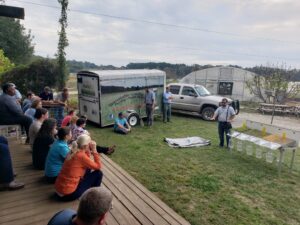 Rethinking the Nutrient Management Paradigm
Objective:
Quantify, expand and verify the productivity and environmental benefits of the soil management systems used by cotton producers.
Description:
This was a soil health presentation by Dr. Buz Kloot offered to participants of the Clemson Soil Health Conference.  Held on 12/10/2019, this webinar was developed for the Soil Health Institute in Greensboro, NC and addressed soil health in agronomic cotton farming .  The event was recorded and is publicly available at: https://vimeo.com/412559657
Dirty Little Secrets form the Soil
Objective:
Offer in depth information on the 5 soil health principles to Advanced Soil Health training
Description:
Dr.  Buz Kloot lead a discussion for the the SC Grazing Lands Coalition. He was joined by Jason Carter, a row crop farmer, and Terry Chandler, a Georgia cattleman, to talk about soil health principles. This event was held on 2/29/2020 at the Abbeville County Extension Office in Abbeville, SC.  The event was circulated among soil health stake holders in the state.  One online video is available associated with this event: https://www.youtube.com/watch?v=kWDO_O3JUSI&list=PLogKHYJs3_aN7zy3l789b913NeLqG-bVu&index=1&t=51s
**COVID-19 restrictions significantly reduced the ability to carry out any any programming in the majority of 2020 however some online events were organized in 2020 through April 30, 2021:3/9/2021
Biological Soil Indicators and their Practical End Uses
Objective:
Provide Advanced Soil Health training via webinar format
Description:
2/10/2021 - NCAT Soil health innovations conference On line
Dr. Buz Kloot presented Biological Soil Indicators and their Practical End Uses at ATTRA's first annual Soil Health Innovations Conference was held Monday and Tuesday, March 8 and 9, 2021. The virtual conference offered live, interactive talks, which were hailed by attendees as outstanding for their cutting-edge content and entertaining presentations.  SC agricultural professionals who were unable to attend the conference are being offered the opportunity to access the entire conference recordings on the event management platform until September 5, 2021.
11th Annual Bi-States Virtual CEP Annual Horticulture Conference
Objective:
Provide Basics of Soil Health information via webinar format
Description:
Cooperative Extension Program Bi-States program offered their annual conference virtually in 2021.  Dr. Buz Kloot provided an overview of soil health to participants of the conference held on 3/25/21. This event was shared with South Carolina Agricultural Professionals. 
Educational & Outreach Activities
4
Webinars / talks / presentations
Learning Outcomes
250
Participants gained or increased knowledge, skills and/or attitudes about sustainable agriculture topics, practices, strategies, approaches
20
Ag professionals intend to use knowledge, attitudes, skills and/or awareness learned
Project Outcomes
10
New working collaborations
20
Agricultural service provider participants who used knowledge and skills learned through this project (or incorporated project materials) in their educational activities, services, information products and/or tools for farmers
Participants
No participants