Final Report for FNC15-1004
Project Type:
Farmer/Rancher
Funds awarded in 2015:
$7,500.00
Projected End Date:
02/15/2017
Grant Recipient:
Morning Sun Farms, Inc.
Project Information
Summary:
Our project is to determine if soilless, organic micro-green production in a hydroponic system can be a profitable, year-round farm enterprise in Northern climates.
We began working on our grant project in May of 2015.  First we purchased supplies. We then replaced the grow-bed media we were using. Next, we began testing a variety of grow pads and soilless mixes. We identified and corrected several problem areas in our growing system early in our research, resulting in a very positive outcome. Because of this, we were able to make adjustments to our original grant application. Instead of installing the water system outlined in our grant proposal, we are now, with approval, redirecting those funds to greenhouse insulation, allowing us to further cut costs and increase potential profitability.  This change is still in process.
Introduction:
We planned to conduct our experiments through late summer, fall and winter 2015-2016.  However, with implementing modifications and still maintaining our scale of production, we continued to run tests well into 2016. This had the unplanned advantage of seeing the benefit of our changes throughout all four seasons.
We tested:
Commercially prepared soilless mix
Homemade peat/vermiculite/perlite/compost mix
Micro-mats
Coir
Perlite
Vermiculite
Sand
Felt grow pads
Due to unforeseen circumstances, we have not completed all of the outreach we had hoped to do.  Currently most outreach has been verbally, through small tours, and responding to email inquiries. We have reached out to our past extension agent in an effort to complete this piece. Originally she was to help by contributing to publications she worked with. We do not know if this will be possible in her new position.  
Project Objectives:
Accomplishments/Milestones:
As stated in our previous report, we removed the rock base from the grow-beds, cleaned the water tanks and beds, replaced the rocks with pH neutral Bio-media balls or clay balls and refilled the tanks with clean water.  The clay balls were clearly the best product for our application.  We eventually replaced all rock and Bio-media balls with the clay balls except in one small area used exclusively for watercress.
This change immediately solved the pH problem and we have continued to maintain a pH of 5.8-6.3 without any additional water treatment to this day.
Our previous report also discusses our finding in growing micro-greens with commercial and homemade peat based mixes, coir and micro-mats.
Since that time we have also tested various combinations of sand, vermiculite and perlite.  These were all a definite fail.  They were messy, the wet sand was heavy and cumbersome to work with, and none produced the rigorous, healthy plants we were looking for.
Initially we planned to test Sure-2-Grow mats.  However, these became very obscure and if found were very pricey. Instead, we tested Biostrate Hydroponic Felt Grow Mats.  When we did our test, the felt was only available in a large roll.  This required additional labor to cut pieces to fit the 10x20 trays.  Though the results were better than peat mixes, coir, and most other products we tested, the felt mats did not compare to the superiority of micro-mats.  The felt was more expensive and required the extra cost/step of cutting the roll into pieces.  We also found the germination rate to be less (perhaps 20%) and the growth rate was slower, adding several days to the cycle before our micro-greens were harvestable.  Also, with the micro-mats, we are able to put the spent mats with the remaining stem and root pieces into our chicken pen to be consumed by our egg-layers. There, the micro-green remains can be eaten and the mats are completely broken down within a day or so to become part of the following years' compost. The felt pads however did not break down for weeks.  This was not something we wanted to incorporate into our farming practices and conflicted with our core values.
Cooperators
Research
Research results and discussion: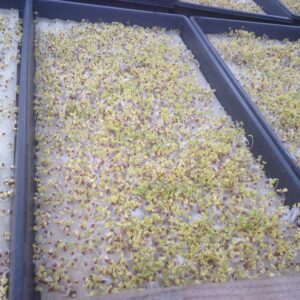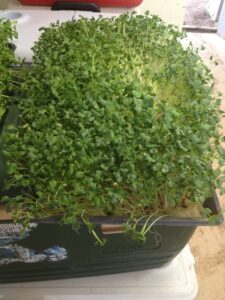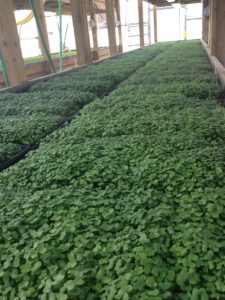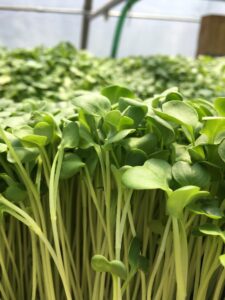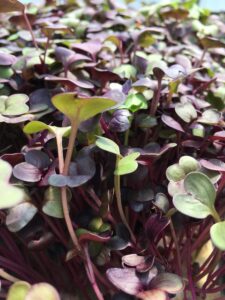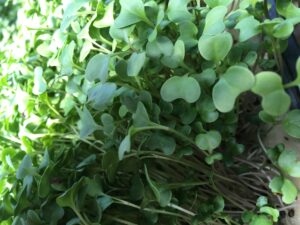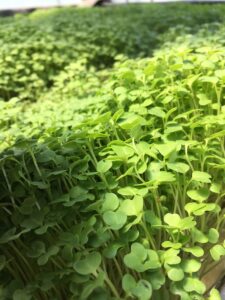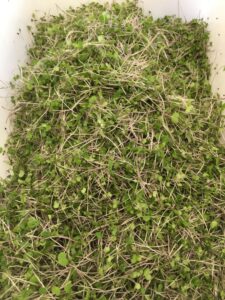 In conclusion, we have continued to use our homemade peat mix for Pea Shoots and Sunflower Shoots, but have switched exclusively to micro-mats for all micro-greens.  The micro-mats were a far superior product for our application.  They are easy to use, pH neutral, renewable, do not add salt or other chemicals to the system, are clean, light weight,  and fully compostable.  Since switching to these mats and changing the grow-bed media we have not had another pH issue.  The changes made have resulted in a consistent and healthy product nearly 100% of the time (except occasionally during times of very high humidity).   Because of that we have had cost and labor savings across the board. 
Savings have been realized in the following ways:
Planting- we now lay a mat in the tray, water, and then seed the tray. Previously we had to mix the peat (we used a cement mixer outside, year-round). Then the soilless mix is wheelbarrowed into the greenhouse, shoveled into a bin, trays filled, leveled, and then seeded and watered. The time saved per tray more than covers the added cost of the micro-mat and planting is not limited to those that can manage the more physically demanding task of handling the soilless mix.  This gives us the added benefit of having more staffing options.
Growth- We experienced consistent germination, growth rates and plant health with the micro-mats week after week. The micro-greens planted in soilless mix frequently were plagued with fungus, damping off issues, gnats, mushy spots, and inconsistent growth and color. This resulted in substantial losses.
Harvesting- Healthy, mat grown micro-greens are faster and easier to cut, saving many hours of time each harvest cycle.  They also require less washing (and less water) because of the clean nature of the mats.  No floating perlite, vermiculite or chunks of peat to clean out.
Clean-up- We save countless hours now not hauling heavy, wet trays of spent peat from our harvest area. Washing and sanitizing trays takes a fraction of the time using the micro-mats.  Less trays are broken because the mats are so light weight compared to the wet, soilless mix. Clean-up of the harvest area is faster and easier.
The cost savings we have realized has allowed us to upgrade to a better walk-in cooler which further enhances the quality of our product and is much nicer for us and all of our employees and volunteers to use.  A much needed improvement.
Because of the positive outcome from these changes, we were able to redirect the remaining grant funds.  Instead of purchasing a water system, we will be installing clear bubble greenhouse insulation.  We believe this will keep our greenhouse warmer in the winter and cooler in the summer, dramatically reducing energy costs.  Since this was a late change, it is still in process.  We look forward to seeing the results!
In evaluating the results of our research thus far, this grant opportunity has dramatically affected our farm and our goal of determining if commercial sustainable micro-green production is possible in a northern climate.
Though we are not at a point yet to rely solely on micro-green production, it has played a vital part in our farm's economy.  The changes made have allowed us to become more sustainable as a family, dramatically reducing the labor hours required each week.  As we continue to develop markets, increase sales, streamline production and cut costs we feel certain that micro-green production can be an important part of a small farms economy, even in a northern climate.
Participation Summary