Final report for FNC15-1005
Project Type:
Farmer/Rancher
Funds awarded in 2015:
$7,492.00
Projected End Date:
05/15/2017
Grant Recipient:
Bending Sickle Community Farm
Project Information
Summary:
AnnualReport_year1
Summary
One of the biggest issues facing beekeepers is the high rate of winter loss. Currently, beekeepers lose 30-65% of their colonies each winter.  Beekeepers generally replace these colonies lost in winter by purchasing packages of bees in the spring. Package prices have gone up considerably, making this system financially unsustainable to many beekeeping operations. This project presents an alternative to the expensive and unsustainable practice of purchasing package bees to replace annual colony winter losses using small nucleus colonies (nucs) that are made up in the late summer.  The success of this strategy depends on the ability of these nucs to overwinter. I am examining the key variables that affect overwintering nucs, to develop a detailed system that can be expanded and used by other beekeepers.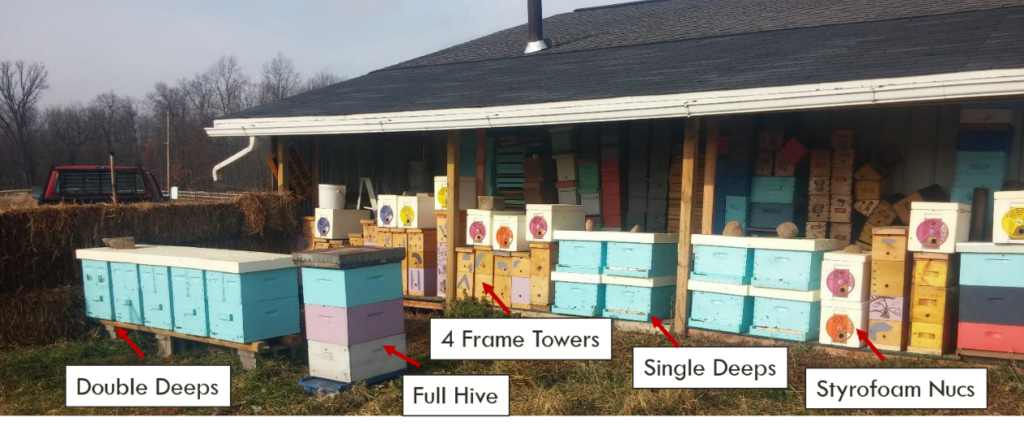 Project Objectives:
Objectives/Performance Targets
This study will examine the effect of key variables on colony survival: minimum cluster size, type of equipment, and timing that the nuc is made.  The goal is to identify successful options for wintering smaller colonies, and to determine a system of using a large colony to produce many smaller colonies that can be used to replace winter losses or apiary expansion.  In the spring, we will examine the differences in survival, identifying colonies that perished, colonies that survived but were weak, and colonies that came through the winter strong.  Colonies were housed in 5 different equipment types, and cluster size and basic data were recorded.  The objective for year 2 will be to determine differences in timing, and to do more detailed studies in the best equipment types.
Research
Research results and discussion:
Impacts
Impacts and Contributions/Outcomes
In the spring of 2016, I will have survival outcome data for the first year.  These data will be analyzed to identify any differences between equipment type and initial colony conditions.  This study will continue for one more year, to identify if differences in survival are consistent.  I have already determined differences in user preference and equipment pros and cons that will guide the creation of a guidance document on this procedure.
I anticipate that weather will have a significant effect on outcome.  The weather of year 1 was not typical of usual conditions; the fall was very warm for much later into the season, and the winter was exceptionally mild.   The second year of data collection will be very useful in determining true differences in the presence of environmental variability.
Accomplishments
Accomplishments/Milestones
Equipment was purchased and assembled in June 2015.   Five different types of equipment were used: Full size hives, single deeps, double deep nucs, four-Frame towers, and styrofoam nucs.
In August and September I created small nucleus colonies from existing colonies. 
Colonies were created in the following ways:
Full size colonies were completely broken down into as many nucs as possible.
One or two nucs were taken from larger colonies and moved into a new location.
Mating nucs were allowed to stay as full colonies.
I made up a total of 89 nucs.  Three colonies were robbed out or did not have queens return from mating flights, and were not included in the study, leaving a total of 86 colonies going into the winter of 2015/2016.  Nucs were moved to 2 overwintering yard for consistency.  
| | | |
| --- | --- | --- |
| Nuc Style | Number Made | % Survival as of 2/2016 |
| Full Size | 8 | 6 (75%) |
| Double Deeps | 12 | 10 (83%) |
| Single Deeps | 15 | 15 (100%) |
| 4-Frame Towers | 38 | 31 (82%) |
| Styrofoam Nucs | 11 | 9 (81%) |
| Total | 86 | 71 (83%) |
These nucs were all provided with a pollen patty, and were treated with an oxalic acid drench to control varroa.
Some colonies were created using a queen cell, while others were created using a virgin or mated queen.   All queens were grafts off of the same mother queen, to reduce differences due to genetic variability.
All colonies were inspected using a standard colony measuring sheet (attached) to record data on cluster size, queen status, amount of brood, presence of disease, and amount of stored food.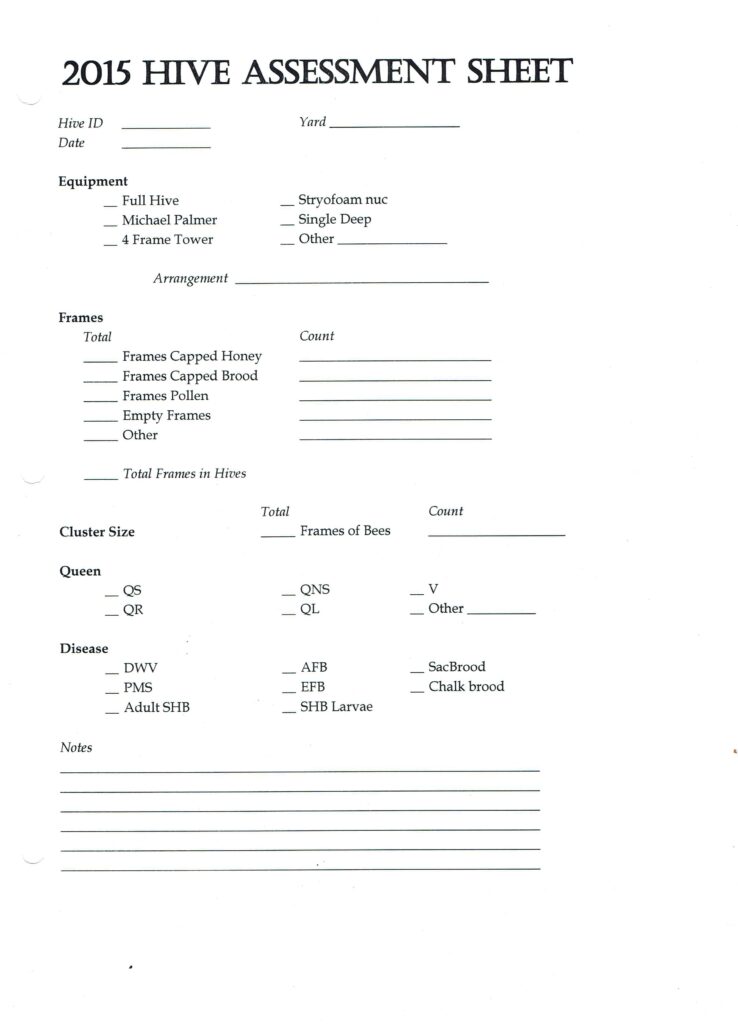 Colonies have been inspected once this winter, but survival data will not be recorded until Spring 2016.
Participation Summary
1
Farmers participating in research
Educational & Outreach Activities
2
Curricula, factsheets or educational tools
1
Published press articles, newsletters
19
Webinars / talks / presentations
Participation Summary:
Education/outreach description:
This project was presented at multiple beekeeping conferences and meetings.   I spoke with beekeepers at multiple clubs and conferences in Michigan, in Chicago, Pennsylvania, Illinois, Indiana, Ohio, Missouri, and Massachusetts.  I performed on-farm demonstrations on my own farm, and at Bear Creek Organic Farm in Petosky, MI.
Learning Outcomes
1
Farmers reported changes in knowledge, attitudes, skills and/or awareness as a result of their participation
Lessons Learned:
Through this project I was able to become entirely self-supported in honey bee colonies in two years.  There are many different methods for overwintering splits and small nucs that can be used to make up losses in honey bees.  I tried four different methods, and was able to optimize them for different needs.  Beekeepers may take a year or two to optimize for their operation and location, but have many options to make up replacement colonies, and avoid the high cost of replacing bees each year. 
Project Outcomes
Recommendations:
Milbrath_SustainableFallNucs_Final - This article is what I have learned from this study.  It describes the motivations, the process, and my recommendations for people looking to make their operations more sustainable