Progress report for FNC17-1069
Project Type:
Farmer/Rancher
Funds awarded in 2017:
$6,001.00
Projected End Date:
01/30/2019
Grant Recipient:
Vintage Homesteader
Project Information
Description of operation:
I began farming on this site in 2014. I have always used organic, biodynamic, and permaculture practices; but without certifications. The total site is 76-acres. It is a countryside farm with lots of charm. It is a tranquil destination on the river, the farmhouse sits high on a bluff looking over the ponds and dense forest. It is tourism worthy by design. I grow a vibrant salad greens mix, heirloom fruits and vegetables, edible flowers, lavender, herbs and wild edibles. This is my first year growing in a high-tunnel (100 X 30). The Potager (French Kitchen Garden), that is also used as a labyrinth (150 X 150), and the high tunnel are the SARE project growing sites.
We sell produce at our local farmers market, to friends, family, neighbors, and farm visitors. This season we met a request for 30 lbs of ground cherries (on a preservation list) for Saint Louis Chefs.
FARM BACKGROUND: Inspired by the stories of heirloom specialty crops, I founded The Vintage Homesteader Farm in 2014, with partnership support from the land owner -- Dennis Woodhouse. The 76-acre farm is located in Maries County, Missouri (Marais is French for swamp/marsh). The farm sits high on a hill overlooking the lush valley and forest below. Our site is in a forest setting along a gravel road and this sets the tone for a tourism destination.
Creating a "Sense of Place" is one of our distinctive brand values. We purposefully designed a French style culinary landscape called a Potager, where edible flowers, lavender borders, and herbs serve as companion plantings, providing year-round visual appeal. The Potager design cultivates a sense of tranquility and joy in the artwork of growing high-quality food to fulfill culinary intentions. For the small-scale market demands of our community our 150'X150' (no-till) site is an asset as an edible landscape.
Our new 30'x96' high tunnel is under construction to extend the growing season. It was partially funded by a USDA Natural Resources Conservation Service (NRCS) program. We have diligently prepared for expanded growing success by utilizing SARE resources, and attended a two-day training provided by a Missouri State University School of Agriculture, University of Missouri Extension, and Lincoln University.
Growing in the Ozark Highlands offers richness and diversity. But, weather and soil conditions add growing complexity and challenge. Inspired by Wendell Berry's observation that "You can't know who you are until you know where you are" -- we became members of the Master Naturalist community to study Ozark Ecology for the purpose of gaining a better understanding of growing in this unique bioregion.
With the help of NRCS and the Missouri Department of Conservation we created a stewardship plan for the entire site, earning American Tree Farm System Certification (ATFS). We also planted a wild edible forest surrounding the growing site: Elderberry, Pecan, Pawpaw, Persimmon, Hazelnut, Aronia, Blackberries, and more. The Little Bourbouise River flows through the site; we maintain and beautify the riparian buffer. We have dedicated 14-acres to permanent native prairie for pollinators and soil health (we have bee hives), joining the Missourian's for Monarchs and Grow Native Prairie Foundation movements.
FARMER BACKGROUND: Prior to developing the farm, I formally studied organic and biodynamic farming methods. We utilize these practices to grow a broad variety of heirloom fruits and vegetables, culinary herbs, and wild edibles on 2-acres.
During my career, I earned Certified Nature, Heritage, and Culture Interpreter designation; designing Sense of Place programs. With a natural interest in wellbeing, I have completed formal nutrition, yoga, and herbal studies, and earned a certificate in Evidence-Based Public Health. In 2017, we are sponsoring a free public yoga class at our local Farmers Market.
Summary:
Problem Addressed: Earning a living as a small-scale organic farmer can be very challenging in our rural community. We are, however, a tourism destination associated with Route 66 wine and beer trails, canoeing, cave explorations, traditional catfish dinners with ice cream and pie that  complete a nostalgic rural Ozark Countryside (rustic antique collecting) adventure. This beautiful landscape of dense forest and scenic waterways is also a place of high-poverty.  According to the Global Wellness Institute (GWI) Wellness Tourism is the fastest growing and most  lucrative sector of the tourism market. A 2016 Yoga in America Report notes 39 million people practicing yoga today — an increase from 20.4 million practicing in 2012. People are seeking wellness vacations with benefits; tools to aid relaxation, reduce stress, or boost vitality.  This includes value-added services and products from herbs, mindful eating of plant-based foods, aromatherapy, to tranquility of nature for river/forest birdsong meditation.   
We set out to test the market for a new income opportunity "Wellness Tourism: Mindful Eating in the Wild" -- making the first introduction into our community of the concept Wellness Tourism as a value-added  farmer/ rancher product/service.   
As noted in our prior reports. Yoga and Mindful Eating / Wellness Tourism did not resonate with the "Sense of Place" in our community.  Using vital project feedback we created a different theme for our project called the "Botanical Tea Room;" we gained instant success 200 immediate reservations. The take-a-away from this, or evidence is that people enjoy eating for both wellness and entertainment. When people like what they eat, then they are interested in the meaning of Regenerative and Sustainable Agriculture production and why it matters. Many of our Tea Room visitors have become repeat customers.  
Solution Pursued:  Industry reports from The Global Wellness Institute indicate Wellness Tourism is continuing to grow and strongly influence consumer spending/preferences.  To know the meaning of Wellness (the state of being in good health, especially as an actively pursued goal) and Well-being (the state of being comfortable, healthy, or happy) is to understand that farmers/ranchers cannot make wellness and well-being for the consumer/visitor. However, we can create opportunities and experiences for visitors/consumers to participate in activities that cultivate self-care (wellness, happiness, well-being).
Humans are unique, as such their needs are different.  There seems to be a great need for people to identify both what is missing from what they eat --and what is missing from their lives.  These discoveries call for an investigative journey. Wellness is a whole story about finding balance, comfort, a sense of joy and wholeness -- with meaning and purpose in daily living.  Consumers might eat local and sustainable food and still find something missing. Why? Because traditional cuisine matters in the realm or our identity and culture.  
Interpretation of  a Wendell Berry quote " If you don't know where you are, you don't know who you are" is the (1) meaning-making of your "Sense of Place" your community; a strong identity that is deeply felt by inhabitants and visitors (2) dynamic terroir (the complete natural environment in which a particular agricultural product is produced, including factors such as the soil, topography, and climate) (3)  Learning how to create a "sense of place" business brand model that fits within community identity and values (4) Mastering the Art of Interpreting your business model; vision, purpose, values, goals (5) Refining plans for inclusion as a Wellness Tourism entity.
The project's research approach (if conducted), educational approach and farmer learning outcomes,
Our simple research approach (1) Find like-minded audiences to leverage feedback and modify ideas bases on feedback (2) Work and join in community with like-minded groups (3) Create very specific postcards for each concept test marketed (inexpensive for mass quantities). Distribute and measure feedback.  
From the beginning of our "Mindful Eating Project" We joined (with membership) a significant number of organizations both local and national to introduce our project and populate on their website, flyers, in advertising materials, and event collaborations:  Bee Clubs, Native Plant and, Herb Societies, Forest Preservation, Monarch Butterfly Habitat, Prairie Foundation, Heritage/ Culture Interpretation, Tourism, Yoga, Farmers Market, Chamber of Commerce, Slow Food, Spa's and Health Clubs, Sustainable Agriculture, Gardening, Health Food stores, Regional Planning Commission, Wild Edibles, Green Business, Tea Room Societies and more.
We attended conferences, trainings, events, and meetings associated with the membership groups, we mixed, mingled, extended invitations, and exchanged information.    
We coordinated learning themes on our website and created targeted FaceBook pages. We sent out over 2,000 postcards. 
Results:  Most of the organizations that we joined bombarded us with email and mail requesting additional donations -- very few invited us to participate in collaboration.
Botanical Tea Room: Immediate response with over 200 reservations and to this writing the reservations have continued, many visitors repeating the experience to bring others. Survey collection data 60 survey responses: 100% of our visitors loved the food, the idea that is sustainable, and a remote visit to the country farm with vintage charm.  Only one negative report from a Media Person (needs to be more accessible, takes too long to get to  the farm, etc) We dismissed this as not having an understanding of our vision, mission or purpose.
            Mindful Eating in the Wild (Plant-based...seed-to-salad- table)
A slow and meditative eating experience to activate and awaken the senses. Participants were invited to harvest a broad variety of herbs, edible flowers, and salad greens, create their own edible landscape as a work or art, and mindfully consume with consciousness of smell, flavor, texture,  while enjoying the sights and sounds of the wild -- and eating. 
We found only one responsive audience. The Yoga Community as part of a yogic lifestyle ritual to enhance their practice.  To all others, the concept was too mysterious and did not resonate as a call for engagement.  I took extensive training to deliver programs with skill and confidence.
We gave surplus greens to food trucks and other businesses serving food plated and our salad mix was a huge success at small and large scale events.   
Offered the Yoga of Food mindful eating and yoga. It was not popular as an outside activity. Received requests for yoga inside as a physical yoga (exercise) yoga experience.
            Herb Walks and Talks: 
Generates interest as community meet-up or free public service event.
Generates consumer curiosity for an affordable natural cure of an illness; not a good idea to go here; legal consequences!  An Herbalist is a mystic, scientist, storyteller, and naturalist. Qualifying Knowledge of  botany, pharmacy, physiology, medicine, mythology, spirituality, psychology, and ecology is encouraged for this practice. I graduated from formal herbal studies as a consequence of this offering; to investigate growing opportunities. There is public fascination and demand for live plants and very few if any regional resources to access or purchase Organic Medicinal Herb plants.
            Labyrinth Walk:
(1) A lavender plant design cultivated interest (lavender farm and lavender everything has a following).  A lavender themed farm generated an "I Love Lavender" response. Lavender does not bloom in heat and humidity. September/ October provided spectacular bloom -- soggy soil from rain, heat and cold prevented Lavender from being considered a valuable perennial.  A significant planting (thousands) of plants are required to create a tourism worthy statement. My lavender scones, lavender tea, salad dressing and lemonade creating a passionate following and lead to the idea of the Tea Room in Bloom.  Lavender could be a lucrative solo project on a large impressive scale as an annual event much like a pumpkin patch operates.
(2) Wild Edible / Herbs created a wild and unstructured Labyrinth; High maintenance proposition, heat, humidity, and vast invasive weed and insect populations made for a challenging project. Wildlife walked the paths and dug it all up on most evenings after we used wood chips for the path; they did not do this with mowed grass paths.
Succinct statement of research conclusions
The Media saturation and following of (seemingly very popular and lucrative) Goat Yoga captures the very essence of the diverse nature of Wellness Tourism.  And, how "Sense of Place" can play a key role in success or failure. 
In my community,  Goat Yoga is about as feasible as Mindful Eating a plate of fresh greens in the Wild! Why?  
This farm-based, livestock, Wellness Tourism activity  is an invention with intention; it is promoted as an animal therapy to aid human release of healthy brain chemicals.  In my agricultural community most residents are familiar with livestock; they have experience and understanding of goat behavior. Not only is yoga not a popular activity,  it is highly doubtful that an audience will pay for face-down aromatherapy of goat waste or subscribe to a meditative massage given by energetic hoofed "therapy" goats; goats that will probably nibble on your yoga pants and mat.  In a community of high-poverty obtaining liability insurance for this activity may not be feasible.  In my community "Goat Yoga" would resonate if it was an activity centering human consumption of goat milk, goat cheese, and other homesteading crafts and value-added products. We are close to a military base -- I see the possibilities for income generation from raising therapy animals as a compassionate veteran project; Fainting Goats are great for Trauma Awareness.   
My community celebrates its traditional food offerings and foodways.  Mindful Eating in the Wild did not resonate. Fresh cut leafy greens are considered a " high risk" food offering by the Health Department; product liability insurance is a necessity along with specialized food handling education; harvesting, washing, packing, labeling, transporting, preservation and storage etc.
The Tea Room filled an unmet need; fresh farm food served in an environment of sophistication and beauty and at a price that is inclusive. Here education takes place and transformation happens as a romantic, nostalgic, and familiar eating activity.  It is recognized that we are in service for our community.  With gratitude we are appreciated for this  "Sense of Place" concept.
Themed "Afternoon Tea" is traditional worldwide -- and it is traditional for participants to book and pay in advance for a fixed menu  and price (typically $50) our price $25
Traditional Afternoon Tea is tiny Tea Sandwiches, Scones, Cakes -- Tea.  ( lavender scones, rose petal jam, cucumber herb infused sandwiches, edible salad table arrangements, edible flower herb sandwiches, wild greens pesto, etc).
We used organic and fair trade ingredients and from regenerative farmers when possible for flour, butter, sugar etc. We created a Teas for Trees campaign. With each tea reserved a tree is planted and forest preserved. St. James, MO is known as Forest City of the Ozarks.
Farmer adoption actions that resulted from the education program.
When we began our project farm-to-table dinning did not exist. Today, there are 10 eating establishments promoting local food special event activities to generate local and tourism revenue.    
Attached are two worksheets (1) Blank and (2) one we completed to help us create our " Sense of Place" statement, vision, mission, program objectives and goals. I designed a one-day "Sense of Place" farmer/rancher tourism workshop.
I created a national Continuing Education Program for Yoga Instructors on-farm:  " Regenerative Agriculture: The New Mindful Eating Practice."  Yoga Instructors take training from us and receive a certificate and education credits to maintain their yoga certification status. We can begin to educate new audiences about the importance of sustainable agriculture.
Graduated from Herbal Studies to create a Culinary Apothecary as we continue to transition the Botanical Afternoon Menu into an herbal infusion and brand of cuisine; increasing awareness for culinary herbs which are also easy and low maintenance added-value products to grow. This inexpensive education (that can be taken online) provides insight into production of added-value products and services. Many culinary herbs and vegetables are also Medicinal Plants.
Became the first registered United Plant Savers Botanical Sanctuary in Missouri; preserving both plants (culinary and medicinal) and wildlife habitat; regenerative and permaculture farming.
Transitioned the high-tunnel growing operations into a Botanical Garden Education Site.
Created a Brand of Yoga: Botanical Yoga ( a Yoga Leadership Program to educate about regenerative agriculture; mind body spirit in one with the earthly practice) My version of goat yoga.
We maintained a template for creating an on-farm eating establishment (each city, county, and municipality has different rules and regulations). However, some factors may be universal.
Project Objectives:
1.  Test the market for small-scale farmers considering wellness-themed agritourism diversification.
2.  Improve environmental health by encouraging sustainable agriculture components of wellness tourism including: mindful eating, plant-based cooking workshops, herb walks, farm-to-table experiences and other consumer education.
3.  Cultivate new and expanded markets for local producers by developing an understanding of special product/service needs and expectations of a niche audience.
4.  Increase access by consumers to local, nutritious and affordable food and wellness education and experiences.
5. Create a tourism eating destination to educate about sustainable agriculture and why it matters.
Research
Materials and methods:
Description of the process (methods) involved in conducting the project and the logic behind the choices made. 
Method: Providing access to fresh food. People need optimal opportunities and experiences to try fresh food.  They need energetic, inspiring, time-saving ideas to fuel their body with nutrition. For many people today, "access" means food that is Ready-to-Eat plated.  
Logic: People like to eat, when they eat something they enjoy — then they want to know the ingredients and how it was produced.  Interest comes before learning; this explains why we cannot just push vegetables onto people at a market and find success when a community is underserved.  In addition, today, more and more, I find that many people do not have a frame of reference for "fresh produce" taste memory as it was never a part of their lifestyle.
Method: Inspiring eaters to try fresh foods. Leafy greens are my artwork. I serve them with intention to get attention. I elicit a positive and moving response, shifting attitudes… one plate at a time.  My high tunnel looks like an edible botanical garden — it works well, productively, for wellness tourism and education.
Logic: When people perceive something as beautiful, they love, nurture and protect it. People eat with their eyes?
Method: Testing fresh food sale options. I tested my salad mix for sales under a tent at a farmers market and I also gave it to a sustainable food truck operation at the market to sell plated.  I did not sell any salad mix at a very low price…. and the food truck sold out at a plated price.  And this happened in an area listed as high poverty.  All people deserve new fresh food experiences.   
Logic: To test if consumers need access to fresh food or fresh food experiences. Searching for evidence-based solutions  
Method: Promoting wellness tourism. The aim is to be part of a solution, to be a resource. Wellness Tourism, Ecotourism, and Agritourism are not the same, there is a distinct point of difference in mission, goals, strategy, and desired outcomes. Agritourism offers entertainment — Wellness Tourism provides calm, private, tranquil experiences. Consumers are using their leisure time to explore opportunities that nurture their nature. Healthy eating is a significant part of their journey. Mindful eating, plant-based cooking workshops, herb walks, and farm-to-table experiences are all sustainable agriculture components of wellness tourism. Understanding Tourism trends helps us to remain present and relevant.
Logic: Obesity was once a word that the media used to saturate our world. A shift has changed to "Wellness / Wellbeing" or happiness linked to the brain science (cause and effect).  People are using their vacation time to learn self-care which includes mindful eating (eating for vitality)
Method:  Encouraging participation. Create opportunities to connect to new audiences, especially ones [like the wellness tourism audience] that are growing at this rate. Wellbeing or (We'll) (be) (in) (g)ame, can be an acronym meaning participate.  Opportunities to help people participate in fresh food/ wellness activities can include offering tours, letting the community know about sustainable agriculture access and availability, etc. 
For example, I fully immersed myself by designing a Sustainable Agriculture "A DOSE of Happiness …the Yoga of Food" education program for the yoga community. Professional Yoga Instructors are required to earn Continuing Education Credits to maintain their Certification Status.  This is a mindful eating program. It will benefit the community, yoga profession, and sustainable agriculture farmers and ranchers.
Logic: Yoga participation is growing rapidly because one of its aims is to help people leave the shame, blame, victim game behind. Yoga helps inspire responsibility with self-care rituals and goals with an attitude of kindness. Yoga is also linked to the brain science of health and happiness.
Research results and discussion:
Testing fresh food sale options/Inspiring eaters to try fresh foods
One goal of this project was to introduce leafy greens and increase demand for consumption. I was able to do that.  This was my first year growing in a high-tunnel. We achieved success with growing salad mix because we purchased a semi-truck load of organic soil / compost mix. We purchased a broad variety of plants using colors and textures to create a breathtaking salad mix -- too appealing to not want to try.  The herbs created an aromatic alluring edible aromatherapy.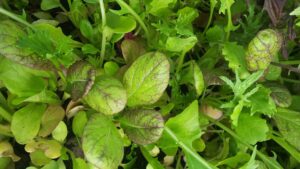 Salad greens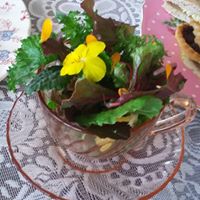 Although new to growing leafy greens, we produced more product than we could sell.  This provided us with an opportunity to conduct mass tastings in diverse environments.  Over 500 people tasted and we received nothing but positive feedback.  Most people were pleasantly surprised with the vibrant taste and aromatic smell — the beauty and texture did not go unnoticed.  
The tools funded under this project provided significant aid in productivity, shaping the beauty of the tourism site, and increased results of seeding.  We can seed, harvest, wash and dry in just a few moments capturing audience interest with impressive feedback.
We could produce enormous yield and grew the salad mix for EarthDance Farm Education School's fundraiser at a hotel in St. Louis. Guests took photographs, and it was evident from the continuous positive feedback that we created something truly special.  More importantly, we created a product that promotes health and vibrancy, and supports sustainable agriculture goals. 
Promoting wellness tourism
Eaters loved the salad greens product and loved visiting my farm.  The challenge was to create a [viable wellness tourism] opportunity: eaters were not interested in cooking or mindful eating lessons in the wild. They instead wanted to eat mindfully from the beautiful plate that I prepared and put in front of them.
Providing access to fresh food/Encouraging participation
One of the most significant things we learned is that Ready-to-Eat plated experiences on our farm would be the greatest demand; not cooking or mindful eating workshops.  While this created success for our [feasibility study] project, I had to create a way for this to be possible — that is to be the grower, server, chef, and educator.  I am permitted to conduct cooking classes and workshops that are exempt from inspection.  Serving food requires becoming an eating establishment following MISSOURI FOOD CODE (https://health.mo.gov/safety/foodsafety/pdf/missourifoodcode.pdf) and getting a commercial kitchen inspection.  Visitor feedback suggests it is a necessary step. 
New Strategies for Wellness Tourism
"Feast in the Forest: Mindful Eating in the Wild" did not capture the hearts and minds of eaters. It was not appetizing or appealing to any audience. We have rejuvenated messaging and delivery methods.
Numbered below are my new strategies based on audience feedback. 
(1) Establishing a Tea Room. I gave up half of my living space to create an eating establishment on my site as an extension of our farm operation. It is a reservation-only limited opportunity that will balance with growing operations and support our Sustainable Agriculture goals. It is called a BeautTEAful Botanical CommuniTEA room.  Traditionally, afternoon tea is reservation only (worldwide) and is not a main meal.  We tried, this time, to stay within a range of something familiar.  "Baking the World a Better Place" is a welcoming statement in my community. Lavender scones and rose petal jam are hard to resist.  Botanical herb tea is very popular.  Our community was founded to preserve the Forest / Trees. Our campaign slogan is Teas for Trees, with each tea served a tree is planted and the forest preserved.  Added-Value product is now part of our menu. We use organic flour, sugar, butter, milk, eggs, and cream to reinforce our sustainable message.  We grow most of the ingredients on site. And, the leafy green salad is the edible arrangement on the table.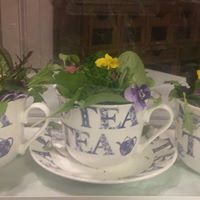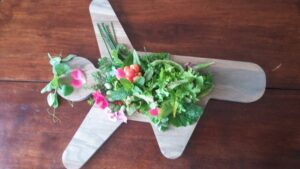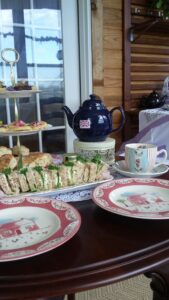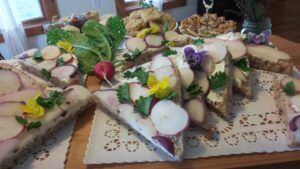 (2) Offering an Agriculture Tourism Interpretation Guide for Rural Farmers and Ranchers.  I created this guide which explains how this project turned [from cooking and mindful eating workshops] into an eating establishment. The International Ecotourism Society uses "Interpretation" for their education programs and it is part of their definition of ecotourism.  Sustainable Agriculture Tourism is a subset of Ecotourism and Wellness Tourism. This tourism model is distinctly different than that of Agri-tourism. The challenge has been finding an opportunity to present these idea to farmers, ranchers, and educators for consideration.
(3) Developing a Wellness Tourism Plan. Our SARE project goals include site development for Wellness Tourism. We have developed an on-site "Interpreting Agriculture" Tourism Education Program to help local growers, sustainable food entrepreneurs, farmers and ranchers and any other group or individual with interest.
Missouri Organic Association invited me to present our Wellness Tourism Plan at their annual conference, February 2018. This plan is attached. The final product will be updated to be a self-guided product with worksheets and resources for farmers and ranchers.
(4) Expanding Outreach. In June, I am qualified to offer a Sustainable Agriculture "Yoga of Food" program to the national yoga community for continuing education credit in the yoga profession; based on yoga culture, ethics, philosophy and ancient healing food systems. This also includes labyrinth walking; learning about the edible plantscapes with herbs -- and about our iconic Monarch butterfly that is at risk. This is also an interpretive program.
(5) Enlisting the help of chefs. Recognizing that Chefs are in a position to help preserve biodiversity and influence eaters, one plate at a time, Slow Food USA created a national Slow Food Chef's Alliance to champion this cause. We received an invitation to join. We include edible plants on their preservation list. 
(6) Diversifying products, increasing connections. Our signature salad mix is designed to ignite the senses and grow interest in sustainable agriculture. In Missouri, a nursery license is required for the sale of all culinary herb plants! We are now classified as a nursery, also!  We will not be open to the public -- our herbs are available for our audience attending our Eating Education programs.  To add income diversity, we are able to offer Edible Flowers for Weddings, and link our work to Garden Clubs, and Preservation Organizations.  We joined organizations with like preservation goals and became a registered "Botanical Sanctuary" with United Plant Savers. We are the first to join in Missouri. This leaves the door open for us to sustain and expand wellness offerings in the future. 
Participation Summary
12
Farmers participating in research
Educational & Outreach Activities
21
Curricula, factsheets or educational tools
16
On-farm demonstrations
16
Webinars / talks / presentations
Participation Summary:
3
Ag professionals participated
Education/outreach description:
Our Regional Planning Commission received grant funding to launch an eight county, regional, culinary tourism initiative.  I wrote my SARE grant specifically to tap into this resource and link our feasibility study (they were a reference for my project).  Their project format did not provide a vehicle to connect my project to collect data or inform about Wellness Tourism.
This caused a significant shift in how I could collect data from a broad but highly relevant audience.  Our project was purposely designed to not be a "drop-in" public invitation due to the nature of the offering.  Many organic farmers are unable to offer drop-in tourism activities.  Our wellness project was designed for small groups to attend a tranquil experience, the serene of the wild; an activity that many farms may be able to offer and support. We anticipated sharing our postcards, tours, and program initiatives with this vast audience of geographical scope.  Building a sustainable agriculture community is challenging work and reflective of our local, regional, national and global food production and food security issues.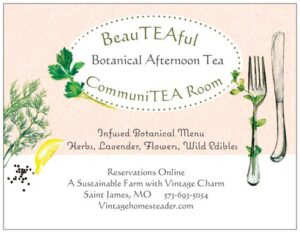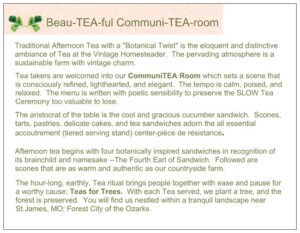 I attended, for a year, almost all educational organization agriculture education offerings in the area. I observed low attendance and engagement.  I believe that my Interpretation program will offer a new prospective for planning agriculture tourism, but it is rare that I am offered this opportunity or invited to the table to discuss this new format.  I now plan to offer the training on my site.
I had another set-back.  Our farm significantly flooded spring 2017. Many farms in the region were impacted. We used this time to go out and make connections while our site was in recovery.  We are a seasonal tourism operation -- under this grant period we were in operation for events on our site from May to October 2017. (Received SARE Grant in March, flooded in April, and recovered in June -- leaving us 4-5 months of seasonal activity in 2017).  We are ready to begin our new season.  
Learning Outcomes
40
Farmers reported changes in knowledge, attitudes, skills and/or awareness as a result of their participation
Lessons Learned:
My Wellness Tourism project can be defined by this quote:  "You can't know who you are until you know where you are" - Wendell Berry.  These are words of wisdom. All communities have a "sense of place". To be successful in your community, you must first come to understand its "sense of place" and create meaning, messaging, and programs that fit within this environment.  As an example, I live in a tourism community: wine and beer trails, hunting and fishing, canoeing and caves, and nostalgic Route 66 adventures.  Mindful Eating, Leafy Greens, and Wellness Tourism mystified my community!  
Some facts are relevant to the overall experience.  I moved from a vibrant farm-to-table city lifestyle to further my sustainable farming / living goals in a small rural community.  I am a back-to-the-lander using my lifelong experience to do well by doing good. I have had some important lessons to learn about rural life. My contribution is much different than I anticipated. I am committed to my intentions of creating something distinctive and of value.       
As strange as it may seem — I am actually executing every initiative captured in my project. Not in the way I planned — but in the way that my target audience need it to be delivered.  Without a doubt, my leafy green growing project has captured audience interest. It has become our signature product; radiant salad mix bursting with color and flavor, infused with herbs, and adorned with edible flowers.
Project Outcomes
Success stories:
Visitors including farmers, tourism business operators, chefs, and garden clubs kindly say that I have a "A sustainable Farm with Vintage Charm."  Until now, I did not utilize the message to build my brand.   I just said "thank you" without further conversation. 
Meaning-Making.  The message interpreted is "this is a charming place to visit;" it makes perfect sense that charming food could be served successfully with this "Sense of Place."  I did not act on it because I personalized it -- but this is the meaning of "know your farmer." 
Wendell Berry's wise words: "You can't know who you are until you know where you are;" My high-tunnel looks like an edible botanical garden. While I did not know where I was (in a botanical garden) my wise visitors could see this point of difference!
When we follow our passion authentically...we are more likely to be successful in something very distinctive.