Final report for FNC17-1072
Project Type:
Farmer/Rancher
Funds awarded in 2017:
$7,476.00
Projected End Date:
01/30/2019
Grant Recipient:
Bryant Family Farms LLC
Project Information
Description of operation:
Bryant Family Farms LLC consists of 16 acres just outside of Mineral Point WI. Pastured Poultry Farm raising Niche Market Poultry for both Meat and Eggs. From Heritage Turkeys to Muscovy Ducks, From French Label Rouge hens to French Guinea Fowl. All poultry is raised on forage in moveable yurt style structures at least 2X per day spring through late fall. They are started in brooders until they are 3 weeks of age or fully feathered. Bryant Family Farms was started in 2012 by Nicholas Bryant. Nicholas Bryant is a Service Connected Disabled US Air Force Veteran.
Summary:
The Guinea Fowl project has made it almost through the first winter, with Hens getting ready for first year of Egg Production for both fertile eggs and edible egg consumption. All but 15 Roosters were processed at Twin Cities Pack in Clinton WI. Roosters averaged 3.7lbs per bird. The remaining Guinea Roosters will be the breeders for the Hens which I'll incubate 3-400 eggs in 2018. 
The bitter cold snap that we experienced during winter of 2018 brought a hard hit to the guinea population where I lost 85 birds. I Will be spray foam insulating the coop during spring/summer of 2018 to insure warmer temperatures in the coop for winter of 18-19. 
Project Objectives: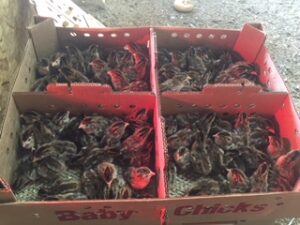 Research
Materials and methods:
My methods are to incorporate as much forage, grazing and outdoor access but at the same time to control birds from predators without the use of a LGD (Livestock Guardian Dog). I'm still learning everyday, but I continue to change the style, the size and the layout of portable pens on pasture. I added solar floodlights to the pens so that the guineas could continue to forage and feed during the dark hours. The light was light enough to see around but still dark enough that birds were able to sleep.
Research results and discussion:
One major thing that I noticed from raising guineas on pasture in yurts is that the guineas are great foragers. They spend a great deal of time going after any bugs within the forage along with completely devouring any forage that is put under them. I noticed from Ages 11-19 weeks that they needed to be moved 3X per day as they really devoured the forage. The younger ones weren't as efficient on forage until they got the hang of it. Guinea Fowl are a lot like Freedom Ranger/Kosher King chickens in the way they love to scratch, forage and consume the pasture. 
Guineas grow the best when given sufficient space. In yurts that are 200sq ft, I found to raise 100 guineas in that area is too many. So putting 75 birds in that area to give them 2.67sq ft per bird upwards of 3X per day, seemed to give the best product. 
Guineas that aren't pinioned will fly away and you'll spend many days chasing them if they give you the chance. So if you plan to keep them around your place and not roosting in places you want to keep guineas out of, then make sure to either clip flight feathers or get them pinioned from hatchery. Keeping them dry and out of the elements is key as well; remember they are an African Bird.
Participation Summary
1
Farmers participating in research
Educational & Outreach Activities
3
Curricula, factsheets or educational tools
Participation Summary:
1
Ag professionals participated
Education/outreach description:
August 12, 2017 Breakfast on the farm was held at Bryant Family Farms in Mineral Point Wisconsin. This field day showed the management style systems in raising guinea Fowl on Pasture. Different style structures for different age groups. We served 78 sandwiches and almost 100 guests attended event along with featuring BFF Eggs and also served BFF coffee. Event included guests from the Iowa County UW Extension office Gene Schreifer, SWBADGER and Robert Bauer. Guinea Fowl rations from Vita Plus (formulated by Dr. Sam Nashashon Tennessee State University). Also looked at different brooder systems in making sure keets received a healthy start by being kept warm in a temperature controlled environment. 
We analyzed forage heights, forage types, re-growth and what was favored by growing guineas on pasture. 
I talked about how it's going with marketing Guinea Fowl. Much is from word of mouth. Along with educating future customers about the health benefits of consuming this all dark meat bird.
As of 11/17/17 I've processed 150 guinea roosters and have sold 106 of them. They've been a big hit with fine dining restaurants that serve truly original French poultry/Fowl. Getting them onto REAP, has opened the doors for more buyers. 37% of the Guinea sales came from farmers markets. While remainder has gone to The Underground Butcher Shop, Osteria papavera and Popolo Pizzeria. 
As of 01/07/2018 I've processed a total of 220 guinea roosters from this grant and I am all sold out of them. 
Learning Outcomes
50
Farmers reported changes in knowledge, attitudes, skills and/or awareness as a result of their participation
Lessons Learned:
One thing to always take in mind when raising guinea Fowl. They are a west African bird. Not able to withstand the Midwest winters without a warm/dry place to roost. So make sure you have a place where they can roost, out of the wind and elements. 
While they are young and still growing. Make sure they stay dry. Guineas don't like to be cold and wet.
Project Outcomes
8
Farmers changed or adopted a practice
1
Grant received that built upon this project
6
New working collaborations
Success stories:
An Amish producer in central Wisconsin who attended my field days along with coming down here 3 times during summer of 2018 has transitioned into a flock of Guinea Fowl. Currently he is running 2000 Guinea Fowl. While another Amish family is running 5-10k French Guinea Fowl every year. They are producing these birds and selling them into the Live Markets in Chicago, St Louis and Minneapolis all year round. By bringing attention to a bird that hasn't been raised as a source of protein, very lean and full of nutrition, these producers have seen the interest. Some producers have taken that next step in hitting Niche markets for certain Meat and Egg sources that aren't completely common here. I will continue to work with these producers into the years to come and I will continue to raise 500 guineas a year and supply this tasty meat and perfect egg for making custard to restaurants, butcher shops and specialty bakers around the midwest. 
I have realized after 2 years of intensive management, raising these birds in a coop style environment with a paddock style setup to graze including pining there wings (allows them to not roost in trees, rafters) but to come back into the coop at night. And Insulating the coop, providing adequate ventilation and correct lighting needs will assist in the best from these birds.This also allows them to be trained to lay eggs inside in nest boxes. While my interest was to raise them in a range setup where they would control pests on pasture complete with a special formulated ration, nest boxes and fresh water at all times. I realized a huge issue when I lost 156 Laying Guinea Hens within 48 hours during late Spring 18. I noticed that the gnats weren't just terrible for me while doing chores, but that I was losing guineas by the second from them as well. The gnats were completely stuffed inside the nasal cavities of the guineas. After soaking a guinea (dead) in a 5 gallon pail of hot water, there was hundreds of dead gnats that were stuffed in nasal cavities. I reached out to my nutritionalist Jeff about what I can do regarding the gnat issue and if there was anything that could be included into their feed ration that would help. After losing all these guineas, I started to have issues with the Kosher Kings I raise as well and younger pekin ducks that were on pasture already. We came up with a solution of 20# of Fresh Ground Garlic the 1st week to 7# per ton of feed after week 4 consistently throughout the season. After doing this easy and simple adjustment I didn't lose a single bird the remainder of the season to gnats. I was also lucky that I had 2 GQF 1502 incubators full of guinea eggs. So 2018 ended up being a productive year and hatched out 600 keeps, sending 493 roosters to processing and keeping 107 hens back to continue my projects raising guinea fowl.