Final report for FNC17-1074
Project Type:
Farmer/Rancher
Funds awarded in 2017:
$7,500.00
Projected End Date:
07/31/2019
Grant Recipient:
Coveyou Farms LLC
Project Information
Description of operation:
Coveyou Scenic Farms (Coveyou Farms LLC) is a 144-year-old family farm that grows roughly 30 acres of certified organic produce on their 330 acre farm. The farm sells its vegetables to the local and regional area around Petoskey, Michigan. The farm uses a wide array of sustainable practices in its operation including geothermal cooling of produce walk-in storage, on-farm market display coolers, and produce heat removal system. Additionally, geothermal is used to heat a vegetable seed transplant greenhouse and grow salad greens all winter. The farm generates most of the electrical power needed with a solar PV array.
Summary:
Problem
Greens harvesting is done at scale when grown in the field during the summer season with specialized mechanized harvesters. The winter greenhouse growing systems that use soil filled trays don't have a mechanized harvester commercially available that fits the scale of these operations. There is a true need in the agriculture community for an automated belt feed tray harvesting system that can remove the painfully slow process of hand harvesting microgreens and winter grown salad greens. The few tools that are on the market for growers are hand held and too small and often use a band saw technique that does not work well for small greens and tears the greens cut point resulting in more cosmetic damage, poorer shelf life, and results in a longer time for regrowth. The purpose of this grant is to use our engineering background to develop and demonstrate a salad greens automated harvesting bench top tool that could cleanly harvest greens at least 10x faster than by hand and with greater precision for improved regrowth and a higher quality product. This tool, after demonstration, would be commercialized and made available to the agriculture production community.
Project Objectives:
Design and demonstrate a tray-based automated greens harvesting system that is at least 10x faster than hand harvesting resulting in winter greens production being more economically viable. 
We believe this is a very innovative project that is working to solve a real world agriculture technical challenge with innovative technical design. The fact that the marketplace is lacking a tool with this capability reinforces the need as the face of agriculture expands to include more greenhouse and non-field production of food.
A few of the design attributes targeted include:
Belt feed of tray with adjustable belt speed
Easy and adjustable cutting height
Easily adjustable for various tray widths
Harvested greens storage with easy access
Made with all food safe materials
Easily cleanable after harvest
Plan to use a novel cutting system
Incorporate operator safety into the design
Operating speed 10x faster than hand harvest with stretch goal of 20x
Commercially manufacturable here in the Midwest
Designed for small-mid volume farmer affordability
Research
Materials and methods:
This project being a tool design and development project has a very straightforward and logical process of development.  The first step is understanding the problem which is two fold.  We understand the need for a harvesting tool and what it needs to do from our work in growing salad greens for a number of years and observing the difficulty of small/medium scale production with hand harvesting.  Knowledge of the harvesting process and the growth characteristics of the greens is essential for successful tool development.  The second part of understanding the problem is insight into what tools are available on the market and where there shortfalls are.
The second step is the design of the tool with engineering insight that will solve the problem.  This step is drafting the key components in mechanical cad software with knowledge of what materials each will need to be made out of and what machining equipment is needed to make each piece.  
The third step is building a prototype of all components and the complete system to prove basic functionalility and understand shortfalls and areas for improvement.
Step two and three are repeated at least twice to fine tune the outcome of the final tool with more of the supporting features of the tool added as development progresses. 
Research results and discussion:
Multiple cuttings methods and cutter designs have been the initial focus of this design work.  Autocad mechanical drawings of early prototypes have been made, and fabrication cost and methods are all part of the design thought process.  Identifying methods to remove the cutting portion for cleaning has been one of the challenges we have worked on solving.  Finding a way that allows the operator to remove the cutting system for cleaning in a fast and easy way is proving to be slightly more difficult than first envisioned. As our design process continued we were able to modify our design to make blade removal and cleaning very straightforward.  Our current design now allows a dual blade system to be removed without needing to remove any hardware screws on the blade assembly.
Fabrication of the engineering prototype units has turned out to be much harder than envisioned.  Finding a shop with the right equipment is one challenge but finding a shop who has the time available and is willing to do small prototype pieces that in of themselves are reasonably complex has turned out to be very difficult.  The shops that are willing to take on the work are extremely expensive for our budget and would not allow us to economically put together the complete demonstration unit.  The laser fabrication that is required of the blade assembly prevents just any shop from producing the component.  Our blade design is a two piece assembly with the upper blade shown in Figure 1 below.  The blade covers the width of the tray and is held in place with pins and no bolts allowing easy removal for cleaning.  A cam provides the movement from the drive motor.

Moving the greens trays into the harvester with a conveyor system works well with a 6' variable speed conveyor belt drive.  The speed of cutting is controlled with the conveyor belt speed.  A tray of salad greens on the conveyor belt is shown in Figure 2. No slippage of the tray on this type of rubberized feed system was experienced.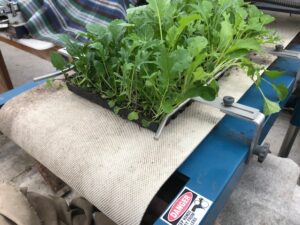 Our greenhouse growing salad greens on a heated floor system is shown in Figure 3.  This level of scale or larger is the reason why automation is beneficial to the efficiency of the operation.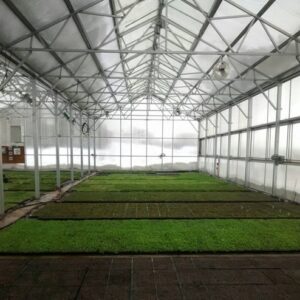 We continue to work on this project to develop a workable tool.  The tool costs will be higher than envisioned and we are expanding our reach into more populated areas to gain fabrication ability for certain components. We plan to update results as progress is made.
Participation Summary
1
Farmers participating in research
Educational & Outreach Activities
2
Webinars / talks / presentations
Participation Summary:
Education/outreach description:
This tool is still in the development stage.  We need to develop a better working prototype prior to having further outreach.  We did expose agricultural intern students visiting the farm over the last few years to the intent and progress of the tool.
Learning Outcomes
3
Farmers reported changes in knowledge, attitudes, skills and/or awareness as a result of their participation
Lessons Learned:
We continue to work on this project to develop a workable tool.  The tool costs will be higher than envisioned and we are expanding our reach into more populated areas to gain fabrication ability for certain components.
We knew from the beginning that this project would be a very seasonal effort with our being able to work on it only during the winter months.  With the actual winter greens growing and marketing the first couple of seasons taking more of our time than desired we made headway on this project at a much slower pace than desired.  One of the main lessons continually learned is the difficulty of having enough time to accomplish our goals....especially when they involve innovation on a very active and busy farm!
Project Outcomes
1
Farmers changed or adopted a practice
Success stories:
Our work is still in process and the main components of the tool are described in the Research section above.  As we continue this work after this grant period we hope to enhance and build upon the work already done.
Recommendations:
We still strongly feel there is a need in the small scale farm local foods movement for tools like this.