Final report for FNC17-1077
Project Type:
Farmer/Rancher
Funds awarded in 2017:
$6,888.00
Projected End Date:
01/30/2019
Grant Recipient:
Greentan Farm
Project Information
Description of operation:
Greentan Farm encompasses 5-acres of lightly rolling pasture located on top of a ridge. The farm had been utilized primarily for boarding horses, with two main pastures and 6-stall horse barn. Both pastures were mowed and hay baled in the summer. We have a pond that is groundwater supplied and with over-flow drainage, that is fairly well-balanced with natural filtration with lotus plants and water lilies.
Our vision is to develop the family farm to be self-sufficient, "green" organic and energy sustainable fitting the principles of permaculture. At the present time, we have a horse and a donkey. We wanted to find a way to recycle/reuse the not insignificant amount of horse/donkey manure generated, and felt composting was an economical option.
Summary:
The plan is to determine the effectiveness to use the horse manure compost to amend soil for growing lavender plants. There has been reported anecdotal observations that horse manure compost amended soil may prevent lavender plant root rot due to Phytophthora spp reported to affect lavender farms in the local region here in Ohio. The objective of this proposal is to determine the efficacy of horse manure compost in controlling Phytophthora spp in lavender plants.
Using recycled wood pallets, we built a four compartment compost bin system and started making horse/donkey manure compost with 50:50 mixture of horse/donkey manure with grass clippings and stall bedding straw/hay. We started two compost piles in first week October 2016 utilizing the multiple bin system and targeting a 30-50:1 C:N ratio as described in Manure and Pasture Management for Horse Owners (by Dr. Lori K. Warren and Christine Sweet, 2003, Alberta Agriculture, Food and Rural Development). The composting process is designed for a small operation in size with the modified passive-turned piles system over a minimum of 4-6 months duration.
Project Objectives:
Project will investigate how to solve two problems in one study:
(1) Appropriate disposal of animal wastes on a small farm, while producing a stable and consistent compost;
(2) Effective biocontrol of Phytophthora spp in young lavender plants grown in the local region farms
Cooperators
Research
Materials and methods:
Establish consistent protocol for making horse/donkey manure compost by using template from Manure and Pasture Management for Horse Owners (by Dr. Lori K. Warren and Christine Sweet, 2003, Alberta Agriculture, Food and Rural Development).

Process designed for small operation in size with the modified passive-turned piles system over a minimum 4-6 months duration. Initial batches started in October 2016 (50:50 mixture of horse/donkey manure with grass clippings and stall bedding straw/hay; targeting 30-50:1 C:N ratio), will be ready for use by spring 2017.
Multiple bin system was built using recycled wood pallets and minimal cost. Costs documented and monitored for later comparison to using commercial biofungicides vs farm made compost

Determine the efficacy of horse/donkey manure compost in controlling lavender root rot

Prepare horse/donkey manure compost (in process described above)
Plant lavender younglings** spring/summer 2017 (test negative for Phytophthora)
Five (5) treatment Groups (n=24 plants per group)
a. Control – no horse/donkey manure (0%)
b. Horse/donkey manure (20%)
c. Horse/donkey manure (50%)
d. Horse/donkey manure (50%) + infected plants soil
e. No horse/donkey manure (0%) + infected plants soil
** (source from Onederings Farm)
Measure survival of lavender plants in first year; document injury/loss due to root rot; test for root rot
Research results and discussion:
Phase I Ground Preparation - June 10-16, 2017:  The designated lavender plot was measured and marked to create 10 rows, and for digging the trenches for French drainage system under the rows.  Equipment was rented for the tasks.  We used a sodcutter to first remove the top layer sod which was rolled and reserved for compost.  Trenches were then dug with the excavator and soil placed to the side for mixing later.  The trenches were dug to be a contiguous pattern (see Fig. q) with rows following gentle slope such that there's minimal chance for cross contamination of run-off between rows.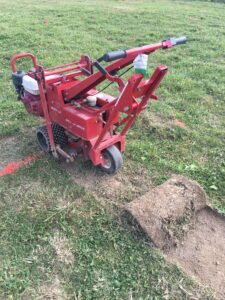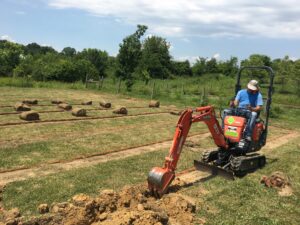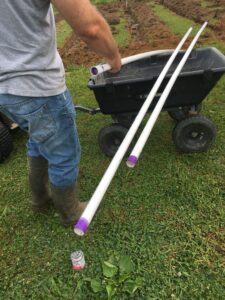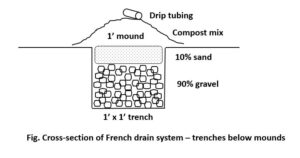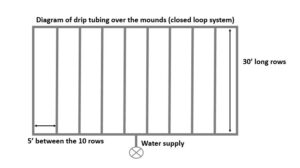 Mixture of gravel and sand were then used to fill the trenches to build the French drain system below the raised mounds of amended soil and compost.  The design with rows following the gentle slope to ensure minimal cross contamination between rows.  Irrigation pipes were placed below the gravel/sand with connectors at the ends of every row.  All pipes lead to central control box placed near middle north side.  Drip tubes then hooked onto pipes will be placed on top of each row.  Weed cover was applied and tacked down with the pins, and plant positions were measured and marked again.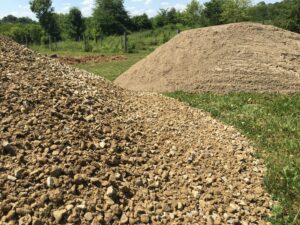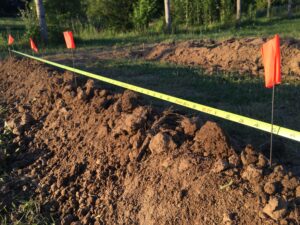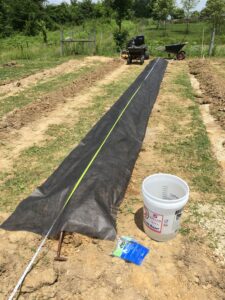 Soil was then mixed with compost according to study design.  Rows were randomly assigned to each treatment group and amendments mixed using buckets and shovel.  Handful measures were utilized when planting to match the respective treatment group for each row.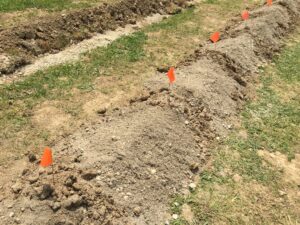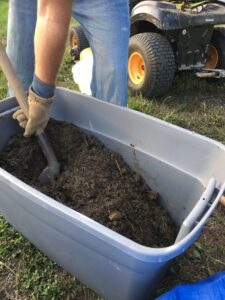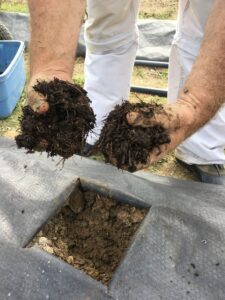 PHASE II Lavender Planting - June 17 - July 22, 2017:  Batches of 12-24 lavender suckers were collected and planted in random order of rows.  First, x-shaped slits were cut using scissors in the flagged spot and flaps of weed cover folded underneath.  In the roughly 3"x 3" square opening, dirt was loosened by hand, any appropriate soil compost treatment applied, small hole made by hand, and lavender sucker roots gently worked into hole, and covered.  The plant then watered generously.  Drip tubing aligned with the plants to ensure watering.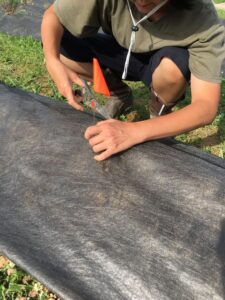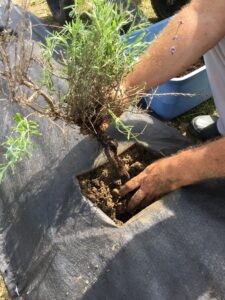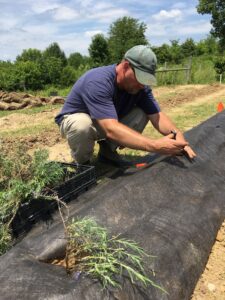 Over the next 8 weeks, we monitored the plants and replaced the ones that did not survive.  These were the ones that turned grey, dry, brittle and did not show any young green buds growing from the stems.  Replacement followed the same process as planting described above.  At the start of winter (end November 2017), we had 120 healthy lavender plants growing - 12 plants in each of the 10 rows.
The plan is to evaluate the plants after winter for survival rate, and replace any needed prior to beginning the infection phase of the research study.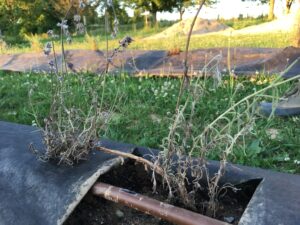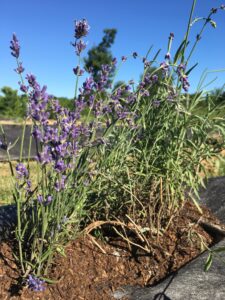 PHASE III Lavender Measurements - June 1 - October 31, 2018:  The lavender plants did fairly well over the winter.  There was loss of 12 plants, which appear to have occurred as a result of displacement of the weed barrier in row 10 (lost 2#) and wild animal burrows in the middle of rows 5 and 6 (lost 4#).  The other 6 were in various locations with unknown causes.  At start of measurement period in June 2018, data was collected on 108 lavender plants of the original 120 plants.  The survival rate of the lavender over the first winter is 90%, outperforming expectations of 50-60% of the suckers planted.
The 10 rows were randomly assigned with two rows per group.  Groups were control (0% compost), 20% compost mix and 50% compost mix.  Despite winter losses, the distribution of surviving lavender plants remained even across the 5 treatment groups (total n = 108).
Control(no infection) = 22    Control(infection) = 22    20% compost = 21    50% compost(no infection) = 24   50% compost(infection) = 19
Each plant was labeled using permanent marker on colored wooden ice cream sticks.  Three measures were collected from each plant, of furthest tips of leaves/flower - LENGTH (parallel to row); WIDTH (perpendicular to row); and HEIGHT (tallest point).  As these measures were variable, the combined value of LENGTH x WIDTH x HEIGHT to give "Volume" was also utilized as measure of change in plant size.
Data was collected at start of blooming in June 2018 and end of season in October 2018.  Analyses of growth measures of length, width, height and "volume" were used to document growth.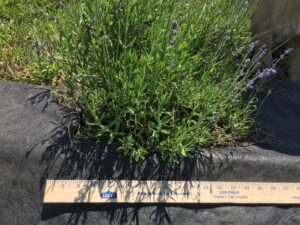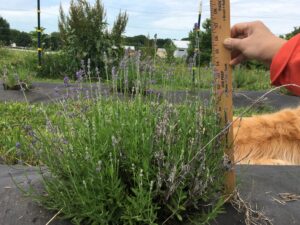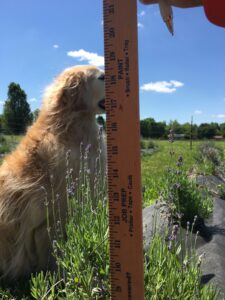 MEASUREMENT RESULTS
Growth of the 108 plants in the first summer was remarkable.  Final average length was 15.6 inches, width 13.8 inches and height 19.2 inches.  The averages by soil amendment groups (control, 20%, 50% compost) appeared consistent.  (Table 1)  Length numbers ranged from 5.5 to 22 inches.  Width numbers ranged from  4 to 20 inches.  Height numbers ranged from 11 to 25.5 inches.
All plants grew approximately 4 inches in length, 3.6 inches in width, and 4.6 inches in height.  (Table 2)  Growth ranged from 0 to 10 inches.  There did not appear to be any differences between the groups in average growth of length, width, and height over the 4 months.
Given the wide range of length, width, and height measures, we calculated "volume" as a more specific measure of total growth of each plant.  Looking at the "volume" we see a trend of greater growth of 142% in the 50% compost group (Table 3) compared to control (128%) and 20% compost (129%)'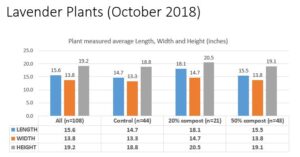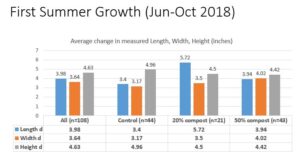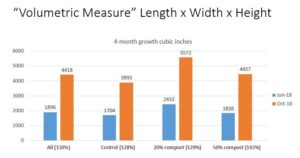 PHASE IV Phytophthora Testing:  Using Phythophthora ImmunoStrip kits (AgDia), field testing was conducted on representative plant root/soil samples from each group.  Each sample was carefully collected, weighed, and tested as per kit instructions.  Despite testing almost all plants, there were no positive samples detected.  It is concluded that there is no Phytophthora measured in all the lavender plants in all groups, including the ones that did not survive winter.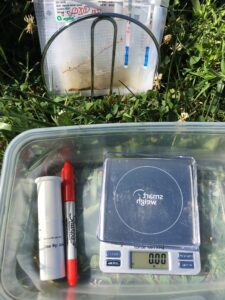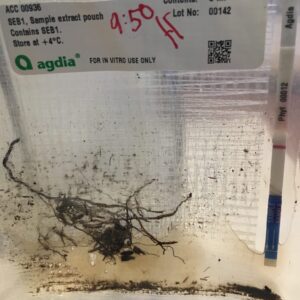 DISCUSSION
This study demonstrated that soil amended with 50% horse and donkey manure compost resulted in slightly better total growth in the first summer in lavender plants (142%) compared to control (128%) and 20% compost (129%).  Total growth using the calculated "volume" measure appear to be more relevant measure as there was large variability in shape of lavender plants, that affected individual measures of length, width, and height.  For example, a plant could have more growth in width and length without being the tallest one.
There was no measurable Phytophthora sp infection induced in any of the lavender plants.  This may be due to several reasons, which in hindsight the study would be designed differently.

the field was built with a French drainage system - thus, despite continuous watering via the drip system, we were unable to induce wet enough conditions for growth of root rot
the field used to be horse pasture for many years - thus, may have significant content of horse manure natural compost, that may have prevented growth of root rot in control groups
horse and donkey manure compost present in the field prevented the growth of root rot

The remarkable 90% survival of suckers may have been due to combination of excellent drainage system built along with weather protection along with weed barrier used in the field.  Half the losses in the first winter appeared to be associated with exposure to elements and wildlife interference.
Participation Summary
2
Farmers participating in research
Educational & Outreach Activities
1
Other educational activities: Collaborate with Onederings Farm
Participation Summary:
2
Ag professionals participated
Education/outreach description:
A.  We took guests/participants to tour the farm, with particular focus on the lavender project field.  Participants learned about the French drainage system beneath the mounded rows of lavender plants.  Demonstrated the drip irrigation system and discussed the research study design and rationale behind the treatment groups.  
B.  We shared research objectives and goals with Onederings Farm and consulted with them.  We compared experiences and learnings regarding lavender plants specifically.  We shared the idea and concept behind the use of horse/donkey manure compost as a natural biofungicide, something Onederings Farm is interested to try.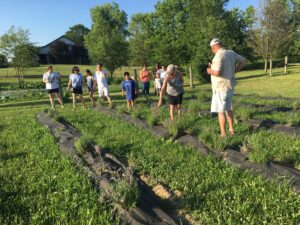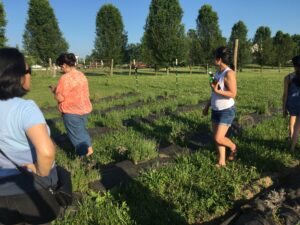 Learning Outcomes
4
Farmers reported changes in knowledge, attitudes, skills and/or awareness as a result of their participation
Lessons Learned:
The key learning from this study was that we established a lavender field with excellent drainage and watering, such that it was not conducive to conducting a study in Phytophthora sp root rot.  Root rot occurs in part due to overly wet soil conditions.  We were not successful in inducing Phythophthora infection during the growth season, despite continuous watering using the drip system.  With the field we built, it would have required extreme measures to flood the field to attempt repeating the study under a time extension to the grant.  Therefore, we made the tough decision to end the study as is, and report on the positive observations in the growth parameters of the lavender plants.
Therefore, drainage system is very important for prevention of Phythophthora sp root rot even if it is not yet clear the role of horse/donkey manure compost in root rot prevention.
Data collected did suggest that 50% amendment of soil with the horse and donkey manure compost will result in better and greater plant growth in the first season.  While we did not have sufficient numbers for statistical strength, 142% compared to 128% overall growth in 4 months is significant for the small farmer.
Protection from the elements and wildlife over winter by using weed barrier coverings appear to be advantageous to survival of young lavender plants in the first winter.  Other options to consider may include row cover hoops, mulch, and wildlife fencing.
Project Outcomes
2
Farmers changed or adopted a practice
2
New working collaborations
Recommendations:
Key items to building successful lavender field:
Invest in a drainage system for the lavender plants - we put in a french style drainage system that worked well in a high water table zone
Apply horse and donkey manure compost - we believe this helped the young lavender plants to grow better in the first year
Composting horse and donkey manure is a great way to manage the wastes and retain nutrients on a small farm