Final report for FNC17-1079
Project Type:
Farmer/Rancher
Funds awarded in 2017:
$7,500.00
Projected End Date:
10/31/2019
Grant Recipient:
Hines Hops Farm
Project Information
Description of operation:
I have two half acre tests plots of hops in Southwestern South Dakota. These fields were planted in 2016 and will reach full maturity in the 2018 season. I also have cattle that I raise in partnership with my father. My family has been operating on our ranch for four generations.
Summary:
Experimentation with low temperature methods of oasting and pelletizing of hops for brewing can improve the final oil content, thus improving the quality and value of the product.
Project Objectives:
This harvest season I intend to address both phases of the processing that degrade the lupulins.
First, to improve the oasting method I want to experiment with high airflow instead of heat to dry the hops. I will accomplish this by building drying boxes with screen bottoms, and use fans to provide airflow. After the cones are harvested, they will be placed in the racks and stirred occasionally to ensure even drying. I will closely monitor the moisture levels, and will introduce heat with propane heaters only as a last resort to save the crop if the airflow oasting fails.
To address the pelletizing process, I will use a pill-making machine to create compressed hops tablets. The pill-making machine will generate some heat during the compression, but significantly less in comparison to traditional pelletizing machinery. Once I determine if making tablets at low temperature is successful, I will then focus future research towards economic feasibility; including time to produce the product, cost of equipment, electrical consumption, etc.
To properly compare my tablets with the pellets, I will have a portion of my harvest pelletized using traditional methods. I will compare the weight of the hops that enter the processing with the final output. I will also send samples for lab testing to obtain lupulin (alpha and beta) levels.  
I will provide these tablets to the head brewer at the Firehouse Brewery, Mike Kilroy, and a home brewers club called the Ale Riders, both in Rapid City, SD. Their feedback will be valuable in determining how the tablets compare to pellets. I too will be brewing identical batches of beer, with the only difference being pelletized or tablet hops. Again, the Ale Riders will help me compare the flavor of the different beers. 
I will harvest my hops plots this year, 2017, in mid-August through mid-September. I will immediately oast the hops as described above. If time permits, I will make tablets after the oasting. If not, the dried hops will be stored in a freezer until I can finish processing. I plan to experiment with 100 pounds, and have the rest pelletized in Omaha, Nebraska using current industrial methods. Once processing is finished, I will mail samples to Alpha Analytics lab to obtain lupulin levels. I will then begin brewing test batches. Once the beer is ready, approximately 6 weeks, I will then take my beers and samples of my tablets to the Firehouse brewer and the Ale Riders monthly meeting. I will attend the meetings of the Ale Riders for the next three months to obtain their feedback and gather surveys. All lab values and feedback should be gathered by the end of January, 2018. 
As with the results of my current SARE project (See: FNC16-1036 - Examination of the Productivity of Four Hops Varieties (Humulus lupulus L.) in Two Soil Types in Southwest South Dakota), I will submit my results to Chris Graham, an extension agronomist at the South Dakota State University, to have my findings shared on the iGrow website. In addition, I will share my report with my fellow members of the South Dakota Hops Growers Association (currently being developed), and Kim Brannen, the President of the South Dakota Specialty Producers Association. Also, the 100+ members of the Ale Riders and my brewer relations will continue to generate awareness and interest of growing hops in South Dakota. 
For the oasting process, successfully drying the cones to 8-12% moisture within 48 hours will indicate that this method is successful. I will weigh the hops before and after oasting, and compare with fully dried (o%) hops to determine final moisture content.
For my low temperature pelletizing tests, I will compare the weights of the hops before and after pelletizing or making tablets. I will also compare lupulin content as analyzed by the lab, and finally gather surveys from brewers in regards to flavor and performance during brewing.
Cooperators
Research
Materials and methods:
Please refer to the Project Objectives section for a detailed description of my project.
Research results and discussion:
The first aspect of my project explored being able to dry hops to the necessary 10% moisture content needed for pelletizing using only air flow and not introducing heat. I had great success in this endeavor, my hops dried in 8-14 hours, well below the industrial standard of no longer than 36 hours. I look forward to next year's data; I'm hoping for a larger harvest that will better test the rates of drying as the depth of hops in the drying racks will be thicker.
Due to my poor harvest in both quantity and oil content, and difficulty in obtaining a pill making machine, I do not have results in regards to producing and comparing the quality of "pill hops" to the industrial standard of pelletized hops. [Editor's Note: The poor harvest was due to a late frost. For details on the harvest, see: FNC16-1036 - Examination of the Productivity of Four Hops Varieties (Humulus lupulus L.) in Two Soil Types in Southwest South Dakota]
For the 2018 harvest season I did have a slightly larger harvest and the oil contents were much better. The depth of the hops on the racks was approximately 5 inches, compared to the 2017 season where there was approximately an inch on the racks. With the increased depth, I was able to dry all hops to 10% moisture content in 16 hours or less. One day it was raining, so I did use a space heater. I did not have to use the higher intensity propane heater. I was very pleased with these results, and look forward to testing deeper layers of the hops on the racks.
The results of my experiment do demonstrate that air drying hops in low humidity environments is possible using air flow with no to little introduced heat.
During 2018, I was not successful in finding an alternate pill making machine that had higher compression than the model already tested within my budget to purchase or lease. Luckily, the sales representative from the original company I worked with attended a conference and met a director from Natoli Engineering that operates a compression lab for tablet making. He put me in contact with this gentleman. I shipped ten pounds of hops to them. My fields were flooded this year and I was not able to obtain a fresh crop for experimentation, thus I purchased fresh hops harvested in 2019. After much trial and error, they were not able to make pills without using a cellulose binding agent. While I know my commercial brewers will not approve of this additive, my home test brewers are willing to experiment with these pills. 
I utilized the services of another producer in Yankton, SD that pelletized the fresh 2019 hops. He is a fellow member of the South Dakota Hops Growers Association. I then delivered these pelletized and "pill" hops to my test brewers in Rapid City. 
I have found a brewer from the Firehouse Brewing Company who is also a member of the Ale Riders Home Brew Club that made two exact batches of beer, one using pelletized hops and the other using the pills.
The variety of hops I used is Chinook, and unfortunately the recipes that utilize this variety take a long time to brew in comparison to other styles of beer. The home brewers, my test brewer, and I are anxiously waiting to test the results once fermenting and conditioning is complete. 
In conclusion, my original intention to conserve lupulin content and produce a pure product the commercial brewers demand by using pill/tablet press was unsuccessful. Despite this, I will be collecting data and taste surveys from the Ale Riders to see if the cellulose additive is detectable in the quality of beer produced with it. 
This data, along with the lab results, will be shared with Chris Graham from SDSU to post on the iGrow website, and the members of the South Dakota Hops Growers Association.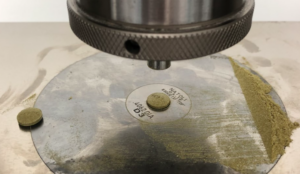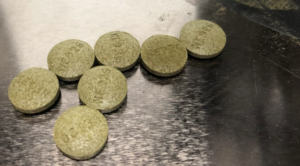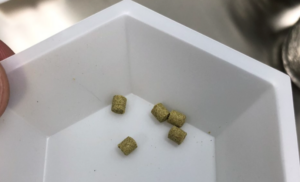 Participation Summary
1
Farmers participating in research
Educational & Outreach Activities
Participation Summary:
Education/outreach description:
Thus far I have not disseminated information as I have not yet received feedback from the brewers on comparing the pellets and pills. Once data is obtained, I will share my findings on the iGrow website, and with my fellow growers in the South Dakota Hops Growers Association. 
Learning Outcomes
1
Farmers reported changes in knowledge, attitudes, skills and/or awareness as a result of their participation
Lessons Learned:
I learned that with my low humidity drying hops without introducing heat is possible. My small harvest was dried to 10% in less than 8-14 hours, well below industrial standards. By drying without added heat, more of the valuable oils (lupins) are preserved. 
In regards to the pill making, I encountered obstacles. First, the pill making machine I had selected did not work. Luckily the sales representative tested the machine with hops for me prior to purchasing the equipment. Unfortunately, the machine did not bind hops into a pill without using binding additives. I found a compression lab that was able to experiment on making hops pills/tablets, but again this was unsuccessful without using cellulose to bind the hops. Brewers are adamant about the purity and quality of their ingredients, thus I predict that regardless of the feedback I receive from my home and test brewers, this processing method will be unacceptable.  
Project Outcomes
1
Farmers changed or adopted a practice
4
New working collaborations
Success stories:
I am very pleased that drying hops with increased air flow is possible. This is the first step in producing a quality product to provide to my brewers. It is unfortunate that I did not have success in making hops pills without a binding agent, but I do feel that investigating the results of cellulose containing pills is worth pursuing.