Final report for FNC18-1116
Project Type:
Farmer/Rancher
Funds awarded in 2018:
$7,493.00
Projected End Date:
02/28/2020
Grant Recipient:
Cicero Farm Market
Project Information
Description of operation:
We are in our 6th year of producing chemical free vegetables on approximately 2 acres. I had been experimenting with woodchips for several years before we were awarded the grant.
Summary:
According to an April 29, 2017 article, written by Dr. Patrick Quillin, PhD, Rd, Cns, the majority of today's farming soil is mineral deficient, farms are experiencing soil erosion and mineral depletion by leaching caused by irrigation. The soil has few microorganisms, earthworms or beneficial fungi. The constant applying of fertilizers or pesticides, whether commercial or organic is not building healthy soil, and is an added expense. When using woodchips as a renewable "waste" product, the issue of burning them or dumping them into landfills is avoided. Decomposing wood chips can become a viable way to create more fertile and productive soil. Using decomposing wood chips as a covering as well as a planting medium keeps the soil moist so less irrigation is required. As the wood chips continue to break down, the underlying soil becomes even more fertile with an abundance of life forms and there seems to be no negative reactions, example, toxicity or nutrient tie up. Using wood chips is economically sound (they are the natural waste/by-product of utility companies and landscapers trimming trees), less weeding is required and vegetable plants are less prone to disease.
Project Objectives:
Show that decomposing woods chips improve the fertility of soil, less soil compaction is present, and soil moisture improves through biological, nutrient testing and soil meters
Compare the productivity of sweet corn, green beans and potatoes. Amount of produce by weight and root mass of these vegetables will be recorded. One test plot with decomposing wood chips, one test plot plain ....
Findings will be shared through website, social media and conference presentation
Research
Materials and methods:
We contacted one of our local tree trimming companies and they have been delivering wood chips for several years. We just let them set in a pile and decompose. Depending on how the chips will be used determines how long we let them decompose before moving them to the planting beds. Since we want to take advantage of the winter snow and rain on the wood chips, we apply an additional 3 to 4 inches of decomposing chips on our planting beds that already have chips on them. By applying more chips in the fall, the wood chip tea will feed the soil all winter.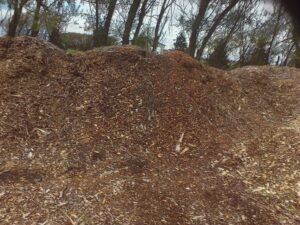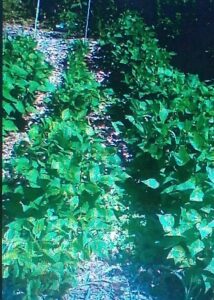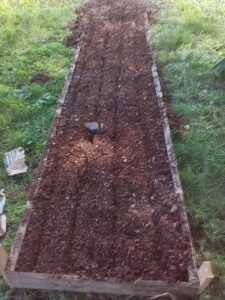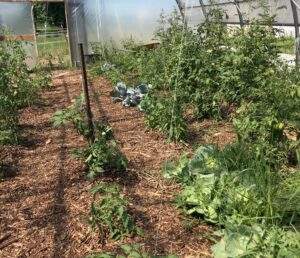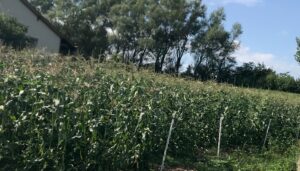 Here are some ways we are using wood chips in our no till, chemical free vegetable production.
1. Fresh chips for walkways in our high tunnels
2  We use chips that are at least 6 months or older for our established vegetable beds. We apply 3 to 4 inches of chips each fall. Sometimes we put down extra chips in early summer if some weeds are coming through.
3. 2-year-old decomposing chips can be directed planted into. We scattered carrots seeds on top of the chips and kept watered until carrots came up.
Research results and discussion: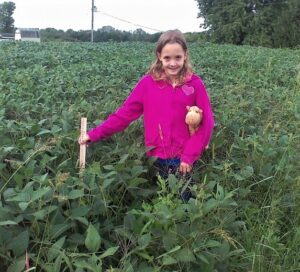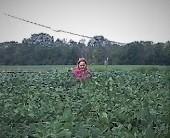 One of our goals was to measure the productivity of corn, green beans and potatoes. However, some of the sheets where the data was recorded were accidentally left in the field and were rained on. Next year I will put the data sheets in plastic so they will not get ruined, or better yet, buy a smart phone so the data can be voice recorded. Another goal was to take notice of the longevity of the plants. I did not notice any difference in the longevity of the potatoes or corn plants with or without chips. However, the green beans with the wood chips still had a few blossoms and baby green beans on the vines when the first frost came. To be honest, I forgot to take pictures of the root systems in the green beans, potatoes and corn.  I will make sure to put pictures here next year of the root systems with chips and without.  There was much learning this year and I am grateful this is a 2 year project! 
Our ongoing 2nd year progress report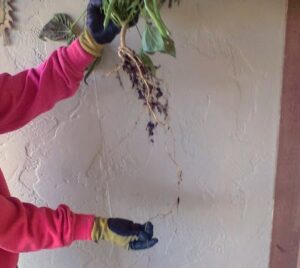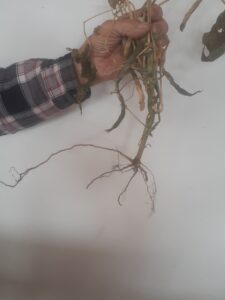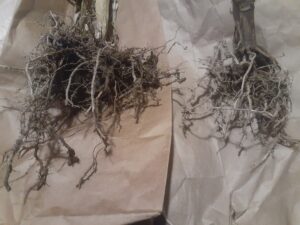 Growing in wood chips verses non wood chips.  In the above pictures, there is a noticeable difference in the length of the green bean roots and the larger root mass of the sweet corn.  Conclusion:  The longer the roots and the bigger the root mass, more nutrients are able to feed the growing plant. This results in a healthier plant and higher yields per plant. 
Measured results of 2019 sweet corn
Without wood chips:    138 harvested ears         With wood chips:         168 harvested ears
Measured results of 2019:   38 foot row of potatoes 
Without wood chips:   10 1/2 pounds             With wood chips:   13 1/2 pounds
Measured results of 2019:   16 foot row of green beans
Without wood chips:   12 3/4 pounds                With wood chips:   15 pounds
We had originally planted 5 times this amount of green beans, however, the rabbits ate them while we were on vacation.  Fortunately we were able to plant some late green beans in the high tunnel.  Even with a later planting, the wood chipped green beans out produced the non-wood chipped planting.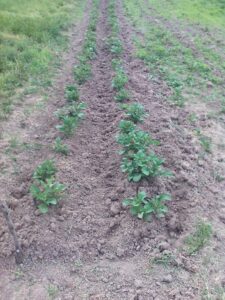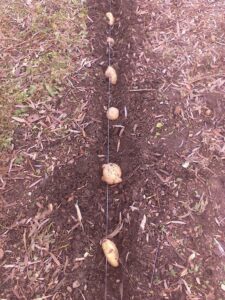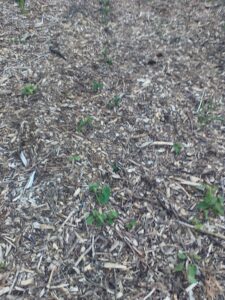 The following attachments show the Soil and Chemistry Analysis
Dec 2018 Chemistry Analysis with out woodchips
Dec 2018 Chemistry Analysis with woodchips
Dec 2018-Soil without wood chips
July 2019-Chemistry with woodchips
Oct 2019 Chemistry with woodchips
Oct 2019 Soil Biology with woodchips
While the above attachments show the details of the soil testing with wood chips and without, below is a sample of the exciting advantages of decomposing wood chips and increasing the mineral contents of the soil.
Without wood chips on soil                               With 3 years of decomposing wood chips on soil
Test (ppm)                                                                      Test (ppm)
PH 6.8                                                                              PH 6.8
Texture Loam                                                                 Texture Silt Loam
Soluble Salts 0.11                                                           Soluble Salts 0.33
% Organic Matter 2.65                                                 % Organic Matter 11.95
Nitrates 4                                                                        Nitrates 15
Ammonium 2                                                                 Ammonium 4
Phosphorus 36                                                               Phosphorus 38
Potassium 165                                                                Potassium 162
Sulfur 7                                                                            Sulfur 9
Calcium 1904                                                                  Calcium 3162
Magnesium 155                                                               Magnesium 260
Ca:Mag ratio 12.1                                                            Ca:Mag ratio 12.1
Sodium 128                                                                     Sodium 39
Zinc 4.6                                                                            Zinc 7.7
Copper 0.9                                                                      Copper 0.7
Manganese 4                                                                  Manganese 7
Iron 98                                                                            Iron 49
Boron 0.3                                                                        Boron 0.4
             
One of my farmer friends told me the wood chips would pull all the nitrogen out of the soil. The testing shows quite the opposite  The results speak for themselves!
Participation Summary
1
Farmers participating in research
Educational & Outreach Activities
50
Curricula, factsheets or educational tools
2
Webinars / talks / presentations
Participation Summary:
2
Ag professionals participated
Education/outreach description:
A presentation was made through slides, and handouts to the July 2019 meeting of the Hamilton County, Indiana, Soil and Water Conservation District.  In the spring of 2020, we will be making a presentation for Hoosier organic's.  Due to health issues, we were not able to hold the 2019 field day as planned.
Our production results were shared on our website and facebook page.  Our website is www.cicerofarmmarket.com and our facebook page is https://www.facebook.com/CiceroFarmMarket/ We also posted the results under my personal facebook profile:  Karen Carlisle.
Learning Outcomes
20
Farmers reported changes in knowledge, attitudes, skills and/or awareness as a result of their participation
Lessons Learned: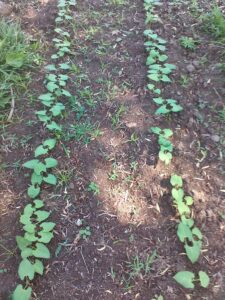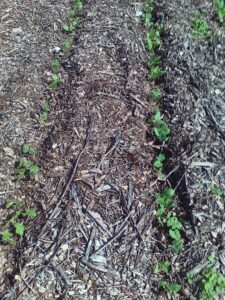 Several lessons learned this year.
1. If the weather is extremely warm when you plant potatoes or green bean seeds, and you are planting in a covering of woodchips, make sure to water until the potatoes/green beans seeds are up several inches. Then bring the extra chips up around the plants. This will help keep the moisture in the ground and feed the plants each time it rains.
2. Carrots can be directly sown on the top of wood chips that have been decomposing for at least 2 years. Just make sure to keep the chips lightly watered each day until the carrots come up. Usually 2 weeks
3. Adding a covering of 6-month-old wood chips in the fall is better than applying in the spring. Adding the wood chips in the fall allows for the snow and rain to release the wood chip tea into the soil.
4. Another advantage of adding the wood chips in the fall is saving time. In the areas that I had not covered with chips in the fall there was an abundance of weeds that I had to take the time to hand hoe.
Project Outcomes
1
Farmers changed or adopted a practice
Recommendations:
My 2-year research project with wood chips was just the beginning of showing how wood chips can improve the mineral content and soil biology.  Imagine the positive improvements of our soil when using decomposing wood chips for 5, 10 or 15 years or longer.  Another project would be testing the food value in vegetables grown in wood chips verses vegetables grown in plain soil.