Final report for FNC18-1129
Project Type:
Farmer/Rancher
Funds awarded in 2018:
$6,210.00
Projected End Date:
05/28/2020
Grant Recipient:
Mad Farmers Collective
Project Information
Description of operation:
Mad Farmers Collective is a relatively-small, but highly-productive market farm located in downtown Indianapolis, that has been in operation for nine years. The farm is owned and operated by three farmers, with the assistance of one full time employee and one part-time seasonal employee. The vegetables are sold at a local farmers market (from March through December), and to 5-10 local restaurants and stores nearly every week of the year. In general, the farm is known for its salad greens, root vegetables, tomatoes, and a wide variety of specialty roots and greens that are marketed, primarily, to local restaurants.
The farm consists of approximately 1.5 acres, nearly all of which is cultivated. We use a permanent bed system, which allows us to keep tillage to a minimum. We grow year-round, with the aid of multiple caterpillar tunnels (4 14'x50' tunnels) and high tunnels (4 14'x48' and 1 30'x48'). Nearly every bed is cropped multiple times in a season, which encourages us to manage the soil as sustainably as possible. This also encourages us to rotate crops as frequently as possible, and to pay close attention to soil quality and maintenance.
While the farm is not certified organic, we have followed organic standards since the beginning, prioritizing good soil management practices to maintain fertility and the use of crop rotations and physical barriers for pest pressure reduction. In general, these efforts have been largely successful and harvests continue to be solid and plant health continues to be substantial.
In addition to the aforementioned sustainable practices described above, we have also made a concerted effort to create substantial habitat for beneficial insects. This includes having the farm bordered by a combination of native plants/flowers, berries, fruit trees, and cut flowers. We also maintain several hives around the farm - the honey harvest is modest, pollination assistance is the priority.
We continue to explore ways in which to make such a small space as financially-productive as possible, without sacrificing the ecological health of the space. We have not figured out the answer to this particular dilemma, but we feel that our prioritization of sustainable soil management and substantial crop diversity have provided an excellent starting part in this endeavor.
Summary:
Small-scale market growers are increasingly interested in the opportunities that exist within salad greens production. The attraction is obvious: they are a quick-growing crop that does not take up significant physical space; they are an accessible market product, in regards to customer familiarity and preferences; and, if grown well, the greens can be sold for a premium.
One of the surest ways for a farm to realize the full financial benefits of salad green production is to insure that the entire process is pursued as efficiently as possible. Even if the bed preparation, crop care, and harvesting are completed easily and quickly, it is easy for those efficiencies to be lost in the processing stage – the harvest tote might be incorrectly sized for the task, small batch washing might be too time consuming, and the resources devoted to salad green processing might negatively impact the processing of other crops.
This project focuses on the processing end of salad green production – designing a wash station that is affordable for new and small farms - one that incorporates tools and layout design for an efficient work flow and minimum time burden, while also maintaining a high bar for vegetable cleanliness and shelf life.
Project Objectives:
Identify the tools and wash station layout that will improve the processing of salad greens for restaurant and farmers market customers.
Build a model wash station for small farm salad green production.
Compare the time and spatial burdens of this new wash station with the farm's previous practices through worker feedback and time monitoring of relevant tasks.
Share findings (feedback and time monitoring, in addition to wash station implements and design) through field days and website and social media.
Research
Materials and methods:
At this point, we have been able to use the new wash station for nearly half a season, and we feel like that time has given us a chance to reasonably assess its upsides and any possible downsides. 
Structurally, the new space is a dramatic improvement over our older wash station.  The structure itself is taller (roughly 10 feet high), which gives it a feeling of greater spaciousness, allows more light, and improves the airflow.  The structure is not completely enclosed - one side is open, but the addition of walls helps protect the space from the elements and makes it a more comfortable space to work.  The wall material we chose is a flexible double-walled plastic material that is often used for greenhouse coverings - it works quite well for the wash station because it lets in light, is fairly sturdy, and can be easily sprayed and cleaned down when necessary (we purchased this material from E&R Seeds - Solexx seems to be a similar product, if an alternative is desired). Additionally, we decided to use landscape fabric and gravel as ground covering (instead of the wood chips that we had in our older wash station).  This has worked well - it makes the space look cleaner, is comfortable to walk on, and readily filters any water that might spill on it.
We built tables for storing buckets of recently-harvested greens and recently-washed/dried greens from wood that was leftover from a previous project.  This was an easy way to use readily-available materials that can also be wiped down and sanitized quickly and easily. Harvest totes and tools are stored on a shelf in the front part of the wash station.  This has allowed the process to be streamlined, as folks who are harvesting salad greens on a given day know that all of the materials they might need are in arms' reach.
We purchased a tutorial from Dry Your Greens about how to build a greens bubbler.  The instructions were fairly straightforward and easy to follow.  One problem we ran into was figuring out how to install a drain into the large plastic tank that would house the bubbler system.  For various practical reasons (cost, risk of theft), we were reluctant to purchase a stainless steel tank that might have a built-in drain.  Instead, we chose to use a 100 gallon Rubbermaid structural foam stock tank - something that was suggested in the tutorial.  We soon realized that the drain that was built into the tank was located 1-2 inches off of the bottom and, thus, would not be able to completely drain all of the water.  This issue had not been mentioned in the tutorial, and it required unexpected time and material purchases to create a drain system that functioned appropriately.  We ended up cutting a hole in the bottom of the tank and installing a basic industrial sink drain, with a water-tight seal.  We then attached a flexible drain pipe that allows the water to be directed away from the wash station.  We also had some difficulty purchasing a motor that was the correct size - we needed a 1.0 hp 120 volt model. We eventually found a source, but it was an unexpectedly convoluted process for a piece that was so critical to the whole set-up.
The greens are transferred from the bubbler to the orange fish baskets (purchased from Nolts Produce Supplies) with a basic pool skimmer (purchased from a hardware store). The greens drip-dry in the basket for several minutes before the basket (with greens still inside) is placed into the converted washing machine.  The washing machine is turned on for two minutes (this is controlled by a basic timer that's wired to the machine).  Afterwards, orange basket is lifted out of the machine and the greens are transferred into a clean plastic tote.  The method allows us to wash and dry the salad greens without ever directly touching them - something that might damage the leaves or increase the risk of food contamination.
We purchased the materials for a washing machine conversion from Dry Your Greens, along with access to the tutorial describing the process.  While it was nice to be able to buy all of the necessary hardware in one place, we ended up with a fair amount of hardware that was unnecessary for our particular set-up. In hindsight, I should have just purchased the tutorial and, from there, figured out what specific pieces were needed for the conversion.  That would have allowed me to simply purchase those items on their own, instead of paying money for the kit and the unused pieces.  Another critique I have of the tutorial from Dry Your Greens is that the video work occasionally obscures the actual work being done (through poor camera placement, focusing, or excessive movement) - undermining its efficacy as a educational tool.  In addition, it is advisable to have a modest familiarity with electrical wiring before beginning this project.  At key moments of the re-wiring process, the camerawork would frequently be unfocused or too far away.  This made the work more difficult and success a little less certain.  The washing machine conversion was. eventually, completed successfully.  It was simply that the educational materials purchased for this particular project, were sometimes lacking and difficult to understand. 
For our particular set-up, we purchased a used Whirlpool Cabrio model.  If you are using the Dry Your Greens tutorial, it is critical to use a washing machine model that meets certain specifications referenced by the tutorial.  There are certain washing machine models whose electrical/motor systems are not addressed in the tutorial. We have been very satisfied with our particular choice of washing machine model.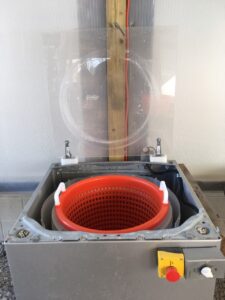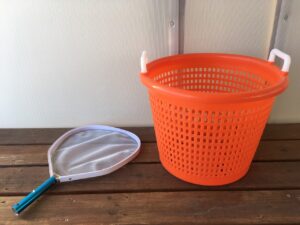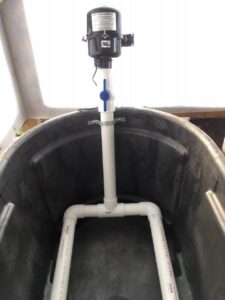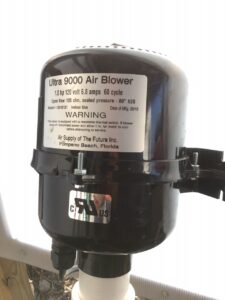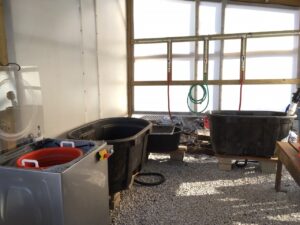 Research results and discussion:
Since completing the new wash station, we have taken the opportunity to compare the new washing/drying methods with previous ones. 
(For reference, our previous method consisted of harvesting salad greens into mesh laundry bags, gently dunking these bags into three separate tanks of water, allowing the greens to drip dry on a metal mesh table, and then utilizing a 5-gallon hand-crank salad spinner to dry the greens.)  While the process resulted in a suitable product, it had felt unnecessarily time-consuming and physically taxing.  We were also running into problems when other crops needed to be cleaned while the salad greens were being processed - there was simply not enough room for both things to occur at the same time. Our SARE project was an attempt to address this problem of inefficiency and limited space, while attempting to figure out what sort of low-cost improvement work well for our needs. 
After building out an adjoining salad greens-specific wash area and installing the greens bubbler and spinner, we were able to examine how processing salad greens in the new system compared with the old system.  We were struck by several points:
-The new system cut the washing/drying time nearly in half, in compared to the old system.  This was due, in part, to the increased holding capacity of the bubbler tank - we were now able to comfortably wash 15-20lbs of salad greens in a single tank, as opposed to moving 2lb mesh bags of greens through 3 separate tanks. The new salad spinning system dramatically increased out capacity as well - we can easily spin 2-3lbs of salad greens in a single basket, as opposed to being able to spin 1lb of greens in the hand crank spinner.
-In addition to the increased capacity, the ergonomics of the new wash station have noticeably improved.  Previously, we would have to lean over the dunk tanks to transfer the mesh bags, by hand, from one tank to the next.  This placed a surprising strain on our backs over the course of the season.  Additionally, the hand-cranks salad spinner is simply not a sustainable tool for a farm that is processing up to 200lbs of salad greens per week.  The physical strain of operating the crank over and over is noticeable and became a quite difficult task for owners and employees alike.  In the new system, the operator is upright nearly the entire time, there is very little heavy lifting involved, and there are few steps of the process that are repetitive AND physically-taxing. 
-Lastly, one of the unexpected improvements that came about with these wash station improvements was the ability to multi-task. The fact that both the bubbler and the spinner are set on timers allows the operator to start the process, and attend to another task in the wash station while the greens are bubbling or spinning.  This unexpected improvement has increased the efficiency of the wash station - fewer people are needed to process the vegetables as they come in from the field, and there is less overall time spent in the wash station, as as tasks can be stacked and attended to at the same time.
The efficiencies described would not be particularly appreciated if the end product was of a diminished quality.  Fortunately, we have found that the bubbler is able to clean the greens very well, with no noticeable damage to the leaf structure.  Similarly, the salad spinner does not damage the leaves at all, and it manages to get the leaves drier than those that are spun with the hand-crank salad spinner.  Less damage and less residual moisture has increased the shelf life of our salad greens and has lessened the pressure we felt to harvest greens as close to their sale date as possible.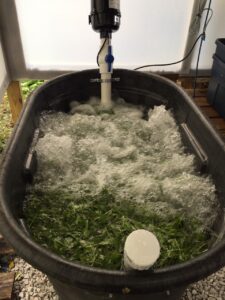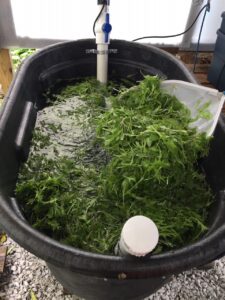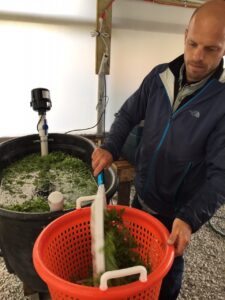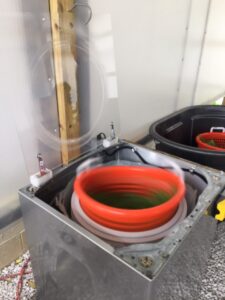 Participation Summary
4
Farmers participating in research
Educational & Outreach Activities
2
Curricula, factsheets or educational tools
1
Webinars / talks / presentations
Participation Summary:
5
Ag professionals participated
Education/outreach description:
In the summer of 2019, we hosted an on-farm workshop, in collaboration with Marion County Extension, about wash station design and construction.  The nine attendees were all active urban growers, with varying levels of experience.  The workshop focused on the factors that are considered when designing a wash station (including layout and flow, volume and capacity, materials and food safety) and the steps that can be taken to insure safe and proper food handling/processing.  While the updated wash station was not yet completed at this time, we were able to tour it and discuss with attendees how this expansion would function and some of the motivating factors for embarking on this particular project.
In the fall of 2019, we hosted an on-farm field day, in collaboration with Hoosier Young Farmers Coalition and Purdue Extension, focused on this particular wash station expansion.  The forty-four attendees represented a wide range of agricultural experience - some were professional vegetable growers from central Indiana, others were avid home gardeners interested in how a working farm operates, and others were customers of ours who were interested in getting a better idea of how the vegetables got from the field to their table.  All of the attendees participated in a general tour of the farm, in addition to a more detailed description and discussion about the new wash station's elements.  We were joined by Extension Educator James Scott Monroe, who gave the attendees a broader viewpoint about food safety considerations on a vegetable farm.  
In early 2020, we participated in the poster session at the Indiana Small Farms Conference.  We created a poster to illustrate the wash station improvements we have made, and we were able to meet several growers from central Indiana and talk about some of the pros and cons of our efforts.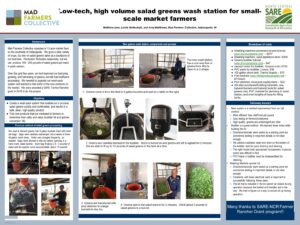 Additionally, we hired a videographer to create a short video describing the project.  We will share this video with the attendees of our workshop, with partners, and on our website: https://vimeo.com/426358468/bb7fee5e60
We feel strongly that utilizing these specific technologies has dramatically helped our farm, and we are happy to talk with other growers if they have questions about implementing these technologies in their operations.
Learning Outcomes
4
Farmers reported changes in knowledge, attitudes, skills and/or awareness as a result of their participation
Lessons Learned:
Our work has been delayed over the last eight months, due to the fact that we lost the lease to one of our farming sites.  Moving tools and materials off of that particular site was a substantial burden.  However, we were able to build the basic structure of the wash station, consisting primarily of a 10'x20' lean-to roof.  We are in the process of building out the tables and shelving for the space, and will follow that with the construction and installation of a bubbler tank for washing the salad greens, in addition to modifying a washing machine to act as a large salad spinner. 
In spite of the construction delays, we have continued to research materials and layout considerations in anticipation of continuing the construction of the wash station.  One way we have done this is by reaching out to Purdue University Extension Service (specifically, Michael O'Donnell and James Scott Monroe, two statewide Extension Educators focused on organic vegetable production and food safety, respectively).  We have gained a better sense of food handling standards that we should be sure to incorporate into our new wash station, and we have encouraged these two Educators to explore salad greens handling and processing more fully. 
We are excited to complete the construction and finally be able to put this wash station addition into use.  At the moment, the clearest lesson we have learned is how important it is to intentionally set aside time for these sorts of projects.  Too often, the daily requirements of the farm consume all of the available time in a day.  We have had to work hard to carve out time specifically for this project.  The end result will be worth it, but it has been a reminder of how important it is to set firm deadlines and, most importantly, to allot adequate time and resources so that those deadlines can be met.
UPDATE:
Completing this project has afforded us with a variety of learning opportunities.  In addition to being reminded of the importance of blocking out time for these sorts of long-term farm improvement projects, we have realized the significant impact that automation can have on the farm's operations.  The new tools employed in this wash station (the greens bubbler and spinner, specifically) can be connected to timers.  This automated mechanization enables us to process salad greens with less physical labor and, more importantly, to complete other, wash station-related, tasks while the greens are being washed or dried.  This improvement has encouraged us to look at other places on the farm where certain tasks can be automated, or mechanized, for increased efficiency and sustainability.
One difficulty we had with this project was the variety of skills that were required to successfully complete it.  The goals we set for ourselves included designing an improved wash station layout, constructing a simple (but structurally-sound) enclosure, plumbing water lines for the wash station, and re-wiring a washing machine.  Most of these skills were within our wheelhouse, and we did seek out additional assistance, when needed.  I'm not sure if we had fully appreciated the range of disparate tasks involved, and the difficulties they might present, when we created our original proposal.  We would certainly encourage other growers attempting to do this sort of project to honestly assess their capacity and skill set before beginning such an endeavor.
We also found that the way SARE encourages peer education and information-sharing prompted us to reach out to growers and educators in ways that we might not normally.  Our field day gave us the chance to meet other growers in our area and it encouraged us to try and continue these sorts of information-sharing activities in the future, beyond this specific grant.
Project Outcomes
4
Farmers changed or adopted a practice