Final report for FNC18-1143
Project Type:
Farmer/Rancher
Funds awarded in 2018:
$14,972.00
Projected End Date:
08/28/2020
Grant Recipient:
Willow Mountain Mushrooms
Project Information
Description of operation:
Bob Semyck and his family have been growing Agaricus mushrooms at Willow Mountain Mushroom Farm since 2004. The farm is located in Tecumseh, Missouri, on a high hilltop overlooking Lake Norfork as it flows south across the state line into Arkansas. The Farm consists of a 4000 square foot cinderblock building with 12 separate growing rooms, each with its own climate control for adjustment during the sequential phases of crop development. Outside is a covered slab, where compost mixes are prepared, sterilized and inoculated.
Bob has extensive experience growing Agaricus commercially. His first job, 36 years ago, was helping a large scale producer. He has since worked at all levels of Agaricus farming in six different operations, in diverse locations from Florida to South Dakota. Most of his history was working as a manager in Princeton, Illinois.
The decision to move to Missouri and start Willow Mountain was very deliberate. Bob and his wife Wendy wanted to experiment with a small scale, family owned business that would allow more creativity in its operation, provide a healthy work environment for them as parents, while also offering their children the safety and adventure of growing up on a family farm, surrounded by nature and wildlife.
Since 2004, Bob has continued to refine his operation, achieving greater consistency, more efficient use of resources, and less waste than his earlier methods learned at large scale corporate mushroom farms.
Willow Mountain Mushrooms are delivered twice weekly to retail stores in Springfield and Ava, MO. They have experimented with many different marketing strategies, including managing a local and organic foods CSA in Gainesville, MO. They have been a consistent presence at many local farmers markets in Springfield, and in Mountain Home, Arkansas. They also have developed an internet market through managing a blog and selling mushroom "growing kits" online.
Daniel Roth will also be testing a pod in this project. Daniel is a co-manager of Elixir Farm in Brixey, Missouri. Elixir is an organic farm producing shiitake and oyster mushrooms on logs. They also grow basil, and other produce as well as raising a herd of Dexter beef cattle. Elixir participates in the Midtown Farmers Market in St. Louis, in addition to making weekly produce deliveries to stores in Springfield, MO.
Summary:
This project will involve construction of two compact portable structures suitable for developing Agaricus mushroom crops. The "pods" will be expandable, to accommodate increased production, as needed. The pods will contain several compartments to maintain weekly crops at different stages of maturity.
The intent of this project is to explore the creation of an efficient, economically viable, cooperative Agaricus growing model for small farms in our region. Mushrooms are a high value, specialty crop that can be grown year round. Many farms in our area would benefit from bringing an additional crop into their markets, especially one that is not seasonally limited.
The project applicants have both witnessed demand and interest from other farmers in adding mushrooms to their operations, but our experience has shown that most farmers don't have the ability to succeed with managing all phases of mushroom production. This project aims to combine the skill, knowledge and equipment of an experienced Agaricus grower, with other farmers not specifically trained in this area. If successful, this project would provide an additional income opportunity for satellite farmers, while relieving the central production farm of the additional harvesting, packing, travel time and expense associated with marketing directly.
Project Objectives:
Develop and Test a compact, climate controlled portable facility for small scale production of Agaricus mushrooms.
Evaluate the feasibility of a cooperative growing model in which one farm prepares mushroom growing mediums while other farms conduct later stages of crop production and harvesting.
Experiment with "Blocking" techniques and dimensions to find a viable and efficient method and size for the creation of the growing medium "blocks" for transporting to satellite farms.
Share research findings at local conferences, farm days, and online with photos and video.
Research
Materials and methods:
Materials were purchased and construction of the first mushroom growing pod began while experimentation with compost blocks, growing medium, and block sizes was underway.  Seven crops of Crimini were grown in mushroom compost blocks of different sizes during 2018.  The 24"x16"x6" size weighed about 30 pounds, before the casing step.  Before making a compost blocker, to shape the growing medium and contain it in a compact form for transport, experimentation was required to discover the best dimensions and weight for the growing unit.  This ideal measure effects the final dimensions of the grow rooms and the overall design of the growing "pod".  The first pod was constructed based on an initial estimate of an efficient compost block size.  The second pod will be assembled with the added perspective of trials grown of specific box sized and conclusions drawn about which size and weight worked best. 
Initial crops were grown in an enclosure within a basement. The climate of the enclosure was controlled with a simple humidifier and heater. The first blocks were formulated with cottonseed meal and hulls supplemented with chicken litter and distiller's grain.  Through trial and error, growing substrate formulations were adjusted to improve yield and crop quality.
The 2018 crops also involved experimentation with the casing layer.  In addition to basic ingredients of peat moss and water, experimental amounts of other ingredients were added to prevent contamination from insects, such as fungus gnats. Bacillus thuringiensis and diatomaceous earth were both tried.
In 2019 we worked on consistency of compost through phase I and phase II composting from batch to batch.  In phase I of compost making we were able to formulate a higher nitrogen in the compost which provides more available food for the mushrooms.  We have settled on a 12 day composting cycle.  Which includes flipping/turning every other day.  In phase II we have found that a 9 day cycle works best for the higher levels of nitrogen that we are working with.  The extra 2 days allows for better elimination of ammonia and increased bacterial growth.
We have decided that the best size for the blocks is the 24" x 16" x 6" deep.  
We asked for an extension on the grant to do some modifications on the pods.  We expect these to aid in pest control and production.  
The modifications to the pods have been done and will be put into production for the 2020 growing season.
In 2020 we also used 3 types of brown agaricus spawn in separate trials.  The purpose of this was to see if any one strain would produce more in this small scale system.  
Research results and discussion:
Harvested crops were weighed and noted, and compared with the compost formulation used and the growing block dimensions and weight.  Yields on the larger 30 lb soil block demonstrated far higher yields, greater consistency and bio-efficiency than the smaller square foot box.  The larger box is roughly 2 and one half square feet in surface area, and yielded about 7 to 8 lbs.  The small box produced roughly 2 pounds on average, and those harvests were highly inconsistent. Yields from the smaller box were very unpredictable.    
Crops grown with ground dehydrated alfalfa demonstrated the best yields.  Sunflower seeds were also added, and further improved the crop yields.
The addition of alfalfa and sunflower, removing all distillers grain from the formula, created the most productive substrate formulation, while maintaining an all-plant-based compost.
The 2018 crop experiments with the casing layer showed great outcomes resulting from the added diatomaceous earth and Bt (Bacillus thuringiensis).
The 30 pound box, which is approximately 70% moisture, contains roughly 9 lbs of growing medium, dry weight. Conventional systems have a common goal of producing one pound of Agaricus mushrooms from one pound of dry medium.  That is considered to be 100% "bio-efficient". The crops at Willow Mountain farm are often close to that rate of production.  
The compost blocks are shallower and lighter than the usual soil trays, which weigh well over one hundred pounds.  The compost blocks we have been experimenting with are lighter and more manageable, to allow easy transport and handling.  There was concern at the outset that this more portable method might produce drastically less than the usual systems.  Surprisingly, there was not a serious drop.  At 9 pounds dry weight and yields of 7 to 8 lbs of mushrooms, these crops were still in the 70 to 80% bio-efficiency range.  Some soil blocks even reached 100%.
In 2019, while working on consistency via higher quality compost we have seen a decrease in fungus gnats and better sizing of the mushrooms.   With a more complete phase II (moving from 7 days to 9 days) we have seen a decrease in fly populations.  For this reason we re-evaluated the use of Bt in the casing and have decided to remove it due to cost and limited effectiveness.
In 2020, the modifications did help fly control and air distribution.  Tighter door seals prevented flies from infesting new crops and reduced our overall fly population.  Moving more air at a slower speed did improve quality by reducing scale and feathering on the mushrooms while maintaining yields.   Two of the three strains worked very well, while a third produced poorly but did produce a larger mushroom. 
Participation Summary
2
Farmers participating in research
Educational & Outreach Activities
1
Webinars / talks / presentations
Participation Summary:
1
Ag professionals participated
Education/outreach description:
A slide show and talk was presented at the Small Farm Show in West Plains, MO in April.  Over 60 farmers attended and many expressed an interest in the satellite mushroom farming idea.   During the last year, other farmers have also expressed interest, including growers in Carthage, Marshfield, and West Plains, Missouri.  These farmers have begun trying some of the prototype growing blocks and constructing mini grow rooms at their own farms.  A director at the MSU fruit experiment station has also built a grow room in Mt. Grove, MO, and has suggested hosting an educational field day in the coming season.
Postings of the trials have been shared on social media through the southern agaricus growers Facebook page, as well as the Willow Mountain Mushroom page.
A television program based in Springfield MO has been in contact and will conduct a farm visit in September and publicize this project and its outcomes.
In 2019 we continued training sessions with two other farmers and MSU experiment station every other week.  Many inquiries were made at the MSU experiment station in Mountain Grove about Satellite Mushroom Farming.  Discussions are underway about further research and experimentation in satellite farming with MSU in Mountain Grove.   
In 2020 and 2021 we are continuing our work with MSU-Mountain Grove Missouri.  In this grant we are developing written instructions and evaluating pods and marketing of mushrooms.  We are working with two types of pods.  The first is similar to this project which is a stand alone pod with its own climate control.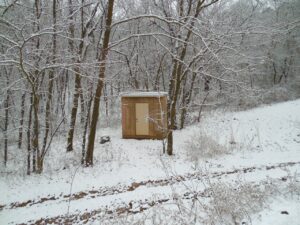 Mushroom pod in snow, winter 2020.
The second is a unit to be placed within an existing structure that has the climate control.  Production trials are also being run with oyster mushrooms within both types of systems.  
Outreach and education is managed through MSU-Mountain Grove.
Learning Outcomes
7
Farmers reported changes in knowledge, attitudes, skills and/or awareness as a result of their participation
Lessons Learned:
The results of the research continues to be encouraging.  Being able to produce mushrooms in a limited space where they will be harvested, while the soil formulation and composting is conducted elsewhere, has proven to be a very useful "symbiotic" arrangement.  The standardizing of an easily transportable soil block seems like a promising shift for a successful mushroom farm.  As the year continues, it seems likely that more market farmers will explore participating as "satellites", harvesting and selling the finished mushrooms, leaving the central mushroom farm to the pre-production tasks of compost mixing, spawning, and casing.  The central farm may be able to increase its production of viable growing medium many times over, and the satellite farms will be adding a lucrative and high quality additional crop to their markets.  
There is still a "learning curve" for a farmer not familiar with mushroom production, and some may not be well suited to the need to pay attention to temperature, humidity levels and the other variables that determine crop health, but for those who are willing to develop this capacity, "satellite mushroom farming" could be a worthy endeavor.
We have learned the importance of asking qualifying questions of those interested in growing mushrooms through satellite farming.  Also, a growing system that ALL satellite farmers utilize - not many different types of systems.  This system may be individual pre-built pods or built in place from plans we provide to maintain consistency from one farm to another.
There is a need for written instructions and possibly a video tutorial to better train individual growers.  Transitioning from a mushroom producing facility to a production block facility has been stressful.  We still have a lot of work to do to improve our system and distribution of our production blocks.   I feel that there is a future for this kind of cooperative growing, putting our food systems closer to the consumer. 
Project Outcomes
6
Farmers changed or adopted a practice
4
New working collaborations