Final report for FNC19-1155
Project Type:
Farmer/Rancher
Funds awarded in 2019:
$27,000.00
Projected End Date:
02/28/2021
Grant Recipient:
Sklarczyk Seed Farm LLC
Project Information
Description of operation:
Sklarczyk Seed Farm is a small business and third generation farm operating out of Johannesburg, Michigan. We farm 1000 acres of wheat, corn, and soybeans, as well as 50,000 square feet of greenhouse space. The hydroponic seed potato greenhouse operation is the focus of our diversified farm, producing over six million seed potatoes of over two hundred different varieties annually. Our on-site tissue culture lab produces plantlets for the greenhouse and a handful of growers. All minitubers produced by SSF are certified to be virus and disease free by the Michigan Seed Potato Association. We have received MAEAP verification for Farmstead, Cropping, and Greenhouse Systems. Currently, SSF employs twenty year-round and ten seasonal employees.
Summary:
At this time, no industry standard exists for the pre-planting treatment of seed potato minitubers, despite potatoes being the third most important crop worldwide. The proper preparation of minitubers through Greensprouting procedures has the potential of doubling overall production of year one seed potatoes. We believe that through experimentation a low investment, high return standard procedure can be developed that will be effective regardless of growing conditions. It will maximize yield on the cultivated land already in use for potato production without need for additional inputs from growers including a larger farming footprint, increased pesticide applications, or longer days for busy farmers.
Greensprouting will be accomplished by removing minitubers from a 35° storage environment several weeks before planting, then placing them in indirect light at 70°and gently rotating every three days. Short, green sprouts will develop, indicating that the minitubers have broken dormancy and are ready to be planted. Control minitubers will receive similar treatment for only three days prior to planting. All minitubers will be planted in replicated randomized block designs at 1.0, 2.0, and 3.0 inches at test plots in Michigan and North Dakota. Plant vitality, days to emergence and overall yield will be monitored and analyzed.
Project Objectives:
Evaluate a sustainable seed potato pre-planting treatment procedure that will be possible to implement on a large scale within the potato industry.
Perform field trial experiments at multiple farms to provide a Greensprouting standard that can be adopted industry-wide.
Evaluate the effectiveness of Greensprouting at increasing seed potato yields when planted at multiple depths.
Develop an industry engagement program to share experimental findings through social media, website development, field days, poster publication, and conference presentation.
Cooperators
Research
Materials and methods:
Variety Selection

Multiple varieties will be tested to demonstrate the effectiveness of the pre-planting procedure regardless of potato type cultivated.
Varieties to be planted chosen based on potential impact on the potato industry. A focus will be placed on varieties that are widely produced by the farming partners.

Location Selection

Farming partners are located in Gaylord, Michigan (Walther Farms) and Grenora, North Dakota (Enander Seed Farm) to validate results under very different growing conditions.
Field management and prep will be overseen by the on-site farm managers in order to simulate true field management practices which are region appropriate.

Experimental Design

Randomized block designs will be utilized across all test plots, with a minimum of three replications at all blocks.
Seed spacing of 10" utilizing a six-row planter (Michigan) and a five-row planter (North Dakota) will be used.
Yield studies will be conducted based on a ten-foot dig of each independent variable planted, as a standard conversion in the potato industry to project anticipated yield per acre of production.

Yield studies will include mass and tuber number. The seed potato industry is increasingly looking at number of potatoes produced per acre instead of mass, due to advantages of planting whole seed pieces instead of cut seed.

Days to plant emergence will be tracked as an important growth stage indicator for farm managers to achieve high seed potato yields.
Control seed will be taken from the same lot as treated seed to ensure similar seed age and production effects.
Planting depths of 1.0, 2.0 and 3.0 inches will be replicated in testing to ensure the effectiveness of the pre-planting procedure across a range of on-farm planting practices.
Please see the Optional Attachment: SSF Plot Map Example (SSF-Plot-Map-Example)
Research results and discussion:
Field Trial Overview
Field Trials were conducted during the 2019 growing season on cultivated land in Michigan and North Dakota. Management of the test plots and the surrounding potato fields were overseen by on-site farm managers, while experimental design and data collection were performed by Sklarczyk Seed Farm.
Multiple varieties were planted in the trial plots including Lady Liberty, Russet Burbank, and Umatilla Russet. Minituber seed was planted in the field surrounding the plots to prevent alteration of field crop management practices, reduce variables, and generate the maximum amount of usable data for early generation minituber partners and growers.
Test plots were set up utilizing randomized block designs to minimize the effects of nuisance factors at the field setting on the data set. A minimum of three replicated plots for each variable being tested were set up, with a minimum of ten samples for each variable within the plot being monitored for the duration of the experiment.
Greensprouting method experiments were performed. Overall yield (mass), number of seed pieces, seed size, and plant vitality were monitored for each of the tested factors. Yield data was collected one hundred days after planting by performing a ten-foot dig and recording total mass.
Greensprouting Method Trial
Two greensprouting treatment procedures were tested and evaluated for effectiveness in increasing yields. Method 1: remove seed from long-term storage 4 weeks prior to planting and store under indirect light at 70˚. Method 2: 4 weeks prior to planting remove seed from long term storage, place in darkness at 68˚ for one week, then move under continuous direct light at 62˚ for 3 weeks.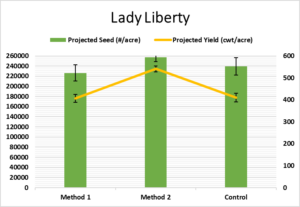 See Figure 1: For variety Lady Liberty, Method 2 was found to yield superior seed numbers harvested, as well as highest overall mass.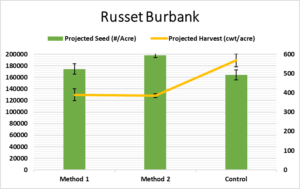 See Figure 2: For variety Russet Burbank, Method 2 yielded highest seed numbers, while the greatest mass was harvested from the control.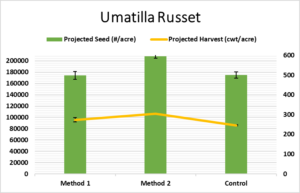 See Figure 3: For variety Umatilla Russet, Method 2 yielded superior seed numbers harvested, as well as highest overall mass.
Participation Summary
7
Farmers participating in research
Educational & Outreach Activities
1
Curricula, factsheets or educational tools
1
Published press articles, newsletters
5
Webinars / talks / presentations
Participation Summary:
30
Ag professionals participated
Education/outreach description:
Greensprouting 2019 GL Expo Poster
A team of three presenters attended the Great Lakes Expo located in Grand Rapids, Michigan in order to participate in the three-day annual poster presentation and session. Printed copies of the research poster were available for distribution to all interested attendees. Additionally, the presenters were available for an hour-long informal question and answer session to provide interested attendees with specific information regarding the practical implementation of the studied seed-treatment practices. Social media was utilized to increase awareness throughout the event.
Field days took place at farming sites in North Dakota and Michigan for both the planting and harvesting of the studied crop in order to create awareness for the project, as well as educate farmers and participants in the research methods being utilized to study the effects of greensprouting.
We plan to continue to present our findings on the effectiveness and sustainability of greensprouting to the greater potato industry through field days, farm visits, conference presentations, and consultations into the future with the distribution of research posters and reports highlighting its benefits.
Learning Outcomes
40
Farmers reported changes in knowledge, attitudes, skills and/or awareness as a result of their participation
Lessons Learned:
We have found that Greensprouting is an important and viable method for increasing year one seed potato yields in an accessible and sustainable way. The method of accomplishing Greensprouting of the minituber crop can directly influence the yield of year one seed potatoes. Growers who desire whole-seed over cut-seed could see massive benefits to manipulating their greensprouting methods as doing so can dramatically increase seed numbers, while not necessarily influencing hundredweight per acre. We have found that this detail presents the greatest benefit to the potato industry, and has generated the most interest in the project and its results.
Project Outcomes
30
Farmers changed or adopted a practice
3
New working collaborations
Information Products