Final report for FNC19-1156
Project Type:
Farmer/Rancher
Funds awarded in 2019:
$2,965.00
Projected End Date:
02/28/2021
Grant Recipient:
Benson Bounty LLC
Project Information
Description of operation:
Benson Bounty LLC is an urban farm located on 1.6 acres of land in Omaha, NE. We have about 3/4 acre under production, including a 30' X 72' high tunnel. Our main crop is heirloom garlic, but we grow over 50 varieties of vegetables. We have been in operation since 2015. We utilize cover cropping, crop rotation, make compost on site and do not use any pesticides or fertilizers.
Summary:
Despite the proven benefits of providing on-farm habitat for pollinators, many growers are hesitant to dedicate time or space to such endeavors and instead focus their energies on revenue generating annual crops.  We plan to show that there are a number of pollinator-friendly plants native to Nebraska that can be utilized to build a stronger, healthier farm ecosystem while simultaneously providing an additional revenue stream.  We will plant a variety of perennials and self seeding annuals and evaluate them on their ability to generate profit. We hope to show that these native plants can produce revenue on par with annual vegetables but with far less year-to-year maintenance or inputs.
Project Objectives:
Plant 12 species of native Nebraska plants to establish a permanent pollinator habitat on our farm and evaluate each variety's ability to generate profit.

Host a field day in partnership with UNL extension educator John Porter to share the results of our project with local producers.

Host horticulture students from Metropolitan Community College for an on-farm demonstration outlining our approach and results of the project.

Make a YouTube video explaining our project and highlighting the successes and failures.

Publish one-page production charts for all 12 varieties to demonstrate profit potential.
Research
Materials and methods:
We will test the profitability of 12 species of native Nebraska plants by growing them alongside each other in test plots of 120 sq/ft each.  The 40' x 3' foot long beds will be separated by 2' wide aisles, resulting in an additional 960 sq/ft. for a total plot size of 2,400 sq/ft.  We decided to lay out the test plots in this manner because our current equipment is suited for this arrangement. The plots are the same size as our current beds and this will enable us to compare the profitability per square foot of the test plots with our previous records.  
We decided to experiment with a large number of species because our research into pollinator habitat revealed that diversity in plants is important.  We focused on native species because of the premium price that these flowers, herbs, and roots demand in the local market. Our market research revealed that there are a number of species of native plants where the local demand is far greater than supply.  Many of the species we selected are native throughout the North Central Region and our project will help others identify the market potential for these native plants.
California Poppy, Wild Bergamot, Anise Hyssop, Common Yarrow, Purple Coneflower, Blue Vervain, Leadplant and Narrowleaf Coneflower will be marketed for their flowers and leaves. The following plants will be marketed for their roots: New Jersey Tea, Spiderwort, Butterfly Milkweed, and Solomon's Seal.
We will host horticulture students from the local community college for a tour of the pollinator habitat, exposing them to the possibilities of growing profitable alternative crops.   We will also work closely with UNL extension educator, John Porter, to host a field day for local producers so they can come and learn about the results of the project.
Research results and discussion:
We learned that there are a variety of ways to market native plants for profit.  We learned that many of the native varieties we trialed serve as excellent cut flowers because of their long vase life and extended production period.  Common yarrow became a stalwart for our bouquets, as it adds a nice filler that supports weaker flowers.  Spiderwort blooms early in the season and offers us something to market long before most other flowers are in bloom.  Blue Vervain is a striking cluster of flowers on a tall stem that adds great height to bouquets.  The Vervain was a conversation starter at markets, as many customers were not familiar with the flower.  We found that the petals of Echinacea do not hold up well, but we yanked them off and included the bright orange flower head in our bouquets weekly. Surprisingly, the most productive variety for cut flowers was Solomon's Seal.  We utilized the delicate, arching green plants as 'filler' in our bouquets. They match well with anything and add a unique depth to the arrangements. Wild Bergamot and Anise Hyssop do not hold up well in bouquets, but both of these flowers were used to create our new line of "Nebraska Wildflower" soaps and candles.     
It was difficult to measure the exact profitability of each variety, as they were grouped together with other varieties to create our bouquet arrangements....but this year we figured that 1/3 of our floral sales were tied to the native plants from the project...using that number we were able to determine that we made around $2/sq ft overall--less than our annual vegetable beds, but with less labor.  
Participation Summary
2
Farmers participating in research
Educational & Outreach Activities
Participation Summary:
9
Ag professionals participated
Education/outreach description:
We hosted representatives from NCR-SARE for an on-farm visit in which we detailed the progress of our project.  They created a YouTube video of their visit-the video currently has 207 views.  We also communicated the progress of our project through our Facebook and Instagram accounts, as well as our website. There is a link to the YouTube video on our website and we also wrote a blog post highlighting the beauty and importance of the pollinator habitat during the winter season.  We also highlighted the project in another blog post that introduced our new line of products, "Nebraska Wildflower Soaps."  We hosted John Porter, extension educator, to share the results of our project.  We also hosted a pair of master gardeners that had heard about our project and were curious to learn more about the varieties we had planted.  We hosted a meeting of the newly formed local chapter of the National Young Farmers Coalition and explained the project to all in attendance and encouraged them to look in NCR-SARE for future projects. 
Learning Outcomes
2
Farmers reported changes in knowledge, attitudes, skills and/or awareness as a result of their participation
Lessons Learned: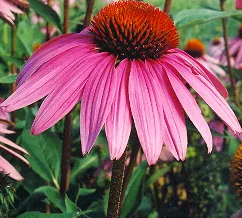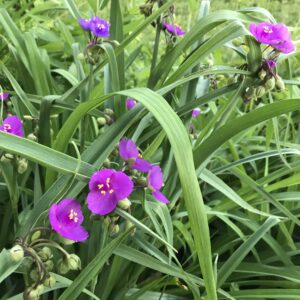 We set out to show that installing permanent pollinator habitat could lead to economic sustainability through improved market opportunities and improved profitability.  We successfully marketed many of the varieties of native flowers as specialty cut flowers at local farmers markets.  We were especially pleased with Yarrow, Solomon's Seal and Vervain for their long vase life and continued production throughout the season.  We have also had some success marketing the native plants as medicinal herbs to be sold to local herbalists.  An unexpected benefit has been the ability to integrate some of these flowers and herbs into our value-added products to diversify our offerings and provide a unique product.  We have created a whole new line of products called our "Nebraska Wildflower Series," which includes our handcrafted soaps and beeswax candles infused with the native flowers that we grow in our pollinator habitat.  
Our typical production of annual vegetables grosses an average of about $3 per sq/ft over the course of a growing season.  With the pollinator garden we were able to reach close to $2 per sq/ft.
One disadvantage of the project is the upfront costs it takes to install permanent pollinator habitat with established transplants.  With the time constraints of the project there was no way to start from seed and have time to analyze the economic impact of improved market opportunities.  In the project proposal we stated that we would attempt to propagate our own stock once our patch was established.  After the first season we collected seeds from Common Yarrow, Purple Echinacea, and Anise Hyssop and had success starting our own plants from seed.  We were also successful in expanding the size of the Yarrow patch through root division.  
We were very happy to confirm that the perennial beds we installed took less maintenance than our typical beds filled with annual vegetables.  This was variable for each bed, as much of it depended upon the speed at which the flowers filled out the growing space.  Yarrow, Echinacea, Spiderwort, and Bee-Balm were quick to establish and spread, limiting competition from weeds that resulted in very little time spent maintaining those beds.  The more shrub-like plants demanded a little more attention during the first year, but weeds were still less of a problem than in our annual vegetable beds.  And best of all, we did not have to prep the beds more than once during the season and will never have to 'turn them over' as we do when we plant annual vegetables.  We also spent no time watering these beds once they were established--a big time saver.  We generally spend about 1 hour per week for every 500 sq/ft of garden space but with the perennial pollinator garden we spent about 20 minutes per week for every 500 sq/ft-mostly weeding. Pests were not a problem, except we lost a majority of the Swamp Milkweed to vole damage during the winter. The Monarda Fistulosa has gotten powdery mildew late in the season each year-affecting it's appearance and marketability as an herb.  
Project Outcomes
2
Farmers changed or adopted a practice
Information Products