Progress report for FNC19-1184
Project Type:
Farmer/Rancher
Funds awarded in 2019:
$9,000.00
Projected End Date:
02/28/2021
Grant Recipient:
Millsap Farms LLC
Project Information
Description of operation:
Millsap Farm is a family owned, 20 acre farm four miles north of Springfield MO. We grow two acres of mixed vegetable, using 24,000 s.f. of covered space, and sell to a farmers market, a 175 member CSA, and a few restaurants. We are full time farmers, and have been farming full time since 2007.
Summary:
For growers like us, who have used high tunnels, low tunnels, and greenhouses to extend the growing season to year-round production, there are two major problems; Chickweed and Sclerotinia.  Chickweed is a cold-hardy annual with fast growth, prolific seed production, and long seed life.  When we plant winter greens, carrots, beets, herbs, or anything else, chickweed always threatens to overtake the crop.  Chickweed is responsible for at least 80% of the weeding we do on our farm from October to April, and we're not alone.  Sclerotinia sclerotiorum is a plant pathogenic fungus which causes a disease called white mold if conditions are conducive. On our farm, and many other farms in the midwest, this is the single most difficult and destructive disease problem we deal with;  this past winter, we lost as much as 60% of some lettuce beds to this fungus.  It thrives in the cool, moist greenhouses from October to April.  We propose to use a soil steamer, like the ones produced by Sioux Steamer company, to eradicate these two pests from our beds.  This solution would provide a pesticide-and-herbicide-free, long-term sustainable solution to the two worst problems winter growers face. 
Project Objectives:
Evaluate the use of a soil steaming system for reducing or eradicating Chickweed and Sclerotinia in cool weather growing beds. 
Document the efficacy of this treatment through photographs and written observations of beds with and without treatment. 
Establish base for the cost per square foot of treatment, and compare that to the losses incurred from these problems in untreated scenarios. 
Establish best practices for reducing/eliminating these two pests from our winter growing spaces. 
Share results through on-farm field days, tours, presentations at conferences, communication with other growers on social media, and youtube videos. 
Research
Materials and methods:
We will purchase a steam generator, similar to this model from Sioux Steamer: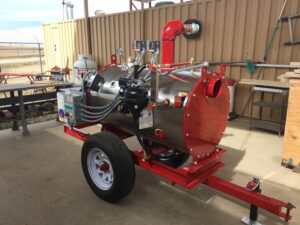 Using this device, plus a steam hose and a specially made tarp (which we will weight down around the edges to trap the steam and define the heated area), we will treat the top layer of soil in our Greenhouse and tunnel beds, bringing the temperature in the top 2″ up to 180 degrees.  By heating the soil this way, we will kill sclerotia and chickweed seeds.  Later we'll transplant and direct seed greens and lettuce crops in the the growing beds, for harvest from October to April.  Usually the chickweed and sclerotinia would take a heavy toll on our winter crops; we sometimes lose as much as 70% of lettuce to sclerotinia in bad conditions, and spend dozens of hours each winter hand weeding chickweed out of our carrots, spinach, and greens.   We'll document our activities with video and photographs, with particular emphasis on the comparison of small (5'x3′) untreated areas in four different crops with the treated area.
The procedure for this project has been shaped by conversations with other growers and a considerable amount of research into the options available to control these two pests.   
Research results and discussion:
Update, January 2020:  We purchased our steamer in July of 2019, and after thoroughly renewing it and purchasing steam hoses and a steam distribution sock, we began to use it in September.  We have now steamed 90 percent of our greenhouse and high tunnel beds, and have seen wonderful results in terms of weed and disease control.
Video of steaming growing bed: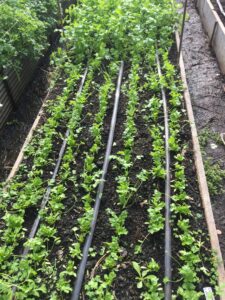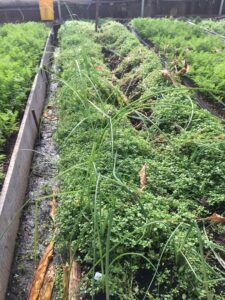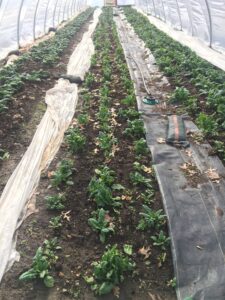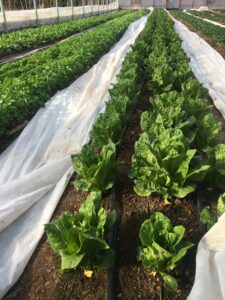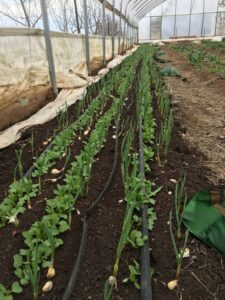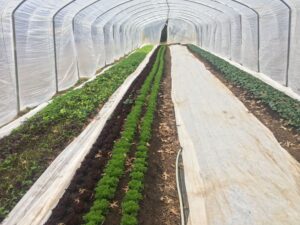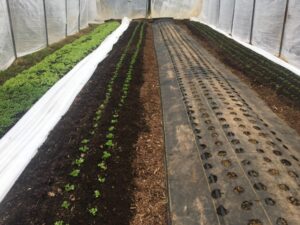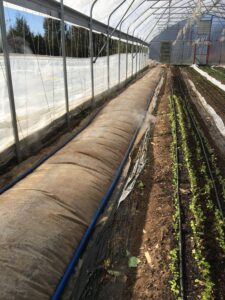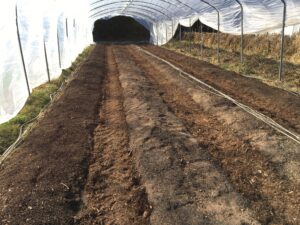 Video of steamer in action:
We have almost zero winter weeds like henbit, dead nettle, and chickweed.  Where we do have them, we think they are being brought in by row cover and weed barrier that's been used in other places on the farm. 
Sclerotinia is also dramatically reduced; in beds where we were previously experiencing up to 50% losses in lettuce and salad crops, we are now almost entirely disease free, and we suspect that the disease we do see is either from digging too deep when transplanting, and/or from our compost.  We are going to do more trials with our compost, to see if that is one of the vectors for the sclerotia. Specifically, in the first bed of lettuce we were able to plant after steaming, we lost three heads out of 500 to disease!  In the second bed, we lost around 5 out of 300.  This is a tremendous success rate. 
Additionally, the spinach, salad mix, salad turnips, arugula, green garlic, carrots, and radishes we have grown are weed and disease free, and growing very well.  We had some concerns about how the steamer would effect the biology of the soil, but the metrics we would use to measure this; release of organic nutrients, tilth and appearance of the soil, decomposition of organic matter, are all very positive.  Additionally, we have read some research that suggests it only take from three to four weeks for the good microbes to recolonize the soil, if it is steamed, as we are doing, to a temperature of 180f to a depth of 2″.  
Overall, we are really excited about these early results.  We have loaned the steamer to another farm to help them address a black rot infestation, and it will be interesting to hear how that works, and it will be telling to see how long our sclerotinia levels are supressed. 
Participation Summary
Educational & Outreach Activities
Participation Summary
10
Ag professionals participated
Education/outreach description:
We host monthly farm walks, and these have been very well attended. on at least two occasion, we have looked at steamed beds, and displayed the steamer.  This spring we hope to have an opportunity to do a live demonstration, with active steaming, and then an opportunity to inspect the results over time by looking at beds that have been steamed for at least 6 months. We have had average attendance at the farm walks of over 20 people, and we have had two different groups of international agriculture professionals join these events over the past 6 months.