Final report for FNC19-1194
Project Type:
Farmer/Rancher
Funds awarded in 2019:
$8,650.00
Projected End Date:
02/28/2021
Grant Recipient:
Dreamgoats
Project Information
Description of operation:
Dreamgoats operates on the property of Ada Christian School in Ada, Michigan. The Nubian dairy-goat herd currently utilizes about ten acres, grazing rotationally for six months of the year. Since the farm's beginning in 2016, the goats have grazed wild forage and fed organic grain, supplemented by local hay and brewer's grain. In four years, the size of our herd and our weekly volunteer base has tripled (5 to 15), and the size of our soap share has quadrupled (5 to 22 members). We've also quadrupled our goat hike offerings--from 30 to 130.
Summary: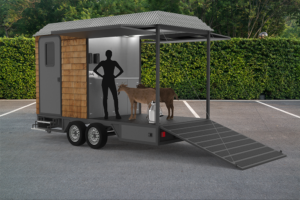 Problem & Solution
Dairy farming is an expensive business to enter, especially without land or many resources. Sustainable dairy production, which utilizes nutritious pasture or wild forage for a majority of the animals' diet, requires even larger plots of land and a higher investment. Even so, it is challenging to make a profit, let alone a living wage from dairy farming. Creating a mobile milking parlor system is an answer to all of these problems, if you are willing to be creative.
A mobile milking parlor would open new land opportunities and income streams: for example, paid grazing projects or collaborations with other farmers, such as rotational grazing on cropland or cleaning up crop residues. It would also lend itself to teaching and demonstrations, the parlor creating a stage from which to share the milking experience and sustainable dairy methods. For a beginning farmer, it would allow her to make structural investments without being tied to a single property, or even move between leased plots. For a farmer looking to be both Grade A certified and pasture-raised, this would offer a certifiable milking system that could offer flexible milking for grazing animals.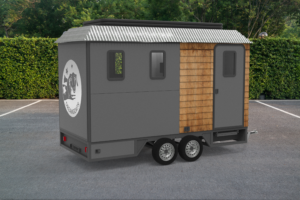 Other mobile parlor applications:
Dairy farm expanding into land-clearing services




Goat breeders putting on demonstrations at fairs/expos




Goat Yoga / agritourism farm expanding offerings




New farmer accessing free or shared land 

Goat farmer setting up a  Grade A Raw Dairy on leased land




School / 4H educator for training and teaching purposes




Dairy educators using parlor to educate farmers about Grade A Raw Milk  certification
Research Approach
The number of dairy goat herds has grown faster than any other livestock--63% from 2001-2017 (cow herds grew only 3%). In fact, every single state in the country increased in their dairy goat population during that time. Along with the growing demand for goat products, this increased interest in goat raising necessitates and more opportunities for young and new goat farmers to get started and produce income.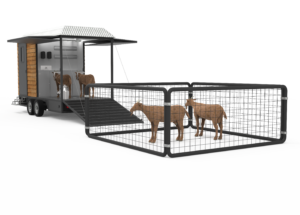 For this grant, I worked as a liaison between Michigan dairy inspectors and 2B Studio Inc, a local design firm, solving the legal and structural issues that arose during the parlor's design, including issues regarding separate entrances (there are three into the trailer), and a tested water source--water tanks are not sufficient to pass inspection. We had originally hoped to produce cheese or other milk products in this trailer, but we learned that pasteurizers must be immobile and the processing must be a separate building, disconnected from the milking area. We did not include bathroom, but there would have to be one nearby--as well as a tested water source hookup so the farmer could wash hands, equipment, and the parlor itself. As long as these limitations are understood and our design utilized, I am confident that our design could be Grade A Raw Dairy certified nationwide.
The rest of my work was outreach to farmers and the public. I wrote and produced a short video with the help of a videographer, to tell my story. I designed a website, and planned a webinar to share my results. A press release was sent to over one hundred reporters, and picked up by several media stations: radio, tv, print, and online. The webinar I hosted (also streamed on Facebook Live) and was promoted with a Facebook ad. I targeted farmers with specific interests and followed up on each of the 47 people who were interested in attending to ask for their email address. I also followed up with a pre-survey and a link to the video and final report after the event.
Research Conclusions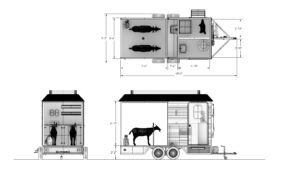 Our design is based on a 6'4"x18' HaulMark trailer and is split into three rooms: the parlor, the milk house with bulk tank, and the storage/washroom. It is designed to be self-sustaining, requiring only an input of tested water for washing and a small generator for power.
It is designed to operate under the Michigan Pasteurized Milk Ordinance, with washable walls, drainage in the floor, and a sink in each room for hand washing. The parlor room is designed to accommodate two full-size goats at once. The back of the trailer would fold down into a ramp and the sides fold up for viewing or down for warmth. The parlor area could also be used for transporting animals (up to 5-6 goats), if needed. There would be storage below, above, and on the back of the parlor for tools, equipment, and a temporary mobile corral. A 75-gallon gray water tank beneath the trailer would have to be dumped at a designated dumpsite, such as a campsite or food truck commissary. The parlor would have to be certified as a Grade A Dairy Farm, Grade A Raw Dairy, and Milk Hauler if the farmer planned to produce Grade A Raw Milk. Each farmer would have to work with their local dairy inspectors, so that random inspections could be made.
The cost of trailer and retrofitting is estimated at $25,000. Here's the breakdown:
Trailer

 ($18,500)

Chassis

Walls

Doors

Wiring, generator

Lights

Plumbing

Hand sink / cabinets in parlor




Corral ($500)

Fence panels

Anchor weights to support panels
We wanted to design a compact, full-service parlor that could milk goats or sheep, cool milk, clean equipment, transport both animals and milk, and be useful for viewing and education. Our design can be submitted to your local HaulMark for trailer customization. The limitations of this parlor include that the water would have to be piped or delivered via hose from a tested water source to the location of your milking site. 
In completing this design, we were left with ideas for so many different permutations but did not have the budget to see them through. One key idea would be to design a mobile parlor with farmstead creameries in mind. Most of the farmers I reached out to use their milk in house to create products, rather than selling to other producers. This design concept would include an expanded parlor area, no washroom, and likely no milk house. It would still include a gray-water tank, but tested water from the farmhouse or creamery could be used to wash down the parlor, so that the parlor could access further out pastures without having to be tied to clean water. The milk could be cooled in the parlor--or in the vat in the creamery. This idea is not fully explored, but I wanted to suggest it as a starting point for farmers interested in farmstead production.
If this parlor system were to be used for an unregulated herd share, a clean water tank could be installed atop the trailer, which would allow more flexibility as per milking location.
The milk produced in the parlor would have to be sold to a processor or modified on a farmstead facility. We assumed that the milk production would be able to cover the costs of the farming operation and that educational events would help the farm turn a profit. These educational events could be conducted 9 months of the year, and bring in $250 per visit, accruing at least $4000 per month in revenue with 4 visits per week for 8 months per year--$32,000/year. It is likely that most of these educational programs would have to be funded through area environmental or agricultural nonprofits or private places of learning.
Farmer Adoption
In order to see true adoption, this study would have to be expanded and lengthened. Since there is a growing market for goat cheese and goat milk, and a growing interest in raising goats, lowering barriers to entry is important. The Mobile Milk Parlor is one way to do that. Our January 30th presentation was attended by 40 people total, including farmers from North Central region: Michigan, Ohio, Illinois, South Dakota, Minnesota, and Missouri, as well as outside our region, including Pennsylvania, New York, New Hampshire, Kentucky, Georgia, North Carolina, Maryland, Vermont, Massachusetts, Texas, Washington, and Australia. Out of the folks that watched the seminar and completed the survey so far, fifteen had never heard or thought of the concept before and twelve had considered it before and had thought about potentially building one. Six of those twelve, who had thought about building one, hope to do so in the next few years. Farmers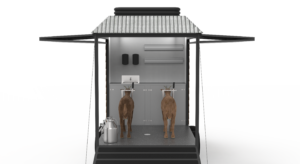 reported additional reasons for a mobile milking system, including space-saving and expanding land to rented pastures. 
Beneficiary Outcome Story
This month I spoke with a farmer in southern Michigan who attended the workshop and is very interested in pursuing this project at her farm. She always planned to start a farmstead creamery making simple farmstead cheeses, and since she would have a bulk tank in her creamery, she was curious about using a smaller trailer and water access from the farm to clean the machinery and parlor. Her goats are raised on pasture in mobile huts, sometimes quite far from the barn, so she likes that she could drive out to them to milk.
Project Objectives:
Design Mobile Milkhouse Parlor for maximum effectiveness and education benefits

We worked with MDARD Dairy Inspectors and 2B to create a realistic model
2B Studio created renderings for this model

Engineer to be compliant with Michigan Dairy Laws

We found ways to solve clean water access, engineering, and accommodating random inspections
Requires parlor to be hooked up to tested water source & nearby bathroom

Source and price materials, determine financial feasibility, costs and opportunities

HaulMark created quote for the retrofitted parlor
Priced out additional materials and equipment
Created sample business financials to present at workshops

Share findings with small ruminant farmers via social media, MFFS and Facebook Live.

Created video to advertise
Advertised using Facebook, press, social media, email
Prepared webinar slides and conversation
Followed up with attendees and prospective attendees with floor plan and information
Research
Materials and methods:
I worked alongside 2B Studio to design and engineer an efficient and educational Mobile Parlor and Milkhouse where I could safely milk goats, wash and store milking equipment, and cool and store milk. This resulted in a detailed bill of materials and cost estimate, as well as a feasibility study to show the return on investment. CAD Drawings and renderings assist in sharing this concept with other farmers. During this time, I was in communication with the Department of Agriculture to ensure that our plans are certifiable, meeting with Carl Kohlhoff, Dairy Inspector to review and adjust the plans. I also completed a feasibility study to analyze the return on investment and potential market opportunity.
I shared this project with local farmers during our January 30 online webinar, surveying attendees directly after each talk to collect reactions and analyze educational benefit (I am still collecting these responses), and will survey them again in six months later to measure follow-through and impact. I connected Google Analytics to the new website, so I can measure page visitors, and I am sharing the final project report with attendees and those who were interested but unable to attend.
Research results and discussion:
I was pleasantly surprised to have farmers in 18 different states as well as Australia attend the webinar, which had 40 attendees in all. This is truly a system that is applicable to so many different situations and farms. Out of the 27 who filled out the pre-survey, 44% of attendees had never heard of a mobile parlor prior to the webinar and 66% had already been thinking about this idea. 35% of those who had heard of and considered a mobile parlor solution are interested in implementing one in the next few years. After watching the webinar, 20% of those who had heard of but not necessarily considered it, hope to implement a similar mobile parlor in the next few years.
Over the course of applying, receiving, and working on this grant my situation has changed significantly. I no longer have goat herds in two different places. In fact, I do not want to have goats in separate locations but would rather focus my attention to land ownership before making plans for a certified dairy. However, I do still see this as a project that other young people would enjoy and find success in--and even a project I might be interested in pursuing once I have a home base. Having a parlor that is easy to clean really puts your mind at ease and gives you confidence as you produce food and start to create income. Doubling as a performance space, accessible and open-air, I can imagine operating it as a beautiful educational space that would add to and elevate any farm excited about training new agrarians.
I was excited to receive a call after the webinar from a farmer in southern Michigan--and from another in Texas--who were delighted that we had done the legwork. Both had considered this concept but weren't sure how to bring it into reality. The innovation and creativity really connected me with some great, like-minded, imaginative folks and I look forward to continuing these conversations.
Participation Summary
1
Farmers participating in research
Educational & Outreach Activities
7
Curricula, factsheets or educational tools
5
Published press articles, newsletters
2
Webinars / talks / presentations
1
Other educational activities: Video created to illustrate the project.
Participation Summary:
2
Ag professionals participated
Education/outreach description:
Learning Outcomes
24
Farmers reported changes in knowledge, attitudes, skills and/or awareness as a result of their participation
Lessons Learned:
This grant project was a wonderful experience and the connections and successes are still unfolding. I am excited about the current and upcoming dairies that might benefit from this research. Not having the mind of an engineer myself, this project gave me the capacity to create a resource that I am certain will exist soon, somewhere. If not at my farm, at someone else's.
This parlor does indeed lower entry for folks who are interested in raising dairy animals and sets them up to produce and sell their milk right away, in any state, entering an industry that is heavily regulated. After they are established, they could invest in a creamery or other processing.
The two clear limitations of this parlor. 1) It must be hooked up to a tested water source when in operation. 2) At this permutation, it can only milk up to 12 goats per hour--much smaller than most commercial operations. These two items apply to opposing situations, so you might only encounter one or another. While the milking capacity could be increased, the water source is not negotiable.
In terms of finding a market for milk, my research shows that small creameries find high quality goat milk difficult to source and that most goat farmers process their own milk on their farmstead creameries, so there is certainly a market for wholesale goat milk in many places.
Where I am located, there are not sustainable goatherd share options, and I can distribute my unprocessed milk through herdshare ownership--for five times the going price for fluid raw milk. In terms of mobile parlor use, this model would open up the possibility of using a clean water tank--and thus going anywhere an 18 foot trailer could go. This could be a good way to work up to owning a certified Grade A Raw Dairy or just another alternative use.
Project Outcomes
Success stories:
I was excited to receive a call after the webinar from a farmer in southern Michigan who was delighted that we had done the legwork of this project. They had considered this concept but weren't sure how to bring it into reality. She was considering applying for a grant to do the same thing and thinks this could be the right fit for her farm as they work up to a farmstead creamery to produce simple goat milk cheeses.
Recommendations:
I would love to figure out what states you could certify a parlor without water, such that you could wash your parlor and machinery at the home farm 
I would also love to design a different permutation in which many more goats could line up and possibly be milking with a pipeline system
Information Products