Final report for FNC20-1207
Project Type:
Farmer/Rancher
Funds awarded in 2020:
$26,990.00
Projected End Date:
01/31/2022
Grant Recipient:
Ripple Rock Fish Farms LLC
Project Information
Description of operation:
Ripple Rock Fish Farms LLC began almost 8 years ago, with a 3,000 gallon system, producing about 1,500 lbs of tilapia in our first year. As we have gradually expanded our operations, with many successes and failures along the way, we have learned that success in this business boils down to just a few variables: water, waste and oxygen. Today, with production levels topping 40,000 lbs., we continue to closely monitor water, waste and oxygen. Our ever-present goal is to grow more tilapia in less time.
Summary:
With increased demand for locally grown seafood, small farmers in the North Central Region are improving methods to raise fish indoors using Recirculating Aquaculture Systems (RAS).  However, costs to support fish densities at profitable levels is challenging.
The driving force behind any successful RAS is oxygen.  If oxygen levels can be maintained, then waste is neutralized aerobically, feed levels are maximized, fish densities are increased and higher growth rates are achieved.  The solution seems obvious: increase the oxygen levels in the water.  However, liquid oxygen, used by larger operations, is simply too costly to be implemented on a small farm.
The partners on this project seek to improve oxygen transfer rates using cost-effective methods including:
Home Health Oxygen Concentrator

Venturi Injector, and

Oxygen Saturator
This innovative research will broaden traditional RAS methods.  Typically, low pressure systems appropriately designed for small farms, cannot support aggressive oxygen transfer methods.  It's no wonder that 90% of small scale fish farms fail in the first 5 years of operation. We seek to assist small farmers; stabilizing their presence in this potentially sustainable industry.  Without a doubt, recirculating aquaculture is ecologically sound and socially responsible. The challenge is to also make it economically viable.
Project Objectives:
Document current oxygen demand and determine the required oxygen supply necessary to support increasing fish densities (lbs/gallon) by 25%, 50%, and 75% over current levels.

Design a plan to install a Venturi Injector and Oxygen Saturator into the existing raceway, supported by a Home Health Oxygen Generator.

Measure oxygen levels in the water as fish grow (and biomass increases); monitor and make adjustments, over a 3-6 month period.

Expand research to demonstrate the innovation at two additional fish farms, raising similar species, but operating differing systems.

Document results and educate other small, local aquaculture farmers, and aquaponics producers.
Cooperators
Research
Materials and methods:
RAS systems are constrained by the amount of oxygen in the water.  Oxygen in the bioreactor supports the nitrification process and allows feed levels to be maximized. Traditionally, large producers utilize liquid oxygen to keep up with demand.  When production crosses the line of aeration alone large growers use pure oxygen. However, this solution is cost prohibitive to the small scale farmer.
The farmers will conduct trials using a Home Health Oxygen Generator to address the need for efficient oxygen transfer, affordably and sustainably.  The team will combine their experience to design, test and evaluate the use of a Venturi Injector, and Oxygen Saturator, to transfer oxygen from the generator into the water.
Baseline oxygen saturation levels will be measured prior to installation. Once the design specifics have been determined and parts are ordered, equipment will be installed at Ripple Rock Fish Farms on a 22,000 gallon, grow-out system.  Beginning fish densities will be approximately 0.25 lbs/gallon. Over a period of approx. 4 months, densities will increase to 0.50 lbs/gallon and 0.75 lbs/gallon, thereby pushing oxygen saturation levels to test the sustainability of this method.  
Based on the results, adjustments will be made to the delivery system and trials will begin at the remaining two fish farms, sequentially.  By testing the design on three farms, we intend to prove that the research is not system specific and will benefit a broad range of small fish farms.  A research project of this nature has the potential to benefit small farms in a substantial way. Farmers will be able to feed at higher levels, producing fish in a shorter time, and realizing increased profits and better cash flows that will sustain their aquaculture business.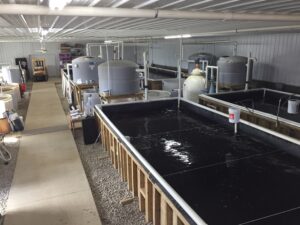 Research results and discussion:
The focus of this grant is on oxygen.  Specifically, we sought to address how can we more fully saturate the water with oxygen, rather than seeing the oxygen bubble up to the top of the tank, and escape into the air?
ATTEMPT #1 
The first attempt involved 2 steps:
Build a "W" shaped PVC pipe extension (see photo below)
Attach the "W" extension to the header pipe, just past the point of oxygen inflow.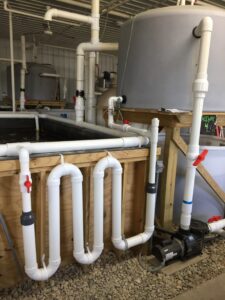 The desired outcome was to saturate the water with oxygen as it entered the raceway.  With a "W" shaped pipe flow, retention time was increased, which, in theory, should have super-saturated the water.  However, this didn't work.   
Results -  Outcomes were measured by the oxygen readings in mg/L as follows:
Average O2 levels (Jan - April):  3.15 mg/L
Average O2 levels (May - June): 3.08 mg/L
The "W" shaped pipe extension failed to mix the oxygen and water effectively.  Oxygen levels remained relatively constant before and after the project attempt.  In addition, the "W" shape collected solids and became clogged, reducing flow, creating additional problems.
ATTEMPT #2
Steps involved in the second attempt were as follows:
Install a venturi.
Build an oxygen saturator.
Replace "W" pipe configuration with oxygen saturator.
An oxygen saturator was connected to the header pipe and replaced the former "W" configuration (see photos below).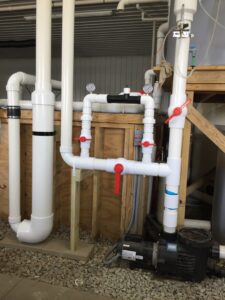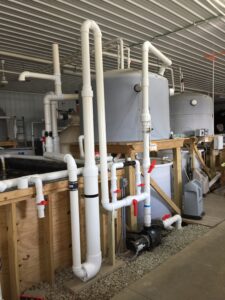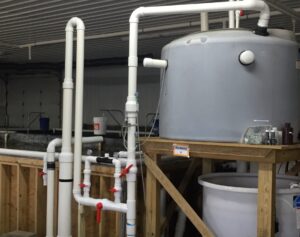 This system operates as follows:
Water flows from the pump at approximately 180 gallons/min.
The flow from the pump is split. Half of the flow goes to the biofilter (90 gallons/min) and the other half goes through the venturi/saturator (90 gallons/min).
An oxygen line is connected to the suction of the venturi. The oxygen is regulated with an oxygen flow meter, coming from the home health oxygen machines.
As water flows through the venturi, a suction is created, which pulls in the oxygen.
Oxygen and water mix in the saturator.
The water flows down the saturator, which sheers the bubbles, super-saturating the water with oxygen, before flowing back into the tank.
Initial Results for Ripple Rock:
Average O2 levels (January - April):   3.15 mg/L
Average O2 levels (May-June):   3.08 mg/L
Average O2 levels (July – Oct):   5.45 mg/L
With the installation of the venturi system and the saturator, oxygen levels have increased 73% from baseline data (January - April).
Combined Results for all 3 Farmers:
| | | | | | | |
| --- | --- | --- | --- | --- | --- | --- |
| COMPANY |   | Average |   | Average |   | Increase |
| | | O2 (before) | | O2 (after) | | % |
| | | | | | | |
| RIPPLE ROCK FISH FARMS | | 3.08 mg/L | | 5.45 mg/L | | 76.95% |
| | | | | | | |
| FREEDOM FISH FARM | | 3.5 mg/L | | 6.5 mg/L | | 85.71% |
| | | | | | | |
| STAGECOACH FISH FARM | | 3.0 mg/L | | 6.0 mg/L | | 100.00% |
Participation Summary
3
Farmers participating in research
Educational & Outreach Activities
2
Webinars / talks / presentations
Participation Summary:
14
Ag professionals participated
Education/outreach description:
Now that the venturi system and saturators are installed at each location, we have pictures and design plans to share.  In addition, videos will be posted as follows:
-  Outcomes were shared with the Ohio Aquaculture Association/OSU extension (primarily farmers and educators) as a presentation on 2/20/2021 in a virtual format.  You tube: 3,537 views
- Outcomes were shared as part of a virtual farm presentation for the Great Lakes Aquaculture Days 2021 on 9/2/2021.  This is a collaborative composed of Sea Grant extension educators, science communicators, fisheries, biologists, economists, and aquaculture specialists from the Great Lakes Region.
Learning Outcomes
6
Farmers reported changes in knowledge, attitudes, skills and/or awareness as a result of their participation
Lessons Learned:
The project has now come to completion, as Freedom Fish Farms and Stagecoach Fish Farms have installed the venturis and saturators to their systems.  All three farms report an increase in oxygen saturation levels, resulting in increased loading densities in their respective tanks.  Production results for Ripple Rock Fish Farms are as follows: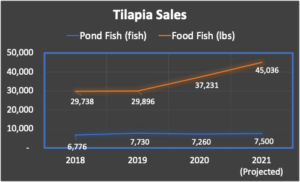 Lessons learned:
The original "W" design did not have enough contact time or pressure differential.  The extended pipe distance was unable to create adequate oxygen transfer by the time the water returned to the tank.  Oxygen levels remained relatively constant.
The venturi creates suction necessary to overcome the pressure of the pump and get oxygen gas into the water flow.  The saturator creates contact time, shearing the bubbles and preventing them from escaping. 
The venturi coupled with the saturator is where the magic occurs, resulting in oxygen saturation at a relatively low cost, as compared to expensive high-pressure liquid oxygen options.
Overall cost of installation ($2,108): 

Home health oxygen Concentrator $1,250
Mazzei Venturi Injector Part #V1584 (Pentair) $185
Oxygen Flow Meter (0-15L) $83
Oxygen Saturator $290
Mics. PVC Fittings/Pipe $300 
The 3 farmers above have also shared their successes with others, resulting in at least 3 other fish farms, implementing this technique for increasing oxygen saturation levels in a RAS system.
Project Outcomes
6
Farmers changed or adopted a practice
Success stories:
Installation views on additional systems/farms: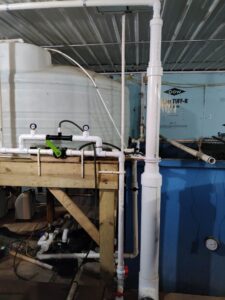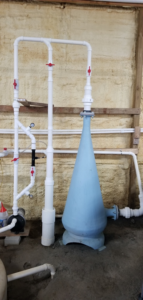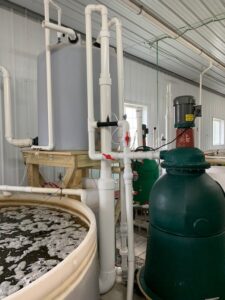 Perch farmer from central Ohio:
"After installing the systems we filled the tanks with pond water. One concetrator/venturi is hooked up to 3 tanks, and the other concentrator/venturi is hooked up to the other 3 tanks. Although, the 6 tanks are not the same size. 3 are approximately 2k gallons and the other 3 are approximately 800-1k gallons. After half a day of running one concentrator and not the other, one of the sets of tanks had approximately 4 mg/L higher than the other 3 tanks. Approximately 7.5 mg/L compared to 11.5 mg/L. "
Tilapia farmer from eastern Ohio:
"I installed the 2 venturis after my sump pumps and before my bio tanks, installing the 2 venturis in a way that I can conrol what direction the sturated oxygen goes in the system.  What I have noticed is the fish are able to eat more and more often. "
Recommendations:
Use this oxygen transfer method in recirculating aquaculture systems that struggle to maintain adequate O2 levels for healthy fish production.  This is much more economical than liquid oxygen and very effective.
Search for used home health oxygen machines.... preferably the 10mL version.  They are cost effective and often can be serviced by your local home health oxygen supplier. 
FUTURE STUDIES:
Now that oxygen is higher, and densities have increased, the resultant challenge is solids removal.  In aquaculture, we just keep jumping over the next hurdle.  
Information Products