Progress report for FNC20-1225
Project Type:
Farmer/Rancher
Funds awarded in 2020:
$1,400.00
Projected End Date:
01/31/2022
Grant Recipient:
Johannes Family Farms & Sacred Sun Cooperative Farm
Project Coordinator:
Jake Johannes
Johannes Family Farms & Sacred Sun Cooperative Farm
Project Information
Description of operation:
Our farm is just over 40 acres, but we only actively farm 8 acres. We grow organic crops for direct sale at farmers' markets, to local restaurants, and through our CSA. We have been farming with organic practices since we started our farm in 2013.
Summary:
I would like to grow more dry beans for local wholesale and retail markets.
Based on ten years' worth of my own crop trials, I believe that I've found a system for growing organic dry beans that increases yield, reduces tillage and labor, conserves water, and adequately deals with weed pressure. With funding, I would like to trial this system on a larger scale in 2020. I am requesting funding to cover the cost of seed.
The immediate goal of this research project is to continue developing a system for growing dry beans on small acreage using organic methods, inexpensive machinery, and a minimum of physical labor. The larger goals are to increase the profitability of small-scale organic farms, encourage diversity of production in Kansas and abroad, improve regional food security by growing more food grade staple crops for local markets, and present an alternative crop to market farmers, small landowners, and retiring farmers. By growing profitable yields of an alternative crop using organic methods and minimal labor, this project might also encourage some conventional growers to consider converting to organic farming methods.
Project Objectives:
1. Replicate my 2019 trial of red kidney bean production on a larger scale.
2. Plant an increased population (130,000 plants/acre) in narrow rows (15" and 7.5"), using grain drill to achieve closer row spacing.
3. Harvest with our Allis Chalmers All-Crop combine
4. Publicize through social media, our annual farm tour, and submit writeup to Farm Show Magazine
All work would be completed in the 2020 calendar year.
Research
Materials and methods:
I'd like to expand upon my 2019 trial by planting two acres to red kidney beans in 2020, half at 15" spacing and half at 7.5". Both plantings can be done with my John Deere Model B drill. The field I plan to use runs East to West, and allows for long, straight rows that favor mechanical cultivation. I've grown dry beans and grains here in past years, but the ground was left fallow in 2019.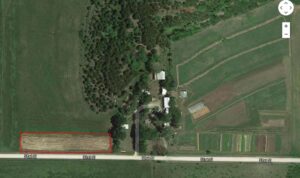 Participation Summary
1
Farmer participating in research
Educational & Outreach Activities
Participation Summary:
Education/outreach description:
I have not yet completed the SARE grant work, and thus have not communicated any findings.  I look forward to conducting the dry bean trial in 2021 and publishing the results as previously planned.
Project Outcomes
Success stories:
2020 proved to be a challenging year, in more ways than could have been expected.  Apart from adapting to the changes that the global coronavirus pandemic created, my attempts to complete my SARE grant were stifled by mechanical difficulties.  Our 1965 Ford 4000 tractor experienced serious mechanical difficulties, requiring me to spend many hours repairing it.  The work to repair our tractor was not finished until winter of 2021.  Included are photos of the tractor, split into two halves while I repaired the transmission and PTO shaft and rear main bearing.  The tractor is now repaired, and the ground for my kidney bean trial has been prepared for planting