Final report for FNC20-1225
Project Type:
Farmer/Rancher
Funds awarded in 2020:
$1,400.00
Projected End Date:
01/31/2022
Grant Recipient:
Johannes Family Farms & Sacred Sun Cooperative Farm
Project Coordinator:
Jake Johannes
Johannes Family Farms & Sacred Sun Cooperative Farm
Project Information
Description of operation:
Our farm is just over 40 acres, but we only actively farm 8 acres. We grow organic crops for direct sale at farmers' markets, to local restaurants, and through our CSA. We have been farming with organic practices since we started our farm in 2013.
Summary:
I would like to grow more dry beans for local wholesale and retail markets.
Based on ten years' worth of my own crop trials, I believe that I've found a system for growing organic dry beans that increases yield, reduces tillage and labor, conserves water, and adequately deals with weed pressure. With funding, I would like to trial this system on a larger scale in 2020. I am requesting funding to cover the cost of seed.
The immediate goal of this research project is to continue developing a system for growing dry beans on small acreage using organic methods, inexpensive machinery, and a minimum of physical labor. The larger goals are to increase the profitability of small-scale organic farms, encourage diversity of production in Kansas and abroad, improve regional food security by growing more food grade staple crops for local markets, and present an alternative crop to market farmers, small landowners, and retiring farmers. By growing profitable yields of an alternative crop using organic methods and minimal labor, this project might also encourage some conventional growers to consider converting to organic farming methods.
Project Objectives:
1. Replicate my 2019 trial of red kidney bean production on a larger scale.
2. Plant an increased population (130,000 plants/acre) in narrow rows (15" and 7.5"), using grain drill to achieve closer row spacing.
3. Harvest with our Allis Chalmers All-Crop combine
4. Publicize through social media, our annual farm tour, and submit writeup to Farm Show Magazine
All work would be completed in the 2020 calendar year.
Research
Materials and methods:
I'd like to expand upon my 2019 trial by planting two acres to red kidney beans in 2020, half at 15" spacing and half at 7.5". Both plantings can be done with my John Deere Model B drill. The field I plan to use runs East to West, and allows for long, straight rows that favor mechanical cultivation. I've grown dry beans and grains here in past years, but the ground was left fallow in 2019.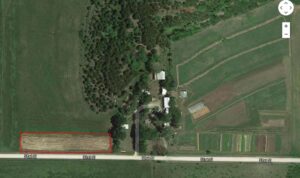 Research results and discussion:
See "Success Stories" for details.
Participation Summary
1
Farmers participating in research
Educational & Outreach Activities
Participation Summary:
Education/outreach description:
2020 Update: I have not yet completed the SARE grant work, and thus have not communicated any findings.  I look forward to conducting the dry bean trial in 2021 and publishing the results as previously planned.
Learning Outcomes
1
Farmers reported changes in knowledge, attitudes, skills and/or awareness as a result of their participation
Project Outcomes
Success stories:
2020 proved to be a challenging year, in more ways than could have been expected.  Apart from adapting to the changes that the global coronavirus pandemic created, my attempts to complete my SARE grant were stifled by mechanical difficulties.  Our 1965 Ford 4000 tractor experienced serious mechanical difficulties, requiring me to spend many hours repairing it.  The work to repair our tractor was not finished until winter of 2021.  Included are photos of the tractor, split into two halves while I repaired the transmission and PTO shaft and rear main bearing.  The tractor is now repaired, and the ground for my kidney bean trial has been prepared for planting.
My efforts in 2020 and 2021 did not meet with success, regrettably.  I was able to establish a good seed bed by discing the field and following with the Williams Cultivator and wire-tine weeder.  I also chose to harrow the field, to pack the soil and retain moisture.  I was able to plant the kidney beans at the maximum rate possible, 59 pounds per acre, planted in 24" rows on June 7th.   My drill, however, did a poor job of planting the seed.  The opening discs wouldn't penetrate deep enough to place the kidney bean seed 1-1.25" deep in the seedbed.  The "dribbling" manner proved inconsistent and cracked much of the kidney bean seed.  The rear chains, meant to close the furrow after seeding, didn't do a thorough job of covering the seed.  A drill or planter with rear press wheels would do a better job of "firming in" the seed and packing the row, to help retain soil moisture in the summer season.  
We received a half-inch of rain the 11th of June, but I believe this did little to help with germination.  I believe that much of the kidney bean seed swelled and then dried out before rain fell, leading to a disappointing population on June 20th.  I attempted one pass with the Williams Tool Cultivator, but was unable to save the few kidney beans that sprouted.  With such a poor initial stand, it was impossible for the crop to create canopy and "close the row," which led to reduced weed suppression, as well as soil moisture loss.  Ultimately, I had to accept that my project had failed to produce a successful outcome.
I did however learn a few key pointers to planting dry edible beans.  I see now how modern split-row planters are far superior to drilling beans, particularly  for farmers utilizing row cultivators for weed control.  I also found out that smaller beans are easier to meter out and consistently deliver to the seedbed.  I also learned about field preparation in the summer season and the practice of cultipacking to retain soil moisture.  
If I decide to attempt growing kidney beans again, I will most likely opt to plant them with my 3-row Allis Chalmers air seeder.  
In conclusion, I regret that my attempts to grow a stand of red kidney beans has failed.  I'm deeply grateful that SARE chose to provide funding for my experimentation.