Progress report for FNC20-1236
Project Type:
Farmer/Rancher
Funds awarded in 2020:
$9,000.00
Projected End Date:
01/31/2022
Grant Recipient:
MaHoney Bees and Queens LLC
Project Information
Description of operation:
MaHoney Bees and Queens LLC was founded in 2019 as a business specifically focusing on honey bee breeding and instrumental insemination. Although this is a young company, we are operating a satellite breeding population of specialized honey bees within a larger, commercial bee business founded in 1979 (Klett Beekeeping). Klett Beekeeping is a small, family-owned business and runs about 2,000 migratory colonies between Central North Dakota and Southeast Texas, specializing in queen cell production, honey production, pollination and other bee products on a limited scale. MaHoney Bees and Queens is fortunate to be able to operate our breeding program within Klett Beekeeping's larger business, because it allows us more resources (bees, bee yard locations, equipment, trucks etc.) and enables us to keep selecting for and breeding from desirable traits in the population without worrying about basic infrastructure needs. While both companies make an effort to employ sustainable practices whenever possible (monitoring for pests and disease, using integrated pest management tactics to control these pests and diseases, and searching out areas to keep the colonies with abundant, clean forage), the amount of time and labor involved with actual monitoring and record-keeping does not offer immediate economic return. This SARE grant has been used (in part) to help offset some of those costs.
Summary:
Commercial queen bee producers are the cornerstone of the bee industry.  These producers sell thousands of queens to large scale migratory beekeepers as well as to small scale beekeepers. The breeding stock used by commercial queen producers influences the quality of honey bees across the country, as they provide stock for beekeepers that supply honey bees to pollinate high-value crops and produce honey and queens, as well as supporting smaller, local markets.
Commercial beekeepers rely on certain types of bees to contribute to the success of their businesses, both economically and genetically.
Our insemination project will focus on the Carnica subspecies of bee that is proven to be cold weather acclimated, gentle, productive, tolerant of pests and diseases, and is highly sought after by both producers and their customer base.  This project is designed to address the substantial demand for this type of bee.  There is currently a great lack of availability for consistent and sustainable Carniolan breeding stock.  The project goal is to establish, maintain, and control a viable breeding population on a commercial scale.  Producing healthy Carniolan breeding stock for the commercial producer and their customers will enable increased profits and significantly contribute to the overall diversity of our national honey bee population.
Project Objectives:
Establish a viable, limited market-scale breeding population of insemination controlled Carniolan honey bees. (100 hives to start program, with at least an additional viable 50 instrumentally inseminated queens in first year)
Select for desirable traits from this population, using the following quality metrics: pest level measurements (Varroa destructor), performance evaluation, disease prevalence, temperament, and the unique grey-black color of bees. Utilize selected population as potential breeding stock.
Provide availability of the best stock by target marketing other commercial queen bee producers.
Share findings and breeding selection protocols throughout the honey bee industry at conferences and other national meeting forums.
Research
Materials and methods:
Queen cells will be produced from pooled Carniolan breeder stock from the previous year and introduced into 100 nucleus colonies in early spring 2020 in Southeast Texas.  Nucleus colonies will be tagged with breeder source information, and checked for a mated queen 28 days later.  "Queen right" nucleus colonies will be marked with an identifying stencil on the outside of the box and prepared for transport to North Dakota in June, 2020.  Upon arrival in North Dakota, they will be moved to unique and isolated locations for further evaluation and potential drone collection.
These 100 nucleus colonies will undergo a 6-month selection process following methods outlined in the Ontario Introductory Queen Rearing Manual (2014). Our evaluation metrics will track the quality of preferred attributes by assigning a score of 1-5 (5 being the best performance) for each potential breeder based on temperament, productivity/spring build up (MaHoney Score), color, and pest/disease prevalence.  An alcohol wash will be performed for each potential breeder to quantify Varroa mite levels
Evaluation Rubric for Carniolan Breeding Program.final
After high-scoring breeders have been identified, daughters will be reared from them and artificially inseminated with Carniolan semen.  These queens will be evaluated individually to determine their roles in the population and whether or not the metric criteria were met.
Other producers using this stock will provide feedback on field quality and have the opportunity to share their best stock with our program in the form of germplasm or mated queens.  This will be a dynamic and adaptable program. The process and results will be documented with photographs and written record-keeping to be shared later with the broader commercial beekeeping community through reports and presentations at professional conferences and other national forums.
Research results and discussion:
Bee season and breeding efforts in 2020 had to jump quite a few hurdles (meetings/travel cancellations due to COVID-19 pandemic etc). However, the year proved fruitful for the satellite bee breeding program.  I was able to accomplish quite a few inseminations, documenting notes on the population in an excel file:
There are many other hives that are open mated daughters of the breeders that have made it into the 2021 breeding pool, however, those hives are identified by visual marker (hive stencil) and will make it into an excel data sheet for 2021 inseminations which is underway now in Southeast Texas.  Despite not being able to travel to California in 2020 for stock exchange (due to Covid-19),  I was able to acquire "California based" stock in the form of queen cells from local producers to boost my breeding program diversity.
I was also able to accomplish a small goal of the grant by providing a small number of Inseminated Queens for sale in Spring of 2021 to another producer (see attached picture of breeder queen cheat sheet).  Inseminations and colony assessments are a continual process, the excel file attached is not complete, but is a work in progress.  It has been really exciting, frustrating, inspiring to pay such close attention to the breeding population and try to evolve it to an economically viable and sustainable population.  I expect (and hope) that the 2021 efforts will build on the work of 2020 to produce an  even better and more predictable result.  I plan to complete one round of inseminations in Texas this spring (2021), and will complete another round in North Dakota (summer 2021) with California based stock supplementing my own growing population.  I hope to be able to offer more breeder queens for sale or stock exchange by Fall of 2021.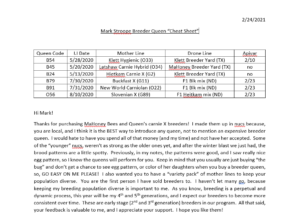 Participation Summary
1
Farmer participating in research
Educational & Outreach Activities
4
Webinars / talks / presentations
Participation Summary:
Education/outreach description:
I shared our project through a local radio interview, ESPN 107. 1 AM in Jamestown. You can listen here: