Final report for FNC20-1239
Project Type:
Farmer/Rancher
Funds awarded in 2020:
$8,489.00
Projected End Date:
01/31/2022
Grant Recipient:
Rocky Knob Farms of Ohio
Project Information
Description of operation:
We have a 36 acre farm that we grow a small amount of corn on for feed. We have approximately 12 acres of hay ground and the rest is wooded pastures. We do utilize our hay fields for some early and late season grazing. We rotationally graze our hair sheep through 4 pastures that can be subdivided further depending on the weather and needs. We have been operating with sheep since 2018 but have been farming the ground since 2016 and have used the ground for u-pick strawberry and pumpkins in the past.
Summary:
The accelerated 8-month lambing cycle has been proven to increase the production and profitability of a flock over time but why is it not widely used in production?  Radio Frequency Identification (RFID) allows for detailed, digital records to be kept of animals throughout their lives and accessed quickly when questions arise. This technology has been successful in other parts of animal agriculture but has not been uniformly adapted by the sheep industry.  Adaption of RFID tags and data analyzation will be economically viable for the long term because through data analyzation we will retain the most productive ewes who raise lambs that make a profit.  This project is socially responsible by making our work easier and more streamlined. Through RFID data collection and analyzation, we will determine benchmarks for success in commercial hair sheep production related to individual ewe production.
Project Objectives:
Short Term
Improve record keeping through digital RFID system
Streamline jobs and their associated timelines (ie. Hoof trimming, vaccinations, pregnancy checking, etc.)
Better analyze each ewes production through data recorded
Share experience and findings through social media, blogs, and field days.
Long Term
Create data supported criteria for replacement ewe retention
Research
Materials and methods:
Proposal:
For this project we will split our sheep flock into 3 groups and manage each group on an 8 month accelerated lambing cycle.  We will be focusing on recording as much data as possible to assist in making management decisions for the individual animals as well as the flock as a whole going forward. We will be using our current barn and pastures.   Pastures will be utilized on a weekly rotation throughout the growing season for all sheep during maintenance periods of the lambing cycle.  We will blood test every group of ewes 6 weeks following the end of breeding so we are aware of conception rates and can make management decisions for ewes that are not bred. Each time a ewe is blood tested for pregnancy and the test results are negative, meaning not pregnant, she will be moved to the next group for a chance to breed again. Using our data collected prior to the start of this project and throughout this project, if a ewe does not breed during three consecutive breeding cycles she will be culled. Other management we will be conducting during this project will be vaccinating and hoof trimming 6 weeks before the beginning of lambing.  At the recommendation of our vet we will be vaccinating for Clostridial Diseases and Tetanus (CD&T) and Caseous Lymphadenitis (CL). When lambs are born, each will be given a RFID tag and birth weight, number in the litter, and sex will all be recorded in the digital system.  After weaning lambs will be marketed at the Mt. Hope Livestock Auction in Ohio. 
Note: the Activities and Timeline table shown above details the events of one accelerated cycle. This will be repeated five more times over the course of the project.
General Information About Our System
We are working with a group of 62 Katahdin hair sheep ewes as well as a Katahdin ram and White Dorper ram. Our overall goal is to create and maintain 3 breeding groups throughout the calendar year on an accelerated lambing cycle. We originally learned of the accelerated 8 month lambing cycle through research done at Michigan State University. See related Powerpoint by Dr. Richard Ehrhardt. There is also the STAR Management system developed by Cornell University. We chose to work with the 8 month Accelerated System by Michigan State University. The main advantages to working with an accelerated lambing system are spreading out the labor of lambing in smaller groups more frequently throughout the year and spreading out marketing your lambs so that there is a more consistent income stream from those lambs throughout the year. Katahdin hair sheep are known to be able to breed out of season naturally but it is expected that the breeding rates and lambing rates will be lower than a natural breeding.  See related Article from Virginia State University Study   We will begin our project breeding naturally in each of the 3 breeding groups however we are aware that during one or more of the off season breeding groups we may need to invest in hormone therapy (CIDRs) to assist with breeding rates. 
Actual Portions of Project
Breeding Group 1 of 2020
March 2020
For our first round of breeding we had 7 ewes who were open or aborted early from the previous breeding group before our project began.  These 7 ewes were put into our first breeding group with the rams.  They were with the rams for 2 cycles and those who caught were due to lamb in August 2020. 
August 2020
Only 1 of the 7 ewes were bred from the March breeding group. When time got near, she was brought into the barn to lamb. Unfortunately, she got out of her pen and gorged herself on corn (which was being used to feed the market lambs born Feb-March 2020 from before the start of our project), she aborted her lamb early and died.
Breeding Group 2 of 2020
May 2020
We found out we were pregnant with our second baby in May of 2020 which made us adjust our breeding times to avoid lambing close to the time our baby would be born. Christine spent about 2 hours working through our Shearwell Data Systems records from the lambing that began before our project started to divide the flock into two groups based on the weaning weight and litter size of each ewe.  We chose this group to plan ahead for some replacement ewe lambs that we would like to keep out of this group.  Our criteria for the ewes in the second breeding group were - 1) a litter of two or more and 2) weaning at least 50 pounds of live lamb. Based on this criteria the group was set to be 19 ewes. These ewes would be bred in June and due to lamb in October/November. 
June 2020
Levi and Christine separated the ewes selected for the breeding group out of the rest of the flock. We used a printed copy of the ewes chosen based on our data collected in the Shearwell Data Systems records. 
We turned the group of ewes out with one ram for two heat cycles (34 days).  Daily observation of the group during breeding showed only two ewes being covered by our ram (wearing a marking harness). This led us to two possible conclusions 1) our ewes were not cycling during this time or 2) our crayon for the marking harness was defective. 
August 2020
Dr. Luke Morrow came to scan via ultrasound the ewes for pregnancy. The scan resulted in 0 pregnant ewes solidifying the hypothesis that our ewes were not actually cycling during the breeding cycles in June.  During the scan, Christine kept records directly within the Shearwell Data System to record ewes that remained open. 
Breeding Group 3 of 2020
Due to both previous groups having zero lambs Levi and I chose to put all the ewes together for a large lambing group of natural breeding in the fall of 2020. We are still farmers who need to make something off of each of our ewes to remain in business so although it deviates from our original project timeline and plans the ewes need to produce lambs.  We are still hopeful to keep some replacement ewe lambs out of our ewes this year so the flock was split into two groups for this breeding.  Based on the same criteria as breeding group 1 (a litter of more than 2 and weaning more than 50 pounds of live lambs) as well as a couple ewes we think have the potential to produce high quality lambs we came up with two groups.  The 19 ewes from breeding group 1 were sorted as well as 7 additional ewes and put with our White Dorper ram for a total of 26. Ewe lambs born from these ewes we will consider keeping as replacements. The remaining 36 ewes were put with our Katahdin ram. 
October 2020
We used the same printed sheet for breeding group 1 as well as our notes for the additional 7 ewes and turned out the White Dorper ram. This group was separated from the Katahdin breeding group by staying in the barn. The Katahdin group remained rotating pastures. Both rams wore marking harnesses of different colors during the entire breeding cycle. 
November 2020
After two breeding cycles the rams were removed from the ewe groups. Through physical observation, we estimate that 95% of our ewes were covered by the rams.  Ewes bred during this breeding will be due to lamb starting March 7 and go through April 16 of 2021. We have scheduled for an ultrasound to done in early to mid January to detect pregnancy in the ewes. 
Breeding Fall 2021
As a result of the failed out of season breedings in 2020, we chose to go back to one breeding group in 2021 during the sheeps natural cycle. We turned a White Dorper ram out with the breeding flock on November 21st. He remained with the ewes through January 12, 2022. We will ultrasound the entire ewe flock mid-February to determine which ewes are pregnant and which are not. Each ewe was labeled as "put with ram" for the breeding season in the Shearwell software. When lambing begins and records are being entered for newborn lambs each lambs record will automatically show which ewe and ram mating resulted in that lamb.
Research results and discussion:
Breeding Group 1 of 2020
This group resulted in no lambs. Throughout Group 1s time (March - August 2020) we became familiar with the new equipment we are using (Shearwell Data Systems and Tru-Test Weigh Scales) and are excited about the possibilities for record keeping and data collection through the RFID system. We knew ahead of time but the idea was reinforced that RFID technology may be the future of the industry but it will never be able to replace the physical time you need to spend in the barn and with the animals making physical observations of each animal to detect any possible sickness or abnormalities in the flock. 
Breeding Group 2 of 2020
This group resulted in no lambs. Although as farmers, this group is a failure, we did learn more about the RFID record keeping system we are using and piloting in this project.  The work ahead of time to sort the ewes based on the above criteria was much quicker than it would have been had I needed to flip through every page of notes I had taken during the previous lambing. I do not think any time was saved during this groups particular ultrasound and we would have been able to move at the same pace had we been using a traditional pen and paper because after scanning each ewes ear tag with the Shearwell Reader it was one simple check box as to whether the ewe was pregnant or not. The same time could have been taken to record a physical tag number in a column of pregnant or open. 
Breeding Group 3 of 2020
Lambing for Breeding Group 3 was successful. Lambing began on March 9th and concluded April 4th of 2021. We had a very successful breeding group 3. We had 57 ewes lamb during this breeding group and giving us 111 lambs total for 195% lambing rate. There were 6 ewes that did not lamb or were never pregnant in this lambing group, these ewes were culled. 
One explaination of this would be the natural breeding season of the ewes. Based on the results of breeding groups 1 and 2 from 2020, our flock is not conducive to out of season breeding at this time. Future projects may look at out of season breeding for our flock with the use of CIDRs to syncronize the flock.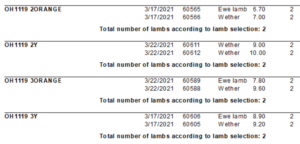 Lambing report from the Shearwell software based on each ewes litter including birth weights.
Analyzing the Data for Choosing Replacement Ewe Lambs
Through the software and analyzing the data we set our parameters that for the ewe lambs we wanted to keep as replacements. We started with choosing ewe lambs that came from a litter (twins or triplets - no singles were kept). Next, the ewe lambs weaning and Average Daily Gain weights were taken into account. At the time of selection ewe lambs needed a weaning weight of 45 lbs or higher and at least 0.25 lb. average daily gain. Then we looked at the ewes history; what were her lambs weaning weights? did the ewe have any comments (positive or negative) related to her ease of lambing? After all of this criteria was reviewed we had a list of 12 ewe lambs we were considering to keep for replacements. We chose to keep 10 of the 12.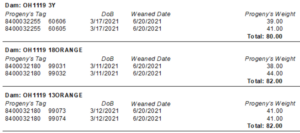 Weaning weight report from the Shearwell software. 
Market Animals and Selecting for Slaughter
From breeding group 3 we took three groups of market lambs to auction at Mt. Hope Livestock Auction. In the past, we took groups of lambs based on how they looked. We tried our best to make groups that were close in weight but it was really just a guessing game. Now, two-three days before we need to make a trip to the auction barn we weigh every lamb and mark those that meet our market criteria.  At the moment that criteria is 60-70lb. lambs because the current lamb market is paying the highest price for lambs between 40-60 lbs. on a per pound basis. Choosing lambs above 60 lbs. allowed us to equate for some weight loss due to the stress of traveling on the lambs and almost guarantee that our lambs would fall in the ideal 40-60lb. range. Through experience and discussions with other sheep farmers we have learned that the bigger the group of lambs and the closer they are in weight as a group is highly attractive to the buyers at auction. The digital weigh scales allow us to do the best job of creating those tight, uniform groups to present to the buyers. 

  A report from the Shearwell software of one of our market lamb groups. 
Overall Time Management with Stock Recorder
In our proposal we also mentioned the time savings that we anticipated as a result of using the technology. Through one lambing and many management jobs during the project we have successfully concluded that the software and technology in the Shearwell system have greatly saved us time in each of the tasks we have used it with. Management jobs outside of lambing included annual CD & T vaccinations, annual CL vaccinations, hoof trimming as needed, lamb CD&T boosters & banding males, monthly lamb weight checks, weaning and final market weights. Before our SARE project, vaccination, hoof trimming, and weaning records were all kept by hand on paper. It was one persons specific job to sit at a table and write down the tags as the ewe completed whatever job we were working on. With the technology of the Stock Recorder and digital weigh scales we have elimnated the need for an extra body during these management jobs. Although it may seem like a small item to need one less person it is actually a really big deal for us. Lining up multiple people for a job can be extremely difficult and stressful. With the technology we can manage each of the jobs with just Levi and I instead of a third person and in some instances (as the lambs get older and are used to going through the handling system) I can do the monthly weights by myself. Each of these jobs use to take at least three people and more than double the time. With the use of the technology we can complete management jobs with two people and in less than half the time. For example, weaning lambs from the ewes is always a very stressful day. In 2020, it took us 4 hours to record the number of lambs, number of ewes and take notes on the condition of each ewe at lambing. In 2021, we weaned in just under 2 hours and had more accurate records to analyze and determine which ewes needed to be culled at the end of the season. Truly, the time savings has made just as much difference to us as the ability to see more accurate records. 
Participation Summary
2
Farmers participating in research
Educational & Outreach Activities
9
Other educational activities: We have created videos on our farm YouTube channel (Rocky Knob Farms) that have followed portions of our project as well as other social media posts related to our project on Facebook and Instagram.
Participation Summary:
Education/outreach description:
We share our farm journey routinely on our YouTube Channel as well as our Facebook and Instagram accounts. 
Throughout 2020 our YouTube channel has grown to about 816 subscribers but each video has varying amounts (above or below) our actual subscriber count. We have made a playlist of videos specific to our SARE Grant  in which we discuss applying for the grant, what our project is about and receiving the new equipment. We also included some videos of us recording weaning weights and market lamb weights to show us using our equipment even though those are not specific to our project. Our most popular video related to our SARE Grant project was a demonstration video of how the Shearwell Stock Recorder works and the process of using it to tag and record newborn lambs.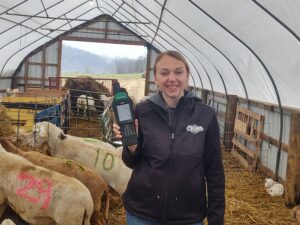 Our Facebook and Instagram pages reach 1,700 and 930 people respectively.  On these platforms we share when new videos are posted to our YouTube channel but also share daily or weekly updates about what is happening on our farm. 
I left all the boxes above as 0 because it is hard to quantify the number of people we reach outside of the number of followers for each platform and also because each post, photo and video has a unique reaction. 
We continue to try and grow all three of these platforms and the audience we reach with them. A goal of mine is to make our Facebook and Instagram accounts more interactive with our followers and answer their questions related to agriculture and farming. 
Outreach - ON-FARM
On March 21, 2021 we hosted an On-Farm Open House to show the community what we have been doing and how we are utilizing the Stock Recorder and Weigh Scales with the help of our SARE Grant. This program was during lambing season so we gave demonstrations about how the tags and stock recorder were used multiple times per day to record lamb births and tie that lambs records to the ewe. We had approximately 65 community members attend the event and learn about our farm and our SARE Grant. 
April 4, 2021 Krysti hosted three separate freshman Agri-Science Education classes from our local high school on the farm. This was a wonderful opportunity for the students to see live lambs being born and the process of tagging and recording each lambs information and how it is all tied back to the ewe. Two students felt comfortable to try tagging after Krysti had given the demonstration. From my perspective, it was really cool to see students getting hands on experience on the farm.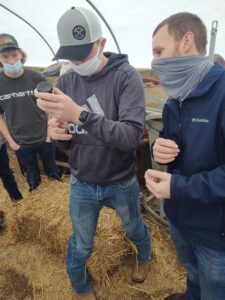 Learning Outcomes
2
Farmers reported changes in knowledge, attitudes, skills and/or awareness as a result of their participation
Lessons Learned:
There were two big takeaways that we learned through our SARE project. The first being that accelerated lambing systems are hard. Hard to get started and keep on track. The second huge takeway we learned is that time is valuable and you don't know what else you can do with your time until you have it. We are still very interested in working toward an accelerated lambing system but know that we have work to do in the genetics of our flock to get there. Our ewes right now are not capable of breeding out of season naturally, possibly with influence from a more widely known out of season breed we can get there. We will continue to use our Shearwell Stock Recorder and accompanying software to improve our record keeping and selecting the best replacement ewe lambs for our flock. 
We did not achieve our main goal of creating an accelerated lambing system with our flock. We did however create a set of criteria for how we will select our replacement ewe lambs in the future. 
I would suggest that every farmer invest in equipment and technology that can better their record keeping. A very real barrier for entry into the software and data systems are the cost. There is no way our farm could have justified the cost of the software and stock recorder without the SARE Grant. A more realistic first step would be investing in a weigh scale system so that weaning and market weights can be easily known. 
Project Outcomes
2
Farmers changed or adopted a practice