Final report for FNC20-1241
Project Type:
Farmer/Rancher
Funds awarded in 2020:
$8,932.00
Projected End Date:
01/31/2022
Grant Recipient:
Strawridge Farm
Project Information
Description of operation:
The second generation has joined us in managing Strawridge Farm. We are a highly diversified family farm that relocated from Kentucky to West Central Indiana in 2008. In Kentucky we raised hay, tobacco, freshwater prawn and cattle for seedstock operations and freezer beef. We currently flashlight farm 260 acres, with a greenhouse and a 5 acre "borrow pit" pond. We have also started an internet service provider (ISP) because no one else would in this county.
We have a beef cow operation we use for custom embryo recipients. After one round of embryo implants, we artificially inseminate open cows and use/sell the heifers for herd replacements and the steers we direct sell as freezer beef. The embryo calves are raised to weaning and then go to the embryo owner. We use management intensive grazing, moving the cows up to one time a day. We spent 8 weeks in New Zealand learning the process.
My husband has a masters in Nutrition and works for Purdue, regulating the egg industry. My Ph.D. is in nutrition and I serve as a policy analyst for state legislators across the country.
All of ground has corn base, but we have planted it all in alfalfa or alfalfa and grass mix for small square bale hay for the horse industry. We sell hay from South Carolina to Kentucky and throughout Indiana.
Summary:
We are facing a very poor farm economy with significant pressure on small farmers to make their farm profitable.  Twenty years ago researchers showed that pond culture of fish could be profitable on a small scale.  Researchers felt that increasing fish consumption and declining fish stocks were important factors to support farm level fish production.  These factors are even more important today.
One thing that has changed dramatically is the importance to consumers of buying local and knowing the source of their food. Other changes include greater recognition of the importance of water quality and reduced feed cost.  It is the ideal time to revisit the opportunities aquaculture may offer on a small scale. 
We will be using an existing farm pond to cage raise trout and walleye.  The fish will be stocked in October and the trout harvested in May. The labor requirements fit into most crop operations.
We will focus on the process of marketing these fish live, both through a field day and special orders at  the pond as well as to local restaurants.  We found no research focusing on providing a community with a source of fresh fish or on direct marketing of live fish.  Labor requirements and expenses will be recorded and analyzed.
Project Objectives:
Provide farmers with another option to improve farm profitability by determining the economic feasibility of diversifying the farm by adding pond fish production with local marketing to end users.
Determine the labor requirements of pond fish production added to existing farm operations.
Bring fresh fish access into a food system that is short of local options, particularly in winter and early spring. 
Share findings through on farm field/sale day, presentations at aquaculture meetings and you tube videos of the process.   
Research
Materials and methods:
We intend to seasonally grow rainbow trout in cages in a 16 ft deep, 5 acre pond, direct marketing the final product. There will be one cage of walleye.
Over the last year, we confirmed the water quality and temperature of the pond we intend to use.  Cages will be built out of mesh and pvc connected with plastic coated wire. The fish will be stocked in the fall of the year, grown over the winter and trout harvested in late spring. Trout, 8-10 inches in length will be stocked,  to reach marketable size by spring. Six fish per cubic foot of volume will be stocked. Weight samples will be taken monthly to set feed requirements and check fish.
The walleye will take two years, so the goal of the trout is to prove the economic profitability, while the walleye are challenging and will be truly experimental.  Little food walleye are currently cultured in the US. Our goal is to direct market these fish live at the farm bank in combination with a field day, and live to regional restaurants. We have done this before with prawns. Through our English cucumber and freezer beef production, we have contacts at many farmers markets and several farmer groups who have opened store fronts, so we intend to utilize these contacts and resources to promote direct farm sales.
Knowing that what can go wrong will, we have to have back up plans. This is where our work with Dr. Deering comes in. With her assistance, we can make sure over the winter that our greenhouse processing room will pass Department of Health regulations for fish processing, so that we could process and freeze our product.  There is also a processor in Louisville that will buy live trout as well.  But that would be the last resort.
Research results and discussion:
We started out with 400 # of trout averaging 3 to a pound, or 1200 trout on September 25, 2020. We sold more than 1000 trout in May, 2021 and put several hundred that hadn't sold by the time the pond was increasing temperature in our freezer. The trout averaged about 1.25 lbs.  Average sale price was $6 a fish, therefore we easily covered cost of fish, feed and electric.  We were hoping for additional profit from the walleye, but that part of the project was a total failure.
This compares very favorably with those that are currently raising trout in raceways or inside systems. The biggest drawback is that the marketing time for our system is very short, in raceways and inside systems you are not under the pressure of increasing water temperature.
Participation Summary
1
Farmers participating in research
Educational & Outreach Activities
2
Curricula, factsheets or educational tools
1
Published press articles, newsletters
Participation Summary:
5
Ag professionals participated
Education/outreach description:
Even with COVID, we managed to have a on farm field day with about 30 attendees. We also spoke at another in person field day with about 25 attendees.
Learning Outcomes
22
Farmers reported changes in knowledge, attitudes, skills and/or awareness as a result of their participation
Lessons Learned:
A significant part of labor and materials part of this project is completed.  We even tried a couple of trout for dinner this week. It gave us a chance to experiment with how to process.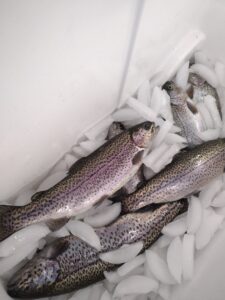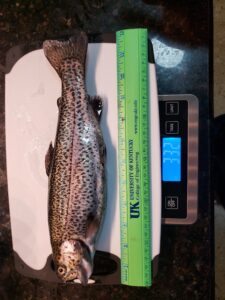 Now it is up to the fish to grow and us to identify the best markets. The next step comes in March as we build out a trailer for processing and April when we contact restaurants about purchasing. We are planning a field day in May, depending on the state of COVID. But it was a wild ride to get here.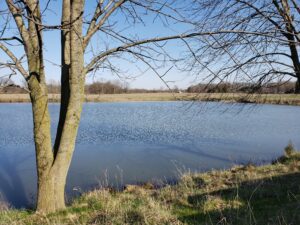 Building the Dock: 
    This turned out to be the easy part so far. We designed a 4' wide by 10'long dock, made out of pressure treated lumber and floating on 55 gallon plastic drums.  We got the drums for free from a local dairy.  We built the docks, without cross planks in our barn and hauled them to the pond site.  Once at pond side, we wired in the drums, flipped them and floated them, adding the cross planks.  We connected 5 of these, making it 48 ft into the pond.  Then a neighbor saw us and said he had a 24 ft aluminum dock in his weeds, and he offered it to us.  We put it at a T to the 48 ft dock and got grain bin flooring from another neighbor and screwed it into the dock.  Works great, but you don't want to lay on it too long.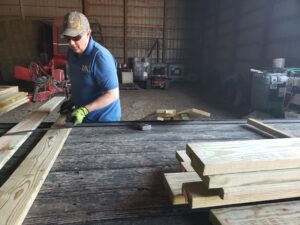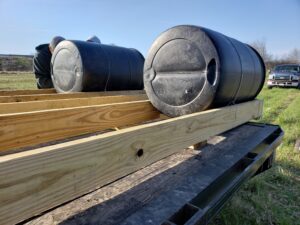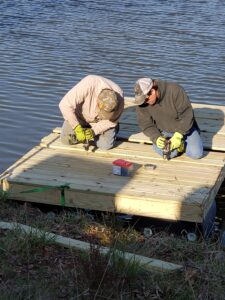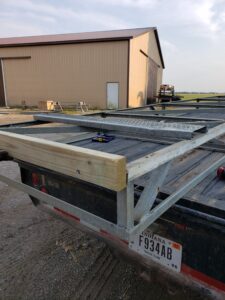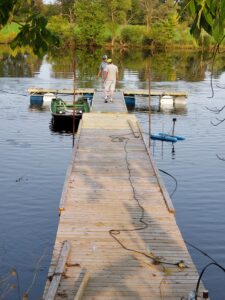 Electric:
   Our pond is in the middle of an alfalfa field, so we had to get a permit, put in the meter base and all of the electric needs.  Thankfully we didn't have to hire anyone to do it, but it did take more time and money than we had allocated.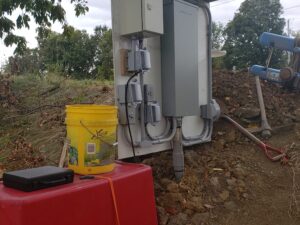 Cage Construction
   COVID had hit when we started building the cages and prices on all building supplies skyrocketed.  In addition, the plastic covered wire mesh we used comes in 50 ft rolls, we designed our cages to match PVC and wire sizing, they are 10' X 5', which means each cage took just a little over a roll.  Perhaps in the future, you should give up a little of the PVC (it comes 10ft) and make them 8' X 5' so that a roll does a cage.  We built the cages in our driveway and hauled them to the pond.  The flotation was 8 inch PVC, and it needed to be longer than the cage, so we ended up adding a short piece on the ends.  There are several sources of the plastic covered wire mesh and if you were not concerned about how long the cages would last or muskrats, you could probably use just wire mesh for a much cheaper cage.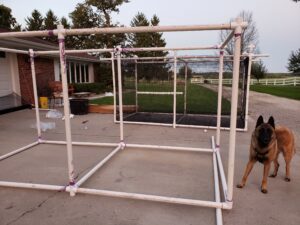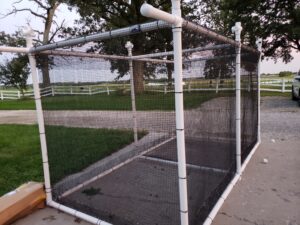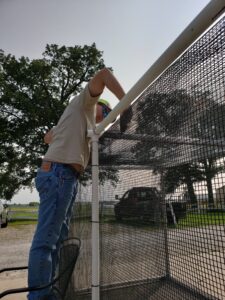 Acquisition of fish: 
   Walleye - plans had been made to get wild hatched fry from the DNR, Purdue researchers were going to feed train. Then COVID-19 hit and the DNR essentially shut down.  After a week of searching we found a commercial farm in Minnesota with fry, that had the health accreditation so we could import into Indiana.  We rented a panel van, put together an insulated lug with an aerator and drove up and back in one day.  Purdue researchers took them and feed trained them in exchange for 25 percent of the fish. From the time we picked them up until today, we have lost very few, but we wont know for sure until we transfer them into the trout cages in June.  Their cages are built with 1/2 X 1/2 wire mesh because of their narrow shape.  This wire mesh builds up crud on the sides, so we want to transfer them to the 1 X 1 wire mesh trout cages when the trout are harvested. Because walleye do not like light, we only see them when we sample some for weight, about every 60 days.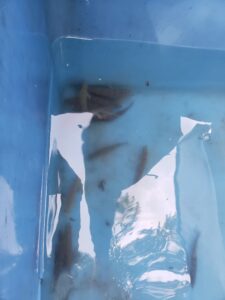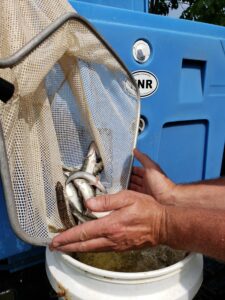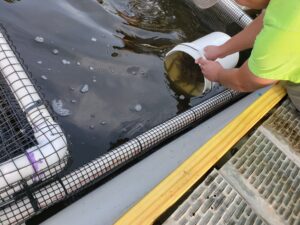 Trout - The original plan was to get trout from a producer in southern Indiana that raises them in tanks inside.  Our budget was set for that.  Then in late spring, he had a power failure, that hit his water supply. He lost everything but his brood fish.  Back to the contacting and searching and we found a fishery in Missouri that delivered and had some deliveries to make in Illinois and Indiana. Those were delivered in September, at a much higher cost.  Good thing the walleye were cheap (dollar wise, not time wise).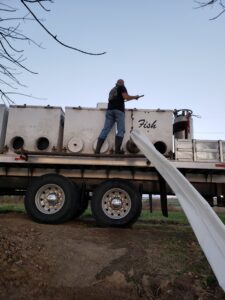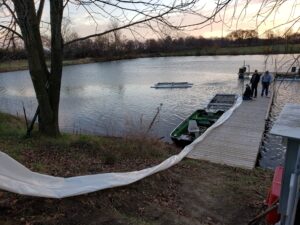 Feed: 
   There is not a local source of high quality fish feed. We buy from Skettering and it is recommended that you collaborate with others to save on transportation costs.  We purchased enough to get us from July to May, because we had storage space and that saved on shipping (on a per bag basis). 
Feeders:
  Searching again, we found metal feeders with solar panel energizers that could be set to feed up to 10 times a day.  These are game feeders so they are meant for outside use.  We waited and got them on sale. It is important to calibrate them to the specific feed, and they have worked well. Because these were designed for corn or larger feed pellets, we did have to modify them to reduce the pellet size and the amount fed at each feeding. Now they release about 1 lb of feed per second for trout and 1/3 of a lb of feed per second for Walleye. 
Aerators:
   This was a true learning area for us. We had raised fish before and had large floating aerators.  After using them for a few weeks, we were shocked by the electric cost.  So we went put in a manifold and underwater aerators which were great until winter came and they didn't move the water enough.  So we went back to the drawing board and put in airlift that drops the water into the top of the cage and keeps it free of ice.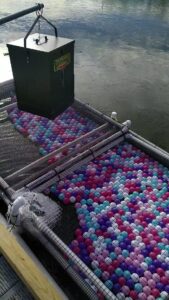 This shows the aerator and pond at 12 degrees in January.  The aerator pumps water up and over the side of the cage, the play balls and the aeration keep the cages free of ice, even though the pond is frozen. You can also see the hanging feeder. 
Regular Chores:
   The feeders take care of feeding the fish four times a day.  We check on them and supplement feed the trout to see what their feed demand is daily.  Weekly we weigh the feeders and refill them to make sure they are still feeding the set amount. Now the chores take about 5 minutes daily and another 30 minutes each week to weigh and fill feeders.  About every 60 days we sample the fish for growth and health.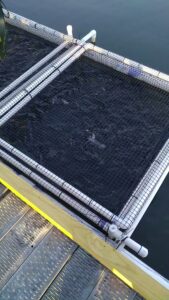 Growth:
Growth of the trout was excellent, death loss was extremely minimal.  There is no question that we can successfully raise trout from 6 inch to market size in less than a year. We developed an excellent way to feed them.  Health was excellent even though they were in densely populated cages.
Marketing:
Marketing is the area that the COVID pandemic really impacted.  As the trout reached marketing weights of more than a pound a piece we were busy developing market outreach.  We contacted through calls or visits more than 40 restaurants, some up to 90 miles away. We only had 2 that wanted to try them.  Due to food safety regulations, we had to sell the fish live, because doing anything to them would be considered processing.
Some of the comments we got from chefs were:
- trout are not right for our clientele - we are interested in the walleye
- with the pandemic we can't have anything fresh, because we don't know how many customers we will have
- we don't have anyone that knows how to clean fish.
- we are so short of staff we can't handle fresh products
- we need it prebreaded and frozen
As a result we switched gears and decided to market directly.  Most of the farmers markets in the area were not operating. We decided to have a field day and sell fish directly on the same day.  Since we could scoop out fish directly from the cages we could sell fresh whenever people wanted them.  That led to our field day planning.
Outreach:
We partnered with Purdue aquaculture, Purdue food safety faculty and the Indiana Aquaculture Association and planned an educational field day and fish sale.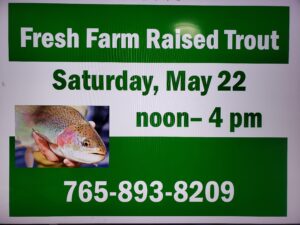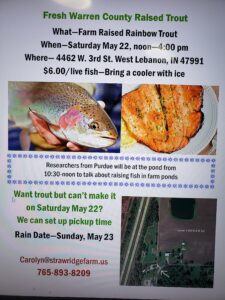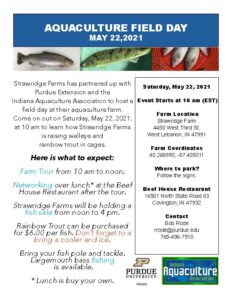 We had faculty from Purdue giving presentations on both fish production and food safety, and we gave a presentation on SARE grants.  We did it at the pond, dock side and had 36 people.  We felt that was a good turnout for being held in the middle of COVID. We also let people fish for largemouth bass in the pond.  We also gave a demonstration on how to fillet the fish and a handout on ways to cook the fillet and whole fish. 
In August, we participated in another Indiana Aquaculture Association field day and presented our results to another 20 people interested in fish farming. 
Since farmers markets were not operating, we turned to facebook and publicized the field day and the fish sales.  We had two different kinds of buyers, some came and bought 10 lbs or so and then we had about 6 different buyers that bought full coolers full, more than 150 fish. 
We did have to provide several more training sessions on how to clean and fillet the fish.
Successes:

We proved that you can successfully raise trout in high density in cages in farm ponds.
To make a profit, the fish need to be sold for around $6 a piece.
There is a market for farm raised fish.
We developed efficient fish feeders, methods of aeration and best ways to weight and sort for marketing.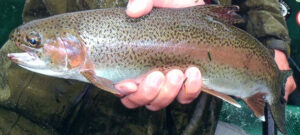 Challenges:
- Identifying sources for young trout to stock. We had a source identified and had to change just before delivery because our intended supplier had a mechanical issue and lost significant fish. There is now USDA aquaculture insurance that one should consider if getting involved in fish production. 
- Trout have to be marketed before the pond water temperature reaches 70 degrees, with increasing summer temperatures, this may be earlier that expected.  In the future, we need to start earlier with marketing efforts, but you are caught between people wanting to  see them before they commit and having a very short marketing window between trout reaching size and pond increasing temperature.
- We are in a very rural area, limiting our live fish customer base, we believe you would be more successful in marketing if you were closer to larger populations.  There were some fish stores in the Chicago area that were interested in purchasing, but we couldn't guarantee live fish delivered 2 hours away. 
- We wanted to process some of the fish and sell them processed, but because of the pandemic the state health department was not visiting any new operations to certify them.  This is still a goal once the health department is visiting farms again.
WALLEYE:
The second part of the project was to try and raise walleye in cages in a pond. Walleye take two years to grow to consumption size, they do not take to feed easily and they are predators so might resort to cannibalism. 
We found walleye fry in western Minnesota and brought them back to Indiana.  For a share of the fry, Purdue researchers trained them to consumer feed. We lost about 15% during the training period.  We stocked them and then you don't see them.  they stay in the bottom of the cage.  we bought an underwater camera and could watch them grow that way.
Dr. Rode at Purdue was keeping the ones he had in tanks in their aquaculture building and they had a disease outbreak and ended up turning them all out into their pond.
In our pond, things were going great and they were growing well, then we had a weather period when it got really hot for 3 days and then rained 2 inches.  While the pond didn't "turn over" and the bass and other fish in the pond weathered it well, the aeration was not sufficient for the caged fish and we lost all the walleye. It was so disheartening to go over in the morning to hundreds of dead 12 inch walleye in the cages.
If we do this again, we will have to increase aeration during the hottest months of the summer.
Project Outcomes
3
Farmers changed or adopted a practice
Success stories:
During the field day we had 2 people who made the decision to raise trout in their farm ponds, and one decided to try perch. One was from southern Indiana, one was an extension educator from southern Illinois and one from central Indiana. They are raising them now, we will see how they do in marketing with the continuation of the pandemic.
Recommendations:
SARE provides the opportunity for farmers to try risky ventures without losing everything.