Final report for FNC20-1245
Project Type:
Farmer/Rancher
Funds awarded in 2020:
$23,648.00
Projected End Date:
01/31/2022
Grant Recipient:
The Elephant Gardens
Project Information
Description of operation:
The Elephant Gardens is a family-owned urban farm, led by Joyce Randolph and Vivian Muhammad and consisting of two 1/4 acre lots located in the heart of one of Indianapolis' food deserts. The Elephant Garden provides healthy organic vegetables, some fruits, herbs, and other healthy foods items for the community. What is grown in the garden is grown in ways that nurture and cultivate the earth with the intent of creating sustainable methods of farming which foster Love, respect and a sense of duty towards our Earth. The Elephant Gardens has established a 4-H club called Tomorrowland's Children (TLC) whereby the Junior Master Gardener curriculum is taught during a 6-week summer program for youth ages 9-12. Last year, Joyce and Vivian founded the Black Independent Growers (BIG) organization for the purpose of supporting the local Black farmer and providing avenues by which to sell their produce. To further this purpose and to bring healthy produce options to the areas in most need, the Elephant Gardens, in partnership with BIG members, the Indianapolis Urban League, and two local churches, sponsored two monthly Farmers' Markets wherein Fresh Bucks and EBT were accepted. The Elephant Gardens also provided fresh produce to the Community Health Network pantry and staged a weekly farmers market inside the Community East Hospital. Along with other BIG members, the EG provided produce to fill 1000 produce bags which were given to attendees of the Urban League's national community day event.
Selina Tillman of Prosperity Healing Gardens is the owner of approximately 1/8 acre urban garden located very near the Elephant Gardens. Prosperity Healing Gardens adopted its name due to the scarcity of healthy food in the surrounding area which has lead to many food-related chronic disease issues. A BIG member and 4H volunteer, Selina's goal is to restore, health, hope, and beautification to this area by way of growing organic produce, medicinal flowers and herbs, and hosting educational workshops.
Chuck and Sandy Dailey are the Coordinators and farm managers for the Harvest House Community Center and the 2.5-acre farm and 10-hive apiary located on the grounds of St. Peter's Episcopal Church. Chuck is a master beekeeper and Sandy has been certified to teach and train adult volunteers in the Junior Master Gardener Curriculum. Along with harvesting honey, a variety of vegetable crops, herbs, and medicinal flowers are grown on the St. Peter campus. The Daileys also make value-added products by canning and freeze-drying produce.
Summary:
The food accessibility in Indianapolis is worsening and the chronic health issues that are part and parcel to food deserts are also on the increase. Within the African American community, the statistics relating to both issues are comparatively worse than among White and Hispanic populations. Inasmuch as the Elephant Gardens is located within a designated food desert, we are in a unique position to address these problems by focusing primarily on two vulnerable groups: the Elderly -especially those residing in senior living facilities and the youth -particularly those residing in the Elephant Gardens neighborhood. Our innovative plan involves the establishment of a Mobile Food Farmacy which will bring fresh produce (including educational "produce prescription cards) to 4 senior living facilities within a 5-mile radius of the EG, and an on-site Health and Beauty Bodega. We would expand our TLC 4-H club  Junior Master Gardner curriculum by adding both advanced training for our 4-H volunteers and by exposing the 4-H youth to the entrepreneurial aspects of farming-specifically value-added methods (freeze-drying, dehydration) and products (honey, herbal teas, herbs). Additionally, efforts to grow more nutrient-dense produce by focusing on the "seed-to starter-plant" process, and by incorporating organic soil amendments, will also be employed.
Project Objectives:
Increase the accessibility of nutrient-dense produce to urban residents who are most adversely affected by grocery store closures and transportation limitations- with a special focus on residents of senior living facilities.
Increase the knowledge and understanding -of both the young and old- of the health and beauty benefits to eating more fresh, locally grown organic produce.
To expose and educate the youth to the methods and techniques of growing and harvesting nutrient-rich produce, and to also demonstrate the entrepreneurial opportunities of value-added products.
To promote food accessibility, job creation, and neighborhood beautification by inspiring, training others to establish urban farms. 
Cooperators
Research
Materials and methods:
EG soil test 2020Soil enrichment and "Seed-to-Starter Plant" trials:  Research clearly shows that soil quality drastically impacts the ability of plants to fight pests and disease and plant growth potential.  We will use 2-3 organic soil mixtures for our starter plants, logging our observations from germination, to true leaf and beyond, noting any differences in growth rate and appearance. We will also conduct soil tests of our existing soil at both 1/4- acre lots utilizing the guidance and input received from both Kevin (SWC) and Amy (PEMC) to determine what organic amendments we will add to the soil and means by which to test our produce to determine nutrient density. We will test two different soil amendment mixtures and log our observations, noting any difference in growth rate, appearance, and disease resistance. 
Teaching, training classes, and workshops: TLC 4H Club JMG program, workshops and training sessions focusing on a variety of topics from "value-added production" (including bees and honey, dehydration of herbs, and freeze-drying produce), "proper planting methods of starter-plants", and "foods for health and beauty".  "Framing" the conversation of growing and eating more organic produce in terms of entrepreneurial opportunities will foster the desire to become farmers.
Marketing materials: The graphics on the Mobile Farmacy and H&B Bodega will be used to attract and reach our target audience. Posters, recipe/healthy benefits/beauty tip cards, and other farmstand signage will play an important role in conveying the idea that adopting a diet rich in organic fruits and veggies, significantly impacts the health (with emphasis to the diseases prevalent in food desert communities) AND beauty (what foods to eat for hair, skin and nails etc.)


side view

Contests, videos and questionnaires/surveys: These methods will be used to inspire and excite youth and seniors to focus on the adoption of healthy eating habits and allow project coordinators to measure progress of objectives.
Research results and discussion:
See the information in the Educational & Outreach Activities section.
Participation Summary
2
Farmers participating in research
Educational & Outreach Activities
Participation Summary:
Education/outreach description:
Our original project goals were as follows:
Increase the accessibility of nutrient-dense produce to urban residents who are most adversely affected by grocery store closures and transportation limitations- with a special focus on residents of senior living facilities.
Increase the knowledge and understanding -of both the young and old- of the health and beauty benefits to eating more fresh, locally grown organic produce.
To expose and educate the youth to the methods and techniques of growing and harvesting nutrient-rich produce, and to also demonstrate the entrepreneurial opportunities of value-added products.
To promote food accessibility, job creation, and neighborhood beautification by inspiring, training others to establish urban farms. 
All objectives were accomplished, but some to a greater or lesser degree than others, and this fact is almost entirely due to the impacts of Covid19 and our need to slightly adjust our goals and reallocate funds to fit the pandemic reality. Objective 1 and 4 were  accomplished to a greater degree than 2 and 3.
Regarding "nutrient dense food", by utilizing more worm castings and azomite in both the greenhouse for our starters, and in our garden rows, we logged increased yields, larger produce, and less disease. Originally, we began to incorporate Azomite into the soil due to its micro-nutrient value -specifically selenium which helps the body with t-cell production thus strengthening the immune system. However, we discovered an added benefit which was increased yield. Not only were our pepper and tomatoes larger, the actual yield per plant was the most that we have ever experienced. To a smaller degree, we also credit this result to the use of worm castings which we used in both our greenhouse potting mix and in the actual "holes" for our transplants and seeds. In 2021 our worm castings supplier offered a worm castings/bio-charr combo. We decided to mix it in the soil of half of our plants while using the traditional worm castings in the other half, to see if there was any notable difference or benefit by adding the bio-charr. With all other factors equal, we could not detect any notable difference in plant yield, pest control, or fruit size. We have not yet submitted our soil for testing this year so we don't yet know if the soil itself might have notable differences as it pertains to nutrients or  organic matter.
We did not implement our senior living mobile market in 2021, out of an abundance of caution regarding Covid 19; however we are hopeful of receiving a "Veggie Van" Senior Mobile Market Loyalty Program grant which will provide assistance with data collection, and nutrition education for 4 senior living facilities in our area. Regardless of whether or not we receive that data collection assistance, our plan is to launch our Senior Living facility utilizing the mobile farm stand outreach this year. That said, we were able to sponsor a few Senior Voucher Days whereby seniors with Wic Senior Vouchers were brought to our location via bus to spend their vouchers on our locally grown fresh organic produce. We are able to satisfy their desire for vegetables and some fruit (which we sourced) due to the SARE grant which enabled us to grow more produce, and to make some wholesale purchases of fruit we do not grow. 
The Elephant Garden's "Mobile Farmacy" farm stand has been a great success, as it has drawn a great deal of attention to our Urban farm site and has allowed us to increase our customer base and the overall messaging of "let your food be your medicine" was noted by many of our customers. Due to several television interviews which was sparked by a viral post of one of our local customers, we were invited to the grand opening of Optum Health and Wellness clinic to help promote the adoption of a healthy diet to combat co-morbidities. Along with bringing our mobile farmacy, we provided over 100 herb, fruit and veggie bags to all attendees.  It has served as a great marketing tool and is an eye-catching addition to our urban garden location, supporting our goal of neighborhood beautification.
In order to further inspire the residents within and around our community to grow and eat more vegetables, we reallocated some of the SARE grant funding to develop a "companion planting container gardening system" which we call Buddy Buckets (TM). These Buddy Buckets (TM) were also a great success as it allowed many "would-be growers" who may not have large backyards, or who may be unable to manage a full garden,  to start small with containers. We offered containers of tomato/basil, eggplant/tarragon, pepper/parsley, potato/leeks or strawberry/borage plants. We used our Buddy Buckets (TM) to demonstrate another method of growing food and to help new urban growers to understand the value of companion planting. These Buddy Buckets were developed in lieu of hosting traditional training sessions. One of our local partners, LaShauna Triplett of Mackida Loveal & Trip Mentoring Outreach Center used our Buddy Bucket system to teach and train around 20 youth participants of her outreach program. Based on the feedback received, we are confident that we have inspired and facilitated the desire of the youth in our community to grow their own food and make healthier food choices. We also sold these buckets to many of our customers who expressed a desire to learn how to grow food, thus aiding us in reaching our #3 and #4 objectives.
Although we were not successful in creating permanent jobs, we were able to provide supplemental income to a handful of young workers who assisted us with the expansion of our growing operation. Not only did we grow more food on our 2 existing 1/4 acre city lots, but we were also able to scale our growing capacity through our partnership with St. Peter's Episcopal Church's Harvest House whereby we established an MOU which allowed us to farm another 1/8th acre.
This increased production of our vegetables and herbs -utilizing the aforementioned organic soil amendments- opened up opportunities for participation in the City Government-sponsored Seed to Store program, wherein our produce was purchased wholesale and then sold to the grocery stores located in  or near designated food desert areas. The Elephant Gardens was also able to sell our vegetables and herbs to 2 local CSA programs which combined, service over 150 families around the city. Additionally, our increased yield enables us to wholesale our vegetables and herbs to a restaurant chain with 8 locations throughout the city of Indianapolis.
We did not fully implement the Health and Beauty Bodega idea. Although we were able to paint the facility, buy shelving, and install heating and cooling for the inside, due to Covid19, we were hesitant to actually invite our customers into the facility due to its small size and the difficulty of social distancing. We have however applied for a small grant that would enable us to clear space, and build a partition of sorts so that we can safely invite small groups of customers into the bodega to learn about the beauty benefits to be gained with the adoption of a healthy diet that incorporates more fresh vegetables, herbs, and fruit. 
We were able to create a few healthy recipe cards to go along with another project which we have named "The Elephant Trunk" project which is essentially veggie boxes that we deliver to customers confined to their homes, who may have transportation issues, or to seniors at senior living facilities. Our first box is the "bean soup" box which contains navy beans, and all the vegetables needed to make the bean soup recipe and muffin mix. The staple goods are sourced through a cooperative called "The Staple Goods Project" and the organic eggs for the muffins are sourced through a local homesteader. The recipe cards are for the bean soup and the cream of wheat muffins. 
Although the pandemic forced us to delay the implementation of certain goals relative to our overall objectives, it also caused us to get even more creative and this creativity lead to the Buddy Bucket(TM)  Companion Planting Container Gardening System (TM) and Elephant Trunks(TM) vegetable boxes both of which have been well received. The Buddy Buckets are a wonderful training tool and method by which to "grow more growers" and the veggie boxes help in our efforts to facilitate and encourage the adoption of healthier lifestyles. Both of theses projects were made possible by this SARE grant.
Measured Benefits:
Net Income increased almost 40%; this increase comprises both an increase in starter plant sales and farm stand sales. 
Improved Market Opportunities: There was a 35% increase in our customer base and as mentioned a 40% increase in sales. Opportunities for selling increased so much that we were forced to turn down several invitations; however as mentioned, restaurant chain sales, and the City-sponsored seed-to-store program widened our sales opportunities substantially and our website sales of starter plants, website inquiries, donations and social media exposure more than doubled.
Improved soil quality/health: As the 2020 soil test detailed, our soil was rich in organic matter and almost every nutrient except nitrogen which is to be expected.
Improved Food Accessibility: Based on the increased customer traffic, buddy buckets and veggie boxes sold, seed-to-store sales, and senior wic voucher sales, and increased sale to local CSA's, we clearly succeeded in improving the accessibility of healthy nutrient dense food to the Indianapolis community -specifically to the residents who live in designated food deserts. 
Improved Crop production: As detailed above crop production increased due to three factors: the use of the organic amendments --specifically azomite and organic worm castings which increased our yield by 33%; the acquisition of more land for the farm by virtue of the MOU established with Harvest House; and the ability to pay laborers to assist in all aspects of the food production process from spring planting and soil cultivation to summer and fall harvest.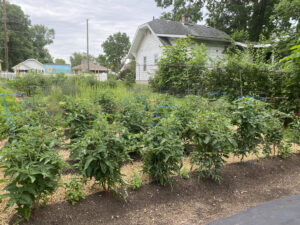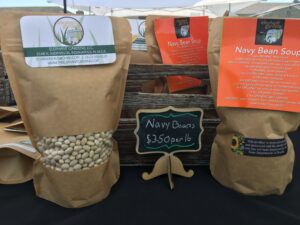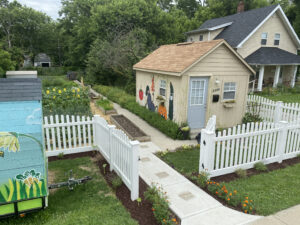 Learning Outcomes
2
Farmers reported changes in knowledge, attitudes, skills and/or awareness as a result of their participation
Lessons Learned:
Due to the COVID-19 situation during most of the 2020 season, we were not able to complete the majority of the project goals, especially as it pertains to our Senior Living Facility Outreach program and our 4H Club Summer Youth program.   The distribution and/or collection of customer surveys, questionnaires, healthy eating information/recipes and other methods for tracking our progress towards our objectives were not able to be accomplished due to the pandemic. 
We were able to institute new methods of gardening such as limiting the amount of plants per row to allow more growth area for each plant. Also we did more succession planting, which enabled us to have an extended harvest for items such as green beans and okra.
The only advice we would tell other farmers or ranchers is be prepared for the unexpected!! Hopefully COVID-19 has made it's last visit and the coming gardening season will be successful for all who grow food.
Project Outcomes
1
Grant received that built upon this project
2
New working collaborations
Success stories:
We have established a new working relationship with Mackida Loveal and Trip Mentoring Outreach Center wherein we will be responsible for teaching and training approximately 20 of their youth participants about the nutritional value of locally grown organic fruits and vegetables in addition to the entrepreneurial aspects of urban farming. 
We also will partner with Legacy of the Taste Garden located in southern Indiana by the wholesale purchasing of  fruits such as watermelon, cantaloupe, peaches and apples to supplement our market's supply of fresh locally grown items that Elephant Gardens does not produce.
The one grant we received that will assist us in the accomplishment of the above projects was received from The Indy Food Fund.