Progress report for FNC20-1252
Project Type:
Farmer/Rancher
Funds awarded in 2020:
$26,745.00
Projected End Date:
01/31/2022
Grant Recipient:
Hunley Creek Heifer Farm
Project Information
Description of operation:
My name is Tabitha Steckler Hurst and I am the third generation to be owning/operating Hunley Creek Heifer Farm alongside my husband Bryan and my dad. My grandfather moved our family to this homestead in 1958 and we have been farming the land ever since. We are located in southern Indiana on a diversified 600 acre farm. We raise beef backgrounding cattle, commercial cow/calf cattle, and dairy replacement heifers. We also run a custom silage and hay business along with growing hay for sale and row crop production. Before receiving this grant our farm practiced sustainable practices with our cropping and hay systems. We always rotationally cropped as well as plant cover crops on our fields after we harvest the crops. Also, rotational grazing for our cow/calf pairs has been important to our family. I graduated with my Masters degree in Dairy Management and Nutrition from Purdue University in August of 2020 and have recently joined the farm with my husband and father. Because we raise a large number of animals, animal health and sustainability has been one of the major priorities on our farm. During my time at Purdue, I learned new ways that could allow our farm and others to be more sustainable with our animal health and management practices. Therefore, these learnings have led me to this grant project to identify if lung scanning technology will allow farms to become even more sustainable than they already are.
Summary:
Calves with lung damage have reduced growth, are older at first calving, and produce less milk in their first lactation, all which negatively impact farm profitability and sustainability. Even though this is known, bovine respiratory disease continues to challenge farmers because of the error associated with visual diagnosis. To mitigate this variation, thoracic ultrasonography (lung scoring) has become a quantitative way to study respiratory disease. Previous research has shown lung scanning to be an effective way to identify lung damage.  However, this technology's practicality is not well understood when used in production settings. This project seeks to study how beneficial and cost-effective lung scanning could be for both dairy and beef operations. Using lung scanning to select healthier animals reduces the cost of raising replacement heifers and provides economic sustainability. By using lung scanning in beef backgrounding operations, there could be a decrease in antibiotic use and treatment costs. Therefore, the aim of this study is to introduce lung scanning to southwestern Indiana and understand what the benefits might be to the farming community.
Project Objectives:
Lung scan dairy replacement heifers around weaning (60 days) and four months as well as periodic body weights to gather growth data and best practices for using lung scanning on commercial dairy farms (ex. What is the best age to lung scan calves or do calves need to be scanned multiple times during their life?). 
Determine validity, usability, and practicality of utilizing lung scanning on beef backgrounding operation.
Report findings from lung scanning results and detailed overview of the lung scanning process at the Indiana Dairy Producers Annual Meeting (Meeting Brochure) following with a post survey identifying the willingness of farms to utilize this lung scanning service. 
Cooperators
Research
Materials and methods:
Due to the global Coronavirus pandemic a lot has changed within the last year. Therefore, the order in which this grant's events were intended to take place has not been performed exactly as planned. Instead of hosting an on-farm field day early in the grant period, this aspect has been moved to the later period. Currently, the plan for the outreach portion of the grant is scheduled to occur at the Indiana Dairy Producers Annual Dairy Forum held in French Lick, Indiana on June 22, 2021 (Brochure). The forum was originally scheduled to be held in February, but the ongoing pandemic has pushed this annual meeting later in the year. The Indiana Dairy Producers represent nearly 70% of the cows in Indiana, and a large number of producers attend the meeting every year. The hour and a half lung scanning portion will be held as an option for farms to listen to during the pre-conference sessions. The session will include pictures and videos of the lung scanning process and will present the findings from the current data being collected. This opportunity will allow us to increase the number of farms learning about lung scanning. Following the session, producers will be asked to fill out a survey detailing their new understanding of lung scanning and their willingness to use the service on their farm.
Preliminary lung scanning with the two partner farms began in late July due to delays in equipment arrival. Since then, 300 weaning age dairy calves were scanned and 100 four-month old dairy calves were scanned. In addition to lung scanning scores, birthweights, treatment records, bodyweights, and ADG values were collected for each calf. Moving forward to this year heifers will continue to be lung scanned at weaning (60 days) and at four months of age. Calves will be weighed at birth, weaning, 4 months, and 1 year. Throughout the year, farms will be asked to record treatment records of calves so that these treatments can be compared to the lung scanning score. Then, the growth of calves with lung damage at weaning or 4 months will be compared with calves without lung damage.
The beef backgrounding business slowed on Hunley Creek Heifer Farm after the onset of the pandemic. The first set of background calves arrived at the end of September. Since then, 100 calves have been scanned. The first set of 50 calves scanned provided valuable insight to how management of incoming calves could be better. Upon arrival calves will be scanned and sorted based on lung damage and weight. Calves will be scanned again at least a month after arrival to identify if management changes have influenced the overall health and growth of backgrounding calves.
Research results and discussion:
Results Summary
I was able to lung scan calves on three different farms from July through December 2020 to evaluate the effect of respiratory disease on cattle weight and performance. Below are a portion of results from each farm that participated in the study. Neither dairy farm tracked animal weights or incidence of respiratory disease on their farm before this project. The beef backgrounding farm tracked these aspects but did not analyze them in relation to each other. Therefore, this project has already provided valuable insight for farms to aid in understanding how their management practices affect animal performance. These results are not final and would benefit from an entire year of analysis to understand the role each season affects respiratory disease and growth. I suspect that these respiratory disease rates are higher than average due to the fact that the southern Indiana weather had a large impact on respiratory disease incidence this fall. 
Lindauer Dairy Farm:
Lung Scanning Data Collection 7/31/2020 to 12/22/2020
Total Number of Individual animals Lung Scanned: 108
# scanned between 16 and 31 days of age: 55
# scanned between 33 and 50 days of age: 24
# scanned between 53 and 114 days of age: 79
# scanned twice: 50
Birthweight
# of calves with Birthweight: 81
Average birthweight: 99 pounds
Minimum birthweight: 77 pounds
Maximum birthweight: 126 pounds
No affect of birthweight on the calves' chance to obtain lung damage
Respiratory Disease
31 of 108 calves treated for respiratory = 29%
45% of calves had a score of 4 or greater by weaning (out of 66 calves weaned thus far)
~3 Week Lung Scoring Results
55 calves
# of calves with each score

1,2, and 3 on both sides of lung: 47 = 85%
4,5, or 6 on one or both sides of lung: 8 = 15%

ADG

No lung damage: 0.96 lbs./day
Lung damage: 0.72 lbs./day
33 to 50 Day Lung Scoring Results:
53 calves
# of calves with each score

1,2, and 3 on both sides of lung: 37 = 70%
4,5, or 6 on one or both sides of lung: 16 = 30%

ADG

No difference in ADG between calves with and without lung damage: 1.22 lbs/day
ADG by Lung Score

1 or 2: 1.24 lbs./day (24 calves with average weight: 163 lbs.)
3: 1.19 lbs./day (13 calves with average weight: 157 lbs.)
4: 1.29 lbs./day (10 calves with average weight: 180 lbs.)
5 or 6: 1.1 lbs./day (6 calves with average weight: 148)
Weaning (53 to 114 days) Lung Scoring Results
50 calves
# of calves with each score

1,2, and 3 on both sides of lung: 31 = 62%
4,5, or 6 on one or both sides of lung: 19 = 38%

ADG
| | | | |
| --- | --- | --- | --- |
| Lung Score | Number of Calves | ADG 3 wks. To Wean (lbs.) | Weaning Weight (lbs.) |
| 1 or 2 | 23 | 2.03 | 234 |
| 3 | 8 | 1.77 | 208 |
| 4 | 6 | 1.69 | 228 |
| 5 or 6 | 13 | 1.47 | 209 |
Lueken Dairy Farm:
Total Number of Individual animals Lung Scanned: 207
# scanned between 53 and 85 days of age: 207

between 55 and 65 days of age: 116 (56% of animals where this old)
Birthweight
# of calves with Birthweight: 119
Average birthweight: 94 pounds
Minimum birthweight: 50 pounds
Maximum birthweight: 132 pounds
No effect of birthweight on the calves' chance to obtain lung damage
Weaning Lung Scanning Results
Percent of animals with Lung Damage: 25%
Weaning Weight (207 Animals)

No lung Damage (1,2, or 3): 204 lbs.
Lung Damage (4,5, or 6): 186 lbs.

Weaning ADG (119 Animals)

No Lung Damage: 1.6 lbs./day
Lung Damage: 1.4 lbs./day
Four Month Lung Scanning Results
# of calves scanned: 59
Percent of Calves with lung damage on 1 side: 17%
Percent of Calves with lung damage on 2 side: 29%
Average Weights

No Lung Damage: 513 lbs. (188 d of age)
Damage on One Lung: 445 lbs. (180 d of age)
Damage on Both Lungs: 369 lbs. (174 d of age)
Hunley Creek Heifer Farm
100 calves brought in on 9/28/2020 and 50 calves were lung scanned and weights were recorded
Average weight: 437 pounds
Initial Lung Scores:
No lung damage (Score 1, 2, or 3): 76%
Lung damage (Score 4, 5, or 6): 24%
Vaccination Weight (10/15/2020)
Average Weight: 423 pounds
ADG (9/28/2020 to 10/15/2020)

No lung damage: -0.37 pounds/day
Lung damage: -1.1 pounds/day

16 of the 38 calves without initial lung damage gained lung damage during this time period

Total percentage with lung damage as of 10/15/2020: 56%
Castration Weight (11/18/2020)
Average Weight: 479 pounds
ADG
| | | |
| --- | --- | --- |
| Lung Status | ADG 10/15/20 to 11/18/20 (lbs./day) | ADG from 9/28/20 to 11/18/20 (lbs./day) |
| Lung damage prior to arrival | 1.80 | 0.93 |
| Lung damage after arrival | 1.39 | 0.69 |
| No lung damage | 1.69 | 0.93 |
Overall Summary
From the first to the first weight (9/28/20) to the last weight (11/18/20) ADG

No lung damage: 0.90 pounds/day
Lung damage (score 4, 5, 6): 0.78 pounds/day

Comparing ADG (first to last weight) of calves with a score 5 or 6 to other lung scores

No Lung damage: 0.99 pounds/day
Lung damage of 5 or 6: 0.31 pounds/day

Calves who arrived with lung damage had a larger reduction in ADG after arrival compared to calves without lung damage; however, these calves adapted better to their new environment and ended with the same ADG as calves without lung damage. Calves who developed lung damage due to the transition period had lower ADG throughout the recorded time period.

From the analysis, calves who adapted lung damage after arrival were on average smaller on arrival (418 pounds compared to 444-pound average of calves without lung damage)

Final Lung Scores

No Lung Damage: 40%
Lung Damage: 48%
Died: 12%
Participation Summary
3
Farmers participating in research
Educational & Outreach Activities
3
Curricula, factsheets or educational tools
Participation Summary:
Education/outreach description:
At the end of 2020 I created a summary/fact sheet for the 3 partnering farms that I have been scanning calves from July through September. I was able to sit down with each farm and explain these summary sheets and what I have been seeing from collecting the data. During these meetings I was also able to display pictures that I captured from the ultrasound machine showing what I was looking at/for when scanning each calf. We discussed the pros and cons of the lung scanning process thus far and what area each farm is interested in me taking a further look into for the remainder of the grant period. The value of data collection was also discussed during these meetings and how the farm could use what I have collected thus far to help aid in animal management decisions. 
Lung Scan Photo of healthy lung tissue: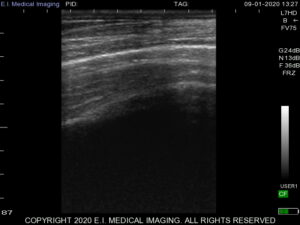 Lung Scan Photo of damaged lung tissue: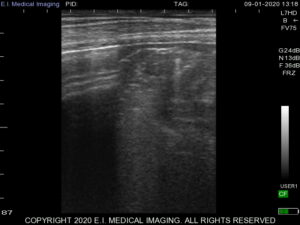 Project Summaries:
Francis Lindauer and Sons Dairy Farm 7.31 to 12.22 Summary
Lueken Dairy Farm 8.11 to 12.29 Summary