Progress report for FNC20-1253
Project Type:
Farmer/Rancher
Funds awarded in 2020:
$9,000.00
Projected End Date:
11/30/2023
Grant Recipient:
Grain Place Foundation
Project Information
Description of operation:
Both pastured hogs and drylot hogs have been raised at Grain Place Foundation for years, and both have been fed by-products from the on-farm organic cereal processing and packaging operation. However, the free-range hogs have been in one large 5+ acre field with poor pasture, limited shade, and no quantitative comparisons with other hogs raised in drylot. All practices with the organic certified crops farm have been a part of a nine-year crop/beef cattle grazing rotation since 2002, but hogs have not been integrated into the crop production system except in their consumption of by-products from processing. A gateway to more intense integration is seen in the conversion of the 5-acre grazing area to a silvopastoral system with improved drainage, terraces, and seeding a better pasture mix so that hogs can be managed with rotational grazing and consume part of their feed source from fallen nuts and fruits from trees added to the area. Eventually the plan is to include multi-species grazing by adding beef cattle and/or sheep to this biodiverse silvopastoral area, but first we want to quantify the benefits of grazing on diverse feed sources on rates of gain in hogs as compared to a nearby drylot hog feeding enterprise keeping all other factors the same. The hypothesis to test is that hogs grazing on multiple feed sources in a rotational pattern will out-perform those in the drylot, confirming non-statistical observations from the past decade. Prior sustainable practices were integration of the feed source with the processing operation, and the long-term goal is to further integrate hogs, sheep, and cattle into grazing on the long-term rotation plots that average 8 acres in size and have pasture in three of the nine years of the rotation. This will provide an excellent visual and statistical comparison for biodiverse crop/livestock demonstrations during the annual field days, and with data provided on the GPF web site and through Extension at University of Nebraska.
Summary:
Silvopasture hog production can diversify enterprises and spread income sources through the year. Quality pasture and fallen fruits and nuts can reduce feed costs and lower supplemental by-product feeding from on-farm grain processing. After land shaping to improve drainage, fruit and nut trees will be planted in improved pasture with a quality species mix, and rotational grazing used in a 5.3 acre renovated pasture. Preliminary results have shown grazing hogs on this organic farm reaching sale weight of 275# at least two months sooner than drylot hogs fed only grain by-products on the same farm. If these outcomes are validated, we will introduce the grazing practice in a nearby two-replication, nine-year grain/pasture rotation. This will include tree planting in field boundaries as a supplemental feed source for hogs and a diversified habitat for beneficial insects. We will demonstrate the crop/animal system to area farmers on annual field days and disseminate results through Cooperative Extension. Trees and pasture fields will capture and cycle N (resource stewardship), provide higher profits (improved economics), and produce quality pork for sale to local community customers (social responsibility). The research and demonstrations will be accomplished on land of Grain Place Foundation in Nebraska's Platte River Valley.
Project Objectives:
Evaluate the potential for silvopasture hog production on a renovated marginal field through improved drainage, quality pasture seeding, trees for shade and fruit/nut production, and combined forage and grain processing by-products as an on-farm feed source.
Compare rates of gain and time to market weight of pastured hogs with a nearby drylot system using only grain by-products from the same source.
Conduct two field-day demonstrations of the silvopasture system and disseminate results through multiple media and Cooperative Extension.
If results are favorable, incorporate multiple-species grazing into an adjacent organic crop/pasture nine-year rotation experiment.
Cooperators
Research
Materials and methods:
Land modifications, planting plans, grazing strategies, and comparisons of two hog production systems are summarized, including outreach details and where results could make an impact. The 5.3 acre field to be renovated has poor drainage, marginal pasture growth, and limited potential for crop or livestock production. Well-designed terraces and drainage ways, planting improved pasture species, and trees along contours and field boundaries provide demonstrations for improving marginal crop land. Fruit and nut trees will supplement pasture and grain by-products, plus provide shade for hogs in the silvopastoral system with weight gains compared to drylot grainfed production.
Expertise and equipment will be hired for the major earth work. Pasture mixtures will use locally-available seed, with seeding accomplished with planting equipment available on the farm. Adapted fruit/nut varieties will be sourced locally, or propagated from trees on the farm with demonstrated adaptation and productivity. Trees will need exclusion fencing for several years, since grazing can commence when growth is adequate. Evaluations in the first years include pastured hogs versus nearby drylot hogs; assessment of fruits and nuts in hog diets is beyond the funding of this project. Initial hog weights and time to market weights will be compared between two systems. Rotational grazing of the renovated field will be initiated as soon as pasture has adequate growth and cross-fencing and water can be provided.
Results will demonstrate to farmers, FFA members, and university students potential productivity of diversified fields, compared to conventional monoculture corn. Accounting of inputs for field modification, and costs of production/incomes for two systems will be used in outreach activities. Viewing field transformations will motivate farmers to innovate at home. Practical publications and webinars will include all steps in renovation, plus comparative production and profits, for classroom and extension activities.
Research results and discussion:
Preliminary plans and design of on-farm comparison of free-range versus drylot raised feeder pigs were described to visitors who participated in the virtual field day in July [due to COVID-19 there was no in-person field day this past summer]. The silvopastoral swine comparison with drylot was described and shown in a brief video overview of Grain Place Foundation and the adjacent Grain Place Foods that was part of the ZOOM farm tour. This was before the new pastures were established and young trees were barely visible. A similar virtual tour will be prepared for the summer 2021 field day in July, but results of the comparison will not be available until Year 3. We will request a no-cost extension of the grant to be able to present results in an in-person field day in July, 2022 after the two-year project is completed. These results will also be summarized with photos and data in a final project report, and publicized through the GPF web site and in other press releases.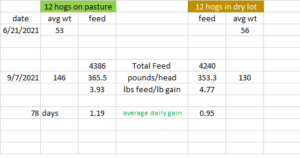 Participation Summary
2
Farmers participating in research
Educational & Outreach Activities
1
Curricula, factsheets or educational tools
Participation Summary:
25
Ag professionals participated
Education/outreach description:
Plans for the on-farm comparison of rates of gain for silvopastoral free-range hogs compared to a matched lot of drylot-raised hogs were described to farmers and other professionals in the virtual field day in July.  Progress in land shaping and tree planting for the free-range swine comparison with drylot feeding was shown as part of a brief video overview of Grain Place Foundation operations during the ZOOM farm tour. Trees and pasture should be well established and a new batch of hogs in each system will be carefully matched by initial weights for feeding in this second year, thus some results will be available by the scheduled end of grant in late 2021. Two years of results will not be available until a year later. A one-year no-cost extension of the grant will be needed to complete two years of comparisons.  Two years of results will be summarized with photos and data in a final project report, and publicized at field days, through the GPF web site and in other press releases.
Learning Outcomes
3
Farmers reported changes in knowledge, attitudes, skills and/or awareness as a result of their participation
Lessons Learned:
We learned several lessons from the first year of the grant, including the importance of careful budgeting of expenses, how essential it is to have clear plans to cope with any unexpected change in leadership of a project, the length of time it takes to accomplish multiple and sequential tasks (earth works for drainage, planting trees, planting new pasture species, and starting to fence the area), and coping with a serious nutrient deficiency in both groups of hogs that was not anticipated due to the feed source from gleanings from the organic seed processing on farm. All of these have been overcome, and with the additional needed fencing we will be prepared for a new batch of hogs in each system this spring. Advantages of a project such as this include data from a practical on-farm comparison of two swine systems that will be visible to field day visitors with realistic on-farm results, and demonstrating how integration of on-farm processing can provide a grain feed source for two methods of fattening hogs. Disadvantages are the long-term challenges of establishing a silvo-pastoral research facility with adequate drainage and high-quality pastures; also the additional feed source from fruits and nuts from the trees will not be available until well beyond the two-year scope of the initial grant. One recommendation for other farmers who want to integrate potentials for combining crop production, processing, and feeding by-products is to test feeds well ahead of time to solve nutrition problems, and to seek sources of research support that can cover at least five years of implementation that will give viable results and make them available to other farmers.
Project Outcomes
Recommendations:
We recommend that SARE continue to solicit integrated crop/livestock projects that are longer in duration, with recognition that these projects are more difficult to propose and take more time for results to emerge. The SARE farmer/rancher projects continue to be an effective source of stimulation for operators to try new innovations and where a small grant can have a large multiplier effect. In general, SARE funding has been at least level and often increased every year for more than two decades, and this is a rare occurrence in the arena of federal funding. Thanks for the support.
Information Products