Progress report for FNC21-1270
Project Type:
Farmer/Rancher
Funds awarded in 2021:
$8,051.00
Projected End Date:
12/31/2023
Grant Recipient:
Enger Farms
Project Information
Description of operation:
This farm is operated by myself and my wife for 43 years. My current farming operation consists of 520 acres of which 65 acres are currently certified organic with an additional 100 acres transitioning to organic. The certified and transitioning organic acres are currently in alfalfa production and full season cover crops. Crops grown on the conventional acres include spring wheat, sunflowers , corn, soybeans and edible beans. Cover crops are grown as it fits into our rotation. I have been using no-till farming practices since 2008, and would like to do no-till organic farming.
Summary:
Adequate nutrient supply, erosion and weed control are challenges in an organic system. This project over two years will investigate the establishment of wide-row strip-till corn in a living cover crop of established alfalfa and mulching of corn rows with a mower/mulcher to address these challenges.  Alfalfa is a common rotational crop in an organic system that is typically terminated by full width inverted tillage. According to North Dakota State University Extension fertility recommendations alfalfa terminated by tillage will supply adequate nitrogen to a subsequent corn crop without further additions in a conventional cropping system. Tillage however, leaves the soil susceptible to erosion and in-season tillage will be needed for weed control in an organic system. Previous and current studies utilize perennial clover or annual cover crops seeded at or near the same planting date as corn for erosion and weed control.  This system, which was proved feasible in crop year 2020, maintains adequate soil cover for erosion control and weed control. The system needs further investigation of soil health effect, moisture availability, adequate nitrogen and overall crop and economic performance. Additionally, a prototype mower-mulcher implement will need to be developed to mow alfalfa and mulch 44-inch corn rows. 
Project Objectives:
Evaluate performance of wide-row strip-till crop production in perennial alfalfa over two growing seasons
Assess impacts on physical health/qualities of soil 
Monitor soil nitrogen mineralization over two growing seasons
Assess soil biological composition effect of compost
Develop and test prototype mower/mulcher
Conduct a field day and present findings in a pdf format for technology transfer and present information at workshops when requested
Research
Materials and methods:
The plot will be located in the N1/2NW1/4-16-148N-R54W on an area of Gardena loam soils, 0-2% slope. Four year old established alfalfa will be terminated in strips 14-18 inches wide with a paratill implement modified for 44-inch corn row spacing.  Three six-row plots 560 feet long will be established to match planter implement size. The 44-inch rows will allow room for mulcher/mower equipment to pass between rows and side discharge alfalfa mulch into corn rows. Mulching will occur on two or three occasions providing as much low C:N ratio mulch for corn row placement before corn reaches a plant height that limits equipment passage. Compost mulch will be applied at a single and double rate. Corn seeding population will be approximately 32,000 seeds/acre. In-row corn population of the 44-inch rows will be double that of what would be in a 22-inch row to maintain corn population.
On-site soil heath monitoring will be completed at the beginning and the end of the project including infiltration, Visual Evaluation of Soil Structure and aggregate stability. Soil sampling for biological soil health assessment will be completed by compost treatments at the beginning and end of the project. Nitrogen mineralization will be tracked by sampling 0-24 inches of soil and testing for nitrate-nitrogen on a 3-week interval during the growing season on replicated treatment plots the same or similar to the design used in the 2020 year feasibility of concept study.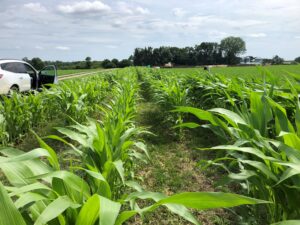 A field plot tour will be conducted in the summer of 2021 unless drought impacts continue into growing season and delay until 2022. Final results will be summarized at the completion of the last cropping year, distributed and presented as a pdf or PowerPoint.
Research results and discussion:
The paratill was modified for use for strip tilling in year 1. Field strips were established for year one.  
I was not satisfied the way the paratill worked. It left the ground uneven and I had to go too deep. It was not a good practice for no-till farming. I will modify my strip-till implement to cut a 12 inch pass over the row just below the crown of the alfalfa. Under cutting should do a good job of killing the alfalfa. I will only be going about 2-3 inches deep.
No results in 2021. The crop dried up. Should have data from the 2022 crop.
On May 14, 2022 I had a farm accident, and was  not able to do our project for 2022. Field strips were not established in year 2. I would like to have an eleven-month extension to December 31, 2023.
To continue the project, I will make the strips for year 3. I will not be using the 14–18-inch-wide Para till implement because it goes deep into the soils and too much moisture would be lost.  Instead, I will use a strip-till implement with a 12-inch straight blade.  Research has indicated shallow knifing just under the crown is a way to terminate alfalfa.  I will set up the strip till implement in strips 12 inches wide to undercut just below the crown.
Participation Summary
1
Farmers participating in research
Educational & Outreach Activities
10
On-farm demonstrations
Participation Summary:
Education/outreach description:
The main event to tell people about the project will be our field day in late summer of 2022. I will use press releases, fliers and social media to communicate information to the public.
Here is a link to the flyer that we used for the field day in 2022.   Field Day July 27th 2022, FNC21-1270
We had about 50 people from 3 states in attendance.  Much discussion was concerning soil infiltration and soil health. We also had a soil pit that showed the roots of the alfalfa in the field.  They went down nearly 5 feet. 
Learning Outcomes
Lessons Learned:
When you don't get any rain it is difficult to grow a crop.  It is important to concentrate with no-till farming and look at ways to improve your infiltration rate.   My moisture level  going into the spring of 2022 is much better than 2021. I'm optimistic  I can grow a good test plot  so I can tell others about my project.
Project Outcomes
1
Farmers changed or adopted a practice