Progress report for FNC21-1279
Project Type:
Farmer/Rancher
Funds awarded in 2021:
$8,997.00
Projected End Date:
01/31/2023
Grant Recipient:
Johnson Farm
Project Information
Description of operation:
My farm, located near Peoria, Illinois, is 176 acres total with 60 tillable acres. Eight acres are planted in prairie strips under the Conservation Reserve Program, and the remaining tillable acres are currently in cover crops for the organic transition and will be planted in organic corn in spring 2022. New tiles were installed on about 30 acres in early 2020 to improve drainage for better productivity. Along with that land improvement, I worked with the Natural Resources Consvervation Service (NRCS) to design and build a woodchip bioreactor which was installed in November 2020.
Summary:
Improved drainage via tiling is essential for economically viable crop production in many parts of the North Central Region but this practice contributes to water quality problems by increasing nitrogen (N) loss from fields. A woodchip bioreactor is a trench full of woodchips that cleans N from tile drainage water using the natural process of denitrification. This study is monitoring a bioreactor at a farm in Illinois that is transitioning to organic production. Importantly, this is the first study of a bioreactor with an organic cropping system. During its first year, the bioreactor was 75% efficient at removing N from the water that flowed through it, and 63% efficient considering untreated water that was routed around the bioreactor. Bioreactors promote stewardship of our water resources (ecologically sound), are a cost-effective practice for reducing N loss in tile drainage water (economically viable) and are socially responsible in that they provide cleaner water for downstream neighbors and ultimately the Gulf of Mexico.
Project Objectives:
Perform the first-ever assessment of a woodchip bioreactor treating tile drainage from an organic cropping system.
Measure tile drainage nitrogen concentrations and loads during early transition from conventional to organic cropping methods and compare to research data from conventional cropping systems.
Share information about bioreactors in general and new findings about organic cropping nitrogen loads via popular press articles and newsletters.
Raise awareness in the agricultural community of the importance of farmers taking responsibility for the quality of water drainage from their farms.
Cooperators
(Educator and Researcher)
Research
Materials and methods:
My woodchip bioreactor was designed by the USDA NRCS and installed in November 2020 at my Peoria County, Illinois farm. It is 54 ft long x 16 ft wide x 4.9 ft deep and treats drainage from 20 acres that was planted in clover in spring 2019. Cover crops of oats and radishes were broadcast in fall 2021.
An automated water sampler (Teledyne ISCO Model 3700, Lincoln, NE) and water sensor (HOBO U20L-04 Water Level Logger, Onset Corp., Bourne, MA) were deployed in March 2021 at both the bioreactor inflow and outflow control structures. The autosamplers collected samples every four days from the inflow and outflow and those samples were brought monthly to the University of Illinois Christianson lab for nitrate-nitrogen analysis (Lachat Quickchem, method 10-107-04-1-A, Loveland, CO). The flow in both the inflow and outflow control structures was logged by the water sensors and was used to calculate nitrate-nitrogen mass loads (in lb N/ac) by being paired with the water sample concentrations. Dissolved phosphorus and sulfate were added-value parameters, which were not originally proposed, that are also being studied (Lachat Quickchem, method: 10-115-01-1-A; Hach DR3900 Spectrophotometer, method 8051, Loveland, CO).
Research results and discussion:
Summary bioreactor performance results (15 March 2021– 30 Sept 2021; see attached graphs)
84% of water flow from the field was routed into the bioreactor
N removed in bioreactor

lb N/ac lost from the field: 1.02 lb N/ac
lb N/ac routed into bioreactor: 0.85 lb N/ac
lb N/ac removed in bioreactor: 0.64 lb N/ac
Bioreactor N efficiency: 75%
Edge of field N efficiency, considering untreated flow: 63%

The bioreactor removed 22% of the dissolved phosphorus that was routed into it.
Sulfate naturally present in the drainage water was being removed by the bioreactor during the low flow summer months.
My non-conventional rotation (that is, not corn + soybeans) resulted in very low drainage nitrate concentrations and drainage flow. This resulted in low nitrate loss compared to most tile-drained fields, which "average" on the order of 15-30 lb N/ac lost annually.
Because my nitrate loss is so low, my bioreactor performed much better at 63% compared to the 25% efficiency that bioreactors are rated at in
Illinois. Of course, this 63% removal was a very small mass value (0.64 lb N/ac)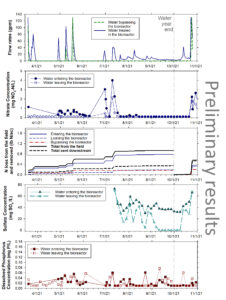 Participation Summary
2
Farmers participating in research
Educational & Outreach Activities
3
Webinars / talks / presentations
Participation Summary:
1800000
Farmers participated
Education/outreach description:
Laura Christianson and I were featured in an episode of "Science Friday," a nationally broadcast public radio series (approximately 1.8 million listeners), to discuss bioreactors. Citation:
I am confirmed to publish a short outreach article on my bioreactor for the Illinois Land Improvement Contractor's Association bi-monthly newsletter (to be published in March /April 2022 issue); https://www.illica.net/newsletters). Drainage contractors are a key stakeholder group for this type of water quality practice in Illinois.
This research at my bioreactor is being leveraged with several other research projects. Scientific presentations were made at a national scientific meeting for two of those projects (which included data collected as a part of this SARE grant):

Brunton, A., J. Zilles, R.A. Cooke, and L. Christianson. 2021. Nitrous oxide emissions from denitrifying bioreactors with and without a soil cover. 2021 ASA-CSSA-SSSA International Annual Meeting. Salt Lake City, Utah. 07-10 November 2021. https://scisoc.confex.com/scisoc/2021am/meetingapp.cgi/Paper/138489
Maxwell, B., R. Arch, R. Christianson, S. Johnson, and L. Christianson. 2021. Cost efficiency analysis and nitrate removal performance of six Illinois woodchip bioreactors. 2021 ASA-CSSA-SSSA International Annual Meeting. Salt Lake City, Utah. 07-10 November 2021. https://scisoc.confex.com/scisoc/2021am/meetingapp.cgi/Paper/138432
The attached photos show Dr. Laura Christianson and I at the bioreactor. The gray box contains the autosamplers made possible by this SARE grant.
Learning Outcomes
5
Farmers reported changes in knowledge, attitudes, skills and/or awareness as a result of their participation
Lessons Learned:
My bioreactor removed 63% of the nitrate that would have otherwise gone downstream between 15 March and 30 Sept 2021. That is, my bioreactor removed 0.64 lb N/ac of the 1.02 lb N/ac lost from my field.
Another bioreactor in the area reportedly sometimes smelled like hydrogen sulfide (rotten eggs) during its first two years in operation. I never noticed hydrogen sulfide smell at my bioreactor, but some of the sampling staff from the university did. Adjusting flow rates to keep water moving through the bioreactor helps minimize hydrogen sulfide emission. My university collaborator decided to add sulfate as an analyte for my water samples so we could assess sulfate/sulfide trends.
Project Outcomes
2
Grants received that built upon this project
Success stories:
I purposefully sited the bioreactor near the road so people would see it. When I'm working near the bioreactor, it's not uncommon for someone to pull over and ask me what's going on. An NRCS engineer told me that several people pulled over to ask him about the bioreactor when he was inspecting it. People ask what the boxes are that contain the automatic water samplers (made possible by this SARE grant). It's been great to have the opportunity talk with random folks about the benefits of a bioreactor. With so much interest, NRCS installed two signs that read "Natural Resources Conservation Service Partner" near the bioreactor.