Final report for FNC21-1284
Project Type:
Farmer/Rancher
Funds awarded in 2021:
$8,997.00
Projected End Date:
01/31/2023
Grant Recipient:
BarWD Ranch Company
Project Information
Description of operation:
Commercial cow-calf operation in South-Central Nebraska on 2,000 acres.
Summary:
Commercial beef cattle in South Central Nebraska is not economically viable as the sole source for income because ecological characteristics, such as soil profile, precipitation and grass species, limit stocking rates. Ranchers and farmers in other regions have overcome these obstacles by increasing grazing efficiency through rotational grazing. However, South Central Nebraska is thought to be a poor choice for a management intensive grazing system due to the terrain. The topography of the Loess canyons makes cross fencing difficult and the frequent movement of temporary hotwire fence, that characterizes other rotational grazing operations, is simply not feasible; the long distances and difficult terrain would make such an endeavor a poor use of time and energy. What's needed is an inexpensive and easy to install fence, that isn't frequently moved and allows the producer to intensively manage the pastures. If such a system could produce a 10-30% increase in carrying capacity and reduce hay costs while improving soil and pasture productivity, it would allow ranchers in South Central Nebraska to become more financially independent. 
Project Objectives:
Increase grazing efficiency and carrying capacity
Improve soil health and pasture productivity 
Share project results with the University of Nebraska-Lincoln, Nebraska Grazing Lands Coalition, Nebraska College of Technical Agriculture, and social media. 
Research
Materials and methods: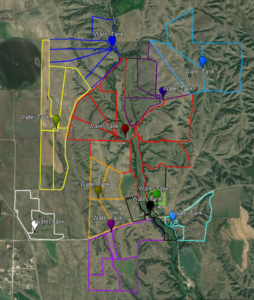 The finished project entails 41 paddocks averaging 30-40 acres in size. In the image, the paddocks are color coded (i.e. the animals in the yellow paddocks water at the yellow water tank etc.) The pastures will be cross-fenced in a manner to maximize efficiency by reducing the distance animals move to and from water. 
Research results and discussion:
The results achieved include gains in terms of efficiency by reducing time required for animal checks and movement which has also positively impacted herd health by decreasing the time required to doctor a sick animal. Forage efficiency is increasing as animals are eating less desirable plant options which will positively impact carrying capacity in the future. Additionally, forage management has been positively affected. It has been much easier to take pasture inventories and project the amount of forage available for future grazing.
Participation Summary
2
Farmers participating in research
Educational & Outreach Activities
Participation Summary:
Education/outreach description:
Outreach events were not able to be carried out since project ended early.
Learning Outcomes
2
Farmers reported changes in knowledge, attitudes, skills and/or awareness as a result of their participation
Lessons Learned:
Thus far, cross-fencing the pastures into paddocks and decreasing the size of the area that the cattle are in has significantly increased the efficiency of our cattle operation in the following ways.
Doctoring cows/calves has become much more timely. During calving season, it has been easier checking cows/calves in a 40-acre paddock versus a 300-acre pasture which has positively impacted herd health. 
We use a 7-Day Sync Timed Artificial Insemination program which requires gathering the cattle multiple times for processing. The time needed to gather and move the cattle from the paddocks to the corrals has significantly decreased. 
Forage efficiency is increasing as the cattle are grazing the less desirable plant options such as wild marijuana and the leaves and flowers off of the musk thistle which has reduced labor and herbicide costs. 
The project has had disadvantages as well.
The time and cost required to implement cross-fencing the pastures into paddocks can be a significant barrier.
Time and cost associated with fence maintenance has increased. Step-in fence posts have broken, hot-wire has broken, etc.
Overall, the slight time and cost required to ensure the hot-wire fence is up prior to moving the animals has been nothing in comparison to the gains in efficiency mentioned above. 
Project Outcomes
2
Farmers changed or adopted a practice