Final report for FNC21-1285
Project Type:
Farmer/Rancher
Funds awarded in 2021:
$3,328.00
Projected End Date:
01/31/2023
Grant Recipient:
White Blossom Farm
Project Information
Description of operation:
My husband Ray and I purchased 19.5 acres on December 3rd, 2019. Up to this fall, the 15 acres of tillable ground has been in corn with a CSR2 in the mid 70s. We plan to seed down most of our acres in 2021 for hay, except the area used for the variety trial. While our farm is in the early stages of production, we have been involved in sustainable agriculture for many years. My husband, Ray, has his undergraduate degree from Iowa State University in Agronomy and a Master's degree in Horticulture. He is currently employed as a Food Systems Coordinator with Iowa State University Extension of Dubuque County for 3.5 years. Ray has been researching and experimenting on his own family dairy farm for an economically viable option for raising crops ever since he enrolled in the 4H program. Once Ray and I met, we decided that a u-pick strawberry farm would be the best fit for us. I was raised on an acreage where we raised our own beef, poultry and also kept horses that we used to explore natural areas in the Midwest. I wanted to pursue a career where I could make a difference for people and the natural areas which I had come to value. For the last six years I have been employed by the Natural Resource Conservation Service as a Soil Conservation Technician where I help design and implement conservation practices for local producers.
Summary:
As beginning farmers, my husband, Ray, and I have not found adequate information evaluating new strawberry varieties replacing older more established varieties available from commercial nurseries. Trials for strawberry varieties in Iowa have not been completed by Iowa State University since 2011. Understanding how new varieties perform in our area, enables growers to choose varieties that provide the best return for their investment. This makes for more efficiently produced crops by reducing inputs and maximizing profit for Iowa growers. With most of Iowa's small-scale growers located in rural areas, increasing profitability of a specialty crop can help with reviving and diversifying our rural economies which encourages economic sustainability. Better variety placement can also lead to less resources being used to produce the berry crop making the production of strawberries in Iowa more efficient. This strawberry cultivar trial will not only benefit growers in Iowa but also benefit growers in the tri-state area of Illinois and Wisconsin for both home and commercial use since our farm is only 45 miles from both states.
Project Objectives:
We will evaluate the varieties based on yield, winter hardiness, berry firmness, date of bloom, date of fruiting, flavor, prevalent diseases, and prevalent insects. (<23 months)
Share preliminary findings through field day in first year of fruiting. (<23 months)
Release initial report and a YouTube video discussing our first fruiting season (<23 months) and final report documenting results from two fruiting seasons. (>23 months)
This project will enable us as well as other berry producers to build an economically sustainable and efficient production model. (>23 months)
Research
Materials and methods:
In late April or as soon as conditions will allow, Ray and I will prepare a planting site on our farm and amend the soil as needed based on a soil test.  Nine varieties of strawberry crowns will be planted in the plot shortly after soil preparation in the pattern described in the attached plot map.  Varieties include, 'Flavorfest', 'Archer', 'Keepsake', 'Yambu', 'Dickens', 'Mayflower', 'AC Wendy' with two check varieties named 'Jewel' and "Clancy'.    New Variety Strawberry Trial Plot Map
Once planted, strawberry crowns will be mechanically weeded with a spinning carousel weeder, row crop cultivator, and hand hoe.  Water will be provided via a traveling sprinkler to ensure proper moisture.  In the fall of 2021, straw will be applied for winter protection to the crowns in late November.  In spring of 2022 we will remove the straw when crowns break dormancy.  In May we will rate the strawberry crowns for overwintering ability.  As strawberries are picked, they will be kept separate by plot and evaluated by weight, firmness, and taste.  Preliminary plot information will be presented in a field day in June 2022 raising awareness for the variety trial publication to be released in late October 2022.  Strawberries will also be available at the field day for scoring if attendees would like to participate in rating the berries on taste and appeal.  Ray and I plan to perform the majority of tasks involved with the exception of activities needing lots of help in one day.  This would include days like planting, picking, fall mulching and help with set up for the berry field day.  Yield data will be statistically analyzed to detect actual differences in yield information in the final publication.
Research results and discussion:
Data for our berries will not be available until July 2022 at the earliest.
Participation Summary
1
Farmers participating in research
Educational & Outreach Activities
1
Curricula, factsheets or educational tools
1
Other educational activities: Ray gave a status update in the Iowa SARE meeting in the fall of 2022 with Christa Hartsook over zoom.
Participation Summary:
1
Ag professionals participated
Education/outreach description:
The first year of our project focused on production and was spent setting up the variety trial and maintaining. The bulk of outreach and education will take place in 2022 via a field day at our farm and the release of a YouTube video discussing our project results to date. 
 2023 Update:
We have composed a factsheet titled New Strawberry Cultivar Trial for Iowa displaying the findings of our research trial and plan to offer it through the Dubuque County Iowa Extension Office, and share it at the Iowa Specialty producers Conference in Ankeny in February 2023.  North Central SARE is also welcome to host it on their website as a resource.
The cultivar trial of strawberries on our farm counted as the demonstration.
We have toured our research trial to 4 other farmers in the area considering specialty crops that heard about our trial by word of mouth.
We hosted a field day at our farm that had 45 people.  Attendees consisted of local farmers, local Master Gardeners, and friends of the farmers with the grant that have supported them along their journey of trying a new crop.  News was shared by the local farmer and Master Gardener contacts he had at the Dubuque County Extension Office.  Word of mouth was also used to invite supporting friends of the farmers.
Not counted above is a presentation Ray and Jen will be giving at the Iowa Specialty producers conference in Ankeny in February of 2023.  We are not sure who will be in attendance, but this event is the largest concentration of folks who would benefit from the information that our research results will help.  This presentation at the conference will be recorded and put on Youtube.  This will count at the video output or product that we committed to making.  Ray has spoken with Joan Benjamin and she said this would count even though the video presentation will be generated after January 31, 2023.
Learning Outcomes
4
Farmers reported changes in knowledge, attitudes, skills and/or awareness as a result of their participation
Lessons Learned:
My husband, Ray, and myself have learned a great deal after our first year planting, weeding and maintaining our strawberry transplants. Our greatest challenges were brought on by the early season droughty conditions and cramped row spacing that made hand weeding necessary. The first challenge started shortly after planting on May 24th. With no rain and higher than normal spring temperatures we soon realized that irrigation would be needed to get the transplants off to a good start. We started by irrigating twice a week and then increased our rate due to the progressively dry conditions. Despite our efforts we noticed within two weeks that we had some crop failure in the southern half of our plot. We quickly reached out to our suppliers and were able to replace all necessary crown with the exception of one cultivar. Upon replanting, we started immediately irrigating every day and noticed that our efforts were much improved. However, regular moisture proved to incur its own challenges. The weed seedlings started coming in and the regular moisture made it challenging to drive our JD 6120 and our Willsie HydroWeeder through the rows without experiencing compaction. We also experienced lack of weed control from soil that had crusted and proved difficult to break apart. Ultimately we found hand weeding to be the most effective but it increased our management time substantially.
2023 Update:
To sum up our lessons learned, the Jewel and Clancy strawberry that were the initial control cultivars of this study, performed very well in yield.   With Jewel being a commercial production industry standard, and Clancy performing well in local garden production, these two cultivars are still front runners for planting consideration in Iowa.  Even though their yields were not always statistically higher from all other cultivars.  Archer had poor yields and poor berry quality making it not a good candidate for commercial production consideration in Iowa.  Even though Archer's yield was not always significantly less from all other cultivars.  The expanded details of our learning outcomes can be seen in our publication we generated about our cultivar trial.  We did add more photos in the media files of our field day.  These photos do not have releases for the faces present in them so they cannot be used publicly.  However our SARE Cultivar trial bulletin is meant to be shared with everyone.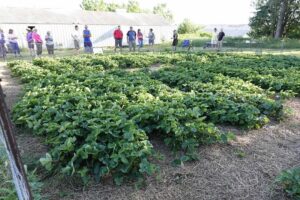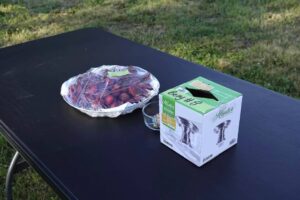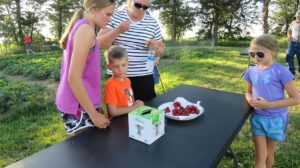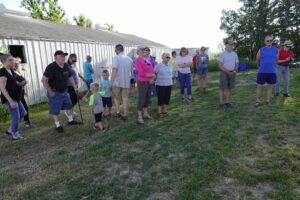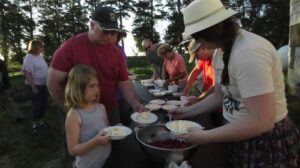 Project Outcomes
4
New working collaborations
Success stories:
We would like to share a comment from a resident in a nearby rural town in Northeast Iowa.  They said "It is great to see young folks in the area trying something new in our community.  We need and look forward to seeing a local strawberry farm in the future."
Recommendations:
Ray and Jen would like to thank SARE for choosing their project as a grant recipient.  We have learned a tremendous amount about how new cultivars of strawberries perform in our climate.  We hope the information that we have generated can help some other small beginning farmer who may be looking at a strawberry enterprise.  Or maybe lay the framework for another farmer to copy for evaluation of another crop.  
Information Products