Progress report for FNC21-1295
Project Type:
Farmer/Rancher
Funds awarded in 2021:
$26,993.00
Projected End Date:
01/31/2023
Grant Recipient:
Zuleyja Prieto
Project Information
Description of operation:
I have been growing native corn in my backyard plot (40 x 25 ft) for three years, using organic and sustainable practices like companion planting (three sisters and others), composting and crop rotation. Three other farmers that participate in this project also grew heritage corn since about five years ago in their farms, using agro-ecologic practices as well. Jon Zirkle operates a six acre educational farm with a 20 x 100 ft plot devoted to native corn and other areas devoted to CSA agriculture and land restoration. John Sherck operates a 2 acre farm/homestead with a 20 x 60 ft plot for heritage corn and other plots for diverse produce. Steven Shantz has a homestead/farm with two 20 x 25 ft plots devoted to native corn. With this group of farmers we created an informal Heritage Corn Project. From working together and talking through our experiences and concerns, came the ideas for researching heritage corn at the backyard level, through a SARE grant project.
Summary:
Many folks want to grow small-scale heritage corn at home, though knowledge of how to do so successfully is lacking, as is cultural awareness about corn diversity.  With much of northern Indiana in close proximity to commercial cornfields with GMO traits, growing small-scale GMO-free heritage corn for human consumption and seed saving is challenging.  Since commercial corn pollen travels far, is backyard heritage corn GMO contaminated? Should we test?  In 2021 and 2022, five+ farmers will grow plots of heritage corn (varieties seed saved from 2019, 2020) for processing, eating, seed saving, and sharing, with attempts to reduce GMO contamination by planting date and with hand pollination techniques to improve purity.  Corn from three farms will undergo GMO testing in 2021 and 2022.  Throughout the 2021 and 2022 season, growers will teach steps of raising backyard heritage corn at seven trainings.  Larger events and tastings will take place Fall of 2021 and 2022. Growers will visit other heritage corn growers and businesses.  Digital resources will document learning and be shared publicly to enhance community learning.  Corn seed will be shared with new seed stewards, and a  community network of heritage corn stewards and enthusiasts supported.  
Project Objectives:
Grow backyard heritage corn in Northern Indiana with sustainable practices, collecting data from experiments with planting dates and hand pollination to avoid GMO contamination from commercial corn.
Identify the resources needed for raising heritage corn at the backyard scale, for the sustenance of households, seed saving and sharing.
Educate our community of the biological, cultural, agronomic, economic, and health implications of heritage corn production at the homestead level through family-to-family, farmer-to-farmer, and farmer-to-community educational trainings and events, social media and video documentaries.
Cooperators
Research
Materials and methods: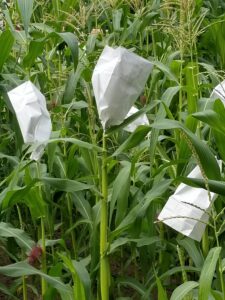 Methodology
In 2021, test plots at three farms were identified for research data collection.  At two farms (Prieto in Goshen, IN and Bushelcraft Farm in Elkhart, IN), a selection of ears were hand pollinated and bagged to generate ears that were known to have pollen only from the corn plants in the patch.  This was done using methods from Suzanne Ashworth's book, Seed to Seed (1991).  At Bushelcraft Farm, about 47 ears were hand pollinated on Aug 21 and about 57 were hand pollinated on Sept 19.  The patch of Walpole Island White Flour corn emerged and grew quite unevenly, and it was not possible to generate 100 ears at the same time.  At harvest, ears that were open pollinated were separated from hand pollinated ears.  Ears were dried slowly in an enclosed space to minimal moisture levels.  Not all hand pollinated ears actually formed, but the seed of the ears that did form was mixed together and between 600-700 seeds were extracted for a sample to be submitted for GMO contamination testing, and 600+ seeds of open pollinated seed after randomly selecting ears that looked otherwise good for seed saving and for eating the grain.   At Zuleyja Prieto's corn patch, 50 ears of Avati Moroti were selected, hand pollinated, and bagged on  July 21 and July 22.  600+seeds of hand pollinated seed and 600+ seeds of open pollinated seed were selected, then bagged and labeled separately for lab testing.  Farmer Steve Shantz (Goshen, IN) was not able to hand pollinate his 'Darwin John' corn, but collected at least 600+seeds from open pollinated ears.  These five samples were submitted for GMO testing to Food Chain ID Testing Services (Chantilly, VA) in December 2021. 
Proposed Methods
Test plots of heritage corn will consist of ten rows that are 25' long with 30" between rows (20' x 25').  Corn is planted every six inches within the row.  In some cases, farmers may plant multiple plots of this exact size but at staggered planting dates.  Each of the four sites will be planted to heritage varieties selected by the group in spring 2021.  Planting dates selected will allow corn varieties to reach maturity but not cross with pollination window of commercial corn.  We suspect planting many varieties in mid to late June will help corn avoid pollinating when most commercial corn is pollinating (typically in July) but be early enough to still mature before frost.  Before tasseling, half of each plot (5 contiguous rows) will be divided at three farms.  One half will be hand pollinated and tassel + shoot bags used on baby ears, the other half left alone.  
At harvest, randomizing tools will help us select five 10' stretches of corn from each farm's corn plot.  (At farms listed above, this process will happen on both the hand-pollinated half and control half of plot).  Group husking will allow the team to assess visual quality of harvest ears, guiding seed saving.  To take grain samples, all ears from the five 10' rows per plot will be laid out and ears randomly selected for counting and averaging number of kernels, counting and measuring mature ear length.  3000 dried seeds will be collected from a mix of 20 random ears, then sent to ICIA for GMO testing in fall of 2021 and 2022.  Seed will be properly dried and stored in a community freezer after labeling. 
The teaching methods used for educational purposes will include hand-on trainings, presentations at larger events, and social media posts with ongoing discussion. 
Research results and discussion: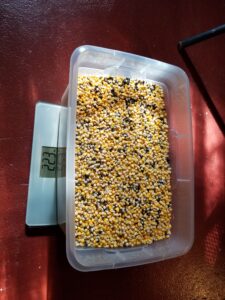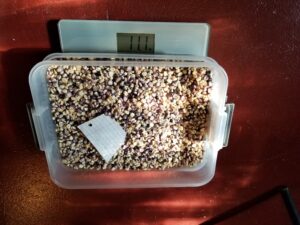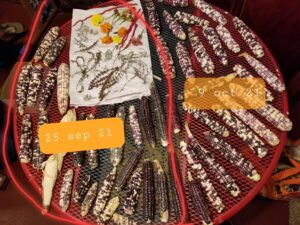 In January 2022, qualitative lab results from Food Chain ID Testing Services showed that all corn seed submitted showed no GMO contamination above the 0.5% threshold.  This is well below the Non GMO Project's threshold of 0.9%. 
Bushelcraft Farm also submitted a separate sample of 600+ dried seeds from open-pollinated Walpole Island White Flour Corn to Food Chain ID Testing Services for mycotoxin testing.  Of the 14 mycotoxins tested for, none were detected at the level of detection (LOD).
Participation Summary
3
Farmers participating in research
Educational & Outreach Activities
2
Curricula, factsheets or educational tools
1
Other educational activities: Educational table with display at Goshen First Fridays' "Harvest Fest"
Participation Summary:
2
Ag professionals participated
Education/outreach description: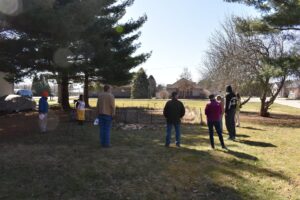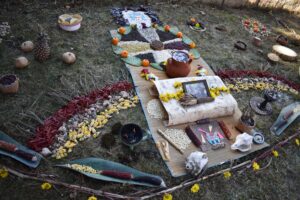 1. Three Trainings via Zoom: What Heritage Corn Needs to Thrive (six live participants); Preparing the Land (four live participants); Soil testing and Amending the Soil (six live participants).  All trainings were recorded and viewed by aproximately 200 people on social media.
2.  Four field sessions/workshops: Seed blessing ceremony (12 participants); Preparing the Land (4 participants); Seed Planting Ceremony and Planting at one Farm (16 participants); Hand Pollinating Technique (4 participants); Harvesting and Group Husking (16 participants). 
3.  On farm demonstration and tour was attended by 15 people
4.  Large educational event was attended by +300 people, around 60 people stopped at the booth and 20 participated in cultural/educational activities provided by us (corn husk doll making while listening to Native American tales; estimating amount of seeds in a jar for a prize)
We manage the Facebook page: Rooting Through Corn, Planting Families , where we try to communicate, in a bilingual format, what we have learned, as well as share relevant information with our followers.  Refer to this page for pictures, posts and updates on the project.
We got media coverage from El Puente News (www.webelpuente.com) as well as a brief highlight of the project in the magazine Edible Michiana. 
2021 YouTube presentation re: Michiana Regional Seed Swap: Heritage Corn: From Seed to Farm To Nixtamal
We are scheduled to participate as speakers at the Michiana Regional Seed Swap on February 16, 2022, and have been invited to the Zero Waste Challenge Webinar series offered by the City of Goshen on February 24, 2022.  We will share some of the project's background as well as some results.
Learning Outcomes
15
Farmers reported changes in knowledge, attitudes, skills and/or awareness as a result of their participation
Lessons Learned:
I learned to plan for and better visualize my planting strategies.  I also learned a lot through coordinating trainings/events, communications and fellow grant participants.  This affected my farm operation in a positive manner, as I was prepared for all the phases even before putting any seeds in the ground.  As a result of this we got a better yield, anticipated pests, and incorporated timely cover cropping, among others.  Facing challenges like time-consuming hand pollination and terrible windstorms that threatened the farm were learning experiences to better plan for next season.  
One of the best advantages of a project such as ours is the collective learning experience.  As a collective we were able to learn from senior farmers as well as newcomers.   We were able to maintain our seeds GMO free, which is an advantage to our seed bank, families, and community.  One of the disadvantages of implementing a project with corn, is that corn requires larger amounts of land in order to avoid inbreeding, and that is not available to some of the community members who participated in this project. 
I would advise other farmers who want to cultivate non-GMO heritage corn in Northern Indiana to first research the distance between their plots and surrounding commercial plots, get an approximate planting/tassel/harvest date for this commercial (and most likely GMO) corn.  Secondly, I would recommend corn growers to know the corn variety they wish to plant.  Know what a "true-to-type" specimen of that variety looks like, as well as days to tassel and days to maturity.  Third, I would suggest that farmers take into consideration natural/aquired barriers that may impede pollen from commercial plots to reach their farm or backyard plot, such as tree lines, bushes, fences, housing, larger buildings, etc.
With all this in mind, plan on late planting, as to avoid tassel (pollination) times to combine with commercial corn.  Finally, at the end of the season, I would recommend at least qualitative PCR testing for GMO contaminants in a randomized selection of seeds, to confirm that the variety is indeed free of GMOs. 
Since in our findings we did not encounter a difference in GMO contamination between hand pollinated and open pollinated samples, I do not recommend hand pollination as an option to keep native corn free of GMOs, as it is time consuming, more materials are required/more waste produced; and it is not a viable option for large plots. We learned hand pollinating techniques for corn with this project, and I appreciate that learning process very much.
Project Outcomes
3
Farmers changed or adopted a practice
10
New working collaborations
Success stories:
(First time  backyard corn grower in Elkhart, Indiana) "I learned more in this training session with you guys, than years and years of reading and trials."
The first year I grew Bofo corn, a native variety from Mexico, in my backyard I got 8 ears from a 20 x 20 foot plot.  The second year I got 16 ears and cornworm damage was extense.  On this third year, by amending my soil, early planting (as this is a very late maturing variety), applying biological pesticides, and increasing my plot size (20 x 25), I got 11 pounds of seed for eating and plenty of seeds for saving and sharing.
"Knowing that the native seed we began with and the seed we produced is free of GMOs is wonderful.  All this hard work has its rewards!" - experienced  farmer in Bristol, Indiana
"I come to these workshops to learn from everybody, then I go back to my plot and use it." - Backyard heritage corn grower in Fort Wayne, Indiana
Recommendations:
I appreciate the constant support we have received from SARE in this learning process.