Progress report for FNC21-1305
Project Type:
Farmer/Rancher
Funds awarded in 2021:
$8,840.00
Projected End Date:
01/31/2023
Grant Recipient:
Stone Creek Farm
Project Information
Description of operation:
This project is conducted in a high tunnel 54 X 34 ft situated on our family stone fruit farm with four acres in tree production. We have used organic practices since 2014 when we started the orchard. Stone fruits grown on our farm include 20 varieties of plums, 35 varieties of apricots, and 19 variety of peaches.
Summary:
Through preliminary experiments on our farm, we have begun developing a promising system that successfully grows organic high tunnel peaches in Minnesota (Zone 3). This system uses light-proof silage tarp and thermostatically controlled heat tape to protect trees from dry winter air and extreme temperature fluctuations that have caused high tunnel peaches to fail in other studies. In 2019-2020, the trees in this system produced up to 90 lb/tree, and the tunnel maintained consistent survivable temperatures despite outdoor temperatures down to -35F.
Objectives: Test this system on a larger scale to grow organic high tunnel peaches successfully in Minnesota (Zone 3), learn which varieties perform best, and demonstrate methods to other farmers so that they can adopt it. We will also test the systems' ability to protect against fruit cracking, insects, birds, disease, winter cold, and optimize temperatures in summer.
We predict that through the use of organic methods and minimal energy inputs, the trees will produce 70 lbs/tree within 27 months. At $3.75/lb, this system could achieve $6300.00/year after Year 2 for a 1768 square foot tunnel containing 24 trees, or $50,400/year per acre.
Progress report as of 1.5.22
Starting in May the high tunnel was erected with soil test prior to planting trees. Upon receiving the report, it was discovered a need for boron and manganese. Soil was then amended with one ton of horse manure and wood mulch to create ideal conditions for tree growth.
Due to the  fruit tree shortage in 2021 and the unavailability of the cultivars originally desired, the following 14 peach cultivars were grafted: China Pearl, Coralstar, Early Muir, Ratiran Rose, Gold Dust, Star Fire, Polly, Black Boy, Baby Crawford, Redhaven, Lola (nectarine), White Lady, Early Red Haven, Veteran and Suncrest. These varietals were put on 4 different root stock: St. Julian A, Red Prairie Plum, Krymsk 1 and American Plum.
After the trees were grafted, they were planted directly in the high tunnel. A moat was created around each tree approximately 3 feet in diameter to hold a root drench comprised of nitrogen, potassium, boron and manganese. Approximately 1 gallon was applied to each new tree planted.
After installing drip irrigation system under each row of trees, white/black plastic (white side up) was installed to reflect more light upward while providing weed suppression on the entire floor of the high tunnel.
Exclusion netting was installed on the side walls and entrance doors to prevent birds and insects from entering.
Between planting the trees in may and terminal bud, the average growth of all 27 trees was 44 inches tall, with average width being 34 inches wide from leaf to leaf. (Greatest growth being 66 inches in height, and least was 24 inches)
Project Objectives:
Test and quantify the effectiveness of a promising system for growing organic high tunnel peaches successfully in Minnesota (Zone 3). Measure growth and winter survival of young peach trees in Years 1 and 2. In fruiting years, measure yield, fruit quality, disease and pest prevention.
Learn which peach varieties perform best in the high tunnel system
Demonstrate the system to other farmers via UMN Extension, social media, conferences, a field day, and by appointment.
Research
Materials and methods: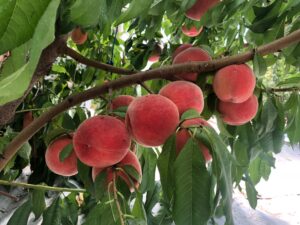 We will use a 34 x 52' high tunnel oriented north to south. Prior to planting, the soil will be tilled and amended according to soil tests. 24 peach trees of six different cultivars will be planted, varying in precocity, yield, and harvest timing, at 8 foot row spacing and 7 foot tree spacing. Insect exclusion netting will be installed on tunnel openings. Irrigation tape will be installed. White reflective plastic will serve as weed fabric on the tunnel floor.
Wire trellis will be installed to train the trees in "Y" fashion, which preliminary data has shown to be space-efficient and successful in this system. A weather station sensor will be placed in the tunnel to document temperatures.
The trees will be managed according to organic recommendations from UMN Extension, fertilizer consultants, and experienced growers, including foliar nutrient spray, soil applied nutrients, and organic pest control as needed.
Each November, a black/white reinforced tarp will be installed on top and sides (South, east, west) of the tunnel to test and demonstrate how the lack of winter light protects the trees from winter temperature fluctuations. 240 feet of heat tape will be installed 12 inches above the ground in each row of trees, connected to a thermostat, to regulate the heat tape to turn on <8° and turn off at >12° to maintain adequate temperatures for tree survival while minimizing electricity use.
For each variety, tree growth (height and circumference) will be measured each fall and spring. Yield and marketable yield will be measured in the fruiting year(s).
Presentations will be prepared for the upper Minnesota Fruit and Vegetable Growers Conference, MOSES, and North American Fruit Explorers conferences. Radio and television interviews will be made available. A field day will occur, and visits will be welcome by appointment.
Participation Summary
1
Farmers participating in research