Progress report for FNC21-1315
Project Type:
Farmer/Rancher
Funds awarded in 2021:
$7,609.00
Projected End Date:
01/31/2023
Grant Recipient:
Zumwalt Acres
Project Information
Description of operation:
We are operating on about 20 acres of land. The land is family owned (by the Zumwalt Family), but is primarily farmed by the Zumwalt Acres Farm Apprentices who live, learn, and work on the farm during the fall, spring, and summer seasons. Zumwalt Acres was founded in August of 2020 by Gavi and Remi Zumwalt Welbel who are 6th generation farmers on the land. Prior to August 2020, the land was being conventionally farmed in corn and soy. In our first season, we grew 80 different vegetable crops including carrots, radishes, tomatoes, cucumbers, kale, cabbage, bok choy, potatoes, peppers, broccoli, okra, sweet corn, eggplant, green beans, and squash. Our fruit crops included watermelon, cantaloupe, strawberries, and blackberries. A large portion of produce was donated to local food pantries (serving 30-50 food insecure individuals each week) and consumed by our team of young farm apprentices. We also sold our horticultural crops through a regenerative farmer cooperative in Illinois called Down at the Farm. We planted a diverse agroforestry system of over 1,000 trees and shrubs, including paw paws, chestnuts, hazelnuts, pecans, peaches, honeyberries, apples, pears, apricots, nectarines, persimmons, elderberries, black currants, aronia berries, and serviceberries. Additionally, we grew 12 acres of alfalfa, timothy, and oats as a transition crop. Hay and straw was utilized for mulching our trees and crops, and sold to local farmers. Oats were sold to another farmer as cover crop seed. Prior to receiving this grant, we had just begun our regenerative farming initiative but we were already in the process of initiating numerous regenerative techniques such as low/no till farming, utilizing cover crops, incorporating soil amendments such as biochar and basalt, cultivating an agroforestry system (including two shelterbelts), and prioritizing native and perennial species in our agroforestry and horticultural crops .
Summary:
The existing Midwestern agricultural model of monoculture corn and soybean row crops is failing our environment: it degrades fertile soils, contaminates water, and emits greenhouse gases. Alternative, regenerative models of agriculture, such as agroforestry paired with biochar production, capture carbon while rebuilding soils, suppressing pests and diseases, increasing biodiversity, and creating wildlife habitats. These techniques have been modeled from techno-economic, ecological, and social perspectives, but we plan to corroborate these models through field-based studies. Funding is necessary to finance initial tree planting and continuous maintenance of the agroforest. A kiln with the capacity to regenerate the soil of our 12-acre agroforest is also necessary. Furthermore, using a new retort kiln as well as our current Open Flame Curtain kiln will allow us to expand the body of literature on biochar production. By combining biochar production with agroforestry, we can create a closed system in which waste products from the agroforest (i.e. tree prunings, nutshells) are used as feedstock to produce biochar, which is then reincorporated into the soil. Currently, knowledge of biochar production conditions and uses is limited, especially in conjunction with agroforestry.
Project Objectives:
For our windbreak, we will plant 330 chestnut trees in two rows of a quarter mile and 264 elderberry shrubs in one row. In preparation for forest farming, we will plant 18 each of hazelnut, persimmon, cider apple, and Asian pear trees. Trees will be planted with and without biochar as a soil amendment.

Quantitatively determine difference in survival rate and growth in trees planted with and without biochar.

Compare quality of biochar produced from wood waste in a retort kiln and in a "Kon-tiki" open flame-curtain kiln.

Share findings through media (website and social media), research presentations, and educational outreach.
Cooperators
Research
Materials and methods:
Current research indicates that biochar increases tree health and captures carbon, therefore, our research focuses on the integration of biochar in agroforestry establishment. Additionally, agroforestry waste products (i.e., tree prunings and nutshells) are well-suited as biochar feedstock. 
We will conduct field trials in our windbreak and orchard by planting equal numbers of trees in control plots of untreated soil and experimental plots with biochar application. We received consultation on tree species for the windbreak and orchard from the Natural Resource Conservation Service (NRCS) and the Savanna Institute, respectively. 
One quarter mile of trees in the windbreak will serve as our test plot. This windbreak will be planted through CP5A - Field Windbreak with support from Thad Eshleman, our local NRCS representative. By beginning with a windbreak under Conservation Reserve Program (CRP) contract and transitioning into alley cropping, we can demonstrate how conventional farmers can use CRP funding to increase tree planting and regenerative practices while maintaining profits from commodity crops in the majority of the field. 
In addition to the windbreak, we will plant a variety of trees in a 100' x 175' orchard to assess success rates with different species, before integrating into forest farming. Tree species will include cider apples, persimmon, Asian pears, and hazelnuts. In both the windbreak and the orchard, changes in soil health, tree health, and tree growth will be monitored.
Biochar used in experimental tree planting will be produced from hardwood in a retort kiln and inoculated by mixing with composted manure and soil, covered with water, and aerated for 5-7 days. As a result of lack of forest management and Emerald ash borer, there are dead trees on-site that can be used as feedstock until we have established an agroforest.
Participation Summary
3
Farmers participating in research
Educational & Outreach Activities
8
Curricula, factsheets or educational tools
7
Published press articles, newsletters
5
Webinars / talks / presentations
Participation Summary:
3
Ag professionals participated
Education/outreach description:
We have consulted with approximately 8-10 farmers and ranchers about incorporating biochar and basalt into their farming operation. We have succeeded in implementing basalt field trials on 5 farmers' plots of land. 
We have created numerous fact sheets and presentations on the regenerative practices we implement, including: the soil health and carbon capture benefits of biochar and basalt, integrated agroforestry systems, regeneratively grown and chemical free horticulture, low/no till soil practices, and cover cropping.
We have had approximately 6 biochar demonstrations in which we have taught farm apprentices, regional farmers, and community members how to produce biochar.
We have published numerous articles on our regenerative farming practices, carbon capture research, apprenticeship program, and intentional queer Jewish community.   
We have hosted a minimum of 10 farm tours for regional farmers interested in incorporating regenerative, individuals and organizations from Chicago interested in regenerative farming and carbon capture research in agricultural settings, and local community members.
We have presented at numerous conferences and events, including the Savanna Institute's Perennial Farm Gathering and North American Agroforestry Conference.
Farmers, ranchers, and agricultural professionals have included regional regenerative farmers, regional (especially neighboring) conventional farmers, agricultural researchers at the University of Illinois, and members of the Savanna Institute team. 
Learning Outcomes
30
Farmers reported changes in knowledge, attitudes, skills and/or awareness as a result of their participation
Lessons Learned:
It is still too earlier to identify clear trends in tree success comparing trees planted with or without biochar, but we are excited to continue monitoring tree growth and tree health. One disadvantage of our study is the scale. It is difficult to determine statistical significance with such a small sample size. Scale of our study, however, allowed for ease of implementation and low-risk investment. On a qualitative level, trees planted with biochar are showing success overall.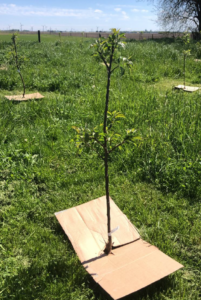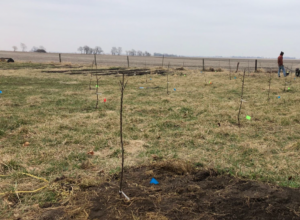 Project Outcomes
3
Farmers changed or adopted a practice
1
Grant received that built upon this project
1
New working collaboration