Progress report for FNC21-1316
Project Type:
Farmer/Rancher
Funds awarded in 2021:
$17,884.00
Projected End Date:
01/31/2023
Grant Recipient:
United South and Eastern Tribes
Project Information
Description of operation:
We're an informal cooperative managing 19 acres cultivating Tuscarora White Corn grown with a combination of conventional tillage, ridged tillage, cover crop rotation, intercropping, and no-till practices. We've been in operation for 6 years. We operate as an uncertified organic farm.
Summary:
Two Tribal farms in Northeast Wisconsin - Ohe.láku on the Oneida Reservation and Menīkānaehkem on the Menominee Reservation - grow Indigenous (heirloom) corn with volunteer labor to provide traditional foods to their Tribal Nations. They have identified their production challenges as weed pressure, costs of organic fertilizer, unavailability of labor, and inherited poor soil health. 
The silver bullet solution may lie in cover cropping and reduced tillage. While not innovative in and of itself, these practices haven't been studied with Indigenous corn. This project bridges two worlds of understanding to fill that gap - Indigenous grassroots farming and extension research. Ohe.láku and Menīkānaehkem are partnering with the UW-Madison and Outagamie County Land Conservation to understand the optimal applications of these practices for two Indigenous corn varieties. We estimate that results will demonstrate weed suppression and improved soil fertility and microbial diversity. These results will reduce fertilizer inputs and suppress weeds, saving money and labor time of Tribal members, allowing for Ohe.láku and Menīkānaehkem to focus on other aspects of their food sovereignty work. 
Through outreach, we are hoping to build upon the traditional knowledge of Indigenous peoples and create a connection from healthy soils to healthy food to healthy people.
Project Objectives:
Evaluate the usefulness of 3 cover crops (chicory, plantain and dutch white clover) interseeded with Tuscarora White Corn and Bear Island Flint Corn through field testing
Prepare and evaluate usefulness of roller crimping of Aroostook Rye with these two corn varieties
Share findings through field days, social media, a conference presentation, and scientific publications
Cooperators
Research
Materials and methods:
There will be two field sites at Menīkānaehkem on the Menominee Reservation and at Ohe.láku on the Oneida Reservation. At each site we will have 2 years of field experiments, 2021 with interseeding cover crops on a 1.3 section of the field, then in 2022 with a duplicate interseeding and roller crimping experiment on another 1.3 acre section (prepared in 2021).
In 2021, we will interseed cover crops with Tuscarora White Corn for Ohe.láku and Bear Island Flint Corn for Menīkānaehkem. In early June, corn and cover crops will be sown together, with corn planted on 36" rows at typical populations (Figure 1A). Cover crops interseeded will include treatments of chicory, plantain, and dutch white clover in factorial combination (Table).  Two control treatments will also be included (hand-weeded control and non-weeded control). Along with this, we will have .5 acre sections mechanically cultivated for comparison of labor hours.
In August 2021, we will establish plots for the roller-crimping experiment - 1.3 acres at Ohe.láku and 1.3 acres at Menīkānaehkem - by preparing the soil to integrate crop residue and eliminate weeds. 'Aroostook' cereal rye (3 bu/ac) will be planted in the beginning of September 2021. In the first week of June 2022, we will plant corn directly into the roller-crimped rye. This will be in par with a duplicate interseeding experiment.
Standard yield measurements will be made in tandem with another method which separates out the desirable cobs. The farms use this process to save seed, and it provides insights into the proportion of seed grade corn to "soup" grade corn, or that which is eaten. The ideal ratio would skew towards seed corn, thus the implementation of these reduced tillage practices may affect this ratio based on plant development and health.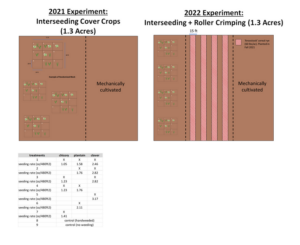 Participation Summary
3
Farmers participating in research
Educational & Outreach Activities
1
Curricula, factsheets or educational tools
3
Webinars / talks / presentations
Participation Summary:
84
Ag professionals participated
Education/outreach description:
Lea Zeise presented to the Green Bay Conservation Partners Roundtable in April 2021. 82 agricultural and conservation professionals attended this roundtable to learn about conservation projects in the Green Bay area. Lea shared a five minute presentation on the cover cropping and no-till practices implemented at Ohelaku Cooperative. (event brochure: http://www.gbconservationpartners.org/wp-content/uploads/2021/05/2021-GBCP-Agenda.pdf)
Lea Zeise presented during a panel at the Indigenous Sustainable Community Design Course held July 2021 to share the story of Ohelaku's cooperative development and regenerative agriculture practices, including cover cropping and intercropping. Indigenous farmers and community activists were in attendance.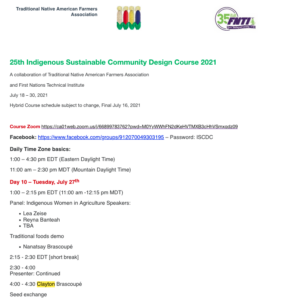 Lea Zeise and Laura Manthe also presented at the Model Native Cooperative Ownership series put on by Minnesota Indigenous Business Association. They spoke on the cooperative's founding and the regenerative agriculture practices implemented at the farm.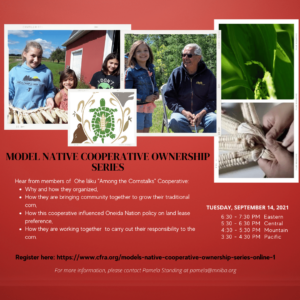 Learning Outcomes
7
Farmers reported changes in knowledge, attitudes, skills and/or awareness as a result of their participation
Lessons Learned:
This project included a co-op, non-profit, and university, all with different structures and perspectives. Coming together for both planning and implementation required clear communication of goals, which allowed us to run through this project for the first year and preparing us for the second year. We learned how to organize for a sustained project.
The project affected Ohelaku by solidifying several members in a sort of committee to approach this project. We all had an interest in soils and regenerative agriculture, and now we have a defined project to come together around. Menikanaekem also hired a local Menominee youth who learned a lot about this project and the farm operations.
This year taught us to double check recommendations made by agriculture professionals. There was a nutrient calculation error that resulted in a deficiency for corn at Ohelaku that stunted growth and reduced yield. We might have caught the error if we had looked more closely at the fertilizer order recommendations.
One advantage of implementing a project like ours is the potential for collaboration between tribal food producers and with sustainable agriculture research.  These groups have historically been marginalized within the realm of agriculture research and forming these relations should be prioritized for land-grant universities.
Another advantage are the scientific questions that are being answered in the project. Sustainable and organic agriculture systems are already under-researched, but Indigenous agriculture systems are rarely examined. This is unfortunate, due to the abundance of knowledge of ecology within that system. By examining how crop diversity above ground influences microbial diversity below ground, we are better understanding how crop productivity is influenced by microbes. Furthermore, the agronomic data relating to these varieties of corn will be useful for those planting and wanting to implement reduced-tillage practices.
One disadvantage I would say can be the scale of the project. As mentioned, there were multiple parties involved in this project. This is great for a diversity of ideas and perspectives, but this requires clear planning and implementation. Both sites were different, which is both good and bad, but requires understanding on what is feasible for that site and making adjustments.
A major point of interest with this project is the variety of corn grown. There is interest in heirloom corn varieties as a means to preserve and promote crop biodiversity. However, the research and agronomic knowledge of growing these crops on a larger scale with the use of machinery is limited and developing. I think this project is mainly experimenting with ways to grow these varieties on these larger scales in regenerative systems. The conventional monoculture row system works if yield is the priority, but historically these varieties grew in highly diverse systems with little tillage and work is needed to find contemporary analogs that can balance yield with soil health and cultural values.  
Project Outcomes
7
Farmers changed or adopted a practice
5
New working collaborations