Final report for FNC22-1317
Project Type:
Farmer/Rancher
Funds awarded in 2022:
$14,307.00
Projected End Date:
01/15/2024
Grant Recipient:
Little Mountain Ranch and Garden LLC.
Project Information
Description of operation:
We started our farm in 2017 and integrated livestock in 2018, working 16.5 acres total. Approximately 10 acres are owned pasture, 100 leased pasture acres, and 6.5 acres of forest. We are a husband and wife team along with our 2 young boys. Bill works on the farm full time and Rebecca teaches full time helping on the farm when she can. We are a diversified farm that has slowly focused more and more on livestock production as the primary focus of the farm. We produce forest raised pork, grassfed beef, grassfed lamb, pastured poultry, chicken eggs, log grown mushrooms, and a small market garden. Pork and beef are the backbone of our farm and have become the primary focus of our operation. Seasonally, we keep hogs and cattle on the farm year-round, as well as a laying flock of chickens and everything else is produced during the growing season. We are farrow to finish on the hogs and have been farrowing since 2019 and started winter farrowing of hogs in 2020. We incorporated grassfed beef on the farm in 2019 and began keeping cattle on the farm during the winter months in 2020. Our experience lies not only in the day to day management of livestock, but also in the utilization of sustainable practices. We implement management intensive grazing for all of our livestock. Hogs are managed in a forest environment on 1-2 week paddock rotations for most of the year until we need access to water during frigid temps. We source grain from off the farm and grind our own hog ration to supplement our hogs during the grazing season and then increase their feed intake during the winter months. Similarly, our beef herd is rotationally grazed during the growing season and then we migrate to bale grazing in the winter to increase fertility in areas of our pastures that need a boost. In terms of scale, we typically have 50 hogs on the farm at any given time, along with 12-15 head of cattle at peak times of the year.
Summary:
One the of the biggest challenges for any small-scale livestock farm with limited acreage is winter feed costs. Grain, mineral, and protein supplements for hogs continue to rise in price and similarly hay costs for cattle. Pork and beef are the backbone of our farm's income source and keeping stock on the farm year-round is critical to our economic success. Fodder production has the amazing ability of taking a 50lb bag of seed and turning it into ~150-200lbs of highly nutrient dense feed rich in vitamins, Omega 3s, amino acids, and protein. Rather than buying ~6400lbs of oats (200 bushels) and grinding it for feed, we could turn those oats into ~25,600lbs of feed. Not only is it a better use of resources, but also allows us to put a significant dent in how much feed and hay we are feeding in the winter months and at the same time supplement our livestock diets with a nutrient dense feed normally only found during the growing season. Compared to other SARE Grants focused on fodder, this would be the first project to test the economic viability of a fodder system to reduce overall winter feed costs for an outdoor swine operation.
Project Objectives:
Install a small to medium scale fodder system in a heated indoor building.
Test multiple grain types to find the best fit for our livestock species.
Measure day to day labor needs of maintaining a fodder system.
Evaluate the feed cost reductions supplementing our livestock diets during the winter months.
Share findings of fodder system through farm tours, group visits, social media, and a conference presentation.
Research
Materials and methods:
This project is still in it's early stages. The plan is to continue to experiment and optimize the fodder system over the winter months, collecting data and observations along the way. A few big data items including calculating weight difference between seed and sprouted final product. Calculating feed cost reductions as well as comparing harvest weights on hogs from our historical record. 
Research results and discussion:
As mentioned above, we are still in data collection mode and will conduct a big data analysis and compilation once we conclude feeding fodder at the end of the winter season. 
Participation Summary
1
Farmers participating in research
Educational & Outreach Activities
1
Webinars / talks / presentations
1
Other educational activities: Social Media Posts - shared preliminary summary and details of the fodder system on our Farm Social Media pages (Facebook and Instagram).
Participation Summary:
Education/outreach description:
Presentation Planned for 02/03/2023 at the Local Food and Healthy Farms Conference in Aurora, Nebraska. Conference is put on by the Nebraska Sustainable Agriculture Society, Nebraska Regional Food Systems Initiative, and the Nebraska Specialty Crops Conference. Presentation will cover an overview of the fodder system and construction as well as preliminary learnings and recommendations. After conclusion will report back on presentation attendees and response. 
Learning Outcomes
4
Farmers reported changes in knowledge, attitudes, skills and/or awareness as a result of their participation
Lessons Learned: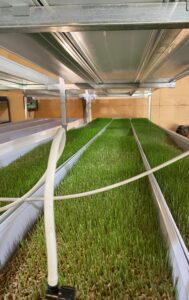 Fodder System Key Learnings:
Building and assembling the fodder system was a learning experience. A big thing we learned that at 2 people were needed to assemble. Plumbing was the most time consuming part of building the system. 
A big early learning was running the system on stand alone water with a pump isn't the most efficient. Tapping straight into a water line would be the most efficient. Careful consideration of output water is also recommended as the waste water could be used as a nutrient rich supplement to livestock water. 
It takes time to figure out how much grain each tray needs as well as how thick a seed layer in each tray should be. 
Grain Type Learnings:
Our seed trial thus far has included wheat, rye, and oats. Barley and Triticale has been ordered and should be shipped in January 2023. 
Wheat and rye have both proven strong seed types for a fodder system. Rye so far develops the thickest root mat and tallest green sprouts. 
Oats were quickly eliminated from our trial due to poor germination rates and high mold potential and would not be recommended as a suitable seed type for a fodder system. 
Thus far, palatability of wheat and rye fodder by livestock appears to be relatively similar. Beef cattle aggressively consume both types of fodder, while hogs appear to prefer wheat fodder slightly over rye fodder.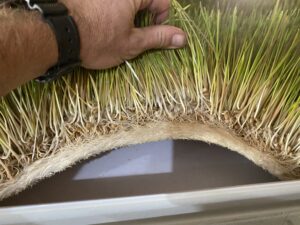 Project Outcomes
1
New working collaboration
Success stories:
The project is still in it's early stages and we plan to hold an on-farm workshop towards the end of the winter season to share our learnings thus far with the hope that some nearby fellow farmers consider adding this type of feed supplement on their farm. 
One collaboration that has opened up during this project is a fellow small grain farmer in our area mills their own grains, typically wheat, sometimes rye. We have been able to utilize the "heavy" wheat grains separated during cleaning that are not suitable for milling as a source of fodder grain. This is a cost reduction for us versus buying all our grain from a major supplier and paying freight shipping costs. The downside is it's not always readily available but hope to continue to utilize this seed sourcing in the future to bring down costs. 
Recommendations:
Currently it's too early to make strong recommendations for future study until we've concluded a full winter season of data collection and observations.