Progress report for FNC22-1318
Project Type:
Farmer/Rancher
Funds awarded in 2022:
$26,919.00
Projected End Date:
01/15/2024
Grant Recipient:
Salt of the North Dyes
Project Information
Description of operation:
Theresa Bentz owns and operates Get Bentz Farm, in Northfield, Minnesota. Theresa raises Icelandic sheep for wool and meat production locally. Get Bentz Farm sits on 40 acres of pastures and woods, and 5 acres of hay production. The land supports 40 breeding sheep and their spring/summer lambs. The Bentz farm recently invested in wool milling equipment and processes fibers from her farm and other local farms, adding value and opportunities for wool milling that is currently limited due to lack of mills. Beginning in 2021, Theresa partnered with Alejandra Sanchez to offer natural dye classes on the farm, and grew a small garden of dye plants on an open acre of land. Theresa is the president of the Cannon River Sustainable Farming Association chapter and sits on the board of A Greener Pastures, and is active with the Minnesota Farmers Union. Theresa is currently working on a research project with Regional Sustainable Development Partnerships to understand Minnesota's wool economy.
Maddy Bartsch has been cultivating natural dye plants for the past 6 years, growing up to 30 species of dye-producing plants at 3 different gardens throughout the metro. Her natural dye business, Salt of the North Dyes, received guidance from Augsburg University's MBA Project Management course resulting in a full business plan (report can be provided upon request). She is a co-founder and co-president of the Three Rivers Fibershed and recently finished a 3-year term as President of the Weavers Guild of Minnesota. Maddy's previous experience in farming and textile systems includes project management for the Minnesota Hemp Wool Project and the Three Rivers Fibershed Regional Fiber Sourcebook, as a research assistant for the National Mill Inventory Survey, as a Farm Educator at Gale Woods Farm and as one of Fibershed's 'Yarn Incubators'. Maddy is also the Social Media and Community Outreach Manager for the Cannon River chapter of the Sustainable Farming Association. Maddy teaches textile classes to learners of all ages throughout the Midwest, grows natural dye plants and products for sale, creates curriculum on dyes, and is deeply immersed in Minnesota's textile community.
Summary:
Reliance on petroleum-based synthetic dyes has led to devastating impacts on our air, water, and soil. Natural dyes have the capacity to create a beneficial impact on the environment while offering economic opportunities to increase profitability for farmers and meet the growing demand of conscious consumers. With few natural dye retailers in existence and the majority of natural dye production occurring outside the country, our project will develop methods of dye plant production for farmers in Zone 4. This will increase profitability for farmers who already grow species that can double as dye plants, while utilizing unused areas to incorporate pollinator and soil friendly plants that yield dye pigment. By identifying dye plants that are best suited for our climate, we can offer research-based guidance to farmers of the potential value-add that including dye plant crops as part of their rotation can have on their overall operation. Through measuring yields, comparing growing techniques, and studying available markets for dye plant products, we will be able to provide education for farmers and community members and increase access for eco-conscious consumers.
Project Objectives:
Identify dye plants that perform well in USDA Plant Hardiness Zone 4.

Identify preferred production methods to increase dye plant harvest, yield, and pigment saturation. 

Evaluate the added value of using dye plants to increase market opportunities for farmers. 

Documentation of the project via social media (Instagram) to spread awareness.

Share findings through field days, natural dye classes, conferences/events, and through relevant fiber and farming organizations in the area (SFA etc.).
Cooperators
Research
Materials and methods:
Dye seeds were purchased in March and grown in Open Hands Farm's greenhouse. The soil the greenhouse started plants in lacked proper nutrients (specifically Nitrogen) so plant growth was stunted and we had poor germination rates. In April we reseeded a number of varieties due to low germination and added nutrient amendments.
Plot preparation began in mid-May. Having previously been a grassy field, we enlisted the draft horses from Burning Daylight Draft Farm to do the bulk of the tilling and disking. 
Open Hands Farm and Little Hill Berry Farm used their tractors to finish preparing the land. The final dimensions of the tilled area were about 70' x 70'.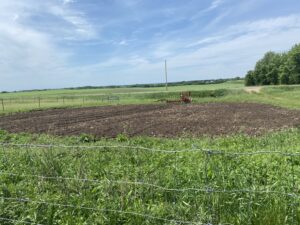 Began process of adding drip irrigation, weed suppression methods (mulch and landscape fabric), and cover crops (a mix of buckwheat, field peas, white Dutch clover, rye grass).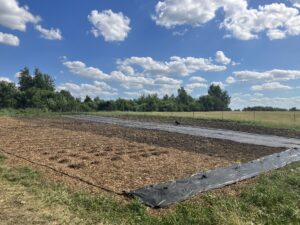 With the slow start to our seedlings, we got all dye seedlings planted in the ground by mid-June.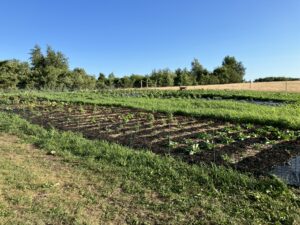 Dye species were grown on a 1/8 of an acre in four sections: mulch, cover crop, landscape fabric, and no weed suppression or soil cover. Within each section three types of irrigation were tested: sprinkler, drip, and no irrigation. Crops grown included: madder, coreopsis, weld, chamomile, gypsywort, murasaki, tango cosmos, French marigold, African marigold, black eyed susans, hollyhocks, calendula, hibiscus, Johnny Jump ups, and woad. This was the first year this area was cultivated, it had previously been a grassy field.
Species planted included:
Madder (red)
Coreopsis (burnt orange)
Weld (yellow)
Chamomile (yellow)
Gypsywort (black, grey brown)
Murasaki (purple)
Cosmos (orange)
French marigold (orange)
African marigold (orange)
Black eyed susans (green)
Hollyhocks (purple)
Calendula (orange)
Hibiscus (red)
Johnny Jump ups (imprints)
Woad (blue)
Harvesting of dye material began in mid-July. Detailed recordings were made to identify what irrigation and weed suppression methods were used, along with the total weight of dye stuff harvested in ounces, and the date of the harvest. We created an email address (midwestdyecoop@gmail.com) and newsletter list that grew to 48 individuals.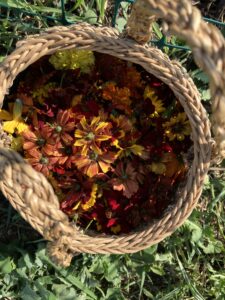 With the majority of dye plants in bloom by August, we hosted three u-pick events which attracted artists, designers, herbalists, crafters ranging in age from high school to retirement.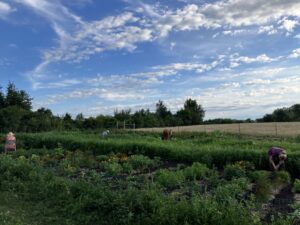 By August, we were harvesting so many flowers that we teamed up with Trinity Muller (a local dyer) to dry our dye stuff and conduct experiments with the flowers including skeins of yarn.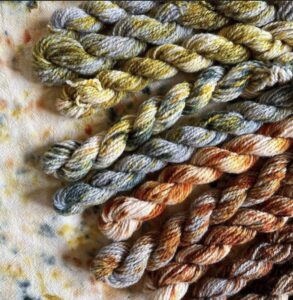 Harvesting and garden upkeep continued through the beginning of October, with work days twice a week to harvest, observe, and maintain the plot.
Research results and discussion:
Harvests were recorded throughout the summer with an average of 2 harvests per week.
| | | |
| --- | --- | --- |
| Species | Total weight in ounces | Total weight in pounds |
| Weld | 415.89 | 26 |
| Gypsywort | 9.6 | 0.6 |
| Zinger Hibiscus | 0.39 | 0.024 |
| Woad | 353.36 | 22.1 |
| African Marigolds | 98.16 | 6.13 |
| French Marigolds | 366.55 | 23 |
| Aztec Marigolds | 148.87 | 9.3 |
| Marigolds | 230.75 | 14.42 |
| Johnny Jump ups | 6.65 | 0.42 |
| Chamomile | 138.49 | 8.7 |
| Black Eyed Susans | 530.49 | 33.1 |
| Calendula | 248.83 | 15.5 |
| Coreopsis | 154.95 | 9.7 |
| Cosmos | 151.03 | 9.4 |
| Total | 2854.01 | 178.4 |
A number of dye plants require multiple years to produce color such as hollyhocks, madder, muraski, gypsywort, so yields are not reflected in the first year records.
By working with Trinity, we determined that fresh to dry harvest conversions averaged 25% of the fresh harvest weight. 
Participation Summary
2
Farmers participating in research
Educational & Outreach Activities
Learning Outcomes
10
Farmers reported changes in knowledge, attitudes, skills and/or awareness as a result of their participation
Lessons Learned:
Dye plants like Johnny Jump Ups were too difficult to harvest and dry. Zinger Hibiscus began blooming right before the first frost, which killed every plant. In order for this plant to be considered in our climate, they would need to be in a hoop house or covered.
The process for determining when woad is ready for harvest was more difficult than expected. We need more clarity about this in order to advise others.
The land was not leveled before laying out our drip irrigation, resulting in uneven water flow across the plot. This was notable during the first few weeks of summer when we had very dry conditions.
The mulch used for weed management could have been about 2" deeper to better suppress weeds.
Hawk moth caterpillars were found among Madder plants eating all the foliage, otherwise, the plants endured relatively low pressure from pests. Other pests seen included Japanese Beetles which would eat the leafy foliage of the hollyhocks.
Most common weeds causing pressure are Canada thistle, pigweed, quackgrass, quickweed, velvetleaf, dandelions, crabgrass, creeping charlie, lamb's quarter, smartweed. In addition to wood mulch and landscape fabric, waste wool was tested along one edge of the perimeter of the plot. We found the wool mulch to be quite effective in suppressing weeds, maintaining moisture, and breaking down slowly.
We are paying attention to the plants in the mulch section, which struggled compared to the other areas. This may have been due to the wood chips leaching nitrogen, as the most effected plants seem to be nitrogen sensitive.
The plot took a long time to get up and running but by the end of July/beginning of August my 2 times a week visits were not enough to stay ahead of the harvests. For 2023 we are planning to increase harvesting to 3 days a week with the intention to do a full harvest each time. In late summer there was little time for weeding by hand with a hoe and some areas became overgrown (mainly the test area with no weed suppression).
We want to find a better way to record harvests and will work on a handout for people who come to our U-pick with what to do with the dyes next.
We noticed a wide variety of native pollinators drawn in by the flowers, many new to the farm like dragonflies.
Project Outcomes
2
New working collaborations