Progress report for FNC22-1327
Project Type:
Farmer/Rancher
Funds awarded in 2022:
$15,000.00
Projected End Date:
01/15/2024
Grant Recipient:
So Below Apothecary LLC
Project Information
Description of operation:
This year, I had just under 2 acres of elder trees for elderflower production, and 0.33 acres for aromatic and medicinal botanicals, including many perennials native to Minnesota. My primary focus is on perennial plants, including anise hyssop, elderflower, echinacea, mint, and others, but also grow a handful of annuals as well.
I rent land from Sharing Our Roots, and they had established the elder trees prior to my renting the land. In the summer of 2021 I was hired by Sharing Our Roots to manage the production of botanicals, and at the end of the year they decided to shift focus away from production and toward land access. I expressed my interest in taking over botanical production under the name So Below Apothecary, and began renting the land in 2022 as my first solo season.
Before receiving this grant and while working for Sharing Our Roots, we utilized organic growing practices to grow botanicals, and they certified the land as organic. Sharing Our Roots still owns the land I rent, and they certified the land as organic again this year. I strictly use organic seed and follow organic practices, but chose not to certify my botanicals due to the expense. This is something I plan to navigate in the future, but I want to grow my business first.
Summary:
This project aims to increase efficiencies in value added botanical production in order to have a positive impact on production profitability, farmer quality of life, and increased business opportunities.
To increase efficiency, alternative row mulch will be laid for weed suppression, and a mechanical baby leaf harvester will replace hand harvesting.  To support increased yield and efficiency, a forced air dryer system will be improved upon with racks to increase usable surface area, and the dehumidifier inside will be replaced with an appropriately sized unit that can effectively draw moisture from the plant material.
In addition, there will be a focus on waste reduction.  Aromatic plant waste will be used to create natural fragrance materials called absolutes.  This has potential as an additional source of income when sold raw or in value-added goods, such as perfume and candles. 
Little information is available on farm raised value added botanical and medicinal production, so extensive data will be taken.  Creating products from the plant waste of native aromatics  will support pollinators and key species through crops grown, while creating an environmentally responsible product.
Project Objectives:
Test equipment for efficient harvesting and drying to maximize yield, and scale up

Increase supply of dried botanicals to meet the demands of retailers, beverage companies and artisans (e.g. Well Rooted Teas)

Determine yields and value of absolutes from excess plant material (e.g. stems from native aromatics), and identify species best suited for production to c

reate value-added goods from absolutes to test compatibility (e.g. solubility in beeswax)  

Long term: establish perennial colonies of native botanicals for food, beverage, value-added products, species diversity, and pollinator/ecological benefit

Share findings broadly with farmers in-person and through my website/social media page
Research
Materials and methods:
Methods 
Dryer Setup
I rented a forced-air dryer from Sharing Our Roots this year, and fitted it with a better dehumidifier and two types of drying racks.  I used three 48" NSF food safe epoxy wire shelving units with individual shelves spaced at 15" apart to accommodate large botanicals on one side of the dryer, and bread racks on the other side. 
The dehumidifier I used was a 50L with an automatic pump and hose.  Without the hose, the dehumidifier would need to be drained manually at least once per day, so having a hose to drain outside was crucial.  It was set at 30% humidity and ran 24 hours/day.
Flowers and botanicals with low water content, such as calendula, elderflower, and echinacea leaf/flower were stacked in single layers on the bread racks.  The bread trays were 6" deep, providing adequate airflow between layers of flowers.
Herbs with a high water or essential oil content, such as anise hyssop, tulsi, and sage, were evenly layered 3"-8" thick when fresh on the racks.  As the botanicals shrunk during dry down, they were spread out again to promote faster dry time.
Harvesting
I did a combination of hand-harvesting and testing the Baby Leaf Harvester by Terrateck. 
For the first half of the season, I focused solely on hand-harvesting to get a baseline for how long it would take to harvest manually vs. using the harvester.  Originally, I planned to use 2021 harvest data for this, but there were too many inconsistencies for this to be useful.  For example, planting had to be done much later this year (due to flooded fields and excessive rain in the spring), I grew some new botanicals, and I grew different quantities of other botanicals.
I used a saw tooth sickle, a harvest bag, crates and a gorilla cart while hand-harvesting.  For most botanicals, I would load the cart with four stacking crates and park it at the edge of the field. The crates could have been stacked higher, but the path to the dryer was very bumpy, and I didn't want to risk crates tipping over.  I would gather harvested botanicals in the harvest bag, and empty the bag into each crate until all four crates were filled.  I'd then pull the cart back to the dryer, which was ~400 ft from my field.   
Toward the end of the season, I realized I could load up seven stackable bread racks in the cart if I lowered one of the sides.  I used a bungee cord to strap in the bottom rack, and used this system primarily for echinacea leaf harvesting. 
For the second half of the season, I tested the Terratek Baby Leaf Harvester.  I chose to test this harvester as it was described as being "ideal for herbs."  Additionally, the size and maneuverability of the harvester was appealing, as was the fact that it was drill powered.
The harvester had a built-in harvest bag, so similarly to hand-harvesting, I would fill up four crates with botanicals and haul them back to the dryer in the gorilla cart. 
Extraction
The goal for 2022 was to begin absolute extraction using waste material from plants.  Unfortunately, due to lower than projected sales and the impacts of inflation, this will need to be postponed until additional SARE grant funds come in 2023.  The waste material was collected, processed, and stored in food-grade bins and stored in a climate-controlled area awaiting extraction.
Research results and discussion:
Weeding Results
This year, I planned to lay alternative row mulch (Weed Guard Plus Paper Mulch) but due to flooded fields, the decision was made to apply it in 2023 instead due to concerns it would break down prematurely.   The fields flooded due to its proximity to a pond, and to fix this, the pond now contains a pump to redirect water away from the field. Flooding should not be a recurring issue in the future.
The delay in laying the paper mulch gave me the opportunity to collect data on how long it took me to weed each week, and compare to next year with the row mulch.
The land is heavily impacted with thistle and crabgrass, and much of the weeding needed to be done by hand.  I spent an average of 30 hours per week weeding, and was still left overwhelmed with weeds.  It informed me that applying a weed suppressant is a necessity.
Harvesting Results
Building and Using the Harvester
Putting together the Baby Leaf Harvester was very simple, and I was able to complete it in about an hour.  I have no prior experience working with farm implements, so no special knowledge was needed.
I am an average height and build, and I found it to be lightweight and easy to maneuver.  
Harvester Compatibility 
In testing the Terrateck Baby Leaf Harvester I found the diameter and toughness of stems, as well as the density of crop growth, determined whether the machine could adequately harvest without getting jammed.   Unfortunately, it was unable to harvest the majority of the botanicals I grew this season (Anise Hyssop, Mountain Mint, Basils, Shiso, Tulsi, Sage) without almost immediately jamming, but it was mostly successful on mint varieties.  
I found that in dense areas of mint, I had to move the harvester very slowly as to not overwhelm the blades with too much plant material at one time.  In areas where plants were spread out a little more, it easily cut through them. In all, I was able to complete a harvest with the Baby Leaf Harvester in about 25% of the time compared to hand-harvesting. 
Issues and Potential Fixes
The biggest issue I had with the Baby Leaf Harvester was jamming. When a jam occurred, as what I assume is a safety mechanism, the blades would disconnect from the piece of the harvester that would move the blades back and forth so they could cut. Every jam, even one caused by a single stem, would require reconnecting the blades, which was time consuming considering how easily it would jam.
Since the jams were caused by tough or thick stems, I'm hopeful it will work on botanicals in the beginning of the season when they are still tender.  With regular harvesting when plants are young, I will be testing it as a viable option for basil, tulsi, monarda leaf, sage, and others.  I am confident that it will not work for botanicals such as anise hyssop (tough stem) or shiso (thick, juicy stem), as I harvest those crops right before they mature.
Another small issue I noticed was that if moving the harvester over long distances or somewhat bumpy terrain (as fields can be), one of the bolts holding the wheel on would come loose.  It was designed to be easily adjustable, but it's a little too easy.  I had to check it about every 100 ft and tighten it.
Fresh Yields per Hour By Harvesting Method
| | | | |
| --- | --- | --- | --- |
| Botanical  | Manual | Mechanical | Increase |
| Anise Hyssop | 60 lbs. | 0 lbs. | -60 |
| Basil, Sweet | 40 lbs. | 0 lbs. | -40 |
| Basil, Lemon | 45 lbs. | 0 lbs. | -45 |
| Calendula | 5 lbs. | Not viable* | n/a |
| Chamomile, German | n/a | Not viable* | n/a |
| Echinacea Flower Heads | 10-15 lbs. | Not viable* | n/a |
| Elderflower | 11 lbs. | Not viable* | n/a |
| Feverfew | No data | Untested | Untested |
| Mint, All Varieties | 32 lbs. | 120 lbs. | +88 |
| Monarda Flowers | Infected with powdery mildew. Not harvested. | Not viable. | n/a |
| Mountain Mint, Slender | 60 lbs. | 0 lbs. | -60 |
| Sage  | 39 lbs. | 0 lbs. | -39 |
| Shiso | 58 lbs. | 0 lbs. | -58 |
| Tulsi | 43 lbs. | 0 lbs. | -43 |
* These plants weren't viable to test with the harvester, as only the flowers were collected
Drying Results
The improvements made to the dryer decreased dry time for the botanicals by an average of 2 days.  I believe this to be due to the botanicals having adequate airflow on the racks, but most importantly due to the dehumidifier that continuously pumped out water.  Last year an old dehumidifier was used, and the drain hose didn't always work and would need to be emptied manually.
Issues and Improvements
I first tried using the bread racks to dry all of the botanicals, but it didn't provide enough airflow for dense botanicals, so instead I used them strictly for flowers and plants with low water content (ie echinacea leaves), and they worked perfectly.
I then purchased food safe epoxy shelving for botanicals with high water/essential oil content, and they worked extremely well.  As the herbs dried and shrunk, some of the material fell onto the floor of the dryer.  This year, I harvested one botanical per shelf, and anything that fell to the floor was a loss, because the botanicals would mix on the floor and contaminate each other.  The entire dryer, including the floor, is food safe, so the loss is strictly due to different species of plants mixing together. 
Next year, I plan to harvest one botanical for all of the epoxy shelves at a time.  This way, I can also add botanicals to the dryer floor beneath the shelves, which improves capacity and minimizes loss. 
The bread racks did not have the same issue because the botanicals were well contained in trays.
Dry Times
| | | |
| --- | --- | --- |
| Botanical  | Rack Type | Days to Dry |
| Anise Hyssop | Epoxy Wire Shelf | 3-4 days |
| Basil, Sweet | Epoxy Wire Shelf | 5-7 days |
| Basil, Lemon | Epoxy Wire Shelf | 5-7 days |
| Calendula | Bread Rack | 5-7 days |
| Chamomile, German | Floor of Dryer | 2-3 days |
| Echinacea Flower | Bread Rack | 6 days |
| Elderflower | Bread Rack | 2 days |
| Feverfew | Bread Rack | 2-3 days |
| Mint, Bergamot | Epoxy Wire Shelf | 3-5 days |
| Mint, Chocolate | Epoxy Wire Shelf | 3-5 days |
| Mint, Peppermint | Epoxy Wire Shelf | 3-5 days |
| Mint, Spearmint | Epoxy Wire Shelf | 3-5 days |
| Monarda Flowers* | Bread Rack | 4 days |
| Mountain Mint, Slender | Epoxy Wire Shelf | 2-4 days |
| Sage  | Epoxy Wire Shelf | 4-6 days |
| Shiso | Epoxy Wire Shelf | 5-8 days |
| Tulsi | Epoxy Wire Shelf | 6-9 days |
*Cultivated Monarda was infected with powdery mildew.  A limited quantity was foraged from healthy plants around the farm to obtain this data.
Total Yields and Shrink
| | | | |
| --- | --- | --- | --- |
| Botanical  | Fresh Yield | Dry Yield | Shrink* |
| Anise Hyssop | 229 lbs. | 32 lbs. | 86% |
| Basil, Sweet | 85 lbs. | 11 lbs. | 87% |
| Basil, Lemon | 100 lbs. | 14 lbs. | 86% |
| Calendula | 39 lbs. | 9 lbs. | 77% |
| Echinacea Flower Petals | 8 lbs. | 2 lbs. | 75% |
| Elderflower | 136 lbs. | 19 lbs. | 86% |
| Mint, Bergamot | 13 lbs. | 3 lbs. | 76% |
| Mint, Chocolate | 32 lbs. | 8 lbs. | 75% |
| Mint, Peppermint | 92 lbs. | 23 lbs. | 75% |
| Mint, Spearmint | 271 lbs. | 57 lbs. | 79% |
| Monarda Flowers | n/a | 2 lbs. | n/a |
| Mountain Mint, Slender | 54 lbs. | 15 lbs. | 72% |
| Sage | 31 lbs. | 10 lbs. | 68% |
| Shiso | 280 lbs. | 28 lbs. | 90% |
| Tulsi | 300 lbs. | 27 lbs. | 91% |
* Shrink refers to weight lost due to drying and destemming (ie. fresh weight to final processed weight)
Participation Summary
1
Farmers participating in research
Educational & Outreach Activities
Participation Summary:
5
Ag professionals participated
Education/outreach description:
Farm Tours
I participated in 6 farm tours put on by Sharing Our Roots throughout the summer of 2022.  Five of those tours had an average of 4 people in attendance, and one event had around 30 individuals. 
During the tours, I started at the dryer and showed farmers how it was set up inside so they could see the racks used and the way the botanicals were laid out to dry. I would describe my process for drying, sifting, and storing botanicals, and answer any questions.  After the dryer, I led them to the field, where I described my harvesting process and sometimes gave quick demonstrations on harvesting. With smaller groups, I would harvest some botanicals so people could see them up close, smell and taste them, and take some home to use.  Afterwards, I would answer any other questions, either about harvesting, drying, or anything else related to my farming operation.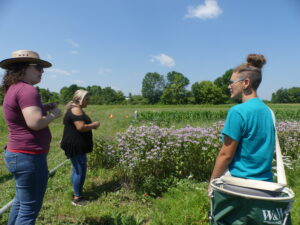 Educational Activity
I originally planned to host a "Wildflower Walk" when the native flowers were blooming at the end of June, but due to falling ill with Covid-19 and dealing with long-term fatigue as a result, a "Petal Party" was created instead and held in October.
During the petal party, I detailed my process for harvesting, drying, and processing echinacea flowers for sale, and it was open to people connected in some way to the food or agricultural world. Of the attendees, five people either had their own farming operation or worked on a farm.
It began with a brief tour of the dryer and the field, much like the farm tour.  Then, we all sat together in the pack shed, and I taught them how to safely process echinacea petals for sale.  We all shared stories of the farms we were connected to, and it was an opportunity to learn from each other. 
Learning Outcomes
2
Farmers reported changes in knowledge, attitudes, skills and/or awareness as a result of their participation
Lessons Learned:
This year (2022), I learned how to increase overall production of dried botanicals through improvements made to a forced-air dryer and new harvesting techniques.  Overall, I'm very happy with the season, but I did learn some hard lessons that I can hopefully improve upon for the 2023 season.
The biggest success of the year were the improvements made to the dryer.  In buying a quality dehumidifier and proper drying racks, I was able to decrease dry time by an average of two days, which meant I could increase the amount of herbs cycling through the dryer.  
I had mixed success with the Terrateck Baby Leaf Harvester, and was a little disappointed in its usefulness in my particular botanical operation. I found it unsuitable for harvesting botanicals whose stems can't be easily cut with a fingernail.  When I found a botanical it did work well with - mint - it really shined. I was able to harvest large quantities of mint in a short amount of time, and it saved my back a lot of pain compared to manual harvesting.
I believe it would be most useful for farmers who are growing large quantities of delicate herbs and leafy greens.  While untested on the following botanicals (I do not grow them on my farm), I speculate the harvester would be useful on herbs such as cilantro, chives, and chervil.  Farmers growing herbs with woody stems will find no use for the harvester, and those with a diverse botanical farm, such as myself, will find some use, but the cost might not outweigh the time savings.
More research will be done in 2023 to see how well it works with botanicals such as monarda and basil early in the season when they are still tender.
Project Outcomes
1
Farmers changed or adopted a practice
2
New working collaborations