Final Report for FNE13-775
Funds awarded in 2013:
$5,631.00
Projected End Date:
12/31/2016
Project Information
Summary:
Small scale farms are limited in the ability to purchase and utilize new technologies of net wrapping and plastic wrap to protect round hay bales. This project constructed a model independent net wrapper/plastic sleever that works on a Fast Hay Mover (fasthaymovers.com) which attaches to ATV's and UTV's to transport round hay bales. A second model was constructed that attaches to a 3-pt hitch tractor. This allows small scale farmers to purchase a piece of equipment to put plastic sleeves or net wrapping on round hay bales at a much lower cost. Use of these materials reduces loss of hay from exposure to weather during storage. This reduction in loss saves the farmer by reducing the amount of hay they have to make as well as preserving quality of their hay.
Introduction:
We the Fast Farm have square-baled our hay for 30+ years. However times change. My wife and I get older, our children grow-up, and invest their interest other ways. Labor for hay harvest is difficult to obtain. Change on our 50 acre north central West Virginia farm came in the form of a round hay baler. Now our Fast Farm hay making on our 50 acres is all machinery. The New Holland 630 makes nice round bales – but storing the bales has created another situation- outside weathered round bales creates much hay lost. Sometimes 3 inches of outer layer and more on the bottom of bales is no value to our 12-14 head of cattle and horses. To help solve this we purchase rolls of plastic sleeve's to slip around the bales. This works if they fit snug (which is very difficult) around the hay so rain, snow and ice is mostly omitted. Still very time consuming.
We want to sleeve our round hay bales in netting or plastic that is now available to reduce hay loss. A study by the University of Kentucky yields the following. Of course bale size, density of bale and weather is a factor.
Storage of Round Hay Bales, Loss in usable hay:
Outside storage, no cover – 25-35% loss
Netting sleeved – 15-25% loss
Plastic sleeved – 4-7% loss
Inside storage – 5% loss
We refuse to trade our New Holland 630 baler to purchase a newer model that has the built in net wrapper which can cost over $30,000 or a commercial plastic wrapper which can cost over $12,000. For this project we built a net and or plastic sleever that can be used independently of the hay baler.
Project Objectives:
The objective of this project was to design and construct a independent net wrapper/plastic sleever that can be used to protect round hay bales stored outside from the weather.
Design and Construct working models for use with Fast Hay Mover and 3-pt hitch bale spear.
Test and demonstrate effectiveness of model.
Produce parts guide
All three objectives were met.
Cooperators
Research
Materials and methods:
I developed a rough draft of parts and constructed model. With testing found issues with weakness of materials and design and redesigned those areas so that the machine could preform as desired. First model was for use on Fast Hay Movers Hay Baby. Once that was working made some additional modifications and developed 3-pt hitch model for use on farm tractor. Tested models by wrapping approximately 30 bales. Approximately 450 hours were spent constructing and testing the models.
After construction was completed the 3-pt hitch model was taken to a local company which produced pictures for guide book. These were compiled with additional pictures taken on farm to produce guide book which is being made available for other farmers to make their own.
Photos of hay net wrapper are as follows: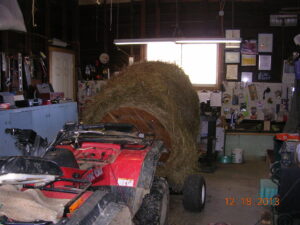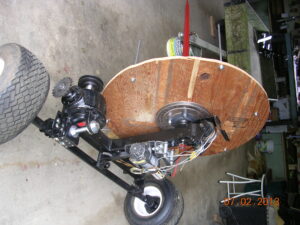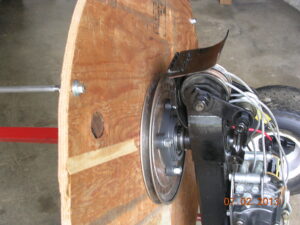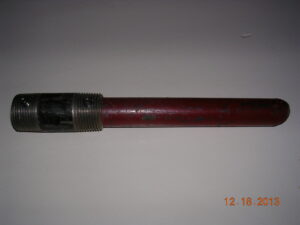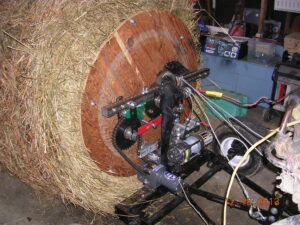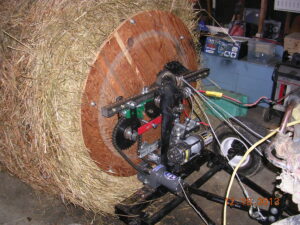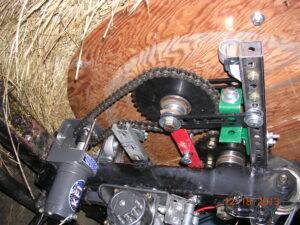 Research results and discussion:
The outcomes for the project are working models of the net wrapper/hay sleever for both 3-pt hitch tractor and Fast Hay Movers Hay Baby. Guide book showing pictures and parts has been produced and will be available on the Fast Hay Movers website.
Testing of the wrapper resulted in plastic wrap being placed on the bale tighter then utilizing premade sleeves. This helps to reduce loss of plastic during storage which helps to save hay from weather damage.
Research conclusions:
Accomplishments from the project are the construction of a working model of the net wrapper/plastic sleever for the Fast Hay Mover and a model for 3-pt hitch tractors. The guide book will allow other individuals to construct their own. Use of this net wrapper/hay sleever will allow farmers to reduce hay losses from exposure to weather.
Participation Summary
Education & Outreach Activities and Participation Summary
Participation Summary:
Education/outreach description:
Both models of the net wrapper/plastic sleever were displayed and demonstrated at the Appalachian Grazing Conference in 2015 which was attended by approximately 300 people. Surveyed opinions of individuals who were attending the conference showed that people were interested in this device, though less than 10 responses were recorded.
A guide book has been produced which includes pictures and parts listing for construction of the net wrapper/plastic sleever. Fast Hay Movers Round Hay Bale Net Plastic Sleever Guide
Project Outcomes
Assessment of Project Approach and Areas of Further Study:
Potential Contributions
This net wrapper/plastic sleever will allow small scale farmers an option to help reduce hay storage losses from exposure to weather without having to invest in higher priced equipment saving money. The reduction in hay losses from weather exposure will reduce the amount of hay that has to be produced also saving small scale farmers money and helping to preserve the quality of the hay that is produced.
Future Recommendations
I have worked with a company that is interested in modifying the models to use hydraulics simplifying construction by removing winches and cables as well as reducing the number of gears, pulley, springs, etc. They would then manufacture and sell the product for those individuals who do not have the time or the skill to construct their own.
I Lonnie Fast want to thank you for the privilege of giving us the opportunity to expand my ambitions of producing such a product. It is working out to be a big help to me personally on my farm and hopefully in the future it will be a benefit for many more farmers that are in the same position that I was in.
Information Products