Final report for FNE16-847
Funds awarded in 2016:
$14,976.00
Projected End Date:
02/28/2019
Grant Recipient:
Fungi Ally
Project Information
Summary:
Shiitake mushroom cultivation is rapidly expanding in the northeast on both log and sawdust substrates. This project aimed to determine what strains will lead to the highest yields and give farmers their best return for labor and materials. We inoculated 100 sawdust blocks 4 different times with a total of 7 different strains to determine the highest yield and quality mushroom. We inoculated 100 hardwood logs in 2016 and 2017 with 5 different strains to find which would produce the highest yields. We hoped there would be a correlation between the highest yielding strains regardless of substrate. Unfortunately, there was not a correlation because we found that strains will have different yields depending on the substrate and there is no short cuts to trialing shiitake strains for log production. LE46 produced on average double any other strain on log innoculation. On sawdust 3782 and 3790 were the two shiitake trains with the highest yield 1.4 and 1 pound per block respectively. Shiitake straing 3790 contained larger mushrooms with a higher quality. The quality and quantity of mushrooms may also be influenced by conditions like length in incubation, temperature in incubation, and spawn used. 
Outreach was broad with webinars, workshops, consultations and a 28-page Shiitake Mushroom Cultivation booklet.  Three farmers adopted a new practice from this project.
Project Objectives:
This project developed data trialing different strains using common cultivation methods for shiitake mushrooms. This project gives farmers the information to make decisions on what spawn to buy to maximize their investment of labor and resources. We hope with this information farmers can increase production of shiitake mushrooms in the northeast. The substrates we used were supplemented oak sawdust and oak logs. These are the two methods used by indoor and outdoor growers respectively.
Strain to strain yields were compared, between the two substrates. We hoped this would allow log growers to trial strains on sawdust a 3 month process instead of on logs a 3 year process.
Introduction:
The goal of this project was to explore six different shiitake strains and the impact on yields they have. We hoped to find out if different shiitake strains increased yield for log cultivation. We also noted if the strains performed similar on indoor sawdust blocks to determine if faster methods of strain research can be used. Shiitake mushroom cultivation is expanding in the Northeast. According to projections in SARE Project ONE14-214 northeast shiitake log growers plan to expand from 17,968 bolts to 59,575 bolts by 2018. 100% of indoor growers who responded to our survey plan to expand shiitake production. The objective of this increased production is to meet demand for high quality locally produced shiitake mushrooms. 
This project aimed to meet that goal by growing mushrooms more efficiently rather than increasing the amount of substrate used in cultivation. Through proper strain selection growers can increase the amount of mushrooms produced without increasing investments. Many leaders in mushroom cultivation like Dr. John Holliday, Dr. Paul Stamets, and Dr Shu-Ting Chang emphasis strain selection as a critical first step in mushroom cultivation. Several researchers have tested shiitake strain yields, but most studies are outdated and no trial has been conducted in the northeast before this project. Fungi Ally is a specialty mushroom spawn producer and education business that also grows fresh mushrooms. Instead of increasing our total production this project has allowed us to dial in the strains we use in production, increasing yields and mushroom quality. It has made our farm more economical and allowed us to give data backed advice to other growers.
Cooperators
Research
Materials and methods:
Six shiitake strains were grown on supplemented sawdust and logs and tested for yields, disease, morphology/mushroom quality and storage life. The 6 strains originally used were 3782, 75, straw, CS, WR-46, and Lambert 123. The first four strains are high yielding strains from the aloha study, WR46 was the highest yielding strain from the Burhn et al 2009n and Sabota 1996, and Lambert 123 is used in large scale indoor shiitake cultivation. The process for inoculating sawdust blocks is as follows
1) acquire spawn
2)sawdust, wheat bran, and gypsum were mixed at a volume ratio of 100 gallons to 25 gallons to 1 gallon and then moistened to 50-60%. 
3) Sawdust was bagged into 5 lb "blocks" in specialized filter patch bags and sterilized using atmospheric steam for 24 hours. 
4) Blocks were then inoculated with a 1/2 cup of shiitake mycelium, sealed, and placed into incubation for 8 weeks. 
5) Once browned blocks were cold shocked at 37 degrees for 24 hours to initiate fruiting. 
6) The filter bags were removed and blocks were placed into the fruiting room which was held between 55-70 degrees with humidity at about 85% and CO2 levels between 600-900. 
7) Fruiting occurred over the next 2 weeks, total fresh weight was measured and biological efficiency calculated. 
Dylan Kessler left this project in spring of 2016. Logs were inoculated in spring 2016 and Fall 2017. Sawdust blocks were inoculated in Spring 2016, spring 2017, fall 2017, and lastly a couple new strains in spring 2018. Logs were inoculated via the drill and fill method which has been extensively described through several SARE/Cornell collaborations and the Cornell website https://blogs.cornell.edu/mushrooms/factsheets/
Research results and discussion:
Supplemented Sawdust
For growing shiitakes on supplemented sawdust we trialed 7 different strains 75, CS, 45, 3782, straw, 3790, and FP. Over the course of three years and 4 different trials we found 3790 and 3782 to be the best fruiting mushrooms. All others had considerably lower yields and should not be cultivated for commercial purposes on supplemented sawdust. 3790 had larger firmer mushrooms but slightly lower yields about 1 pound on average while 3782 had higher yields, about 1.3 but smaller mushrooms. There was no correlation between yields on sawdust and yields on logs.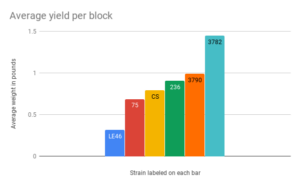 Logs
Logs fruiting over 2 years had about double average yield for LE46 compared to all other strains. Logs that were inoculated in the fall of 2017 did not fruit in fall of 2018. In a workshop conducted by Field and Forest new data was shown that cutting logs in the fall at 30% leaf change, storing them outside, and then inoculating in Spring allows for fruiting in the same year. Logs can also be inoculated in the fall and stored inside at temperatures between 50-65 degrees while maintaining about 80% humidity and then brought outside in the spring to initiate fruiting in June. Both practices would decrease incubation time from the typical 14-18 months to about 6 months.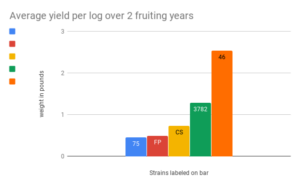 Research conclusions:
The research looked to answer three questions:
What is the best strain to use for shiitake log cultivation?

What is the best strain to use for shiitake block cultivation?

Trialing on logs takes a minimum of 2-3 years; is there a correlation between a high yielding strain on supplemented sawdust and a high yielding strain on logs?
The answers are pretty clear from the data in this study:
LE46 is the best strain to grow on logs.

3782 has the highest yielding mushrooms while 3790 can approach similar yields with a larger higher quality mushroom

There is no correlation between high yielding strains on sawdust and on logs.
Participation Summary
1
Farmers participating in research
Education & Outreach Activities and Participation Summary
3
Curricula, factsheets or educational tools
2
Webinars / talks / presentations
Participation Summary:
2
Number of agricultural educator or service providers reached through education and outreach activities
Education/outreach description:
Three in person consultations with farmers were conducted. Farmers were shown around the farm, how supplemented blocks are produced and given a summary of the strain trials in progress.
Two tours were given to students from Umass Amherst in the Sustainable food and farming major. These students were introduced to the concept of cultivating mushrooms on logs and given an update on the strain trials, a total of 40 students. 
Three youtube videos were created and shared via facebook on the laying yard, the process of shiitake log inoculation, and showing the different strains fruiting https://www.youtube.com/watch?v=zQGFNiNof7M
Two talks at the NOFA summer conference, in combination attended by 50 people. 
One workshop hosted on the farm discussing how to inoculate logs and progress of research, Attended by 30 people. 
Guidebook was produced and shared via 5000 person mailing list, facebook, Cornell Mushroom program, and UVM listserv
Learning Outcomes
60
Farmers reported changes in knowledge, attitudes, skills and/or awareness as a result of their participation
Key areas in which farmers reported changes in knowledge, attitude, skills and/or awareness:
Strain selection was the key factor that farmers reported a change in knowledge
Guidebook publication also helped to increase awareness, and understanding of specialty mushrooms and the market.
Project Outcomes
3
Farmers changed or adopted a practice
2
Grants applied for that built upon this project
2
Grants received that built upon this project
$115,000.00
Dollar amount of grants received that built upon this project
4
New working collaborations
Project outcomes:
There are two major impacts of this project 
Clear data on what strain to select for both log cultivation and supplemented sawdust cultivation. These proper selections can greatly increase yield for farmers and did for Fungi Ally. By using 3782 for sawdust and 46 for logs we were able to reduce the total amount of labor and achieve higher yields with the same amount of material, infrastructure, and labor costs. 
Publication of the guidebook adds an updated resource for farmers interested in growing specialty mushrooms. This will be further expanded on in SARE LNE19-376
Assessment of Project Approach and Areas of Further Study:
We did answer the questions presented at the beginning of this study. From conversation with growers and replicating the study multiple times we were able to state which strains produce best for individual substrates. We also discovered there is no correlation to a high yielding strain when the substrate changes, there is no easy way to test for high yield on logs without inoculating logs. Through workshops at other farms we also learned of new methods that can be used in log cultivation to decrease incubation time. 
I definitely plan to continue growing 46 on logs and either 3782 for 3790 on supplemented sawdust. I encourage all other growers to do so. This information particularly around the yields of le46 are extremely valuable to any grower expanding log cultivation of shiitake. Thats the strain to use if you want high yield! 
For additional work 1) substrate formulas could be experimented with.
2) comparing yields between 3 variations of harvest and inoculation of logs. Cut logs in February inoculate in April. Cut logs in October, inoculate in October store inside. Cut logs in October, inoculate in April. 
Information Products