Final report for FNE19-921
Funds awarded in 2019:
$14,509.00
Projected End Date:
04/15/2020
Grant Recipient:
Buck Farms
Project Information
Summary:
The main focus of the project was to determine the agronomic performance of LCS Genie and KWS Tinka barley varieties in comparison to Newdale.  Furthermore we hope to determine malting and brewing variances, if any, as well.  The UESMBN project, conducted by the UMaine Extension since 2015, has been studying several different varieties of spring malting barley varieties, but was lacking evidence of scale.  LCS Genie and KWS Tinka were chosen given their performance in the trials over the past few years as being strong varieties and we planted Newdale as a control as that is the malt variety currently used in Maine. 
Planting each variety in 10 acres strips all in the same field we were able to conduct a larger scale trial to determine true performance and yield.  We determined Tinka to have the largest yield (~15% higher than Newdale) followed closely by Genie (~9% higher than Newdale).  Each variety proved to have quality malting specs and all performed well in the malt house, though Genie was preferred to Tinka as it was more vigorous.
Each variety, after being processed to malt, was sent to Allagash Brewing Company to be brewed as SMASH (Single Malt And Single Hop) beers to highlight the malt characteristics.  The beers were then presented to the trained tasting panel at Allagash to evaluate the differences in the beer that each variety contributed to.  Though subtle, the varieties showed tasted differences from earthy in one beer to fruity in another and more nutty in another.
Project Objectives:
This project seeks to compare the agronomic performance of 2 malting barley varieties; LCS Genie and KWS Tinka to Newdale. We will evaluate these varieties using a similar system used in the UESMBN project; yield, visual foliar disease severity, height, lodging, evenness of ripening, and heading date. Samples will be sent for laboratory analysis for evaluation of thousand kernel weight, test weight, DON (vomitoxin), pre-harvest sprouting, and germination energy. We will then use our existing malting system to malt these varieties and analyze them for extract yield and beta glucan levels. Malted samples will be sent to local breweries interested in using these varieties for inclusion in their beer production.
The primary objective of this proposal is to determine if LCS Genie and KWS Tinka perform better than, similar to, or inferior to Newdale and identify if they have the potential to hold a place in the regional craft brewing industry.
Introduction:
Malting barley is commonly grown in Aroostook County Maine as a component of potato cropping systems. The primary markets for malting barley are large commercial grain elevators who market the barley to Canadian malting companies. Historically, c.v. Newdale has been the variety of choice for Aroostook County producers. Newdale consistently produces satisfactory yields, low protein levels, and exhibits relatively high tolerance to pre-harvest sprout and vomitoxin and is considered to be well suited to Northern Maine's humid summer climate.
As the craft brewing industry in Maine has expanded and diversified over the past 30 plus years, so has the demand for additional and alternative malting barley varieties with favorable characteristics for the brewer, maltster, and farmer. Brewers striving to create unique beers are in search of ingredients that will set their products apart from their competitors. The blend of ingredients help to create the unique taste and "story" behind each beer which is proven to attract customers in a relatively crowded marketplace. Maltsters need varieties with characteristics such as high germination, low protein and vomitoxin levels, plump kernels that maximize extract yield, and produce low Beta Glucan levels. Farmers prefer varieties that produce high marketable yields, high resistance to pre-harvest sprout and vomitoxin, low protein levels, and exhibit evening ripening in the field. Consistency is paramount to the market accepting new malting barley varieties. All sectors of the brewing industry want the ingredients they use to behave the same each time they are used. While Newdale has held its reign as the top malting barley variety grown in Maine for several years, advances in barley genetics have produced several additional varieties that have garnered interest.
In 2015 with funding from the Craft Maltsters Guild, The University of Maine began participating in the Uniform Eastern Spring Malting Barley Nursery (UESMBN) project. For the past 4 seasons 20 to 25 malting barley varieties have been planted in 2 sites in Maine; Presque Isle in Aroostook County, and Old Town in Penobscot County. The results have been of interest to local barley producers and have highlighted 2 varieties, LCS Genie and KWS Tinka that show promise in the Northeast. In addition to the positive agronomic characteristics, brewers have taken notice and have begun requesting an increasing volume of these varieties for use in their beer production.
As barley producers and owners of the Maine Malt House, we are interested in taking the results from the UESMBN project and moving them into field trials to better understand how these varieties might perform in the field and in our malt house compared to our standard variety, Newdale. We feel that if these varieties can perform satisfactorily on a field scale, we will be able to supply our customers with the ingredients they demand as well as increase financial returns and efficiency in our operation. The project will provide beneficial information for barley growers in Maine, whom from 2004 through 2013 raised 17,400 acres (USDA, NASS) and the Northeast.
From 2015 to 2018 with funding from the Brewers Association and the Craft Maltsters Guild, The University of Maine, in partnership with North Dakota State University and up to 10 additional institutions throughout the Eastern USA and Atlantic Canada, have been hosting malting barley variety trials in Presque Isle and Old Town, Maine. Each year between 20 and 25 varieties have been grown as part of this ongoing project. The goal of the project is to identify malting barley varieties that can be grown successfully in the Northeast USA and Maritime Region of Atlantic Canada. Besides success in the field, these varieties must also meet the quality parameters of the malting and brewing industries.
In these trials, Newdale is often used as the check variety in which other cultivars performance are compared. While Newdale is consistently a top performer there are other varieties not currently being grown in the Northeast, specifically Maine, that have potential to surpass Newdale's successes. To our knowledge, this consortium has been the only in depth detailed malting barley variety trial specific to Northeast North America. The results of these trials have produced useful information on cultivar selection, malt quality characteristics, and disease susceptibility. These trials have proven that there are varieties that do not perform well in our climate and some that consistently do. Many of the varieties in these trials are experimental lines of which there is limited to no available seed for field trials. Some of the varieties are now becoming commercially available in North America and are being produced successfully throughout the barley growing regions of the continent.
One major challenge in deciphering the trial results is that they are all small plot trials usually positioned in an ideal area of a field or research station site. Field scale experimentation is the next logical step in determining the suitability of a variety for a given region.
CITATION LIST
New England Agricultural Statistics. 2013 pg. 39 https://www.nass.usda.gov/Statistics_by_State/New_England.../Oatsb2013.pdf
Spring Malting Barley Variety Trial 2015 Results. Mallory, Ellen and Thomas Molloy. University of Maine. https://extension.umaine.edu/grains-oilseeds/topics/spring-barley-variety-trials/malting-barley-variety-trial/
Spring Malting Barley Variety Trial 2016 Results. Mallory, Ellen and Thomas Molloy. University of Maine. https://extension.umaine.edu/grains-oilseeds/topics/spring-barley-variety-trials/malting-barley-variety-trial-2016-results/
Spring Malting Barley Variety Trial 2017 Results. Mallory, Ellen and Thomas Molloy. University of Maine. https://extension.umaine.edu/grains-oilseeds/topics/spring-barley-variety-trials/malting-barley-variety-trial-2017-results/
Identifying Spring Malting Barley Varieties Adapted to the Eastern U.S. Brewers Association. https://www.brewersassociation.org/grants/identifying-spring-malting-barley-varieties-adapted-eastern-u-s/
Description of farm operation:
My family has been farming seed potatoes and cereal grains in Mapleton, Maine since 1958. In order to satisfy the appetite of the expanding craft brewing industry, in 2015 along with my father, uncles, and 3 brothers we expanded our farming operation to include the Maine Malt House. Our facility was designed and built by us and includes numerous grain bins, a continuous flow grain dryer, an experimental 2 ton malting system, a state-of-the-art commercial 10 ton malting system, quality control equipment, and a packaging line. We service the Northeast brewing and distilling industry with high quality malts and grains.
In addition to malt, we supply premium seed and feed to to retail stores all across New England. We also supply commercial seed and custom cleaning, treating, blending and packaging services to farms in the Northeast. Today we produce 300 acres of seed potatoes, 300 acres of malting barley, 300 acres of oats, and 150 acres of sunflowers.
Our technical advisor for this project is Jake Dyer, who is an agronomist and crop development specialist for the Maine Potato Board. Jake will assist with the design and implementation of this project as well as taking measurements and collecting data throughout the growing season.
Our farm will provide all necessary equipment for this project including field equipment, drying capabilities, storage and cleaning facilities and equipment, and malting services.
Cooperators
- Technical Advisor (Researcher)
Research
Materials and methods:
Planting:
On May 29th we planted all of the barley variety plots.  Each variety was sown in the same field in 3 strips each with each strip containing roughly 3 acres.  In total their were 9 strips (Tinka, Genie, Newdale, Tinka, Genie Newdale, etc) all following a 2018 crop of sunflowers.  Prior to planting the barley seeds, a seed count was conducted and then converted to population per acreage using the following formula:
Seeding Rate (lbs/ac) = ((Target Pop./(1-stand loss))/(Seeds/lb*germ%)
A target population of 1.25 Million plants per acre was used and a stand loss of 10%.  That gave us the following seeding rates:
Newdale - 150 lbs/ac
Genie - 137 lbs/ac
Tinka - 168 lbs/ac
The grain drill was then calibrated for each variety by lifting the drive wheel and calculating revolutions/ac and weighing the seed from 6 chutes as a fraction of the total acre.  Along with calibrating the seed from the chutes, we also calibrated the fertilizer dispenser for 340 lbs of 19-0-19 (65 lb of N) per acre.  
The plots were planted using a GPS guidance system to eliminate overlap and better achieve the target population.  All of the seed was treated with CruiserMaxx Vibrance Cereals prior to planting at a rate of 5oz/100 lbs.  The final acreage for each variety was:
Newdale - 9.2 acres
Tinka - 9.0 acres
Genie - 9.4 acres
Harvest:
Once the moisture of the kernels fell to ~14% or less for each of the varieties they were ready to be collected. The plots were each harvested with a John Deere 9670 combine with a 35' flex head.  Since each plot was planted adjacent to each other GPS steering was used to aid in the harvesting of each plot exactly without leaving grain in the field or accidentally harvesting into the wrong plot.  Once harvested, each variety was augered onto a truck and then scaled on Weigh-Tronix Maine State certified truck scales to determine the yields.  
A Dickey John GAC 2500 Moisture Analyzer was used to determine if the barley was dry enough to be harvested.
Malting:
Prior to malting, each variety of barley was run through a de-bearding and cleaning line to get rid of the beards and foreign material from the field.  At this time each variety was also sized over a 5.5/64" x 3/4 slot screen to get rid of thin kernels and allow for a more uniform product for processing.
The malting process consists of three main steps: Steeping, Germinating and Kilning.
4500 lbs of each barley variety was run through the same malt recipe which in-house is know as the Mapleton Pale recipe.  This consists of a 48 hour steep cycle in which the grain goes through several wet/dry phases to increase the moisture from 14% to roughly 45%.  At this point the barley will produce a 'chit' which is the development of the root and acrospire mass on the endosperm.  
After 48 hours of steeping each barley variety was spread on the floor roughly 6" deep in a temperature controlled room.  With a consistent temperature of 64 degrees the barley rapidly produced rootlets and needed to be rake every 4-6 hours to release CO2 and to prevent clumping (when the roots of several kernels entangle themselves).
96 hours after the start of the germination cycle the sprouted grains were shoveled up and put into tubs with false bottoms.  These tubs were then placed in the kiln to dry for approximately 24 hours.  The kiln recipe starts with an initial free-drying stage to reduce the moisture from 45% down to approximately 15% at a lower temperature to help preserve enzymes.  It then undergoes a slightly elevated temperature cycle to add a slight amount of color and sweetness and finishes with a higher temperature cure cycle to get the moisture down to 5% and get rid of potential off flavors.
From the kiln the malted grains were run back through the de-bearding and cleaning line to get rid of rootlet growth and polish the kernels up for packaging and brewing.
Research results and discussion:
Pre-Harvest:
Below was a picture of randomly pulled heads from each variety (from left to right: Tinka, Newdale, Genie).  This was taking approaximately 30 days before harvest.  All of the kernels look to be plump at this point, but Tinka definitely stands out as having the most kernels/head.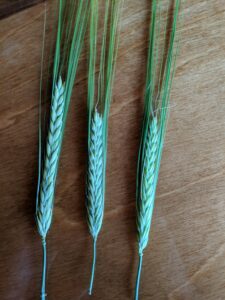 Harvest: The Newdale and Tinka trials were harvested on August 27th and due to weather the Genie was harvest a few days later on August 31st.  The combine used GPS to ensure that the plots were harvest as efficiently as possible.  Each variety was scaled and the total weights and yields are as follows:
Newdale - 36,180 lbs - 753.75 bu = 81.9 bu/ac  (100.00%)
Tinka - 40,820 lbs - 850.4 bu = 94.5 bu/ac (115.38%)
Genie - 40,180 lbs - 837.1 bu = 89.1 bu/ac (108.79%)
Looking at the yields, both varieties under consideration outperformed the standard (Newdale) with Tinka at about 15% more bushels per acre and Genie at about 9% more bushels per acre.  The barley quality specs are as follows:
| | | | |
| --- | --- | --- | --- |
|   | Newdale | Genie | Tinka |
| Moisture, % | 13.2 | 14.0 | 14.1 |
| Protein, % dry basis | 10.5 | 9.5 | 9.4 |
| Test Weight, lbs/bu | 49.8 | 52.5 | 52.5 |
| Plump, >6/64 % | 96.4 | 98.8 | 99.1 |
| Thin, <5/64 % | 0.3 | 0.1 | 0.1 |
| Germination Energy, 4 mL % | 100 | 76 | 99 |
| Germination Energy, 8 mL % | 89 | 73 | 67 |
| Germination Capacity, % | 100 | 100 | 100 |
| RVA | 90 | 150 | 125 |
| DON, ppm | <0.1 | <0.1 | <0.1 |
Genie and Tinka were both plumper and lower on protein than Newdale, indications that they will both show great extract potential as a final malted product.  Both Tinka and Genie also had higher levels of dormancy which could indicate that they would be less susceptible to pre-harvest sprout damage.  Overall, all three varieties show great malt quality characteristics.
Malting:
Each variety was run through our floor malting system under our "pale base two-row" recipe.  4500 lbs of each variety was processed for malt and a similar 19-20% of malt loss was observed.  All varieties showed great water uptake in the steep cycle and great vigor on the floor. Genie performed more closely to Newdale, with Tinka lagging on the vigor throughout the 96 hour germination period.  The final malt analysis is as shown:
| | | | |
| --- | --- | --- | --- |
|   | Newdale | Genie | Tinka |
| Moisture, % | 6.0 | 4.8 | 4.9 |
| Friability, % | 89.6 | 90.6 | 95.6 |
| Extract, FGDB % | 82.9 | 85.1 | 83.3 |
| Color, SRM | 1.91 | 2.74 | 1.75 |
|   β-glucan, mg/L | 90 | 133 | 111 |
| Soluble Protein, % | 4.8 | 4.3 | 3.86 |
| Total Protein, % | 11.2 | 9.9 | 9.8 |
| S/T | 42.9 | 43.4 | 39.4 |
| FAN, mg/L | 180 | 180 | 145 |
| Diastatic Power, L | 139 | 93 | 97 |
| Alpha Amylase, D.U. | 75.7 | 52.5 | 56.0 |
Looking at the analysis you can see all varieties performed well under the pale recipe. Genie shows the most alcohol potential (extract) by 2-3% and as expected Tinka shows to be slightly under modified (S/T < 42).  All varieties had good levels of Alpha Amylase, a key starch-degrading enzyme, but Newdale had the highest levels.
Brewing:
The malt of each variety was sent to Allagash Brewing Company to be brewed on their pilot brewing system (5-10 gallon batches) and then run through their trained tasting panel for further evaluation.  The pilot team chose to brew SMASH beers (Single Malt and Single Hop) with the malt of each variety in order to really highlight the flavor characteristics of each.  To further aid this they chose to use a common American yeast and a subtle hop to limit the flavor contributions of those componets. 
The pilot team did not report any major differences in the brewing of these different malted grains and their flavor report is as follows:
Genie
VISUAL: Light amber color with a moderate haze, a small amount of thin white foam that quickly collapses, and minimal lacing. 
AROMA: Mango and orange, ethyl butyrate, honey and other sweet aromatics, bread dough, cereal, with some grainy, and grassy notes. 
TASTE: Mildly sweet, subtly bitter, subtle sourness, subtly sweet linger, slightly mineral, and subtly bitter linger. 
MOUTHFEEL: Medium body, some astringency, slightly warming, and mildly mouthwatering. 
Tinka
VISUAL: Light orange color with some haze, a small amount of thin white foam that quickly collapses, and light lacing. 
AROMA: Sweet aromatic, frosting, with honey, ethyl butyrate with some ethyl acetate, cereal with grainy, mango, vegetals, earthy notes, dairy notes, and herbaceous. 
TASTE: Gently sweet, gently bitter, mild lingering sweetness, gently bitter linger, and gently mineral. 
MOUTHFEEL: Medium body, some tingling carbonation, slightly warming, some astringency, and slightly mouthwatering. 
Research conclusions:
Our main focus was to determine the varieties performance in the field, most specifically the yield and malt quality of each.  We were able to determine that Tinka yielded roughly ~15% higher than our control (newdale) and Genie yielded roughly 9% higher.  Each variety had great malt quality and each one malted and brewed as desired.
As we grow and expand in the brewing and distilling industries we are looking at ways to bring more efficiencies to our growers.  One of the easiest ways to do this is with a higher yielding variety.  Yield alone will not be sufficient though, as we are focused on quality results all the way to the glass.  This project helped us to determine the differences the varieties can have on yield, malt performance and brew performance and flavor.  One year of data is not enough to make an entire switch over, but we will use this data as we begin the process of exploring the best variety for the future.
Participation Summary
1
Farmer participating in research
Education & Outreach Activities and Participation Summary
1
Curricula, factsheets or educational tools
1
Webinars / talks / presentations
Participation Summary:
15
Number of agricultural educator or service providers reached through education and outreach activities
Education/outreach description:
Evaluating Alternative Malting Barley Varieties and their Acceptance power point
On August 15th, 2019 we hosted a farm/field day in conjunction with the University of Maine Extension and Maine Potato Board.  During the day we looked at the barley variety trial the University planted, the oat trials conducted by the Maine Potato Board, Mustard and Sunflower fields and the Tinka, Genie and Newdale trials that were part of the SARE Grant.  I gave a presentation to the 33 people that attended describing the scope and funding of the project, as well as the progress of each variety in the field and what our expected outcomes at harvest would be.
On March 13, 2020 the University of Maine Extension hosted the Maine Grain Conference in Orono, ME.  of the 65 registered to attend, only 35 showed up (due to COVID-19).  During this conference we gave a presentation alongside Allagash Brewing Company on the total results of the variety trials.  I reported (with Power Point Presenation) the results from the field and the malt specifications of each variety.  Jason Perkins (brewmaster of Allagash) reported on the brewing analysis and then conducted a tasting panel with the attendees to depict the flavor differences among the different varieties.  The 'untrained panel' was able to test their ability to determine the unique flavors and aromas that the experienced Allagash Tasting Panel had already tested.
Learning Outcomes
5
Farmers reported changes in knowledge, attitudes, skills and/or awareness as a result of their participation
Key areas in which farmers reported changes in knowledge, attitude, skills and/or awareness:
The biggest takeaway from the barley variety trials was evidence that barley variety can and does individually contribute to the malting, brewing and flavor characteristics of the beer.  Therefor, not every variety may be suitable to malting and brewing and some may be less desirable.
Project Outcomes
1
New working collaboration
Project outcomes:
This project has lead the way for us to begin exploring new varieties of grains that may be a better fit for our growing conditions and our markets as a whole.  The varieties currently being used in our region are utilized mostly because of ease of procurement even though they may not be the best suited.  We hope to build upon the research and foundation of data set forth by this project to bring about varieties new to our region that have positive economical impacts on our growers and benefit the entire supply chain.
Assessment of Project Approach and Areas of Further Study:
I believe the key project successes from an agronomic stance were to be able to prove the data from the UESMBN plot trials can be scales with some degree of accuracy and furthermore that the varieties that perform well in the field should also be evaluated throughout the entire process (malt quality, brew quality, flavor) as each variety can contribute considerable to each specification.
I believe we accomplished what we set out to do and with this have come partial to other malt quality varieties that we hope to further explore for the production of malt and beer in the state of Maine