Progress report for FNE19-937
Funds awarded in 2019:
$14,745.00
Projected End Date:
11/30/2022
Grant Recipient:
Haystack Farmstead
Project Information
Project Objectives:
This project seeks to determine the impact of an on-farm modular constructed meat processing facility on the profitability and viability for local livestock farmers.
Objective 1: To complete the construction of the prototype modular facility and beginning operation under USDA inspection in order to demonstrate the increased profit possible for beef farmers in slaughter, processing and packing costs of this crucial step for small livestock farmers.
Objective 2: To track design, material and labor costs for the project which will analyze the changes in processing costs between a local commercial slaughterhouse and our on-farm modular process.
Objective 3: To design a web based open-source design offering farmers the components of a proven, diversified modular on-farm processing facility as an expansion opportunity for beef farms.
On-farm butchering provides an opportunity for farm families to earn a happy, productive life on the farm. If we make it a goal to empower family farms with processing technology, we take a step toward regenerating positive, meaningful work into our agricultural communities.
Introduction:
Local livestock farm's infrastructure needs are significant, but not overly complex. We need access to good pasture and water, suitable barn space for harsh weather, and corral(s) for safe handling. Access to skilled slaughtering, packaging and secondary processing facility is a costly bottleneck for many farmers. Adding walk-in coolers and freezers for finished product, a vehicle with cold-storage for large shipments and some warehouse space for packing CSA and web-orders is also essential for value-added meat sales. Most local farmers operate without several of these key elements, driving their logistical burdens in excess of what is manageable or profitable.
Many have the idea that if they can just "make do" with chest freezers and several hours of driving for every beef they process off farm, that they can gradually improve with time. In my experience, the margins in the business do not support this approach. Typical butchering processing costs in the Northeast are well over $2/lb. of packaged product. When farm costs of field production are $3.5 to $4/lb. to raise a beef, the margins start to look very slim. Even at an added-value price points that Grass-Fed Beef brings at an estimated $7/lb., it doesn't leaves much margin for profit. The same is true for meat from other livestock species. We are essentially producing a commodity item in a highly inefficient manner.
Naturally, it becomes clear that every local meat producer must carve out a niche and find clever ways to add more value. Smoked and cured meats, prepared foods, on-farm burger nights are all ways to drive up the value of our products. However, this is where we reach our second impasse. As difficult as it is to book slaughter dates in the Northeast, it is even more difficult to gain access to the smokers, curing ovens and commercial kitchens needed for the value-adding. If we do find access to such facilities, it is almost assured that there will be several more hours of driving involved per batch; on-top of the travel hours of driving for the one or two beef to go to slaughter. Then even more hours driving to pick up the boxed meat when it is ready. The carbon footprint of this approach is unacceptable. The only reason why farmers are faithfully running this gauntlet is the firm belief that they are doing the right thing for their families, their animals and the mouths they feed. The meat undoubtedly tastes better and it is better for you.
This is where open-source engineering and the notion of information sharing can have tremendous impact. The construction of the basic elements needed for on-farming slaughter can be well documented and openly shared. If farmers had access to plans and "build-kits", they could build or purchase one section of their facility at a time, minimizing upfront capital outlay and avoiding the hamstring effect of cobbling together poorly planned and constructed systems.
Little has been done to organize and streamline the construction of small livestock meat processing facilities in the Northeast. There were efforts to construct and implement mobile processing facilities to serve multiple farms. However, a majority of those processors developed in the early 2000's were for poultry.
A limited number of mobile processors were for beef. One such Moduler Harvest System was implemented by the Glynwood Center in Cold Spring NY for a brief period of time but proved to be overly cumbersome and has been shut down. A dedicated mobile beef processing facility was operated by Green Pasture Meats of New Have VT but has closed the mobile slaughterhouse and meat market as of 2018. Adams 5th Generation Farm in Wilmington, VT was a meat business with an on-farm facility, but that has also just closed.
At this time there are no on-farm USDA inspected beef processing facilities in Vermont. Several mobile slaughter and processing units for poultry farms are now in operation around the country. However, on-farm processing for beef and hogs is considerably more challenging. This, however, does not mean that the concept of on-farm slaughter is not feasible or viable. It just means that the process of constructing the facilities is deterring many farmers from successfully continuing those mobile types of operations for large farm animals in the northeast.
We can look to a small dairy supply business operating in New York for inspiration. Don's Dairy Supply of South Kortright, NY offers farmers a turn-key Public Milk Ordinance Approved Creamery unit constructed from a re-purposed shipping container. The unit comes fully equipped with processing and sanitation equipment, putting their farmer customers on a fast track to value adding. The current price for a base bottling creamery is $58,000, which is essentially the material cost for an equivalent stick-built facility before factoring in planning and construction labor. Don's Dairy Supply clearly learned what I have also learned in my experience with modular building and that is there are dramatic savings in cost and complexity through duplication and repetition.
According to VT Farm to Place's "Grass Fed Beef Value Chain Research", the four largest beef processing facilities in the USA can not only streamline production costs to about $100 per beef animal, but significantly undercut regional and local processors on processing fees. In Vermont, it can cost processors up to $800 to process, finish and deliver a beef animal. By operating an on-farm USDA approved craft butchering operation, a small farmer can reclaim a large portion of their processing costs as value-added income.
This project aims to make it very easy to construct an on-farm modular meat processing facility initially with a focus on beef and swine. Prior efforts have been made to offer meat producers more access than commercial slaughterhouses through mobile facilities. Over the past 15 years, there were a few successful mobile facilities for beef in the far Northwest. But we have not found any USDA approved on-farm modular facilities in the Northeast according www.eXtension.org on small meat processing facilities at
https://articles.extension.org/pages/19781/mobile-slaughterprocessing-units-currently-in-operation
My project is novel in that it is focused on empowering farmers to do their own skilled butchering. As a local meat farmer, I have developed a strong understanding of what is needed for a small, local meat business to operate. This project aims to find commonalities in the basic requirements for the local meat farms, and to weave those common threads into a streamlined system of sequential business development opportunities.
Description of farm operation:
Brian Leach, BSME will carry out the design, construction and operation of the proposed facility. He is the owner/operator of Haystack Farmstead which is a grazing beef operation and co-owner of Woodlawn Holsteins LLC, a commercial dairy farm managed by his family. Brian is trained as a mechanical design engineer, with a focus on system design and fabrication. For the last 6 years he has been investing in the infrastructure needed to construct value-adding facilities along with starting Haystack Farmstead and providing labor and maintenance support for Woodlawn Holsteins. His career goals are to run a successful farm and to demonstrate the impact of technological empowerment as a counter-mechanism to rural stagnation.
Cooperators
Research
Materials and methods:
2019 Progress: Basic site prep for the Modular Meat Plant (MMP) installation location was completed. This included removing the topsoil from the area and bringing in ~ 24" of slate fill. Topsoil removal was performed using the farm's backhoe. Slate fill was brought in by hired truck and graded by hired bulldozer. 8 hrs of work with the backhoe will be submitted as labor covered by this grant. Material cost for the slate and hired excavation work will not be claimed.
The fill for the structure's concrete pad is a coarse slate tailings aggregate. A Cat D5 dozer was used to crush and top-level the fill. A heavy machine was needed due to the aggregate having large slate pieces in it. 
Base Fill Details:
21 loads @ 15yd. per load. Billed at $200/ load
3.3 hrs Dozer work @ $125/hr
Total Cost: $4,985
2020 Progress:
Work on the project was paused through early 2020 until late summer due to another major infrastructure project on the farm. An extension for the Modular Meat Plant (MMP) was approved by SARE to extend out to 2022.
Several design sessions were committed to ironing out the details of the container conversions. As shown below, I have previously created a detailed Computer Aided Drafting (CAD) model of a ISO-standardized shipping container that serves as a blank slate for creating a functional workspace.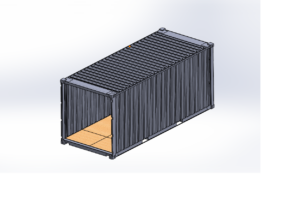 The challenge comes in modifying the rugged skeleton of a container into a space that has all the elements of a functioning shelter. Insulation, drainage, power, windows, doors and techniques to combine containers are all modifications that require planning and improvement with time. During the summer and fall of 2020, time was spent developing a first-pass at what will eventually become a set of standard conversion methods. The methods are sketched out on paper (see below) prior to transitioning to CAD.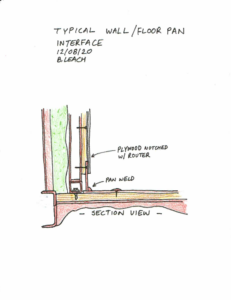 The first pass of the Standard Conversion Method sufficiently established, the layout of the MMP can be executed in CAD. The major components of each section include a shell that is the containers modified envelope, an interior frame skeleton for mounting the interior walls and a sheet metal floor pan. Examples are shown below: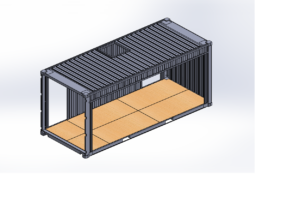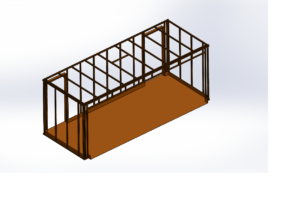 In the fall of 2020, the following facility layout was discussed with personnel within Vermont Agency of Ag. The feasibility of the plant layout was confirmed, meaning detailed design work could continue.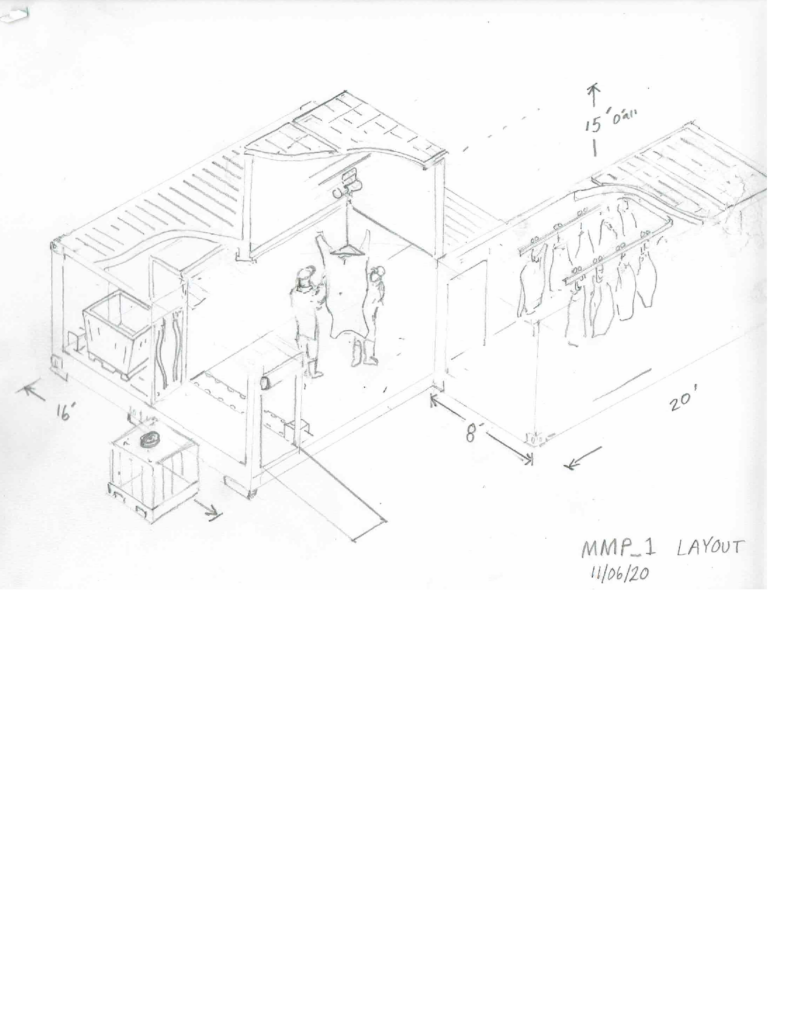 During December of 2020, work focused on translating the layout discussed with the state into a detailed CAD model that will be used to generate blueprints for the 2021 build. As shown in the image below, the design combines two containers to generate an open floor-plan. The steel removed from the wall cuts will be re-used to form a cupola that provides the needed overhead space to lift a beef carcass for necessary kill floor operations. A section view of the facility sections as they are currently modeled is shown below: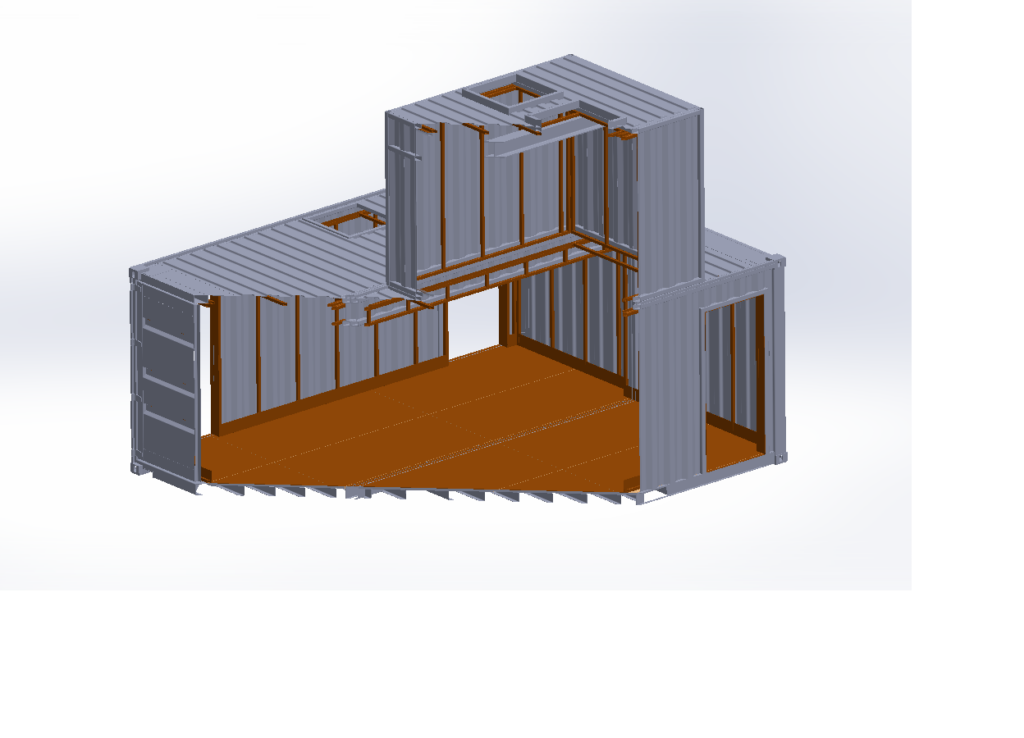 2020 Conclusions: Significant design progress has been made on this project.  Prior to ordering containers and steel, the carcass cooler section depicted in the layout sketch needs to be modeled which should be completed by February 2021. Spring and Summer '21 will be dedicated to the actual build.
2021 Progress: 
It was determined in 2021 that more significant fundraising would be required to complete the project. When the MMP was proposed, Brian hoped he could use available funds from farm revenue to cover the materials budget so that the system could be built one step at a time. This has proven to be an ineffective strategy due to both time and monetary constraints. The project strategy was revised and can be summarized as follows:
Raise more funds so that supplemental skilled contract labor can be brought in to assist with the build
Involve other farmers more directly with a cooperative development and management model
Increase planned productivity of facility to allow for a portion of the project to be financed with an appropriate rate of return
An application to the Vermont Working Lands Business Grant program was submitted and denied in early 2021. However, it was announced that a Meat Processing-Specific Working Lands opportunity was forthcoming in Fall of 2021. Anticipating this, outreach to neighboring farms and contractors was conducted to assemble a cohort and detailed project proposal. An application was presented to the Working Lands Enterprise Board that included the same proposed facility as outlined in this project, but with specific plans to operate the facility with other farmers. A hands-on training program for the farmer management group was arranged with existing USDA-inspected slaughterhouse Higley Hill Processing in Wilmington. Pre-approval for $30k of financing was obtained through RFN Capital. 
Total budget request was for $95,259 which will complement $24,000 of existing grant cash commitments and $30,000 of financing.
Notification was received on 1/02/2022 that funding to the project was awarded. Another timeline extension request will be submitted to NESARE to match the revised 18 mo. project completion window corresponding to the Working Lands funding.
The Enterprise Plan for the project is linked below and includes key planning charts:
HF_MMP_Enterprise_Plan_Sheets_Included
Participation Summary
1
Farmers participating in research