Final Report for FS09-237
Project Type:
Farmer/Rancher
Funds awarded in 2009:
$8,268.00
Projected End Date:
12/31/2010
Project Information
Abstract:
Growing organic hops on a sloping mountain terrain in Western North Carolina (WNC) prompts adjustments to traditional trellis systems, complicates the application of treatments for pests and diseases, demands special attention to plant nutrients, and involves substantial amounts of labor. Although hops is not a common crop in WNC, there is a significant--and growing--market for locally grown hops that includes local and regional microbreweries and home brewers.
After three seasons, we have not yet made a profit with our hops business; however, we are hopeful that this will change with the maturity of our planting as well as our growing understanding of the crop's requirements and how to satisfy them. Significantly, the recent USDA decision to remove hops from the "exceptions list" of organic products by the National Organic Program suggests that the demand for organically grown hops will increase. As of January 1, 2013, certified organic hops will be required for the production of organic beer (this has not been the case to date). The result should be a premium price for our certified organic hops.
Hops require a significant initial investment and a great deal of annual labor. Based on our multi-season effort supported by a SARE Grant, we can neither confirm nor deny that small-scale (1-2 acre), certified organic hops production on mountainous Appalachian farms can be a profitable endeavor. Nevertheless, we are encouraged by the steady progress of our hops cultivation and motivated by the robust and expanding WNC hops market. Consequently, we plan to continue production for at least several more seasons to determine if small-scale hops production is a viable business option.
Introduction
Our project was specifically linked to the unique challenges of farming in the Southern Appalachian region. In contrast to comparatively larger operations in Coastal and Piedmont areas, the mountain topography in WNC often limits farm size and can preclude employment of large, unstable machinery that works fine on flat terrain.
Relatively small farms on sloping topography must cultivate high-value crops that can be produced with minimal or no heavy equipment, ideally for local marketing to optimize economic viability. Historically, tobacco has fulfilled that role. Given the potential market comprised by the large number of microbreweries in the WNC region, we sought to determine if hops could be an attractive alternative crop.
Currently, most US-grown, commercial hops are produced on industrial-size farms in the Pacific Northwest, where crops are cultivated on 18-20 foot trellises, treated and harvested by large, specially-designed equipment, and prepared for market in huge processing facilities. Following the success of our 20-plant test plot in 2008, we instituted a two-season expansion of our yard with the support of a SARE grant. Our objective was to determine if and how hops production and processing can be adapted to the size and topography of the small mountain farm to yield an economically viable alternative crop.
Project Objectives:
To determine if a shorter trellis system with angled growing lines provides a satisfactory support for hop bines. To determine if a significant slope is a limiting factor to hop production. To identify hop varieties that perform well in WNC. To identify appropriate organic controls for pests and diseases encountered. To establish a market for locally grown organic hops in WNC.
Research
Materials and methods:
Hop Yard Layout and Trellis System
Our hop yard was designed to accommodate a significant slope (@ 30 degrees). It consists of 15 rows: twelve 50-foot rows and three 75-foot rows. The rows are spaced 14 feet apart, with mowing strips between them; the rows follow the slope of the land, which allows for tractor access for mowing and spraying.
Our trellis system is composed of 15-foot, farm-harvested black locust posts, spaced 25-feet apart, and sunk into the ground three feet, providing a height of 12 feet to the top wire. The top wire is chain link, which allows the sisal lines on which the bines grow to be fixed at an angle (rather than perpendicular to the ground), providing an additional 1.5 to 2 feet of growing distance depending on the slope of the angle. The sisal is anchored to the ground with metal tent stakes and is attached to the chain at the top with aluminum carabineers. The carabineers can be detached from the top chain for harvesting more safely on the ground without cutting the bine, thereby providing the option to reattach the bine for multiple harvests.
Although the arrangement of our hop yard was the same for both the 2009 and 2010 growing seasons, we experimented with the angle of the sisal lines from one season to the next to determine the optimal growing design.
Activities by season -- 2010
We were fortunate to be asked to participate in a NC State University-led research program on hops during the 2010 season, which provided significant assistance with soil and tissue analysis and pest monitoring and identification.
In March, we topdressed all rows with horse manure. Alternating monthly applications of Harmony (5-4-3) and Neptune Fish Fertilizer were applied beginning in April. Sulfate of Potash was topdressed in June.
In 2010, we decided to lengthen the growing lines by increasing the angle from the ground to the trellis. The increased angle provided an additional foot of vertical growing space for a total of approximately 14+ feet with no apparent detrimental affect.
We also experimented with running the lines from one row over to the top wire of the adjacent row, to increase the vertical growing space to approximately 23 feet. To allow tractor access to the mowing strips, we placed a horizontal wire in the growing row at a height of 4 feet to create an "elbow" in the line: the line went straight up 4 feet, then bent toward the top wire of the adjacent row. Unfortunately, this system proved unsatisfactory since the vine got tangled at the elbow, creating a training nightmare. Based on this experience, we conclude that there is a limit to how severe the growing angle can be.
Vines were thinned to allow 2 to 4 vines per line. Selected vines were "guided" to the lines until they began climbing on their own. Excess vines were cut back; removing excess shoots continued throughout the season.
Rainfall was more regular this season, leading us to believe that minimal additional water was necessary. By mid-season, however, we decided to irrigate using soaker hoses. The affect on growth was dramatic, although it was probably too late to have a significant impact on our harvest.
Weeding, mulching, and mowing continued as in 2009. To help reduce the problems with pests and diseases, we regularly stripped the bottom two feet of each vine; this activity was ongoing and required significant labor, but provided excellent air circulation.
Applications were made of Sonata fungicide to prevent mildew. Both hand picking and several organic pesticides were employed to reduce pest populations (comma caterpillar, leaf hoppers, thrips, spider mites, and Japanese beetles). While these appeared to be more effective than those used in 2009, plants still suffered significantly. Our analysis is that they were still undernourished, making them more susceptible to pest damage.
Harvest began earlier, in June, and was finished by the end of July. Although our yield was larger than in 2009, it was disappointing-- a little less than 16 pounds total fresh weight. Again, the cones were dried in our dryer as soon as they were harvested, then vacuum sealed and frozen.
Research results and discussion:
Cone Production
In the past two years we have learned many lessons about hop production and how to improve our results. Significant progress was achieved with the help of several people from NCSU Extension, The Mountain Horticultural Research Center in Mills River, the regional NCDA agronomist, a hop research team from NCSU, and other hop growers in the area. Working with all of these folks was very helpful in gaining a broader understanding of the requirements and problems associated with hop production in this region.
In terms of quantity harvested, results were minimal for both 2009 and 2010. This was not too surprising, given that most of our hops in 2009 were first year plants, making for a relatively young hop yard. Prolific hops production requires mature plants; production should increase over the next several years now that plants have become established.
Among the important lessons learned over the past two seasons is how to determine cone maturity. As cones mature, they develop greater amounts of lupulin, which gives hops their flavor and aroma. Peak maturity can be observed by cone size, squeezing the cones for the desired "sponginess", and breaking open a few cones to see the yellow lupulin. It has been an interesting observation that cones on a single plant mature at different times. This is significant in that a small operation can make multiple harvests to maximize cone quality.
Another lesson we have learned is the importance of thinning vines to encourage healthy cone production and stripping the lower 2 to 3 feet of growth. The best cones seem to be produced where only 2 vines have been allowed to grow on a line. In the future, we will thin accordingly. Stripping increases air circulation and may inhibit pest infestations.
Harvesting cones using a ladder that requires moving for each line was cumbersome. To facilitate access to the top of vines with minimal effort, we have designed a ladder/platform that is mounted on the bed of our utility vehicle for use beginning in 2011. It will allow access to the top wire and can be moved down the rows with ease.
Impact of Soil Nutrition and Irrigation
The most significant results we encountered had to do with nutrition and watering.The combination of insufficient soil preparation and inconsistent rainfall resulted in poorly nourished, weak plants that were subject to greater pest injury than if they had been robust and well fed. Given the perennial nature of the crop and the limitations of organically approved fertilizers, boosting the nutrient levels of the soil was difficult. With the assistance of NCDA regional agronomist Bill Yarborough, we adjusted our fertilizer regime. These adjustments along with continued annual applications of composted manure appear to have made a significant difference in nutrient levels, as reflected in our latest soil test results (September, 2010). We expect to see the fruits of these efforts reflected in the vigor of our plants, their resistance to pest injury, and the production of cones next year.
Another result we noted which will impact our efforts next year is the effect of irrigation. Even though rainfall was fairly good throughout the spring and summer, beginning in late June, 2010, we decided to irrigate with soaker hoses to establish more consistent water availability on these fast growing plants. The increased rate of growth in the irrigated plants was immediate and very apparent. Based on these observations, we will establish a permanent irrigation system next season.
Participation Summary
Educational & Outreach Activities
Participation Summary:
Education/outreach description:
Hops Workshops, Meetings and Tours
February 18, 2009: Brewers and Hop Growers Confab Madison County Cooperative Extension Service in Marshall, N C
May 14, 2009: Hops Growing Workshop Madison County Cooperative Extension Service in Marshall, N C
August 29, 2009: Hops Farm Tour Visits to Landfair Farms and Hop N' Blueberry Farm
November 18, 2009: Hops Production Meeting Mountain Agricultural Research Station, Waynesville, NC
May 17, 2010, the first meeting of the Southern Appalachian Hops Guild at our farm to coordinate outreach activities and compare production and marketing ideas
June 5, 2010: Asheville Beer City USA Festival Education table with other growers/members of the Southern Appalachian Hops Guild Downtown Asheville • June 19, 2010: First Annual Just Economics Brew Off (representing the Southern Appalachian Hops Guild) Downtown Asheville
July 31, 2010: Second Annual Hops Farm Tour Visits to Winding River Hops Farm and Hop N' Blueberry Farm
November 3, 2010: 2010 Lessons Learned Exchange--We proposed and helped coordinate a meeting with other regional hops growers and agricultural experts, held at the Mountain Horticulture Crops Research and Extension Center in Mills River.
Publications
We created a brochure about Blue Ridge Hops for use in marketing, and to explain our hop production strategy. We also established a farm website (www.blueridgehops.com), inviting interested people to visit, email, or call with questions about hops. We have received numerous calls, visits, and emails as a result.
Project Outcomes
Project outcomes:
A Growing Hops Community
The number of hop growers in Western North Carolina has expanded since we began production in 2008. Our outreach efforts have encouraged this growth. Several visitors to our farm have subsequently established hop yards of their own, at least two of these at a commercial level.
Sharing information and experiences with other regional hop growers has increased our understanding of hop culture and production. Alerting each other regarding pests and diseases, sharing sources of supplies and ideas for innovative trellising and training techniques magnified the value of our individual efforts. The Southern Appalachian Hops Guild was created in 2010 to bring together local growers to coordinate production information and marketing strategies for locally grown hops. We are founding members of the Guild, and we hosted the first meeting here on our farm. Its web site (www. ) has become a valuable information tool for growers and potential growers in the region.
Organic Hops Production
The commercial organic production of hops in Western North Carolina is--as best we can tell--unique to our operation. We have tried a variety of strategies for nutrition, pest and disease prevention and control, and weed control, some have been very successful, others have not. Our trials with these strategies should assist others who decide to grow hops organically. We have been fortunate to have been assisted in our efforts by Extension Plant Pathologist Sue Calucci; NCSU Small Crops Expert Jeanine Davis; NCDA & CS Agronomist Bill Yarborough; and NCSU Entomologist Hannah Burrack. Their helpful observations and recommendations have frequently pointed us in the right direction.
Nutrient Recommendations for Hops
Before we started growing hops, we tested our soil. The form for submitting a soil test requires the identification of the crop to be grown, using a code from an established list. Hops, because it is not a frequently grown crop in this region, was not among the possible choices. In the past, it was suggested that we insert "corn" as the crop most likely to have similar nutrient requirements.
As a grower participating with the NCSU Hops xxxx Project, we contributed information that has been used as a baseline to develop fertilizer recommendations for hops production. Now hop growers who submit a soil sample to NCDA & CS for tests, will receive recommendations specific to hops.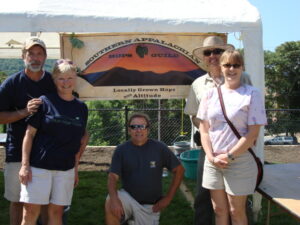 Recommendations:
Potential Contributions
Establishment of Market for Local Hops
Several local microbreweries have stated unreserved interest in high quality local hops, particularly for use in creating special seasonal brews. This is particularly interesting because the brewers are agreeable to using "wet hops" i.e., freshly harvested hops that have not been dried. Not only does this eliminate the drying and packaging process, but the weight of wet hops is approximately four time the weight of dried hops, and the pound for pound price is approximately the same. Coordinating efforts with the Southern Appalachian Hops Guild will maximize results of our marketing efforts.
Local home brewers have also expressed interest in local, organic hops. To exploit this market, we built a hop dryer. One and two ounce packages of hops for home brewers will be available next season.
By continuing our dialog with local microbrewers and with local and regional home brew clubs, we hope to create a viable and growing market for Western North Carolina-grown hops.
Future Recommendations
Soil Preparation. Proper nutrition is indispensable with this perennial crop, making pre-plant soil preparation critical. If we had it to do again, we would put far more advanced effort into preparing the soil. When we expand our plantings, we will thoroughly amend the soil prior to planting rhizomes.
Irrigation. We plan to install a drip irrigation system in 2011 to assure an adequate and regular supply of water. Additionally, we will use the irrigation to deliver water-soluble nutrients to plants in an effort to maximize consistent nutrient availability to plants and to reduce labor.
Beneficial Insects. In response to an established pattern of infestation, we also are planning to use predatory mites to combat what appears to be our most significant pest issue—spider mites. The sprays that we have applied have not provided good control, and have probably reduced populations of beneficial insects and predatory mites. With the help of NCSU entomologist Hannah Burrack, we hope to coordinate the release of beneficial mites with the rising population of spider mites (which occurred last year in mid July).
Lift System. Because ladders are heavy and unwieldy, particularly on our slope, we are designing a system to reach the top wires of the trellises—for securing the growing lines in spring, harvesting cones in summer, and detaching lines in fall. We will equip the bed of our 4-wheel drive utility vehicle with a secured step platform that will allow us to reach the 12-foot top wire safely and with less effort. We plan to employ this system for the 2011 season.
Weed Control. Weeding has constituted the majority of labor hours each season. To reduce this ongoing chore, we plan to use a weed barrier fabric covered with hardwood mulch on either side of the rows. We will continue using newspaper and mulch down the center of each row.
Marketing. To facilitate marketing efforts, greater coordination with local microbreweries is essential. Wet hops must be delivered and used within a day or two of harvest, so brewing and harvest schedules must be synchronized.
Expansion. We plan to propagate new plants in 2011 for expansion of our two most productive varieties. To further our profit potential, we are investigating the possible sale of excess rhizomes. This could prove to be lucrative if the demand for organic rhizomes increases.