Final Report for FS16-287
Project Type:
Farmer/Rancher
Funds awarded in 2016:
$9,837.00
Projected End Date:
12/31/2018
Project Information
Abstract:
In consideration of profitability per square foot coupled with late frosts killing our fruit blooms, we wanted to take advantage of the potential growing space in between our fruit trees for additional berry bushes, herbs and annual crops.  This polyculture growing approach, in addition to increasing our bottom line profitability, created a healthy soil, eliminated the need for pesticides (plenty of insectary plants including within the orchard), stopped the need for mass mowing and removed the nutrient competition of grass surrounding our trees.  
These planting beds were installed for permanency aka no future tillage.  Although the initial installation was intensive in regards to labor, time and money it is done....forever.  We planted approx 30% of the new growing space with perennial pollinators, a vast variety of berry bushes and perennial herbs.  The beauty of this approach was apparent to preparation for 2017 crop planting. 
As the season progressed and the beds settled in our harvests increased greatly.  In comparison to 2015 harvests of annual seasonal veggies, this new area's productivity is notable and reflected in the excel of our sales.
We have expanded this approach to another young orchard which is already producing beautiful peas, strawberries and perennial herbs.   
Main Orchard, Oct 2016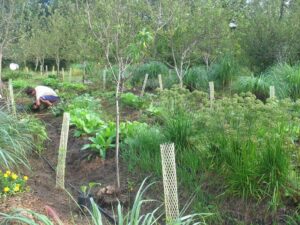 Introduction
We are a certified Organic and biodynamic farm in southern VA.  The past many years, because of late frost, we always lose some fruits. We also wanted to expand our annual veggie production and this area made the most sense to cultivate because the many benefits to the soil and the trees.
Project Objectives:
Our objectives were multiple:
Increase profitability per square foot
Create polyculture of plants to enhance soil health
Create a polyculture of plants to increase beneficial bug population, thus minimizing/eliminating the need for additives of fertilizer and pesticides
Increase variety of crops to eliminate financial risk due to single crop failure especially with the regularity of late frost eliminating fruit crop productivity
Research
Materials and methods:
We began by seeding fairly heavily with clover.  Once it took hold and set buds, we plowed it under, disced & deeply tilled.  Beds, in between rows and paths were formed, off contour in a wavy pattern to  slow and capture rain runoff lessening the need for irrigation and top soil loss.  We then installed berry bushes, mulberry, honey berry and blueberries.  Then we planted insectary perennial pollinators like yarrow to invite beneficial bugs to house, bee and other pollinator plants/herbs such as oregano, sages, foxglove, daisies, bee balm, lavender etc.  We topped the beds with compost and seeded.    This year, all that was needed was top dressing these permanent beds with compost and we're ready to seed/transplant our spring crop.  It took less than a day to completely prepare all of our beds for spring planting.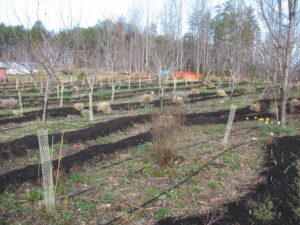 Research results and discussion:
Other than a wonderfully beautiful orchard bursting with life, both above and below ground level, our profitability exploded by comparison to 2015.  The timing of this was appreciated since we lost the bulk of our largest crop aka blueberries due to a late April frost. 
We are so pleased with the success, both for the health of our trees, the health of our soil, the increase in beneficial bugs and additional income, we just finished retro fitting a new orchard with the same approach. Pictures of this new orchard are attached.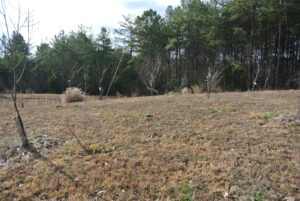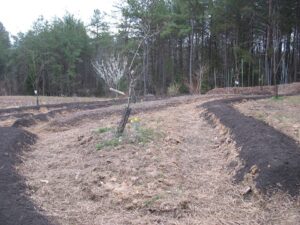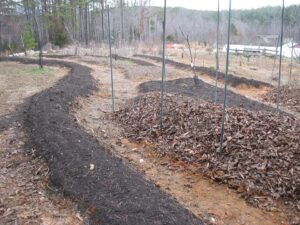 Participation Summary
Educational & Outreach Activities
Participation Summary:
Education/outreach description:
We held many farm tours and workshop.  I also published a "Companion Planting" worksheet which is reflected in our orchard.companion-planting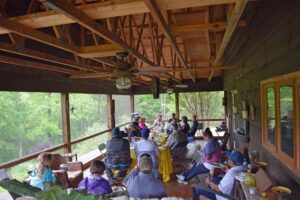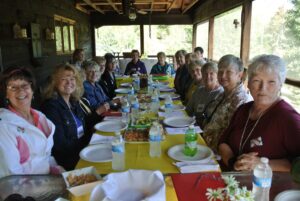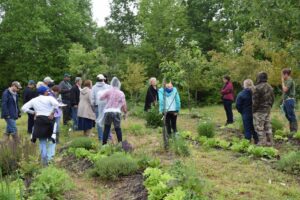 Project Outcomes
Project outcomes:
The biggest:  Knowing that our produce diversity has increased 10 fold removing the stress of a monocrop and financial dependence of fruits.