Final report for FS20-323
Project Type:
Farmer/Rancher
Funds awarded in 2020:
$10,700.00
Projected End Date:
03/31/2022
Grant Recipient:
Red Boot Goat Farm
Project Information
Abstract:
Our solution is to increase USDA slaughter availability through use of USDA Inspected Mobile Processing.  Our goal is to launch a USDA Inspected Mobile Processing Unit (MPU) that will be used by existing custom exempt processors for the benefit of their local producers.
Existing successful mobile processing units are structured with a mobile unit that travels to the farm or other locations and harvest the livestock. Typically, the offal is left at the farm or other location.  The carcass is transported back to a permanent further processing facility where it is chilled overnight, and then butchered into cuts of meat, packaged and frozen. Many examples of successful USDA Inspected mobile slaughter units are combined with permanent butchering, packaging, and storage facilities (i.e., Island Grown Farmers' Cooperative, Bow, Washington).
Prior SARE studies focused on evaluating the feasibility of launching an MPU for use by individual producers or groups of producers. In these prior studies, the feasibility of a State Inspected Halal Custom Slaughter was evaluated (SARE FNC05-584). And, other prior work has evaluated the feasibility of State inspected mobile slaughter units (SARE FNC99-250).  However, meat sold under custom exempt regulations cannot be sold through retail trade, limiting the market for the meat.
Other studies have evaluated launching a USDA inspected facility in combination with a stationary butchering and processing facility (Curtis et. al. 2007). Niche Meat Processors Assistance Network (NMPAN) has many resources for groups interested in mobile processing.
This project plans to evaluate the feasibility of launching a USDA-inspected MPU for use by existing custom exempt facilities as well as direct to individual producers.  Our vision is for existing custom exempt facilities to be able to expand their client base by offering their customers processing services under USDA Inspection. Meat slaughter services will also be made available to individual livestock producers.
Potentially, the MPU would schedule inspected slaughter in coordination several custom exempt facilities over a month.  The MPU could either slaughter at the livestock owner's farm or at the custom facility's location.
This solution minimizes investment in plant and equipment, taking advantage of the existing network of established custom exempt processing facilities in Florida. Custom exempt facilities typically have butcher, packaging and storage services.
This solution differs from previously MPU projects funded by SARE.  Having mobile USDA compliant mobile slaughter unit(s) available to existing local custom slaughter facilities will benefit local communities in four ways: 1) local custom exempt facilities will be able to process for an expanded producer base, including niche meat companies wanting to sell USDA inspected meat; 2) livestock producers will have more options for slaughter and, potentially, access to on-farm slaughter which minimizes stress to the animal and transportation cost; 3) this project will increase slaughter access for sheep and goat producers; and, 4) consumers will benefit from increased access to local meat.
The goal of this current proposed project is to conduct a feasibility study to analysis and evaluate the demand for a MPU for small ruminants in Florida. Specifically, to determine if it will be technically feasible and profitable. 
Project Objectives:
Develop Business Concept. Red Boot will first verify the overall business concept, and detail this in a brief 10-page PowerPoint presentation. The PowerPoint will describe the functionality and project concept using pictures from other MPU's, diagrams, and text. The power-point will be used to verify the scope of the project for potential stakeholders, including local custom exempt operators, farmers, regulators, and potential end users.
Review Concept. The PowerPoint concept will be reviewed with managers of three custom exempt plants and food safety faculty at University of Florida. There, questions and comments will be incorporated into the business concept.
Development of Potential Stakeholder List. Red Boot will develop a list of potential end users of the mobile processing unit. Potential users include existing custom exempt facilities as well as independent processors. Red Boot will collect contact information, email addresses, business locations, and basic profile information.
Estimating Demand for Local Slaughter. Red Boot will contract with the University of Florida to develop, execute, and analyze the digital survey information. Information from the survey will be critical to determine if there will be enough users for the proposed slaughter facility. The survey will show demand by location for slaughter services by species, potential volume, and willingness to pay for these slaughter services. A bid for $5,000 has been provided by William Messina, Economic Analysist, Food and Resource Economics Department at the University of Florida.  Sheila Austin and project team will conduct interviews and administer surveys to stakeholders.  Angela McKenzie-Jakes, FAMU extension will be critical to identifying small ruminant producers
Equipment. The cost of purchasing and equipping a mobile processing unit will be estimated. Red Boot's team will collect cost information on purchasing a trailer unit and different pieces of processing equipment. Prior research by Curtis, et.al. details a comprehensive framework for developing the cost of the equipment and the mobile unit. Prior studies give an overview of staffing, infrastructure (water, electricity, sewage) needed to operate the unit.  Red Boot will assume that the base unit will be purchased from TryVan, who has supplied the majority of MPUs in operation. Sheila Austin and project team will collect the information.
Operating Costs and Expected Revenue. Sheila Austin and project team will collect information on operating costs and the cost of the processing unit.
Pro Forma Financials. Financials will be developed for the mobile processing business to verify that the business is financially feasible. If feasible, additional work will be needed on funding operational strategies. Mark Yarrick, a business development professional, will perform the analysis.
Business Plan. If feasible, a brief business plan will be developed that describes the overall business, projected revenues and expenses, and resources needed to purchase and equip the mobile processing unit. Mark Yarrick will write this.
Cooperators
Research
Materials and methods:
This study was conducted to determine Florida's goat and sheep (small ruminants) producers' satisfaction with their state's slaughter and processing facilities. Most importantly, the project investigators (team) conducted the inquiry to determine the need to purchase a mobile processing unit for small ruminant producers in the state. Therefore, they developed a survey instrument and submitted the document to the Institutional Research Board at the University of Florida (UF) to ensure they used the appropriate steps to protect the rights and welfare of individuals participating in the inquiry. Once the survey was approved, the investigators (Shelia Austin [Lead investigator] and personnel from Florida A&M University [FAMU] and UF) created a flyer to invite farmers to participate in the study. The survey was disseminated through email listservs, extension personnel, goat associations, posted in feed stores in five counties in Florida, rural businesses catering to farmers, online, at agricultural events, and in-person contacts.
COVID
The public perception of COVID's disruption to the availability of food, created a supply issue for meat at the local level.  Daily images of empty grocery shelves and counters shaped how we thought about who would benefit from the availability of a Mobile Slaughter Unit (MSU).  The realities of COVID also changed our approach to reaching stakeholders as in-person recruitment opportunities were shut down.
April 2020
Due to the inability to meet in person, we initiated the use of Zoom to meet to begin the process of identifying stakeholders for the survey.  We identified three potential stakeholder populations:  livestock producers, custom exempt slaughter facilities, and others (custom butchers and meat shops). 
Livestock producers
We determined that the survey must be designed to identify what livestock is currently produced, the number of animals produced for slaughter, current slaughter access, type of slaughter (USDA inspected vs custom exempt and producer preferences), challenges of access to slaughter, access to cut and wrap, cost issues, etc.
Custom Exempt Slaughter Facilities
We determined that existing custom exempt slaughter facilities may have an interest in access to a mobile slaughter unit.
Others
Access to meat at the local level prompted us to consider custom butchers/meat shops as stakeholders who may be interested in how a MSU could impact their businesses.  
As we started to consider each stakeholder population, we found that sourcing a current list of custom-exempt slaughter facilities was challenging.   A list of custom exempt facilities published by the University of Florida included those who were no longer in business or no longer accepted sheep/goats for slaughter. A call was made to the Florida Department of Agriculture and Consumer Services to assist in this effort.
We reached out to Dr. Chad Carr, UF Associate Professor and State Extension Meat Specialist, to discuss the SARE grant and solicit his help in crafting the survey and reaching potential stakeholders.  He informed us that IFAS would be hosting an online Beef Boot Camp series starting in July and that we were welcome to have time at the initial webinar to introduce the efforts of this grant. 
We also reached out to Dr. Cynthia Sanders, UF/IFAS Extension Director for Alachua County to introduce our grant and solicit her advice for identifying potential stakeholders.  She indicated that the Alachua County Fairground was in the process of being moved to a new location.  The County was in the process of developing the new location including adding water/sewage infrastructure to accommodate livestock shows.  She indicated a potential to check with county engineer involved in the fairgrounds retrofit to discuss ability to host a mobile slaughter unit.
May-June 2020
Met with team to finalize survey questions and have link to survey available for the July IFAS Beef Boot Camp Series. 
We obtained a 2020 list of County Fairs and started to call Fair Managers to discuss setting up a table in the livestock barns to talk to fair patrons and show parents about the grant and to distribute surveys.  All summer and fall 2020 county fairs were cancelled.
One youth livestock show unrelated to a county fair was scheduled to take place in September with the understanding that attendees would be required to follow mask and social distancing requirements.  I was given permission to have a table at this event.
July -August 2020
Survey instrument, flyers, materials for recruitment table printed in preparation for the September event.  The webpage housing the survey was not yet available, but it was decided to go ahead with paper surveys.
September 2020
Attended the youth livestock show over two days.  Recruitment efforts were difficult as no one in attendance (except for a teen volunteer) wore masks.   Efforts to engage family and friends of the youth showing livestock was almost impossible and most avoided me altogether. One gentleman indicated he could not talk to me because he could not understand me through my mask.
There were a couple of parents who did complete surveys but of those I was able to stop, most indicated that their involvement in livestock was limited to youth shows, not production.  This challenged our assumptions of making the bulk of our recruitment efforts from county fair.  It was evident that we would need to rethink efforts.
October 2020
We became aware of a recently awarded, UF IFAS/FAMU extension grant, SEEDIT Emerging Enterprises Project:  Sheep and Goat Production Assessment and Production Chain Development, that had very similar objectives to this SARE producer grant.  Our SARE survey could be easily edited to include additional questions that would provide data for both efforts.  As a bonus, this SARE grant would leverage the IFAS/FAMU extension existing resources to reach state-wide stakeholders.  This flyer was digitally disseminated by IFAS/FAMU extension.
November-December 2020
Hard copies of the flyers for the joint grant effort were printed and posted at feed stores in five Central Florida Counties.  As with recruitment efforts at the youth show in September, some personnel were clearly uncomfortable with my mask.  Most however did allow me to post fliers and a couple of feed store owners were very interested in the grant.
To date 150 individuals have started the online survey, 30 have completed it.
Research results and discussion:
Final Report
Survey respondents were asked to report data from their 2019 and 2020 farm operations, the thought being that the Covid pandemic likely disrupted their business. Some survey respondents did not answer all questions. So, the number of participants who replied to each question is indicated in the tables and figures that follow.
Tables 1-3 provide a summary of demographic information provided by the 159 respondents who participated in this survey.
In terms of years of operation, 62% of respondents indicated they had been in business for less than 10 years.  Of note, the USDA defines beginning farmers and ranchers "as those who have operated a farm or ranch for 10 years or less either as a sole operator or with others who have operated a farm or ranch for 10 years or less."  Only 38 percent of the respondents indicated that they had been in business for 10 years or longer.
Nearly half of the operations (47 percent) were less than 10 acres in size, with another 39% being between 10 and 50 acres. Six percent of the operations were between 50 and 100 acres, and 8 percent were over 100 acres in size.
Annual revenues from 2019 showed a strong tendency toward smaller sized operations. Thirty two percent of respondents indicated revenues less than $1,500, while another 30 percent reported revenues between $1,500 and $5,000; in other words, over 60 percent of survey respondents reported annual sales of less than $5,000. Twenty seven percent of respondents reported revenues of between $5,000 and $10,000 and 18 percent reported revenues between $10,000 and $20,000. Only 3 percent of respondents indicated that their operation generated revenues between $20,000 and $100,000, and another 3 percent reported revenues in excess of $100,000.
Table 1 Number of Years in Operation
| | |
| --- | --- |
| Demographics | Response Rate1 (%) |
| Years in Operation (48 responses) | _______ |
| Less than 3 Years in operation | 12% |
| 3-6 Years in operation | 31% |
| 7-9 Years in operation | 19% |
| 10+ Years in operation | 38% |
| Beginning Farmers <10 Years in operation | 62% |
1 The percentage of farmers responding to years in operation.
Table 2 Number of Acres in Farm Operation
| | |
| --- | --- |
| Farm Operation Size (49 responses) | Response Rate1 (%) |
| Less than 10 acres | 47% |
| 11-20 acres | 31% |
| 21-30 | 2% |
| 31-40 | 2% |
| 41-50 | 4% |
| 51-60 | 0% |
| 61-70 | 4% |
| 71-80 | 2% |
| 81-90 | 0% |
| 91-100 | 0% |
| 100 | 2% |
| 200 | 4% |
| 300 | 2% |
| Acres in Operation ≤ 20 Acres | 77% |
1The percentage of farmers responding to acres in operation
Table 3 Revenue Produced from Raising Small Ruminants
Revenue Earned for 2019

(33 responses) by Categories1

Income Earned2

Percentage of Income Earned3

 

 

 

Less than $1500

 

 

 

$120

2.94%

 

$200

5.88%

 

$500

5.88%

 

$1,000

14.71%

 

$1,050

2.94%

$1,500 - $5,000

 

$1,500

0%

 

$2,000

8.82%

 

$2,500

2.94%

 

$2,655

2.94%

 

$3,000

2.94%

 

$3,500

2.94%

 

$4,800

2.94%

 

$5,000

5.88%

$5,500 - $10,000

 

 

$5,500

2.94%

 

$5,600

2.94%

 

$8,000

2.94%

 

$9,000

2.94%

 

$9,500

2.94%

 

$10,000

5.88%

$10,001 - $20,000

 

$12,000

2.94%

 

$15,000

5.88%

 

$16,000

2.94%

$20,001 - $100,000

$75,000

2.94%

$100,000

0%

$100,000 +

$210,000

2.94%
1 Revenue earned by categories [less $1500, $1500- $5000 or between $5500-5600].
2 Actual income, earned by respondents per category.
3 Percentage of income earned by respondents per category. For example, 3% of the respondents    
  earned $120 or 6% earned $5,000 annually from farming.
Farms by Florida County
While the original goal of this project was to look at goat meat markets and processing, the project survey generated responses from approximately as many sheep producers as goat producers. Since both goats and sheep are small ruminants, and because of similarities between goats and sheep in terms of meat processing and marketing, we have included the responses of both goat and sheep producers in this report.
Figure 1.  Goat and Sheep Farms by Florida County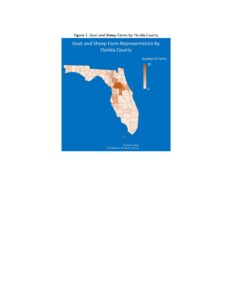 The following map (Figure 2) illustrates the distribution, by county, of goat farms as reported by survey participants. While Marion County is also the largest county with goat farms, there seems to be a more scattered distribution of goat farms, again with the majority being in north-central Florida.
Figure 2.  Goat Meat Farms by Florida County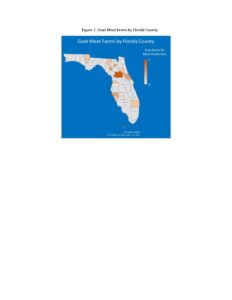 However, based on the data, there was a wider distribution of sheep farms in the state's southern region than goat farms, as shown in Figure 3.
Figure 3.  Sheep Meat Farms by Florida County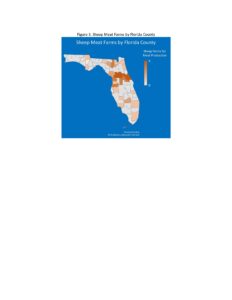 Goat and Sheep Availability by Month
Most farms in the study had goats and sheep for slaughter from July through September, while fewer small ruminants were butchered during the winter months (Figure 4). The following figure (5) represents the number of goats and sheep available for slaughter by month from survey respondents in Florida. The monthly patterns shown are generally consistent with the data from figure 4 on the number of farms that have animals available for slaughter.
Figure 4.  Number of Florida Farms with Goat and Sheep for Slaughter, by Month, Based on Survey Responses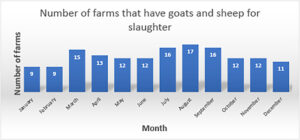 Figure 5.  Number of Goat and Sheep Available for Slaughter in Florida, by Month, Based on Farms Reporting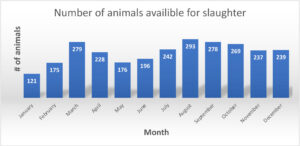 Travel for Processing
Table 4 summarizes the data provided by the survey respondents on the number of miles they currently travel or are willing to travel for custom exempt and USDA-inspected meat processing and packaging services. The first row in the table revealed that 31 participants reported the distance they traveled to access USDA-inspected processing was from 4 to 100 miles, with an average of 44.9 miles. A single respondent noted they traveled 4-miles, as was the case for the 100-mile response.
The second row of the table (4) showed that 25 participants reported how far they travel to access custom exempt processing, with responses varying from 1 mile (1 respondent) to 100 miles (1 respondent). The average for these responses was 30.8 miles, which is reasonable as ranchers would not be expected to travel as far to access custom-exempt processing as they would USDA inspected processing.
Furthermore, 37 participants responded to how far they would be willing to travel for custom exempt packaging. Their responses varied from 1 to 100 miles, with the average response being 40.7 miles, as shown in table 4. In both cases, the respondents indicated they would be willing to travel somewhat further than they presently travel to access USDA and custom exempt processing.
Table 4. Travel for Processing
| | | | | |
| --- | --- | --- | --- | --- |
|   | # of Observations | Mean (miles) | Minimum (miles) | Maximum (miles) |
| Miles Traveled for USDA Inspected Processing | 31 | 44.9 | 4 | 100 |
| Miles Traveled for Custom Exempt Processing | 25 | 30.8 | 1 | 100 |
| Miles Willing to Travel for USDA Inspected Processing | 49 | 46.7 | 10 | 100 |
| Miles Willing to Travel for Custom Exempt Processing | 37 | 40.7 | 1 | 100 |
Are Current Processing Options Meeting Your Needs?
The next three charts reveal additional information on processing difficulties that respondents face.
Figure 6 reports the results of the question whether current meat processing options are meeting the needs of 43 survey participants who responded.  Forty-two percent of the respondents reported that their current options for meat processing are not meeting their needs.
Figure 6.  Current Options for Processing Goat Meat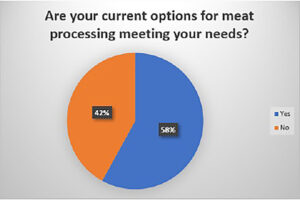 Forty percent of the respondents, as shown in Figure 7, revealed that they do not have access to USDA inspected packaging or custom exempt packaging.
Figure 7.  Accessibility to USDA or Custom Exempt Processing Facilities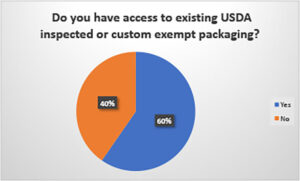 However, respondents reported were almost evenly split on access to slaughter and processing as a barrier to the growth of their operations (refer to Figure 8).
Figure 8.  Barriers in Expanding Producer Farm Operation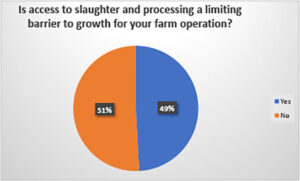 When respondents were asked to describe the difficulties associated with meat processing, most who responded reported difficulty finding USDA certified processing, many of them also indicated that they had to travel too far for the service (refer to Table 4).
In Figure 9, sixty-four percent of respondents said they preferred USDA certified processing, indicating their difficulties accessing federal processing facilities. Thirty-one percent of respondents remarked that they favored custom exempt processing, and 5% of respondents revealed that they would like access to both forms of processing to satisfy their customer needs and marketing plans.
Figure 9.  Processing facility preference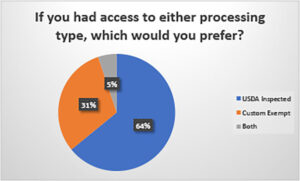 When asked to describe the range of processing needs that are not being met, responses tended to point to the same few issues:
Access to nearby processing facilities.
Prohibitively high costs of processing small batches.
Difficulty even finding processors who would handle small batches.
One respondent even indicated the quality of the cuts obtained from the USDA inspected facility they used was extremely poor.
Other Survey Responses
From this point onward in the survey, a relatively small number of participants entered responses, making it difficult to draw a more decisive conclusion. However, there are interesting insights to be gained from the data. The survey asked respondents to provide information on what they paid for slaughter and cut-and-wrap for USDA inspected and custom exempt processing. Unfortunately, very few participants responded to these questions. The reported prices varied over such a wide range that it was impossible to draw any useful information from the responses. Survey participants were also asked if they have current market opportunities for USDA inspected or custom exempt products that they cannot fully serve. 
The lack of processing facilities did not seem to be a constraint for goat and sheep producers. More than two-thirds of respondents indicated that they did not have markets they couldn't serve because of processing.
The survey also questioned if slaughtering and processing access were barriers to growth for their farm operation. Over half of respondents indicated that it was not a barrier to growth.  Survey participants who answered that processing was a barrier to the development of their farm operation were asked to specify the obstacles to growth. The responses to this question were limited in number.
The primary complaint was about high processing fees, but also there were restrictions on access altogether, issues with transportation and related costs, and poor quality.
The survey then asked participants to identify if they served a customer base that requires specific processing methods to satisfy religious practices. Approximately 20 percent of producers indicated that they serve a customer base that compels special processing. Most of these producers also report they process goat or sheep to satisfy the Halal requirements and some Kosher demands.
Furthermore, scarcely more than 20 producers responded to the question about their level of satisfaction with USDA-inspected slaughter facilities. Their responses are in Table 5 and Table 6.  It should be noted that respondents often tended to give the same ranking for all categories. Also, some respondents did not reply to all categories, so the total number of responses varies slightly across categories.
Table 5. How satisfied are you with using Florida USDA-inspected slaughter facilities for each of the following categories? 
| | | | | | |
| --- | --- | --- | --- | --- | --- |
| | Extremely satisfied  | Somewhat satisfied  | Neither satisfied nor dissatisfied  | Somewhat dissatisfied  | Extremely dissatisfied  |
| cut quality  | 6 | 5 | 9 | 0 | 2 |
| affordability   | 5 | 5 | 8 | 2 | 2 |
| customer service  | 6 | 4 | 8 | 2 | 2 |
| plant sanitation   | 5 | 4 | 8 | 3 | 2 |
| capacity for multiple species | 5 | 5 | 8 | 1 | 2 |
| distance   | 6 | 1 | 8 | 2 | 5 |
| access   | 4 | 4 | 8 | 2 | 4 |
| prices   | 5 | 4 | 8 | 2 | 2 |
| value of services  | 5 | 4 | 8 | 2 | 1 |
Table 6. How satisfied are you with using Florida Custom Exempt slaughter facilities for each of the following categories? 
| | | | | | |
| --- | --- | --- | --- | --- | --- |
| | Extremely satisfied  | Somewhat satisfied  | Neither satisfied nor dissatisfied  | Somewhat dissatisfied  | Extremely dissatisfied  |
| cut quality  | 6 | 6 | 11 | 0 | 1 |
| affordability   | 6 | 5 | 11 | 1 | 1 |
| customer service  | 8 | 7 | 9 | 0 | 1 |
| plant sanitation   | 7 | 4 | 10 | 1 | 1 |
| capacity for multiple species | 6 | 3 | 13 | 0 | 1 |
| distance   | 8 | 4 | 11 | 0 | 1 |
| access   | 9 | 4 | 10 | 0 | 1 |
| prices   | 6 | 6 | 10 | 0 | 1 |
| value of services  | 7 | 5 | 10 | 1 | 1 |
When asked where survey participants marketed their goat and sheep products, 6 respondents indicated that they sold their animals live, 22 respondents indicated that they sold their meat products on farm direct to customers, 2 responded that they sold their meat products at farmers markets, one indicated that they sold their meat products to a local restaurant and one respondent indicated that they delivered their meat products directly to customers. 
Survey responses regarding the percent of annual goat and sheep sales going to each market the respondents serve, suggest very focused marketing channels, with nearly all farms relying on only a single market channel for all of their sales.
Nineteen producers reported primarily serving their own county in which they operate. Responses for geographic markets served are contained in Table 7.
Table 7. Geographic Areas Served
| | |
| --- | --- |
| Geographic Area Served | Number of Responses |
| Jacksonville/St. Augustine area | 4 |
| Gainesville area | 9 |
| Tallahassee area | 4 |
| Pensacola area | 0 |
| Orlando area | 3 |
| Tampa/St. Petersburg/Clearwater area | 6 |
| Lakeland/Winter Haven area | 3 |
| Naples/Ft. Myers area | 0 |
| Vero Beach/Ft. Pierce/Stuart area | 2 |
| West Palm/Palm Beach County | 1 |
| Miami-Dade County | 2 |
| Other Florida areas (unspecified) | 8 |
| Alabama | 2 |
| Georgia | 2 |
| Other States (unspecified) | 1 |
| International Exports | 1 |
Slightly over half of producers who responded (13 out of 21 respondents) indicated that they had recently experienced challenges in serving their current markets. Challenges identified included:
COVID-19

can't take sheep to fairs to gain exposure
reduced custom slaughter availability

Can't find quality advertising outlets
Limited ability to arrange for slaughter and marketing
Concern about being dependent on only a single marketing channel
Lack of USDA facilities nearby
Can't sell meat due to law/expense
Can't get the processing done
Inability to sell online
Higher gasoline prices

Customers won't travel as far to purchase meat, therefore, decreasing my sales
Customers expect discounts to cover their extra fuel costs

Breed association and registration company restricting flock management under threat of losing registration.
Once again, responses regarding the maximum amount that producers would be willing to pay for USDA-inspected and Custom-Exempt slaughter and processing services were very limited and spread over such a wide range that they offered no useful information or insights. 
Concluding Observations
Discussion
It must be noted that the COVID-19 pandemic presented a great challenge to completion of this grant.  The recruitment and survey dissemination methods written into the grant were simply not possible to execute given the shut-down of public events.  An unforeseen opportunity to collaborate with a University of Florida grant, similar to this SARE grant to survey livestock producers in Florida, allowed us to combine survey instruments and recruit from additional populations. This widened our pool of respondents and made in-person contact with producers less of a barrier to completion.
Survey responses suggest very focused marketing channels, with nearly all farms relying on a single market channel for all of their sales.
More than two-thirds of respondents indicate that they do not have markets they are unable to serve because of processing limitations.  The survey also questioned if slaughtering and processing access were barriers to growth for farm operations. Over half of respondents indicated that it was not a barrier to growth.
In looking at the survey results for satisfaction with current use of USDA-inspected slaughter facilities and current satisfaction with use of Custom Exempt slaughter facilities, the nature of producer's relationship to the processed meat must be considered.  For Custom Exempt, the producer facilitates the processing for the buyer of the animal.  For USDA-inspected slaughter, the producer takes ownership of the processed meat for sale and thus may have higher expectations for the quality of the meat.
Based on the results of this survey, at this time, it does not appear that a Mobile Slaughter Unit (MSU) or small USDA slaughter facility could be supported in Florida for small ruminants as,
current production is limited to farmers with small acreage (production constraints)
the existing production constraints limits sales
the majority of current small ruminant producers are beginning farmers and relatively inexperienced
Participation Summary
159
Farmers participating in research
Educational & Outreach Activities
1
Curricula, factsheets or educational tools
Participation Summary:
Education/outreach description:
Survey outcomes to be presented at future extension programs.
Information Products