Progress report for FW19-340
Project Type:
Farmer/Rancher
Funds awarded in 2019:
$19,990.00
Projected End Date:
12/31/2022
Host Institution Award ID:
G256-19-W7501
Grant Recipient:
Montana State University
Project Information
Abstract:
Improving Winter Greens Production and Storage for Cold Climate Farmers is a three year project designed to provide Northern US growers with profitable solutions for winter production challenges and to provide their communities with nutritious local food year round.  Western Montana and regions with similar plant hardiness zones currently face limited options for fresh produce in the winter months. Greens available in our stores and restaurants have traveled many miles and many days, resulting in low quality food with no economic benefit to the local community.  On the other side of the equation, many vegetable producers in Montana have the infrastructure but lack the knowledge and technology necessary to successfully grow year-round, and their businesses suffer seasonal gaps in farm income starting soon after field crops freeze. Producers and researchers in areas in the northern US such as Vermont and Michigan have pioneered methods that may be very applicable to our growing climate but also may require adaptations which we hope to explore and share. 
This project will research and train farmers in cost-effective methods of high tunnel ventilation, efficient passive solar heating, high-yielding and cold-hardy greens varieties, and optimal storage practices.  Missoula Grain and Vegetable Co., LLC will be constructing four caterpillar tunnels - which are smaller and more mobile than high tunnels - to test alongside three stationary high tunnels at the farm.  We will erect a weather station on the farm and add temperature sensors to the high tunnels and one caterpillar tunnel  We will also be installing automatic ventilation systems on all three stationary high tunnels to test out how to most efficiently respond to weather conditions without jeopardizing crop survival.  Finally we will be exploring ways to make winter-produced crops last longer in storage including: comparing plants stored whole vs cut leaves, testing washing before vs after storage, and tracking how different greens varieties fare in storage for short and long durations. Locally grown greens will be compared with store-bought alternatives through nutrient testing of leaf tissue, and records of labor and input costs will help growers make low-risk business decisions. All results will be made available online and shared at farm tours, conferences around the state, and on-farm workshops. Researching and sharing improved methods of efficient winter growing and storage will increase adoption and success of year-round production enterprises among cold-climate vegetable farmers.
Project Objectives:
Project Objectives:
Strengthen the competitiveness of Montana vegetable farms by researching improvements to the production and profitability of winter-grown greens. To measure this goal, we will track input and yield data from multiple high tunnel systems and variety trials. After presenting this information in workshops, farm tours, and at conferences, we will use surveys to determine its value to participating farmers and to identify additional areas of need.

Improve efficiency of high tunnel ventilation and crop frost protection, conserving both fossil fuel and labor resources. Measured by tracking labor costs and yields for our 6 production spaces, and comparing the results between multiple methods and technologies. Results will be shared with other growers at tours, workshops, conferences, and in published articles.

Enhance quality of life for farmers by demonstrating lucrative opportunities for winter farm income. This goal will be measured by tracking profits and progress towards less expensive inputs, shorter working hours, and the ability to fund additional staffing at the farm. We will measure increased awareness of strategies for producing and storing high-value winter greens through surveys for tour and workshop participants.

Provide local consumers with fresh, local produce year round. Measured through leaf tissue analysis of winter-produced greens under different storage conditions and duration.
Timeline:
July-September 2019: Install four 24' x 150' Caterpillar tunnels with convection heating system
July-September 2019: Order seeds for lettuce variety trials
August-October 2019: Install temperature and humidity sensors on high tunnels and weather station at MGVC
August-October 2019: Install solar-powered ventilation systems
Beginning November of 2019 through June of 2022: Small-group farm tours, 4+/year
February-March 2020, 2021, and 2022: Compile the previous season's data on production costs, harvest volumes, and weather for all winter greens production; analyze for effects of climate conditions, high tunnel heating, and seed variety
July 2020: Field Day farm tour at MGVC with Missoula CFAC
July 2020, 2021, and 2022: Present project at WARC field day
December of 2021: On-farm Winter Production Workshop
December 2021: Present project at MOA Annual Conference
2020, 2021, and 2022: Publish one or more articles about project and results each year
January 2022-March 2022: Compile data and results into final write-up
Cooperators
Research
Materials and methods:
The first step of our project will be constructing four 13' x 150' caterpillar (mobile, passive solar) tunnels at Missoula Grain and Vegetable Co. (MGVC) for expanded winter production.  In year two, the three stationary high tunnels on the farm will also be updated with 24 volt solar-powered systems to operate automatic ventilation in order to reduce plant stress and mitigate the impact of human error on crop failure and data quality. In addition to regulating the ventilation, temperature and humidity sensors in three high tunnels and one caterpillar tunnel will connect to wireless monitors that will digitally track and record readings. Over the course of the three year study, we will compare this climate data with crop yields and input costs in order to measure the combined effects of weather conditions, frost protection layers, and automated ventilation on greens productivity.  In addition to measuring winter green productivity, we will also be tracking labor hours and other input costs such as seed for each high tunnel to provide side-by-side financial analyses of the season extension systems. This data will be made available to farmers online alongside information collected from other winter producers around the country to help them determine what winter production options might be most cost effective for their purposes.
We will be trialing cold-hardy varieties within four species of greens including kale, spinach, mustard, and claytonia, replicated in multiple tunnels, in order to identify which do best in our challenging winter conditions. The three high tunnels and four caterpillar tunnels will provide replication for the variety trials under slightly different conditions. Three random sample weights of each trial green will be harvested.  Length and number of rows per harvest sample will be recorded. This will be used to extrapolate an average yield per row foot for each green. We will also work to mitigate the inevitable variability between different tunnels by collecting soil samples before planting in fall of 2019.  Any significant deficiencies will be remediated with the appropriate organic soil amendments, and differences will be included in the final analysis of production data. The crops chosen represent a typical diversified farm production system in order to be relevant to a wide variety of growers in northern climates. 
In addition to evaluating growing systems for winter greens, we will be exploring the effects of storage conditions and duration on crop marketability and nutritional value.  A temperature and humidity sensor connecting to wireless monitors in the walk in cooler at MGVC will keep daily records, and we will experiment with storage methods and times to better understand how to keep greens fresh and marketable.  We will compare storing whole cut plants instead of the standard cut leaves to investigate methods pioneered at Pete's Greens Farm in Vermont. Contamination and sediment on greens are known to have a detrimental effect to their longevity in storage, so we will take washing practices into consideration as well by comparing washing before vs after storage. Leaf tissue samples from two species of greens will be sent for analysis each year to determine how nutritional value is affected by altering harvest, washing, and storage duration. Ideally we would sample greens from each growing space and multiple times over the season, but due to the high cost of sampling, will only sample one space per season and only do two replications.  We will also use nutrient analyses to compare the quality of locally-grown winter greens with commercial alternatives currently on the market and use that information to develop a marketing tool for other producers. Using commercial food laboratory testing, we will be looking for statistically significant differences in the presence of nutrients that change quickly in produce and also provide essential health benefits, primarily: vitamin A and vitamin C. 
Supplemental to our primary study focuses, in 2021 we will perform simple light transmission tests in a high tunnel, caterpillar tunnel, as well as underneath single and multiple layers of frost protective fabric to provide growers with a better understanding of how these common season extending technologies impact the amount of light reaching their plants. WARC owns a photosynthetically active radiation (PAR) meter which we will be using for the testing, and the readings will be taken in multiple conditions on several days. For every sampling event, each growing space will be sampled within the shortest possible window of time to compare light as directly as possible.  In our outreach materials and final write up, this information will be explained along with resources to determine daily light integral for specific farm locations and understand how many mol/m-2/day different crops require to help farmers avoid choosing crops that simply cannot thrive in their local winter conditions.
We will consolidate all data and review the project at the end of each winter season to determine if adjustments are needed to create a more valuable resource for farmers. We will also incorporate information we learn from interviewing innovative producers and other researchers around the country to fine-tune our methods and ensure we are contributing new and necessary information. The success of our project will be determined by how useful and accessible the information we collect is to other farmers. We will use surveys at all outreach events to help measure and maximize our positive impact.
Participation Summary
2
Farmers participating in research
Educational & Outreach Activities
2
Curricula, factsheets or educational tools
1
Published press articles, newsletters
Participation Summary:
3
Ag professionals participated
Education/outreach description:
We will be offering a winter workshop for farmers in the final year of our project, and are hoping to bring in roughly 20 producers. The workshop will be scheduled for one full day in December at Missoula Grain and Vegetable Co. (MGVC) in Stevensville.  We will reach out to prominent winter producers from around the country to speak at the workshop (in person or through online video platform), and we will also facilitate a farmer-to-farmer discussion to expand the educational experience beyond the methods explored in our study. The workshop will feature demonstrations of all technology used in the study as well as practical breakdowns of costs for various production systems, marketing opportunities for winter crops, and resources to connect with other winter producers and experts in the field. 
In addition to the workshop, both the farm and WARC will be providing at least 6 farm tours per year for individuals and smaller groups following the first season, reaching at least 10 people.  The farm tours will provide a chance for more in-depth demonstrations and training with individual producers, students, and aspiring farmers. In addition to demonstrating our project to growers who express interest, we will also be sharing information about our research with interns at other local farms, students in the college agriculture and food programs, and local extension agents to better connect up with new and young farmers who could benefit from our work but may be too busy to come to workshops or tours. We plan to reach an additional 75 people in Western Montana through these strategies. All participants in tours, class visits, and the workshop will be provided with our survey to investigate areas in need of more training and to access changes in knowledge and practices. 
Finally, we will also be interviewing producers around the country with unique and creative winter growing solutions, and including their tips in our tours, handouts, and final write-up. The write-up, including data, production cost analysis, tips from growers, and research conclusions, will be published on the WARC's website and on MGVC's website, and it will be made available in hard copy format at WARC. We will create an abbreviated summary of what we learn in a double sided hand-out to circulate at tours, conferences, and at county extension offices, increasing our reach to small farmers. We will also be publishing one or more articles every year about our project and results in relevant publications such as Growing for Market, participating in an on-farm education program with a local organization called Missoula Community Food and Agriculture Coalition, and providing Extension agents and university researchers around the state with copies of our final project write-up at the conclusion of the project. Finally, we will present our findings at Montana Organic Association's annual conference after the project ends, and will also present about our project and results at WARC's annual field days each year of the project.
As of March 2020, we are preparing for outreach activities by analyzing the first season of trials, developing educational materials, and organizing upcoming events.  Details about the project were shared twice in the farm's newsletter which reaches over 200 community members in Western Montana, primarily customers and CSA members.  We have also already connected with 5 visitors about the project through tours, 2 at the farm and 3 at the research center, and anticipate many more opportunities to share with visitors and volunteers as the spring season gets underway. Using data and valuable lessons from the winter season, we have developed a handout to use with visitors and in presentations explaining the variety trials, season extension experiments, and monitoring technology.  We will continue refining and adding to the handout as we get more data and in response to feedback from other producers. With presentations and workshops, and when possible with visitors or volunteers, we will be collecting contact information so we can follow up with our survey to assess understanding and interest in winter production. In January 2020, we shared about the project with the annual Planning for On-Farm Success Workshop hosted at Missoula Extension in January, which had 16 students, 2 extension agents, and several staff members of CFAC participating.  
In August 2020, we held one Field Day at MGVC in collaboration with Missoula Community Food and Agriculture Coalition (CFAC), targeting beginning farmers and freely available to the community.  The event was publicized through the NCAT listserv, the CFAC website and newsletter, and the farm newsletter.  Due to Covid-19 safety concerns and because part of our workshop featured in-greenhouse and in-packshed demonstrations, we hosted the event virtually.  We drew 15 participants to the online. The farmers Katie and Max were filmed in advance of the webinar so that viewers could witness the high tunnels, low tunnels, caterpillar tunnels, as well as the venting and row cover materials utilized in this SARE project. Questions from participants surrounded planting dates, row covering procedures, varietal selection, and harvest weights.  Many of these questions were related to the practices and data we've documented through the SARE grant.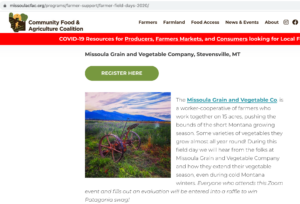 We are pursuing opportunities to expand on this webinar by presenting as guest speakers at classes within the Integrated Agriculture and Food Systems program at Flathead Community College as well as the Sustainable Food and Farming program at University of Montana in Missoula.  In this, we hope to reach a different demographic of prospective growers through those programs.  
As of March 2021, we are preparing for outreach activities by analyzing the first season of trials, developing educational materials, and organizing upcoming events.  Details about the project were shared twice in the farm's newsletter which reaches over 200 community members in Western Montana, primarily customers and CSA members.  We have also already connected with 5 visitors about the project through tours, 2 at the farm and 3 at the research center, and anticipate many more opportunities to share with visitors and volunteers as the spring season gets underway. Using data and valuable lessons from the winter season, we have developed a handout to use with visitors and in presentations explaining the variety trials, season extension experiments, and monitoring technology.  We will continue refining and adding to the handout as we get more data and in response to feedback from other producers. With presentations and workshops, and when possible with visitors or volunteers, we will be collecting contact information so we can follow up with our survey to assess understanding and interest in winter production. 
In 2020, the project was not presented at WARC's Field Day in July due to a cancellation.  WARC is planning a large virtual field day in 2021.  So we are coordinating with the planning committee to see how we can participate in this new form of field day.  In the past, this in-person event reaches between 100 and 150 visitors.  
In the winter of 2021, we will present at the Farmer 2 Farmer Exchange conference, which in 2020 was a virtual conference that invited a small cohort of 21 producers from Eastern Washington, Idaho, and Western Montana.  This is the target audience of our project as all but two of these participants don't grow vegetables in the winter months.  And as more nutritional, production, and greenhouse temperature/humidity data gets recorded this year, we anticipate providing very useful information to help them re-evaluate their decision to forego winter growing in their high tunnels.  We will ask attendees to our presentation to fill out pre- and post-presentation evaluations so that we have a better understanding of what topics they would like included and what information they found compelling.
We are also in talks with the Western Ag Research Center (WARC) about creating a short video that documents visually a comparison between the caterpillar and high tunnel growing spaces. If this opportunity comes to fruition, we will report on the nutrition, agronomic, and economic benefits of winter growing and share this video on the farm social media platforms and website. When we present on our work with this SARE project, we will refer participants to this video.  And WARC will circulate this video through various MSU distribution channels.
Learning Outcomes
2
Farmers reported changes in knowledge, attitudes, skills and/or awareness as a result of their participation
Key changes:
Installing and managing frost-protection technology

Improving profit margin with labor efficiencies

Reducing risk of crop failure with climate sensors

Conservation of energy resources for winter production

Identifying more reliable crop varieties
Project Outcomes
2
Farmers changed or adopted a practice
2
Farmers intend/plan to change their practice(s)
1
Grant received that built upon this project
2
New working collaborations
Project outcomes:
We learned several valuable lessons from the first season of winter greens trials which we are using to improve operations and educate other producers. We originally hoped to identify suitable lettuce varieties through our trials, but all lettuce greens failed to tolerate winter conditions in year one. They proved highly susceptible to insect pests and provided a much lower yield per bed foot in comparison to other hardy greens types. Additionally, the lettuces were much more labor intensive to harvest, and simply did not create a sustainable enterprise.  We are therefore transitioning to testing only hardier species that will have a higher success rate for a wider variety of producers including: kale, spinach, mustards (both brassica rapa and brassica juncea species), and claytonia.  
The weather station and four sensors we installed in year one worked as planned and provided valuable data to guide growing decisions and reduce labor costs.  The sensors were placed in each hoop house, underneath the row cover, and roughly in the middle of the growing space. They appeared to give reliably accurate readings of conditions throughout the season, and the alerts enabled us to improve the timeliness and efficiency of daily adjustments to ventilation and row cover.  The sensors reduced labor costs from previous seasons as we made approximately 50% fewer trips to each space to check temperatures. They prevented significant crop damage in the high tunnels and caterpillar tunnels on 5 occasions by helping us catch problematic temperature swings in a timely manner. This also allowed us to increase frost protection measures, such as putting on another layer of row cover before evening temperatures progressed to the point where row cover was frozen and unable to be applied.  This coming season, we will add an additional sensor to one of the four caterpillar tunnels. We initially struggled with the sensor's wireless transmission distance and were unable to reach the caterpillar tunnels in year one, but have moved the tunnels closer to the hoop houses to solve that problem. The sensor placed in the walk-in cooler where winter greens are stored also benefited the farm by preventing temperature fluctuations from becoming problematic on four occasions.  In previous seasons, we encountered some crop loss issues with the cooler getting too cold during periods with outdoor temperatures at or below 15F.  Crops on the north side of the cooler could experience freezing temperatures under these conditions and we would take preventative measures, such as placing a space heater or heat lamp in these areas of the cooler during periods of predicted temperatures at or below 15F.  With the sensors we were able to set an alert system to better determine when to add heat to the cooler, whether through a space heater or opening one door of the cooler, which connects to our dry crop storage, which maintains a temperature of 50-55F. This provided labor savings, decreased potential crop losses, and reduced electricity consumption and cost.  
As anticipated, on-farm data collection and record keeping did prove difficult to keep organized and consistent.  We have been using that experience to develop a logging system with clipboards and checklists in the high tunnels and the wash house, similar to what is used for on-farm food safety record keeping in the GAP and Organic Certification programs.  We have committed to spending 2 additional hours this season educating all farm workers on the data collection system in order to avoid gaps, such as when a different farm crew member unexpectedly takes over crop maintenance or harvesting. To further help improve our data collection, we will be participating in a season-long course called Know Your Cost to Grow this year, and apply the course to two of our winter greens varieties. We look forward to sharing what we are learning with other farmers interested in improving their profitability and identifying efficiencies.
In our second year of data collection, we learned many important ways to improve our study of data collection.  Primarily in the past we've taken harvest weights when we harvest for our farmers markets or CSA's due to the convenience of harvesting once for both research and market needs.  But we have not obtained enough data and routine data for each month of the year with this convenient method.  We realize now, two years into the study, that by taking more consistent harvest weight samples every two weeks (whether we are harvesting for a farmers market or not), we will provide more useful information for crop planning than we would under the old, more convenient (but random) harvest schedule.
This winter, we overwintered many crops successfully in both caterpillars and high tunnels.  In March 2021, we began harvesting the above-mentioned hardy greens (kale, spinach, mustards, and claytonia) in great quantities.  This was the first year that we had enough passive solar greenhouse spaces that we could allow the majority of these fall plantings to continue growing in the spring months and still manage to plant in the remaining spaces what early successions were needed for farmers markets that begin in May.  This revelation points to the increased value of winter growing for farms, and we have documented harvest and sales data for the months of March and April that we will present to other growers trying to make a decision about pursuing season extension. Suffice is to say, these overwintered greens are contributing to the bottom line of the farm with sales prices of $16/pound direct to consumer and an elevated wholesale price of $5.33/pound.
Unfortunately all of the outdoor weather data being collected by the weather station was not being stored due to our subscription status. We have started paying for this additional service in spring 2021, and will have outdoor weather information for the upcoming key months of the study (September-March).
Success stories:
$400 reduction of crop loss on farm 
$8700 increase in winter crop production
The greens contributed to an increase in winter farmers market sales in 2020 to an average of $2100/market in November and December.  
A negative degree outdoor temperature in February registered in at lows of between 20-25 degrees in a high tunnel under one layer of floating row cover.  The quality and harvest weights seen in the hardy greens plantings were not impacted during a string of negative degree nights in the winter of 2020-21.
Recommendations:
See Project Outcomes section
Information Products