Final report for FW19-349
Project Type:
Farmer/Rancher
Funds awarded in 2019:
$20,000.00
Projected End Date:
05/01/2022
Host Institution Award ID:
G231-19-W7501
Grant Recipient:
Ninole Cacao LLC
Project Information
Summary:
Performance of novel clonal cacao accessions in Hawaii under sustainable farming conditions
Despite strong demand for cocoa and chocolate of Hawaii origin, cocoa production in Hawaii remains limited to several hundred metric tons produced on a small number of farms (approximately 60 across the different islands).  There is potential for growth and cocoa, much like coffee production, is a potential high-value economic opportunity for farmers in the State.  One of the limitations of cocoa production in Hawaii is the lack of proven, productive planting materials with good resistance to disease.  Farmers usually use trees derived from seed produced on their own farms, without pollination control.  The result is unpredictable: 70-80% of the cocoa is typically produced from 20-30% of the trees, with an undesirable heterogeneity of growth habits.   More sophisticated production systems rely on clones that have been selected for their productivity, resilience and for cocoa quality.  The benefit is higher, more consistent production and higher uniformity in the plantation, resulting in more cost-effective farm management.
In this project, we propose to test new clones on a 3-acre plot near Ninole.  These clones have recently been introduced by USDA, after years of selection from genetically diverse populations, to combine yield, resistance to disease and cocoa quality.  Ten clones will be compared with locally obtained seedlings.   In order to guarantee the sustainability of the production system, our objective will be to identify a group of 3-4 complementary productive clones, which, used together, will maintain genetic diversity in the orchard, while offering diverse cocoa quality options.   The clones will be grown using sustainable agronomic practices designed to maintain soil fertility and limit waste.
The work will be supervised by USDA and the trial will be used to build awareness in the farming community through a series of information and training sessions.
Project Objectives:
Establish an experimental orchard based on clonal cocoa. Our aim is to develop a cost-effective protocol for the development of grafted clonal materials and control seedlings.  This includes comparing direct planting with nursery germination, developing cost effective protection of plantlets against insects, fending off weed competition.  Success measures: rate of survival of seedlings and grafted plantlets, growth rate, plant replacement within a year
Compare the performance of clones and seedlings. This will be measured by their rate of development, morphology, flowering time, fruit set, pod index, pod and bean yields, bean size, production per tree, % productive trees, disease tolerance.
Develop a sustainable agronomic system to optimize the production of clones and seed-derived trees and minimize the cost of production. Different pruning regimes will be tested for clones and seed-derived controls.  We will compare different ground cover crops and their efficiency vs herbicide treatments.  Success measures, for pruning: productivity, disease incidence and intervention time; for weed control: ground cover index and speed, weed incidence.
Raise awareness of the farming community on clonal cocoa management and on new clonal materials introduced by USDA.  This will be done through farm visits and measured through farmer surveys
Timeline:
Objectives

Activities

Main deliverables

Timing

1.     Establish an experimental  clonal cocoa orchard

Evaluation of direct seeding

Germination rate and survival rate

Month 3

Monitoring survival of plantlets

Survival rate

Months 3, 6 and 12

2.     Compare the performance of clones and seedlings

Plant development

Plant/crown height, trunk diameter

Every 6 months for 3 years

Morphology

Canopy diameter

Productivity

Flowering, productivity, bean size

Disease

Black Pod infection

Statistical analysis

genetic and environmental effects

End of years 2 and 3

3.     Develop a sustainable agronomic system

Pruning

Effect of pruning on productivity and disease

Every 6 months in years 2 and 3

Ground cover

Selection

Month 6

Growth rate and weed prevention effect

Months 7, 10 and 12

4.     Raise awareness on sustainable clonal cocoa production

Field days

Field days and surveys

Mid year, on years 2 and 3

Survey results

1 month following field visits

Local event with East Hawaii Cocoa Association

Event planned

End of year 2

Local event and surveys

End of year 3

Survey results and small article

1 month after local event

Presentation by USDA at international event

Presentation prepared

End of year 3

Results presented

tbd

Evaluation and producer adoption

Follow up survey

Survey prepared

2 months after last field visit

Survey results

3 months after
Cooperators
- Technical Advisor - Producer

- Technical Advisor - Producer

- Technical Advisor (Researcher)

- Technical Advisor (Researcher)

- Technical Advisor - Producer

- Technical Advisor - Producer

- Technical Advisor - Producer

- Technical Advisor - Producer
Research
Materials and methods:
Establish an experimental orchard based on clonal cocoa
Materials
Clones:  10 clones will be tested:  8 clones selected by USDA in Ecuador and 2 locally selected clones.  The selection criteria for these clones were: pod count, pod index, bean size, resistance to fungal disease (Osman Gutierrez, Cocoa Program Lead, USDA ARS, Miami FL, personal communication).
Seed-derived materials: pods will be locally sourced from experimented cocoa farmers, using trees they recommend.
Trial design:
1-1.5 acres of clonal cocoa will be planted on the upper part of our farm.  Another 1.5-2 acres of seed-derived cocoa trees will be planted as controls.  The trees will be arranged in sets of 2 rows of plants separated by 10' wide alleys.  Cocoa trees within rows will be planted 6' apart and the two rows will be planted in a staggered fashion, in order to facilitate access to the trees from both sides, for pruning and harvesting purposes.  The larger alleys should allow for a small tractor to bring materials and haul away pruned branches or harvested pods.   The total number of plants will be approximately 750/acre.
In order to facilitate harvest and traceability, while controlling for environmental differences, the clones will be arranged in 2 blocks of 35-50 trees, alongside 3 blocks of 50 control trees.  The blocks will be randomly distributed and tagged with a unique identifier.
Development of the cocoa plantlets:
Two types of plantlets will be used for our trial: grafted plantlets for clones and seedlings for seed-derived trees.  Grafted plantlets will be provided by USDA: they will have been produced by micro-grafting (grafting onto hypocotyls), on local seedlings used as rootstocks.
Seedlings will be produced in 2 ways: 1) by direct seeding in the field or 2) in the nursery, after growing them for 4-5 months in 4" pots or tubes under shade.  Direct seeding will be done as recommended(Cacao 101: Seed to Pod. H.C. "Skip" Bittenbender - presentation, personal communication)), by planting 2-3 seed and ultimately keeping only the most vigorous seedling.  Nursery grown seedlings or grafted plants will be transplanted into the field at 4-6 leaf stage, taking care that no part of the root is twisted.
Protection of the emerging plantlet
In Hawaii, cacao plantlets are known to be susceptible to rosebush beetles and pigs.  The planted area will be fenced to keep pigs out.  To protect plantlets against insects, they will be placed under a cage adapted from Bittenbender and Caraballo Ferrer (Evaluation of field cage design for seed planted cacao in Hawaii. H.C. "Skip" Bittenbender and Jeffrey Caraballo Ferrer - poster, personal communication). The cages will be removed following seedling establishment.  Several alternative designs are currently being tested and the most effective and least costly solution will be retained.
Weed control (see below)
2 different types of ground cover crops will be planted and compared: a legume, Arachis pintoi (perennial peanut) and a grass, Paspalum viginatum (http://turfgrass.ctahr.hawaii.edu/downloads/seashore%20paspalum.pdf).
Collection of data and parameters measured:
We will keep track of a sample of seed and seedling planted and follow their fate over time (about 200 trees per treatment).  Germination and seedling survival rates will be calculated after direct seeding.  Similarly, we will estimate the survival rate of seedling and grafted plants at 3, 6 and 12 months, as well as the replanting rate.  Development of the plantlets will be evaluated as described below.
Compare the performance of clones and seedlings.
The following characteristics of the plants will be measured every 6 months for 3 years:
Development rate: height, trunk diameter and crown height (for seedlings) - up to moderate pruning limit set below
Morphology: canopy diameter – up to moderate pruning limit set below
Production: flowering time, number of pods, number of beans per pod (sample of 50 random pods per variety), bean size, average dry bean yield per repetition
Disease: % Black Pod infected pods
Other: signs of insect damage
Statistical analysis will be performed to evaluate the effect of variety and environment on these different characteristics
Develop a sustainable agronomic system to optimize the production of clones and seed-derived trees and minimize the cost of production.
Pruning
Two pruning regimes will be tested for clones and seed-derived controls:
Severe pruning: plants topped at 7', diameter of the plants restricted to 5'
Moderate pruning: plants topped at 9', diameter of the plants limited to 6'
Suckers will be removed from seed-grown trees, in order to avoid the development of additional crowns.
This trial will be done on plants that are not included in the variety trial, using 1-2 clones (according to material availability) and control trees. 2 repetitions of 10 trees per treatment will be used at a minimum.
Pod count, pod index and disease incidence willberecorded
Cover crops
We will compare 2 different ground cover crops: a legume, Arachis pintoiand a grass, Paspaulum viginatum, and will compare their efficiency to an herbicide treatment.  After establishment of the cocoa, the relative effect of ground covers will be tested on 2 blocks each, in areas grown in control seedlings - taking care of not interfering with the variety trial, which will be planted with only one cover crop.  2 additional blocks will be left free of ground cover and treated with herbicides.
The cover crops will be compared for vigor and area covered over time (sqft after 1, 3 and 6 months) and for their effectiveness in keeping weeds out (sampling for presence of weeds over several 10 sqft areas).
Raise awareness of the farming community on clonal cocoa management and on new clonal materials introduced by USDA (see educational outreach below).
Research results and discussion: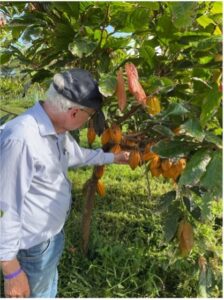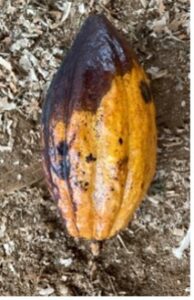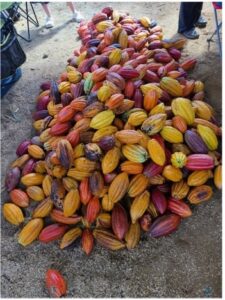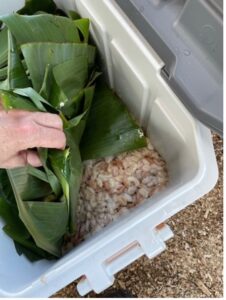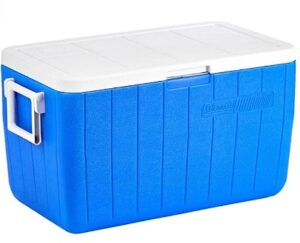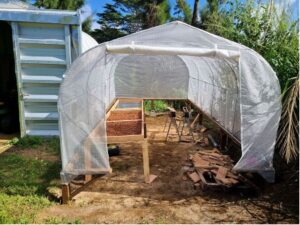 State of the plantation
The oldest part of the plantation (2019 planting) entered maturity in the last year.  The area planted in 2020 was still immature at the time of this report.
It was the first year where we had a sizable harvest of cocoa beans and could estimate the proportion of productive trees on the farm.  In order to evaluate this, we performed a survey in March 2022 based on a representative sample of 66 trees:
Tree development

76% have pods
6% have more than ten pods (Fig. 1)
Only 62% were still flowering at the time of the survey
average jorquette height: 3.85 feet
Mortality: 5.5% were considered to need replanting
Fig.1: Highly productive tree
Genetics 
Unfortunately the clones that were going to be tested were never delivered by USDA so the variety trial that was initially envisioned could not take place.
Agronomy
Weeding continued to be a major concern, due to the high levels of rainfall on our wet side of the island.  As described in previous reports, we have developed a sustainable way to control weeds without the use of herbicides: weeding is done only by mowing.
This results in developing a grassy ground cover throughout the plantation that keeps other weeds down and protects against soil erosion
Our plantation was originally a sparse secondary forest, composed of invasive trees (African tulip and Albizia).  After clearing, stumps were left that kept producing shoots interfering with cocoa cultivation.  We were able to reduce regrowth by spreading thick black tarp on some of these areas, thereby limiting the use of herbicides.
Fertilization and soil pH correction (see table 1)
All trees were fertilized every six months with 100 g of 16:16:16 applied around the perimeter of the tree.
As the soil is slightly acidic, all tree perimeters were limed every six months (3 months offset from fertilization ) with 150 g of Ag10 Dolomite.
Pest and disease mitigation (see table 1)
Chinese Beetles remained the major pest issue, causing in some cases extensive leaf damage.  We were however able to control infestations by applying soil drenches of imidacloprid. This was only done before pods started maturing on the trees (to prevent systemic movement into the mature beans): all the trees were treated with imidacloprid on 9/11/21, which was the only treatment in 2021. We used 100mg of imidacloprid in 5 oz of water.  The treatment was effective and we did not re-apply since.
We noticed symptoms that were reminiscent of the Black Pod fungal disease (Phytophtora palmivora).  Symptoms remained generally limited and only present on a handful of trees (Fig. 2)
Fig. 2: pod presenting symptoms similar to those of  P. palmivora infected pods
Table 1: treatment schedule
Date

Lot

Fertilizer (N.P.K.)

Insecticide

Amount/tree amt

Lime Amt

Lime type

3/10/21

Lower

16.16.16

100g

3/10/21

Upper

150 g

Ag 10 dolomite

6/24/21

Lower

150 g

Ag 10 Dolomite

6/24/21

Upper

16.16.16

100 g

9/11/21

Lower

imidacloprid

5oz p tree (450ml/Gal)

9/11/21

Upper

imidacloprid

5oz p tree (450ml/Gal)

10/1

Upper

16.16.16

100g

10/1

Lower

150g

Ag 10 Dolomite

11/3

Upper

20.20.20 (foliar)

300ml/tree (113g per gal)

2/1

Upper

150g

Ag 10 Dolomite

2/1

Lower

16.16.16

100g
Harvesting
There have only been 2 complete harvests so far. One in December 2021 (800 pods, 180 pounds wet cocoa, 72 pounds dry cocoa) and one in March (575 pods, 153 pounds wet, 61 pounds dry).  A partial harvest is underway (around 150 pounds wet), corresponding to about half of the pods available; the other half is planned in June.
All the pods were harvested on trees in the upper lot that were planted in 2019 – representing around half of the trees in the plantation.  None of the trees planted in the lower lot were ready for harvest.
Pod and bean characteristics
Number of beans per pod =41.7
Wet Weight per bean = 2.5g
Wet weight of beans per pod 104.25 g
Dry weight per bean 1.01g
Each kg of wet beans yields about 404 g of dry beans.