Final report for FW20-361
Project Type:
Farmer/Rancher
Funds awarded in 2020:
$12,300.00
Projected End Date:
09/30/2022
Host Institution Award ID:
G268-21-W7900
Grant Recipient:
Alaska Specialty Crops
Project Information
Summary:
Wind erosion is a major concern in the loess soils of the southern Matanuska-Susitna region. Likewise, weed control is a major expense in both conventional and organic vegetable production.   We've read about transplanting vegetables into roller-crimped cover crop residue and, if this technique could be modified for Alaska conditions, these high-residue systems may have the potential to both decrease erosion and hold back weed pressure.  None of the Ag professionals consulted knew of any commercial operations in Alaska using high-residue systems for vegetable production so we almost have to start from scratch.  Important questions include which cover crop mixes are appropriate and when should they be planted.  Will a roller-crimper be adequate for terminating the cover crop and is the milk stage the optimal time?  To this end we propose planting 5 cover crop mixes at different dates to be roller-crimped prior to snowfall.  Vegetables will be transplanted into the residue in 2021 and marketable yield along with weed control effort will be measured.  Outreach will consist of field days highlighting the 2020 cover crops and 2021 vegetable crops.  The results will be presented at the State's SARE conference, and the Conservation District's State-wide meeting.  The findings will also be released as a bulletin and a YouTube video.  If this high-residue strategy is successful (and cost effective) it has the potential of both decreasing soil erosion through soil protection and building soil health by decreasing cultivation.
Project Objectives:
At the end of the first growing season determine which of the 5 cover crop mix/planting date combinations gives the densest ground cover as determined by biomass weight and percent ground cover.
At the end of the second growing season determine if planting directly into the cover crop residue is more effective than planting into a 6" strip where the residue has been removed as determined by measuring marketable yield.
At the end of the second growing season evaluate the effectiveness of high-residue planting by comparing the marketable yields and time spent on weed control from each treatment against the no-residue control plot.
At the end of the second growing season evaluate the interest in the technique by polling the conference attendees and determining the number of views associated with the YouTube video 6 months after being uploaded.
Timeline:
Project Timeline
Obj 1.   
June '20               - Establish cover crop plots
Sept. '20              - Terminate all cover crops with a roller crimper and  evaluate resulting crop residue
                                                from each treatment
Obj 2.   
June '21               - Plant cabbages into residue in each of the various plots
Sept. '21              - Harvest and grade the cabbages.  Measure total and marketable yields from each
                                                treatment
Obj 3.
June '21               - Plant cabbages into residue of each of the various plots
Sept. '21              - From each plot compare time spent weeding with marketable yield
Obj 4.
Oct. '21                 - Develop Powerpoint, technical bulletin and YouTube video
Nov. '21               - Survey attendees at Conservation District Conferences
Feb. '22                                - Survey attendees at SARE Conference
June '22               - Evaluate comment section of video
Aug. '22                - Poll NRCS, Extension and Conservation District personnel for client interest in practice
Cooperators
Research
Materials and methods:
Research Materials and Methods
To evaluate the optimal cover crop mix - planting date combination (Objective 1) trials will be established on three farms (two conventional farms and a certified organic farm).  As soon as the ground thaws all sites will be tilled and seeded with forage radish to provide an initial ground cover.  In the 1st week of June a mix of warm-season cover crops (Sudex-Cowpea) will be no-till seeded into the terminated radish cover crop.  In the 1st week of July four cool-season cover crop mixes (Oat-Pea, Oat-Pea-Buckwheat, Cereal Rye, and Triticale-Pea) will be planted into terminated forage radish for the early cool-season planting.  In the 1st week of August the four cool-season cover crop mixes will be planted into terminated forage radish for the late cool-season planting.  The cover crops will be terminated with a roller crimper when one of the species reaches the milk stage of seed formation or a week before predicted frost date (Mid-September), whichever comes first.  In the second season the entire site (all 10 plots) will be planted with cabbages.  Within each cover crop plot two rows of cabbage will be hand transplanted.  One row will be planted directly into the residue and the adjacent row will be plated into a 6" strip that has been cleared of residue.  Throughout the growing season the plots will be monitored for weed pressure and the time spent on weed control in each treatment will be recorded.
The evaluation of the 5 cover crop mixes should give an indication of the amount of residue each mix will contribute.  Prior experiences with trying to establish cover crops into tilled plots have become weedy messes and our technical advisor suggests using a no-till planter to plant the cover crop into a stale seedbed so for this project we hope to fabricate a no-till planter small enough to work in a market garden situation.
The early and late planting dates will give an indication of the optimal time to plant the trials.  The warm-season cover crops are not expected to go to seed under Alaska conditions so it is anticipated that Sudex-Cowpea mix won't need to be terminated until September.  With the cool-season mixes there is the chance that the early planting will go to seed and will need to be terminated mid-summer to avoid seed formation.  The late-planting may actually produce more vegetative biomass since it may not go to seed and need to be terminated until just prior to snow fall.  Transplanting the vegetable directly into the residue versus into a small strip where the residue has been removed (Objective 2) will give an indication of potential nutrient and pest issues associated with transplanting directly into high residue levels. 
The materials that we anticipate using are the cover crop species in the various mixes (Oats, Rye, Triticale, Buckwheat, Austrian Winter Pea, Sudex and Cowpea) along with the forage radish used to establish the initial site and the cabbage transplants used to evaluate the treatments.  On the equipment front a roller-crimper for a two-wheel tractor has being fabricated and funds are requested in this proposal towards a locally fabricated no-till planter for small tractors.  In addition to the farmer's contribution towards the project an agricultural intern from the Soil and Water Conservation will be contracted to perform plot maintenance and record data under the supervision of the PI.
For the research component of this project we plan on collecting cover crop biomass estimates (grams per sq ft) and percent ground cover (with a beaded string) or depth of crimped residue (in mm) in year one.  In year two the starting amount of residue will be measured, the total cabbage yield and the marketable cabbage yield of each plot will be measured.  The weed pressure will be estimated by monthly weed counts in each plot and the time spent on weed control in each treatment will be recorded to estimate the cost of each treatment.
The overall project will be considered successful if any of the cover crop mixes at its optimal planting date has lower weed control expenses while still producing equivalent marketable yields as the no cover crop (control) plot (Objective 3).  The overall goal of the project is to determine if a system using high residue is more effective than the no-residue strategy we currently use.
Research results and discussion:
2021 Annual Report
In the year of establishment (2020) an early and late planting of 10 cover crop mixes were established.  The early planting was terminated before any species produced viable seed using a hand crimping method: a 24" segment of 4" aluminum c-channel.  The late season planting was terminated by a killing frost well before any species began flowering.  As of April 2021, all treatments have residue laying on the ground and are covered by 18" of snow.  They await measurement of ground cover (beaded string method) and determination of  overwintering biomass (dry wt/sq ft).
One of our participating farmers was not able to allocate the irrigated space early enough for us to plant the cover crops.      His operation will contribute the transplants for all sites and we will use imported residue to simulate the residue treatment for his 2021 growing season.
The equipment side of the project is completely off schedule and has forced us to change field protocols to keep the biological aspects on schedule.
Roller Crimper:   The fabrication shop in our area has been overwhelmed with work and was not able to complete our roller crimper in time for the project.      As a temporary solution we used a 2' piece of Aluminum 'C-channel' with a set of strings as a make shift crimper.  Several YouTube videos feature cover crop crimping by hand and we essentially followed their examples.  So, rather than crimping all the plots in an hour with a mechanized roller-crimper, it took the district's intern most of a day at each location to crimp the plots.
No-till Planter heads:   I have only found one vender that will sell individual no-till heads and they are not used to shipping to Alaska.  I've tried getting them to air freight the pallet, which surprisingly is the least expensive option, but they are not a Homeland Security Preferred Shipper so that method turned out to be a dead end.  I've also found a trucking company that routinely goes between Montana and Alaska  but the vender's usual trucking company is not set up to drop the pallet off to another shipping company.  The project budget has funds for the purchase of the no-till heads but I'm struggling with how to get them here.      Recently, the local trucking company that used to only go between Montana and Alaska is trying to expand their operations and would be willing to coordinate shipping directly from the Esch facility to Alaska.  The no-till heads won't get here in time for the early cover crop planting so we'll put the treatments using conventional tillage methods.  I'm also leaning on the no-till company to be a bit more responsive and sell me the needed no till heads
2022 Annual Report
In Spring of 2021 there were no treatments that had overwintering residue heavy enough to give any level of weed mulching effect.  This observation was met at both the Sun Circle site and the Rebarchek Incubator Farm site.  The only weed smothering effects were seen associated with the oat treatment and the heavy oat planting put in around the plots to serve as a walkway.   The mulching effect of the former walkways was incredible, while all the plots were growing weeds through the residue the former walkways were almost weed free.  A consultation with the WSARE team allowed us to modify the original proposed treatments to use the heavy reside from the walkways to serve as a weed mulch in the treatment.  The straw residue was removed from 1/3 of the area and dumped on top of the existing residue in another 1/3 of the area giving three rates of oat straw residue: none, 1X and 2X.
Although some level of weed mulching effect was seen in the 1X and 2X treatment areas the grower asked us to terminate the trial mid-season.  She notices a significate increase in slug damage associated with the mulch.  As an organic grower with limited options for slug management, removing the reside that provided protective cover seemed to be the best option.
On the Rebarchek Incubator Farm location there was no level of weed suppression associated with the cover crops and not as much oat straw was planted for walk ways so there was no option to use reside to hinder weed growth.  Rather, on this site oats were planted in mid-August and the last week in August at 4 rates to determine if increasing the seeding rate would compensate for later planting times (essentially, can money buy time).  The first two planting dates went fine with the heavy planting rates giving almost a full coverage of all surface area of the plots.  Unfortunately, due to an unanticipated state-wide shortage of oats the September plantings could not be seeded.
The five no-till planter heads located in the Spring of 2020 were finally delivered to Alaska in September of 2021- 16 months after identifying a source in Pennsylvania.  As of May 13th 2022 the heads are still covered with 2' of snow.  I have been working with a local fabricator to re-design the planned no-till planter after he determined that my original design would not work with the planned tractor.  A no-cost extension was applied for to allow the project to fabricate the planter and shoot videos of it putting in various cover crops.
Three Powerpoint presentations have been given on the status of Alaska Cover Crop projects and this SARE project has been prominently featured.   In the Winter of 2022 a (Zoom) presentation was made to the Western States Cover Crop Group.  In November 2021 the presentation was given at the Alaska state-wide SARE conference in Anchorage and in February 2022 the presentation was given (via Zoom) as part of the Kenai Peninsula Ag Workshop Series.
Final Report (October 2022)
Using Cover crops for weed suppression in Alaska vegetable production
Cover cropping is a concept that is not well adapted in Alaska.  Our very short production seasons (Mid-May through Mid-September) along the goal of keeping our very expensive land in production as much as possible strengthens the mis-conceptions that cover crops are not a good strategy for Alaska.  When surveyed for what their goals of cover cropping would be the three most frequent responses are suppress weeds, minimize erosion and increase fertility.
This project had two separate components that should ultimately work together.
Component 1:  Developing a small-scale no-till planter appropriate for Alaska's vegetable producers. 
Alaska's vegetable operations are very small compared to those in the Lower-48.  All but two of our growers would be considered market farmers producers in other states.  Most of Alaska growers measure their production in row-feet rather than acres.  Our growers also don't have access to much of the specialized vegetable production equipment common in areas with farm implement dealers.  Consequently, to roto-tiller is used for soil preparation, weed control and residue burial for disease management.  In additions to the soil health impacts, using a roto-tiller to prepare the area for cover crop seeding has the undesired effect of bringing up all the weed seeds which compete with the cover crop.  Our technical professional has strongly advocated for seeing the cover crop using a no-till planter to get the seed to depth with a minimal disturbance of the surface, essentially creating a stale seedbed condition.  Unfortunately, we only know of three no-till planters in the entire state.  A very large no-till drill, a very small planter meant for establishing food plots for hunters using an ATV and a 7' drill owned by the State's Plant Material Center.  While the state's 7' no-till drill would be capable of planting through standing vegetable residue it doesn't lend itself to going from farm to farm for small projects.  Consequently, one of the aspects of this SARE project was to create a small no-till drill that would be 1) able to cut through standing residue, 2) very maneuverable on small farms and 3) readily transportable over public roads.
There are no 'Farm Equipment Graveyards' in Alaska so repurposing the planter heads from a junked no-till planter was not an option.  Calling numerous graveyards in the lower-48 was also not successful once the operators found that we wanted them shipped to Alaska.  We finally located a dealer in Pennsylvannia that was willing to sell us 5 no-till heads but could not figure out shipping to Alaska.  Between covid disruptions and 'very creative shipping strategies' the five new no-till heads showed up in Alaska 18 months after the SARE funding was allocated.  A week after arrival winter set in and the pallet of no-till heads was frozen in a deep snow drift until the May thaw.  Once the pallet was freed from the snowbank the fabricator was to busy to work on the planted during the cropping season and the fabrication is scheduled for the winter season of 2023.
An unexpected benefit of this delay has been a complete re-design of the planter.  Initially we planned to mount the planter heads on the underbelly section of an Oggun cultivator tractor.  This design would combine the trailerability and maneuverability of the Oggun tractor with the appropriate weight to cut through the residue.  Unfortunately, while cultivating the field for the other component of the trial a cultivator didn't trip when hitting a rock and the tractor's axle broke instead.  With this indication we decided that the 1,800 lb tractor may be too small for the planter heads.  We redesigned the planter to be a pull-behind planter instead.  Rather than using the tractor's weight for down pressure the redesigned planter uses a 50 gal water tank as removeable ballast.  To provide the seed for the planting heads, a Gandy 'Research model' 1 cu ft Air seeder will be mounted on the trailer above the planter heads.  The planter heads are mounted on 4" tubing at 15" intervals asymetric from the planter's wheel tracks.  This is to facilitate higher density planting.  On an East to West pass 5 rows are put in at 15" spacing.  Doubling back over the same tire tracks a West to East pass puts in another 5 rows skewed to the right, effectively giving a 5.5' (double) pass with 10 rows spaced 7.5" apart.   By making two passes we can get by with half the number of planter heads and still keep the overall implement weight in a reasonable range for transport.  While this strategy would be impractical on large fields given that most of Alaska's vegetable growers would be looking to put in cover crops on less than an acre, this double driving strategy shouldn't provide too much of an inconvenience.
All materials have been delivered and fabricator time has been scheduled.  A YouTube video is planned of the planter in operation putting in June cover crops.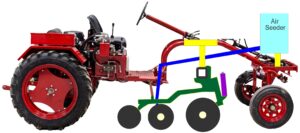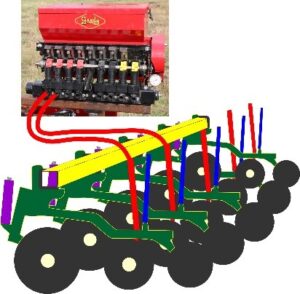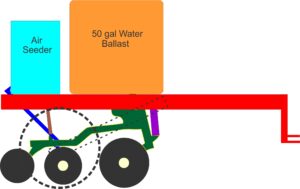 Component 2:  Using cover crops as a weed suppressing mulch to reduce weed control expense.
Summer 2020:  Individual plots of 10 different cover crops were planted at two locations.  The Sun Circle location had a single (June) planting and the Rebarchek location had both a full season planting and an partial season (August) planting of the 10 treatments.  All plots were terminated in Mid-September using a 2' section of 6" Aluminum C-channel to simulate a roller crimper.  Ropes were attached to act as handles and the technique was to push over the foliage with the C-channel to knock down and then jump on the C-channel to crimp the stems.  After crimping, the C-channel was moved ahead 6" and the process was repeated.  Although time consuming (each site took a day to crimp) the results were adequate:  All foliage was down and crimped at 4-6" intervals.  We modified a technique demonstrated in a YouTube video to meet our needs.  Both locations went into winter with very good amounts of cover on the full season plantings but Rebarchek's late-season  planting had inadequate biomass in all treatments.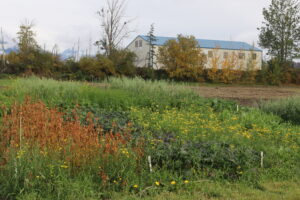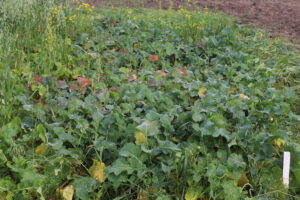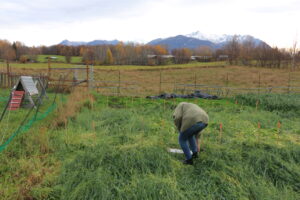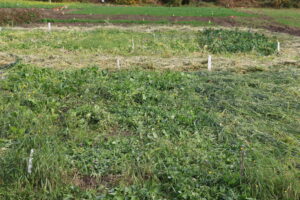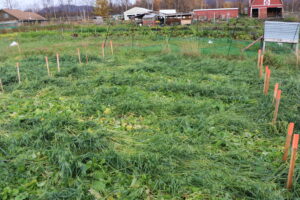 Summer 2021:  Despite going into winter with good levels of biomass covering the surface of each plot, all treatments suffered a high level of decomposition under the snow.  At snow melt in May none of the treatments at either location had adequate levels of residue cover and by normal transplanting date (Early June) all of the plots were a weedy mess.  An interesting observation at the Sun Circle site was that oats, heavily seeded in the walkways to support foot traffic, had very high levels of residue that overwintered.  In consulting with SARE personnel we changes the trial to evaluate the oat straw residue for weed suppression.  All the oat straw from 1/3 of the area was raked and spread on a different 1/3 of the plot giving us three straw treatments:  No straw to serve as a control, 1X straw – the normal level of straw that overwintered and 2X straw- the normal amount plus what was removed form the first plot.  Various brassica crops were transplanted into the three straw levels and observations were made on the level of labor necessary for weed control.  Initially both straw levels (1X and 2X) provided a bit of weed suppression compared to the no-straw plot but within a few weeks both straw treatments also had weeds.  Once these plots needed to be weeded the initial labor savings that had been associated with the early weed suppression was gone because now the straw proved to be a hindrance in efficiently weeding the crops.  In early July the grower made the observation that was more slug damage associated with the straw treatments than in the no reside treatment and she asked us to terminate the trial and remove the residue.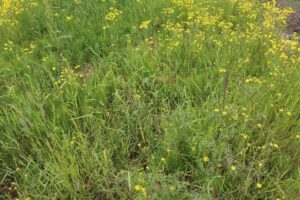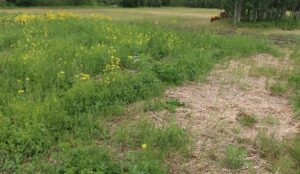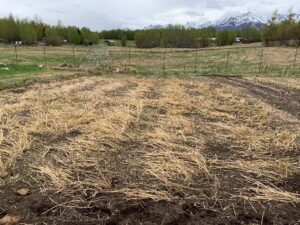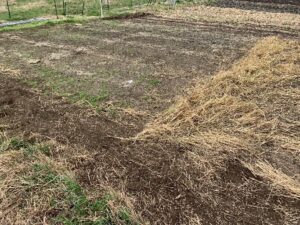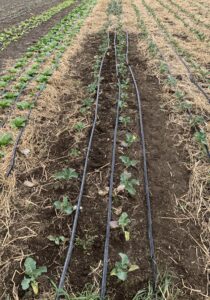 In August at the Rebarchek site an oat density – date of planting trial was initiated.  Beginning in Mid-August oats were planted on a 10 day schedule at 1, 2, 3 and 4 bushels per acre.  Unfortunately, after the second planting the planting sequence had to stop because the entire state was out of oat seed.  By the time replacement seed could be ordered from the Lower-48 a killing frost (Mid-September) stopped all further growth.  At the time of the killing frost all treatments of the Mid-August planting had adequate cover to minimize winter erosion but not enough residue to hinder weed growth in the spring.
Summer 2022:  Building on the observations on the oat trial of 2021, beginning in Mid-August six rates of oats (1,2,3,4,5 and 6 bu/A) were planted on 10 day intervals.  The plots were all hand seeded and incorporated with an S-tine cultivator.  The later 2022 growing season was primarily characterized by record rainfall and cooler than normal temperatures.  The Mid-August planting capitalized on the warmer soil temperatures and all treatments grew wonderfully.  As expected there was more biomass associated with the 4, 5 and 6 bu/A treatments but all plots of the first planting grew well.  The second planting in early September didn't jump out of the ground as the first planting did and there was significant wildlife damage.  When I arrived at the site to put in the Mid-September planting I flushed over 100 sandhill cranes form the plot.  They were feasting on the newly germinated seeds of the second planting.  While the adjacent first planting showed little damage there was not an oat or a seed to be seen in the second planting.  Luckily, these were migrating cranes and the 3rd planting that was seeded in Mid-September was not bothered at all.  Although the late-summer and early-fall was cool and very rainy the killing frost didn't terminate the trial until late October.  At frost termination there was promising amounts of biomass in the heavily seeded treatments of the 1st planting but only marginal biomass in the crane-affected 2nd planting and the late (mid-September) planting.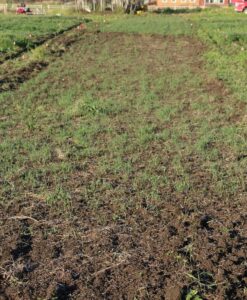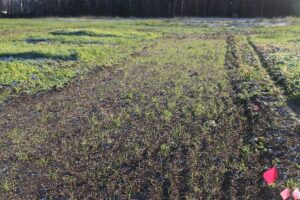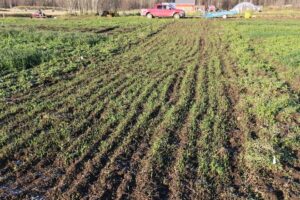 Participation Summary
2
Producers participating in research
Research Outcomes
Recommendations for sustainable agricultural production and future research:
 In this project so far, we've identified types of cover crops that don't look promising as an overwintered  high-residue mulch to plant into.  None of the broadleaf cover crops had adequate ground cover after snow melt to hinder weed growth in the following spring, much less season-long mulching.  Only the oat treatment showed any promise.  The oat straw showed little indication of breakdown under the snow and the residue provided significant mulch to slow down weed growth.  In addition to oats, other small grains should be evaluated for their mulching ability.
Purchase adequate supplies of even the most common cover crop seed.  The 2021 weekly seeding evaluation had to be terminated after the second seeding because there was no oat seed available in the state, not of any variety.  This is the most common cover crop seed usually available with a great price since it is so widely planted as a grain crop.  For the 2022 repeat of the date of planting vs planting rate evaluation several additional bags were purchased to ensure adequate supply.  Even so, for a different cover crop establishment project Barley had to be substituted for oats because again, by the end of 2022 there were no oats available in the state.
As expected, the weather has a huge impact on late-season cover crop biomass production.  In the 2021 growing season warm weather caused rapid growth of the cover crop until the date of killing frost.  In the 2022 growing season cool, rainy weather resulted in much slower growth of late-season planed material.  Surprisingly, the killing frost in 2022 was almost a month later than in 2021 but by October the cool soil and air temperatures were not causing much growth despite the delayed frost date.
Slug control strategies may have to be associated with using high-residue mulching for weed control.  The oat straw residue probably provided a cover to facilitate safe movement of the slugs from moist refuges to the crop plants.  If we continue to use residue to smother weeds we may have  to move the residue very close to the crop and maintain bare soil between the rows to hinder slug travel.
In Alaska you have to be creative with shipping.  We are looking forward to working with the no-till planter.  Between Covid-restricted shipping and an extreme demand on fabricator time it has taken almost 3 years to acquire the parts and steel to fabricate the no-till planter as part of this project.  Now that all the parts are finally on site, we plan to assemble to planter over winter.  After breaking the tractor the planted was designed around we've re-designed the planter to be more versatile at the expense of being a little less maneuverable.
1
Grant received that built upon this project
1
New working collaborations
Education and Outreach
1
Curricula, factsheets or educational tools
3
Webinars / talks / presentations
Participation Summary:
15
Ag professionals participated
Education and outreach methods and analyses:
Educational Outreach Activities and Materials
To achieve Objective 4 the project and its results will be communicated to growers through presentations at winter conferences, bulletins, a YouTube video and through educating the state's Agricultural Professional that provide consulting to the growers.  Growers will be invited to attend planned field days that will be held each year but historically, these events have very low producer involvement.  Previous Field Days organized by the conservation district or University Extension have had Agency personnel and master gardeners attend but no commercial growers.  Growers have stated that 'Alaska summers are too short to attend field days.  That's what the winter meetings are for.'  With this history in mind we plan on focusing our outreach efforts on preparing a technical bulletin that covers the project and its findings to be distributed by NRCS and Extension personnel.  With more and more people using videos to get their information we'll also make a video demonstrating the various treatments and the overall outcome of the project.  If history is any indication the most effective form of outreach will be the presentations at various winter meetings that producers attend.  In addition to the Powerpoint presentation the networking between sessions is a great time for producers to ask questions about the topic. 
The project and its results will be communicated to the general public by inviting the Master Gardeners and Garden Club members along with the general public to visit the site on a Field Day (since they're more likely to attend).  Another way of getting the project out to the general public is to ghost-write an article for our local newspaper. 
Winter 2021 Report:
In Early September 2021 one of the sites was featured as part of the Alaska State Fair's Antique Power Clubs Demonstration Weekend.  Over the two day event I gave presentations to about 100 participants with about 20 individuals asking questions detailed enough to give an impression that they were actual growers.
In November (2021) I gave a cover crop presentation at the Statewide Farm Bureau and SARE conference.  There were about 10 Ag Professionals in the room and an unknown number viewing via Zoom.
In March  (2022) I was asked to give an update on Cover Cropping in Alaska to the Western Cover Crop Consortium and this SARE Study was one of the projects I talked about.   In additions to the growers on the Zoom Webinar, I estimate there were about 15 Ag professionals attending.
In March (2022) I also gave the cover crop presentaion to a session of the Kenai Peninsula Agricultural Workshop Series.  The moderator told me thate were 125 participants between their live meeting group and their Zoom attendees. 
In September (2022) the Rebarchek Incubator Farm held an open house which was attended by over 150 people.  The tour prominently featured the various cover crop projects (SARE and NRCS) and there were quite a lot of questions asked.
Education and outreach results:
The education and outreach results are not clear yet.  One new producer has made a significant effort at incorporating  cover crops into their production scheme.  Our participating producers are always looking for ways to refine using covers crops in their production systems.  Although we didn't see success in managing weeds using high residue mulch they are actively looking for methods of using cover crops in their rotations to achieve other soil health goals.  Two other growers looked at all our cover crop projects and are evaluating equipment purchases to begin incorporating cover crops into their rotations.
Beyond producers, these trials build the knowledge base of the NRCS Soil Conservationists as they make cover crop recommendations to their clients.  Likewise, Soil and water Conservation District and Cooperative Extension personnel have also gained local knowledge through these cover crop trials.
2
Farmers intend/plan to change their practice(s)
1
Farmers changed or adopted a practice
Education and Outreach Outcomes
Recommendations for education and outreach:
Winter 2021 Report:
The project is not at that stage yet but we've been taking photographs and video footage for future use.  Alaska growers have a strong history of not attending field days during the 3 month growing season.  Consequently, all Ag Professionals have learned to take a lot of photographs to show growers during the winter meetings.  Likewise, with the incredible growth of educational material available on YouTube, we're now creating video of all our projects.
Final Report:
Since YouTube seeems to be omnipresent in educating producers in new production strategies and the use of novel equipment a YouTube video is planned for the planting season of 2023.   We plan on showing how the planter was fabricated, how to calibrate it for various cover crop seeds and the anticipated benefits of planting into a stale seed bed instead of drilling the seed into a tilled site.
3
Producers reported gaining knowledge, attitude, skills and/or awareness as a result of the project
Information Products