Progress report for FW21-381
Project Type:
Farmer/Rancher
Funds awarded in 2021:
$24,574.00
Projected End Date:
12/31/2023
Host Institution Award ID:
G357-21-W8613
Grant Recipient:
Island Harvest Inc.
Project Information
Summary:
The Hawaii macadamia industry had a farm gate value of $48.8 million dollars in 2019-2020, making it one of the highest value crops in the state of Hawaii (USDA NASS 2019). But in recent years macadamia farms in Hawaii have experienced devastating tree losses due to soil-borne root infections of Phytophthora spp. As farmers in Hawaii both replant and manage existing orchards, sustainable approaches to combat the impacts of Phytophthora root rot are needed. 
This project evaluates the potential for integrating cover crops in existing orchards to mitigate the incidence and effects of Phytophthora root rot on macadamia nut trees. It is well known that incorporating cover crops into farming systems can improve soil structure, add soil organic matter, provide nutrients, and encourage soil microbial diversity. However, research on the efficacy of establishing cover crops in perennial orchard systems with minimal disturbance to soil health so as to maximize soil-borne pathogen suppression is needed. Island Harvest Inc., operating over 700 acres of orchard, demonstrates the use of an AerWay overseeder to plant two cycles of cover crop mix in their orchards to prove the concept of conservation tillage cover cropping system could lead to the mitigation of Phytophthora root rot hampering the macadamia industry in Hawaii statewide. The results of this project will be disseminated to macadamia nut growers through the University of Hawaii extension publications, field days, and workshops at Hawaii Macadamia Nut Association meetings.
Project Objectives:
Quantify the mitigation of Phytophthora incidence and severity when integrating cover crops in macadamia orchards
Quantify other soil health benefits of integrating cover crops in macadamia orchards
Estimate the economic return of controlling Phytophthora using cover crops
Educate macadamia farmers on using cover crops as a method for sustainable cultural control of Phytophthora.
Cooperators
- Technical Advisor (Educator and Researcher)
Research
Materials and methods:
Island Harvest's 700-acre macadamia nut orchard in Kohala, Hawaii was the location for this project. Three treatments across four replicates were established for the study. Each treatment included approximately 20 trees in an area of 60'x150' (9,000 ft2) based on existing tree spacing of 15'x30'. Because Island Harvest used an aerator with overseeder attachment to establish the cover crops, a treatment with just aeration was also evaluated to see potential soil health and disease mitigation effects. 
The three treatments were as follows with four replicates of each. Each treatment and replicate were done in Year 1 (2022) and Year 2 (2023) of the project to see the year over year effect:
Replicate 1
T1: Cover Crop + Aeration
T2: Aeration
Replicate 2
T1: Cover Crop + Aeration
T2: Aeration
Replicate 3
T1: Cover Crop + Aeration
T2: Aeration
Replicate 4
T1: Cover Crop + Aeration
T2: Aeration
The cover crop mix was composed of sunn hemp (Crotalaria juncea), cowpea (Vigna unguiculata), oil radish (Raphanus sativus), black oat (Avena strigosa), brown mustard (Brassica juncea), sorghum-sudan (Sorghum drummondii) and buckwheat (Fagopyrum esculentum) using the recommended seeding rate listed in Cover Crop Chart for Hawaii provided by co-PI Wang. 
Data collection was done every 2 months starting with the baseline collection conducted in February 2022 and subsequent collections in  April, and August. This same schedule was also followed for Year 2, but without the baseline collection. Soil samples were collected systematically from approximately 10 cores per plot and were subjected to soil respiration test using Solvita gel system and a digital reader (Solvita and Woodend Laboratory), soil gravimetric soil moisture, and sent to Brookside Laboratories for nutrient analysis, including soil organic matter testing.
Two methods of quantifying Phytophthora incidence and severity were done in this study. First, soil and bark samples from the project area where trees were showing dieback symptoms were collected. These samples were evaluated to identify which pathogen species were present in the orchard.
The second method for measuring Phytophthora severity in existing orchards was a modified diseased tree health rating scale of Darvas et al. (1984) and Gabor et al. (1990) that was adapted by macadamia disease specialist O.A. Akinsanmi and Andre Drenth (2013) from the University of Queensland. A 0-5 scale was used, where 0= vigorous and healthy, no stem canker symptoms; 1 = full canopy with mild stem canker symptoms; 2 = sparse canopy with severe stem canker symptoms; 3 = sparse and mild dieback canopy and sever stem canker symptoms; 4 = very sparse and severe dieback canopy, severe stem canker symptoms with offshoot from rootstock and 5 = dead tree. These two methods allow both identification and severity of Phytophthora to be evaluated. 
Labor and supply costs were documented in order to have sufficient information to conduct a basic cost-benefit analysis of integrating cover crops in macadamia orchards. The costs were compared against tree health improvement to create an estimated potential macadamia yield change comparison across treatments. 
Research results and discussion:
In February 2022, baseline data collection and the first sets of treatments were conducted on the farm (Project Layout).
The following baseline data was taken for each replicate: 
Full soil chemical analysis (Macronutrients, micronutrients, pH)
Soil moisture
Soil infiltration
Tree Rating (1-5)
Soil Respiration (solvita)

EC (ms/cm)

Soil Temp
Bulk density and Phytophthora samples were taken for the whole block to identify the disease presence in the orchard block and what the bulk density of the soil is. 
Soil aeration and soil aeration + cover crop treatments were then conducted.
Here are some pictures from the project: 
There are initial results indicating that the aeration and cover crop + aeration treatments help improve water infiltration. The graph below shows that water infiltrates faster (lower number on bar graph = quicker water infiltration) after aeration treatments and significantly faster after aeration + cover crop treatments. While these are just preliminary results, the improved infiltration could reduce the waterlogging of soils that leads to disease incidence.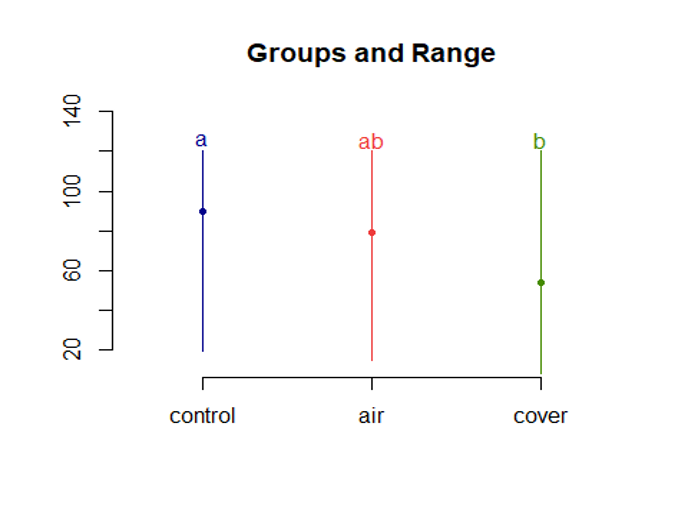 In year 2, the first round of treatments was started in early March 2023. The same schedule and methods were used in year 2.
Participation Summary
1
Producers participating in research
Research Outcomes
2
New working collaborations
Education and Outreach
1
Webinars / talks / presentations
2
Other educational activities: -Hosted USDA-PBARC researchers at project site to show project progress and get advice from the local plant pathologist.
-Hosted University of Hawaii undergraduate students to help participate in initial project implementation and data collection. Educated students through field work and conversation about plant disease effecting macadamia orchards and soil health outcomes this project intends to improve.
Participation Summary:
125
Ag professionals participated
Education and outreach results:
Producer farm, Island Harvest, hosted "Healthy Soil, Healthy Orchard: from Planning to Practices" in June of 2022 in collaboration with Oahu Resouce Conservation and Development Council. Over 20 participants, primarily farmers or agricultural professionals attended. In addition to soil health discussions, Island Harvest shared initial project observations and demonstrated cover cropping in a macadamia orchard.
A short video documenting the field day was created by co-pi Koon Hui-Wang. The video can be found here.
Andrew Trump of Island Harvest shared a 30-minute PowerPoint presentation giving an overview of research at the annual Hawaii Macadamia Nut Association Annual meeting in July of 2022 to over 100 participants, mainly macadamia farmers and industry stakeholders. 
Education and Outreach Outcomes
Recommendations for education and outreach:
Research still in progress. 
1
Producers reported gaining knowledge, attitude, skills and/or awareness as a result of the project