Progress report for GNC20-315
Project Type:
Graduate Student
Funds awarded in 2020:
$14,838.00
Projected End Date:
09/15/2023
Grant Recipients:
Purdue University; Purdue University
Project Information
Summary:
Wetland creation and restoration are an integral part of overall nutrient management strategies for watersheds with intensive row-crop agriculture, because wetlands are effective sinks for nutrients. Many of the same environmental conditions that support the capacity of wetlands to capture nutrients also stimulate release of methane (CH4) and nitrous oxide (N2O), which are potent greenhouse gases (GHGs) that drive climate change. Climate change threatens the natural resource base on which agriculture depends. To balance the looming threat of climate change and the need to protect sensitive downstream ecosystems from pollution, we need to design and manage wetlands to reduce CH4 and N2O emissions while maintaining water quality benefits. My project, "Design and Management of On-Farm Wetlands for Water Quality and Climate Regulation," will address this demand through research and outreach efforts.
Two main factors of wetland design and management are vegetation and hydrology. Variability in water quality and climate regulation functions have been previously linked to vegetation and water table management (WTM), but there is considerable uncertainty about the mechanisms that drive these differences. This research will address these uncertainties by isolating the effects using experimental mesocosms and novel integration of biogeochemical methods. The effects of plant species and hydrology will be assessed by measuring CH4, CO2, and N2O fluxes and nutrient retention in mesocosms. The mechanisms that explain differences across treatments will be identified by measuring plant, soil, and hydrologic characteristics and performing multivariate analyses to identify characteristics that predict wetland response. A major outcome from this research will be the development of actionable guidelines for plant selection and WTM of wetlands that effectively treat agricultural drainage while reducing GHG emissions.
Project outcomes related to outreach include increasing actionable knowledge about how wetland plant species and WTM can be leveraged to maximize water quality and climate regulation benefit, addressing farmers' concerns about profitability and cost of wetlands, and increasing knowledge of K-12 students of the role of wetlands in sustainable agriculture. These objectives will achieved through a combination of Extension and journal publications, a field day, and educational videos. The effectiveness of these outreach efforts will be evaluated based on number of attendees and course evaluations from the field day, number of K-12 students reached, number of publications, and level of social media engagement for virtual products. The achievement of research and outreach outcomes will support farmers in meeting nutrient reduction goals while limiting contributions to climate change.
Project Objectives:
The primary learning outcome is to increase the actionable knowledge of farmers and wetland practitioners about how wetland plant species and water table management can be leveraged to maximize water quality and climate regulation benefits. These wetland practitioners may be employed by the NRCS, environmental consulting firms, and non-profit agencies that invest in wetland restoration, such as Ducks Unlimited and The Nature Conservancy. NRCS engineers and other wetland practitioners are the primary interface between county agencies, farmers, and non-profits who might be proponents of wetland adoption. A secondary learning outcome is to address farmers' concerns about profitability and costs of on-farm wetlands. Another learning outcome is to increase knowledge and awareness of K-12 students of the role of wetlands in sustainable agriculture.
If the learning outcomes are effectively met, I anticipate the following actions: wetland practitioners will incorporate this guidance into future wetland designs to make planned wetlands more sustainable, farmers will adapt management of existing wetlands (e.g. installing water control structures or removing certain plant species) based on management guidance to make wetlands more sustainable, more farmers in the North Central region will implement wetlands for nutrient reduction, and more K-12 students will consider pursuing careers in sustainable agriculture. Although these action outcomes are anticipated, tracking these changes in behavior is beyond the proposed scope of the project. 
Research
Materials and methods:
Due to COVID-19, progress on this project was considerably delayed. We anticipate that data collection will begin in the late summer.
We have made progress on finding a location for and designing the mesocosms. Rather than using a greenhouse, mesocosms will be placed outdoors into gravel-lined holes at Purdue Wildlife Area (Figure 1). Placing mesocosms in the ground will insulate them to permit continuation of the experiment over the winters. These mesocosms will be located just outside of a new laboratory facility that is being built at Purdue Wildlife Area. As part of the construction of this facility, a groundwater well was drilled. This well will be our source water for the experiment.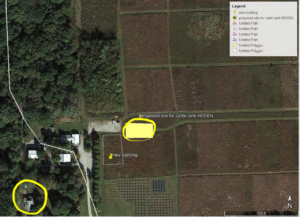 In preparation for this summer, we purchased 300 gallon stock tanks and transported them to Purdue Wildlife Area. Sediment from the depressional wetland at Purdue Wildlife Area will be used in these mesocosms.  Mesocosms will be planted with one of three vegetation types or no vegetation in the late spring. For the first year, hydrologic regime will be held at a uniform depth (10-15 cm above the soil surface) across vegetation treatments. We plan to work with farmers across the Midwest to identify management strategies for wetlands that farmers are interested in adopting, such as using wetlands as waterfowl impoundments or to store irrigation water. In the second year, we might investigate the impact of hydrologic regimes that are associated with these management strategies on water quality enhancement and greenhouse gas emissions. 
Our initial design had one large reservoir that supplied water to all mesocosms. We are shifting to a system design with a separate reservoir for each mesocosm. While our experiment will not test the influence in compositional differences in source water, the increased flexibility in this system design can support such investigations in the future. Our aim is to design a mesocosm system that can be used in perpetuity by Purdue University researchers to continue investigating best practices for design and management of on-farm wetlands. 
Research results and discussion:
As data collection is delayed, we have no results to share at this time. 
Participation Summary
Educational & Outreach Activities
2
Published press articles, newsletters
8
Webinars / talks / presentations
Participation Summary:
Education/outreach description:
I introduced K-12 students throughout the United States and Canada to water quality challenges related to agriculture and conservation practices that reduce the water quality impacts of agriculture, particularly on-farm wetlands, through volunteering with Skype-A-Scientist, Nepris, and Illinois-Indiana Sea Grant's Students Ask Scientists program. The details of these virtual presentations are presented below: 
Discussed careers in ecological engineering and presented my plans for investigating on-farm wetlands with an AP Physics class at Parkland High School in Winston-Salem, North Carolina (October 15, 2020)
Discussed water quality benefits from agricultural wetlands and tradeoffs in agricultural wetlands, specifically greenhouse gas production and losses of legacy phosphorus, and outlined my upcoming research on on-farm wetlands with the IB Environmental Systems and Societies class at Parkland High School in Winston-Salem, North Carolina (October 28, 2020)
Presented strategies for nutrient reduction in agricultural watersheds, including on-farm wetlands, to 7 classes at Indian River High School in Philadelphia, New York through Students Ask Scientists. I also consulted with this class on their research project that investigated why there was excess nutrients in a local reservoir (2 classes on April 22, 2021; 3 classes on April 23, 2021, and 2 classes on April 27, 2021). 
Hosted a hands-on Earth Day activity virtually for kindergarteners and 1st graders for a chapter of Girl Guides of Canada in Vancouver, Canada through Skype-A-Scientist. This activity taught the girls about forms of pollution that come up from agriculture, industry, and urban areas (May 13, 2021)
Worked with 7th and 8th grade students on their design projects (The Science of Sustainability in Building an Earth Friendly Theme Park) and discussed my research into sustainability, including on-farm wetlands, through Skype-A-Scientist (May 27, 2021)
Virtually visited a 5th grade class in Edmonton, Alberta who just finished studying wetlands and discussed wetlands and other conservation practices in urban and agricultural settings (June 23, 2021)
Discussed using wetlands to treat pollution with an undergraduate researcher at Worcester Polytechnic Institute in a one-on-one session through Skype-A-Scientist (December 1, 2021)
Served as a technical expert to answer questions about more than 90 9th grade students' projects related to sustainable agriculture in the Nepris session Global STEM Challenges Program: Food Production/Waste Reduction. I also gave a presentation on different nutrient loss reduction strategies in agriculture from in-field practices, such to precision fertilizer application and cover cropping, to edge-of-field practices, such as riparian buffers and on-farm wetlands, to downstream practices, such as riverine floodplain restoration (February 4, 2022)
I have more outreach activities scheduled for this spring. On March 23rd, I will virtually visit a 7th grade class at Sashabaw Middle School for their career day via Nepris. I will discuss career opportunities in conservation and conservation practices in agricultural settings. Purdue University hosts Spring Fest, which is an annual festival for local students and their families. As part of Spring Fest on April 9th, I will present a poster on agricultural wetlands to visitors and will facilitate a hands-on filter building activity, which teaches students about water quality improvement mechanisms. 
This project has also been featured in two press releases. The Department of Forestry and Natural Resources at Purdue University released a press release that discussed this work and associated research under a USDA National Institute of Food and Agriculture (NIFA) grant: Hosen to Study Wetland Usage for Nutrition Retention, Greenhouse Gas Minimization. Agriculture News from the College of Agriculture at Purdue University released an article on recipients at Purdue of NC-SARE funding, which included my project: SARE grants to support Purdue's sustainable agriculture programs. 
Project Outcomes
1
Grant received that built upon this project
1
New working collaboration
Project outcomes:
We anticipate that this project will yield recommendations for planting vegetation in on-farm wetlands that balances water quality enhancement with greenhouse gas emissions.