Progress report for GNE20-229
Project Type:
Graduate Student
Funds awarded in 2020:
$14,537.00
Projected End Date:
07/31/2021
Grant Recipient:
University of Massachusetts Dartmouth
Faculty Advisor:
Dr. Pinnguo He
University of Massachusetts Dartmouth School for Marine Science and Technology
Project Information
Summary:
Tautog (Tautoga onitis) is a commercially and recreationally valuable species in southern New England coastal waters, leading to high demand and depleted natural populations. To combat these ecological and commercial pressures, tautog have been identified as an ideal candidate for finfish aquaculture. The aquaculture industry is continually seeking new and more efficient means of feed delivery that improve feed conversion and feeding efficiency. The goal of this project is to provide regional aquaculture farmers and stakeholders with information pertaining to new and improved grow-out techniques for this local fish by incorporating feeding behavior. Previous work from Ward Aquafarms and UMass Dartmouth collaborators has shown that the type of food is important in order to achieve high growth rates of tautog, but improved feed delivery systems are required to make tautog aquaculture commercially feasible. This project continues to build on the previous research of tautog in recirculating aquaculture systems by focusing on how and when feed is delivered to fish.  The use of automatic feeding systems and collecting uneaten food will also provide valuable insights into the rhythmic feeding patterns of tautog, which will result in cost-efficient strategies for feed delivery for regional aquaculture farmers.  Additionally, the research will provide valuable contributions to regional finfish aquaculture development and to the global scientific community on daily feeding patterns and feeding behavior of tautog.
Project Objectives:
The objective of this proposed project are to:
Observe the effects of feeding frequency on feeding behavior of tautog (Tautoga onitis)
This will be achieved by using three different feeding frequencies, and one singular method of feed delivery, in order to isolate the test variable. All three feeding frequencies will use automatic feeders (Fish Mate f14 Aquarium Fish Feeder). One frequency will be the control, where fish will be fed twice daily by automatic feeding systems. The second method will dispense pellet food and total four feedings per day. The third feeding frequency will be eight feedings per day. All three feeding frequencies will dispense the same amount of food, but at different time intervals. The time intervals will be over the course of a 24 hour day period, with equal feed administered during light and dark hours. The results of this experiment will allow us to understand how often juvenile tautog prefer to be fed, and these observations around feeding behavior will inform us on preferred feeding schedules in order to maximize growth of tautog in recirculating aquaculture systems.
Introduction:
The purpose of this project is to improve feeding strategies for finfish aquaculture farmers by incorporating fish feeding behavior. Tautog (Tautoga onitis) is a coastal wrasse native to the Northeast coast of the United States (Bigelow & Schoeder, 1953). Tautog are highly sought after and are actively pursued by recreational and commercial anglers due to its desired flesh quality for human consumption (ASMFC 2017). Overfishing of the wild stock and high demand for the fish has made the species an ideal candidate for finfish culture in recirculating aquaculture systems (RAS). Farm reared tautog will provide an environmentally sustainable wild fish substitute to relieve the currently stressed wild population while providing regional aquaculture farmers with a local finfish product to bring to market.
The previous research from Ward Aquafarms and UMass Dartmouth, funded through SARE, has provided significant results where tautog fed with a natural diet grew from 7 grams to ~ 400 grams in under 9 months, which is double that of previous trials (Perry et al. 1998). It has been demonstrated that tautog can grow well when fed a natural diet, and in order to make this a commercially feasible operation, understanding feeding behavior and feed delivery systems are essential.
Feed is often the single largest expense in finfish aquaculture systems (Pavadi et al., 2012; Fast et al., 1997), and there is significant room for reduction in feed waste. Feed waste can come from providing excessive feed (feed waste) and/or providing feed at the wrong time of day (at times that do not coincide with typical fish feeding rhythm). Feed waste is also a major cause of poor water quality and environmental degradation (Attia et al., 2012), especially in closed aquaculture systems. In order to address these feeding related issues facing the farm rearing of tautog, feeding behavior studies are required to provide insights into preferred feeding times, and associated feeding behavior. Feeding studies have been shown to reveal rhythmic patterns of trout; how often they feed, and how much food they consume (Alanärä, 1996; Fast et al., 1997; Attia et al., 2012). Commercial tautog farming is currently non-existent, and this research will create an opportunity to bring tautog farming to the commercial level. By establishing the link between feed and feed delivery systems, this will effectively create a concise methodology for farming tautog. It is therefore important to study feeding behavior and to incorporate feed delivery systems into the culture of this high value species. Ultimately, this research brings tautog farming towards a more ecologically sustainable and commercially viable future.
Research
Materials and methods:
Hypothesis 1 (H1):
When fed at more frequent intervals, juvenile tautog will eat significantly more food pellets than juvenile tautog fed the same amount, at less frequent intervals
Null Hypothesis (H0):
There will be no significant difference in feed consumption between the experimental and control feeding frequencies
In June 2020, 450 Year-1 Tautog were collected locally from Buzzard's Bay via beach seine.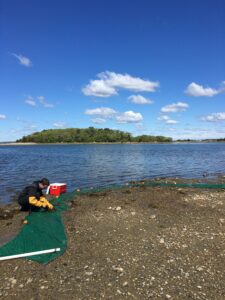 Year-1 tautog (ranging from 17-114 g in weight) are currently being held in a recirculating aquaculture system at the UMass Dartmouth seawater laboratory in New Bedford, MA. All fish are held within a 1135 L tank supplied with seawater from Buzzard's Bay, MA. Seawater is controlled to a constant temperature (20ºC) salinity (33 psu) and a consistent light schedule. All 193 fish will be measured and weighed for total length and total weight to assess the ideal range of length (mm) and weight (g) to be used for the experiment.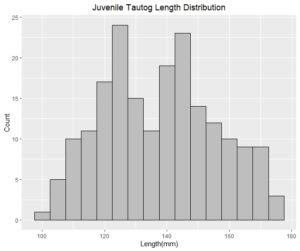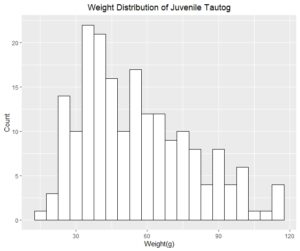 Once 30 fish have been selected, the fish will be placed individually into 30, 9-L tanks set up in the recirculating system with controlled temperature (20ºC) salinity (33 psu) and a regular light schedule (12 L: 12D).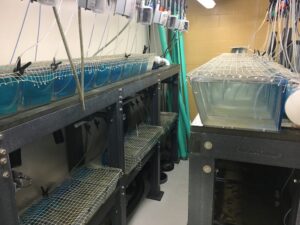 Each fish will be given a specific identifying marker determined by the PIs. These markers are to identify specific fish inside individual tanks. The tanks will be labeled accordingly and documented for record keeping.  Once in tanks, the fish will be randomly assigned a feeding frequency regime.  The different regimes are:
Control group: Fed two meals over 24 hours
Experimental group #1: Fed four meals over 24 hours
Experimental group #2: Fed eight meals over 24 hours
After a 24-hour acclimation period without food, fish will receive feedings twice a day by hand to ensure regular feeding behavior. After all fish have been determined by the PIs to be fit for experimentation, the administration of food will be handled using automatic feeders (Fish Mate F14). Automatic feeders will dispense food at different frequencies throughout a 24-hour period. Food will be commercial grade 3 mm pellets purchased from Zeigler (Zeigler Bros., PA). Each tank will receive the same amount of food each day. The amount of food will be calculated on three percent (3%) of the average total weight of the 30 selected fish. This number will be doubled to ensure that left-over food can be quantified.
Left-over food will be quantified by drying and weighing after each 24 hour feeding period. The food will be collected with a siphon and a 50-micron sieve created from mesh and 4" PVC. The siphoning will start at a different tank each morning. Each tank will have an individual sieve in order to improve efficiency. The collected food will be processed after each tank has been reset with that day's feeding regime. Collected food will be removed from the sieve using a laboratory grade squirt bottle (Axe Sickle, 500mL), freshwater, and a rinsing of the screen into a 250 mL glass beaker. The glass beaker with uneaten food and water will placed inside a drying oven (60ºC) for 24 hours, and weighed the following day.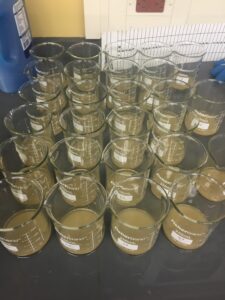 In order to improve statistical power and correct for learned behavior, the fish will be randomly assigned a new feeding regime each new day. There will be a structured randomization protocol put in place to ensure that each fish receives a different feeding regime than their previous. To allow for proper and timely set up of each automatic feeder and tank selection, the tanks will be assigned their new feeding regime in advance. Each tank will be reset 24 hours after the previous day's start time. This experiment will last a total of 6 days, with an n=30 for each treatment. Determination will be made at the end of Day 6 if there is a need for more trials based on preliminary analysis. Statistical analysis will utilize T-tests and analysis of variance to assess whether or not any significant differences were found between the amount of feed consumed in the experimental and control groups.
Water quality parameters will be maintained and recorded daily, throughout the duration of the experiment.
Participation Summary
Education & Outreach Activities and Participation Summary
Participation Summary
Education/outreach description:
Results and products will be communicated to aquaculture industry participants who are interested in expanding current operations or starting a new fish farming operation. Mr. Coute, Dr. Ward, and Mr. Rillahan are active members within the regional aquaculture community. Presentations will be given at regional meetings, including the UMass Intercampus Marine Science Symposium, the Milford Aquaculture Seminar/Northeast Aquaculture Conference and Expo (NACE) (Portland ME), and potentially at the International Council for the  Exploration of the Sea (ICES) Symposium.  A factsheet will be produced at the completion of this project and distributed to all regional aquaculture extension offices and regional aquaculture centers. A peer-reviewed publication and master's thesis are expected at the completion of this project. All data generated throughout the project (environmental, growth, survival, and economic) will be saved at the University of Massachusetts Dartmouth and will be provided as requested by stakeholders or interested parties.
At this time, there has been no progress made towards engaging in education or outreach activities. We intend to do so in the upcoming months, once the experimentation process is complete.