Final report for GW16-016
Project Type:
Graduate Student
Funds awarded in 2016:
$24,999.00
Projected End Date:
07/31/2017
Grant Recipient:
Oregon State University
Project Information
Summary:
We evaluated eastern Oregon native bee and spider communities in native, degraded, and restored grasslands, some of which were recovering from a 2015 wildfire.  In addition, we collected native bees and spiders along transects from crop fields to field margins and into adjacent grasslands to determine which invertebrate species are present and able to provide beneficial ecosystem services to the surrounding agroecosystem.
Project Objectives:
Determine how grassland restoration affects native bee and spider communities in eastern Oregon by comparing native bee and spider diversity and abundance in restored, native and degraded grasslands.
Investigate the role of restoration project age on native bee and spider responses by comparing native bee and spider communities across sites that were restored at different times.
Assess which factors are most strongly associated with native bee and spider diversity and abundance by evaluating what floral resources and vegetative structure are available at each site.
Determine if native bees and spiders can enhance pollination and pest control for growers by measuring how far and which species can travel from restored grasslands to neighboring farms.
Produce a low maintenance protocol that can be used to restore field margins to previous grasslands, decrease field erosion, control crop weeds, and increase invertebrate-mediated ecosystem services.
Educate the surrounding community and fellow researchers on important ecosystem services invertebrates provide and actions that can be taken to improve invertebrate diversity in field margins and native grasslands.
Cooperators
Research
Educational & Outreach Activities
1
Curricula, factsheets or educational tools
1
Other educational activities
Participation Summary:
5
Ag professionals participated
Education/outreach description:
In 2015 we created a summer camp for twenty 10-12 year old's called "Farmtastic."  This summer camp introduced campers to agricultural science including soil science, biochemistry, entomology, and ecology.  Our section of the camp taught children the science behind pollination and included a hands-on-activity that allowed the campers to plant their own pollinator-friendly plants.  In addition, children were able to learn about beneficial invertebrates including spiders and see live-spiders lay eggs.  
See a newspaper article about the camp here.
We created a blog in 2015 called "Trials and Tribulations in Grassland Restoration" at grasslandrestoration.weebly.com.  Since 2015 we have been updating the blog with posts about and relating to our research.  We have received over 1000 views.
Project Outcomes
12
Grants received that built upon this project
Did this project contribute to a larger project?:
No
Project outcomes:
Impacts
We are still processing lab data including specimen identification from the past two collection years and thus have not finalized our results; however, we were able to share preliminary results from 2014 and 2015 at several different venues:
We shared several posts on our blog: http://grasslandrestoration.weebly.com describing our lab and field work.  We average 10 views per day and will continue to educate viewers on our research and other current invertebrate conservation news.
We participated in a summer day camp called "Farmtastic!" located in rural Oregon in which middle school students learned how agriculture benefits from invertebrates.  The students learned how pollination worked and were able to plant their own pollinator-friendly native plants.
Our interns were able to gain experience in the field and lab and investigate their own research projects.  They produced their own blogs and research papers and presented posters at several functions at Oregon State University including: The Research Advances in Fisheries, Wildlife, and Ecology Symposium, and The College of Agriculture Experiential Expo.  We are collaborating with one student to publish an extension article on her project focusing on Solifugids (predatory invertebrates) in native grasslands and another student is working towards an honors thesis focusing on crab spider communities in native grasslands.
We presented our first year of data at the Society for Ecological Restoration in Portland, OR and The Oregon Chapter of the Wildlife Society in Pendleton, OR which reached academics, land managers, and conservationists.  Due to increased interest in the work we will continue to present our data at additional conferences and farm fairs including the Ecological Society of America meeting in 2017.
Accomplishments
Objective 1. Grassland Study
In 2016 we completed our third and final season of field work.  We collected spiders via pitfalls and bees via pan traps and hand netting at 18 different plots (6 restored, 6 native, and 6 degraded).  Each plot had eight pitfalls and nine fluorescent elevated pan traps (3 yellow, 3 blue, 3 white) to attract different pollinators (see Figure 1).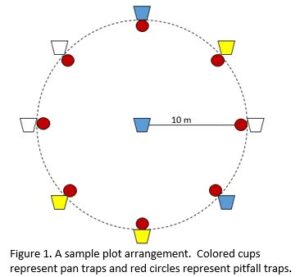 Pitfalls were left in the field for one week during June, July, and September and pan traps were left in the field for two days during June, July, and September.  At each plot we hand netted for 15 minutes to collect bees and determine their associations with the surrounding floral resources.  Over the three years we collected 3000 spiders and 8200 bees.  All spiders were sorted and preserved in ethanol and identified to species if possible.  Bees were washed, pinned, labeled, and stored in insect boxes until identification.  Bees from 2014 and 2016 were sent to an expert for identification to species.
Objective 2. Grassland Study
We collected spiders and bees from six plots restored in succession from 2006 to 2012 (excluding 2007).  All specimens were collected and preserved as stated above and are waiting for identification.  In addition to collecting invertebrates we also documented the vegetative community to determine each plot's restorative state including: percent invasive annual grass, forb, bare ground, litter, and biological soil crusts cover and maximum vegetation height.
Objective 3. Grassland Study
To evaluate floral resources we counted and identified every blooming plant in a 50 x 50 meter square around each plot.  Floral resources were counted during each collection period (June, July, and September).  Vegetative structure was estimated in the plots by using 16 .40 m2 quadrats.  We estimated percent invasive annual grass, forb, bare ground, litter, biological soil crusts, and burned ground cover and maximum vegetation height.
Objective 4. Farm-to-Grassland Study
In 2016 we initiated a project to document beneficial invertebrates present in agricultural crops and neighboring grasslands.  We collected invertebrates along transects at two sites with five transects at the first and two transects at the second.  Transects were 1 km long and separated by 500 meters.  Transects ran from neighboring grassland into the farms crops with the midpoint being at the field margin.  We collected invertebrates every 250 m.  Bees were captured using three florescent elevated pan traps (one blue, one yellow, and one white) and predatory ground invertebrates were collected via two pitfall traps.  Both pan traps and pitfall traps were left in the field for two days during June, July, and September. 
To document which invertebrate groups were dominant predators in the agroecosystem we set up a short game camera experiment along the transects.  We placed a card with five live waxworms every 250 m along the transects and filmed predatory invertebrate interactions during a 24 hour period.  All instances of predation were documented and the predator was identified—we are still in the process of sorting through the film.
Objective 5. Farm-to-Grassland Study
We documented the vegetative communities across the farm-to-grassland transects to determine which community best enhances beneficial invertebrate diversity and abundance.  We estimated vegetative traits including percent invasive annual grass, forb, bare ground, and litter cover, and maximum vegetation height using four .40 m2 quadrats at each collection site along the transect.  We also identified and counted all blooming plants in a 5 m2 radius of the collection site.
Objective 6. Grassland and Farm-to-Grassland Study
We participated in a free summer camp at the Hermiston Agricultural Research and Extension Center that taught middle school children the importance of sustainable agriculture.  We also wrote several blog posts and presented data at several events (see more information below).